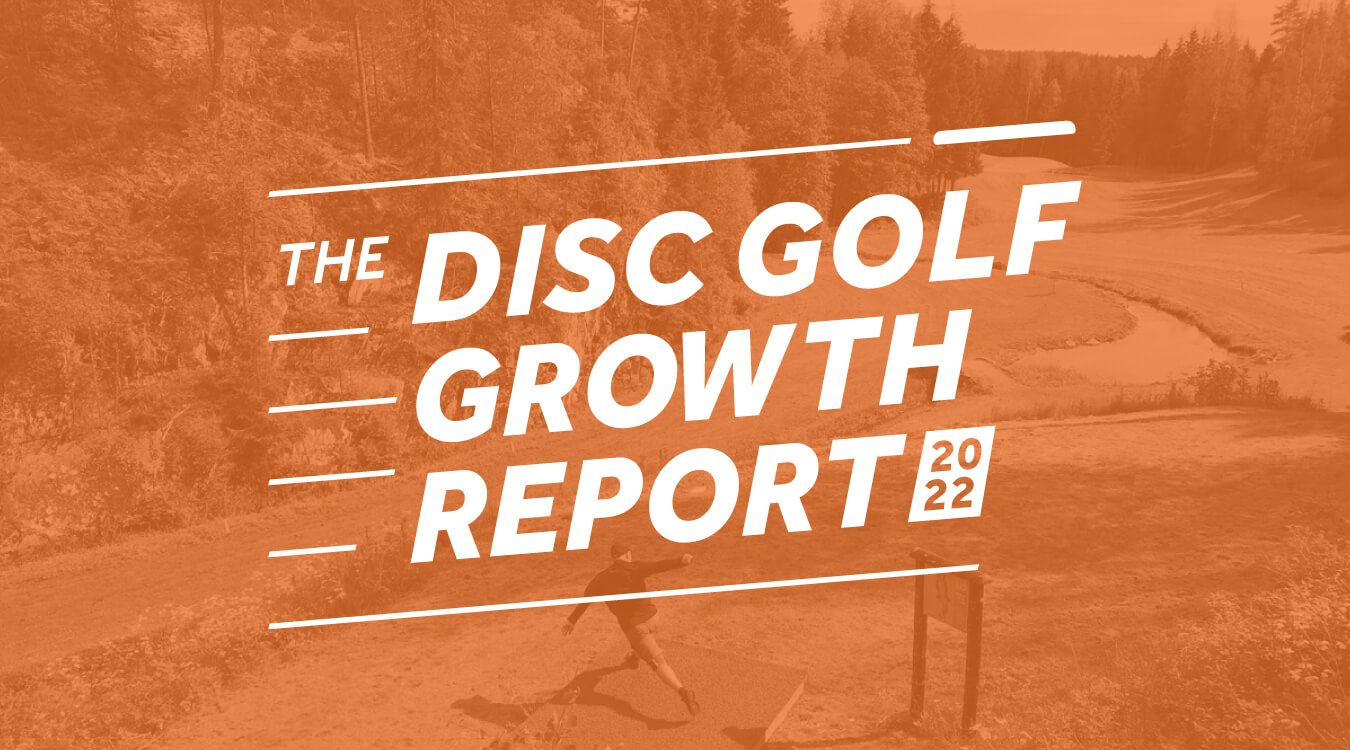 The Disc Golf Boom, One Year Removed
The 2021 Disc Golf Growth Report documented disc golf's explosion, with massive increases in participation and course infrastructure fueled in part by the COVID-19 pandemic and people's desire to find safe alternatives to indoor activities. But that burst of interest in the sport left our team pondering disc golf's place in a post-vaccination world, a future we alluded to in last year's report:
Whether this newfound surge in interest holds steady remains to be seen—the enthusiasm numbers shared above bode well—and retention of disc golfers is something our team will be tracking closely in 2021.
Put simply, we had one big question on our mind for most of the last year:
Did the disc golf bubble burst after 2020?
We're happy to report the answer is a resounding "no."
Welcome to the 2022 Disc Golf Growth Report powered by UDisc, where information from the world's leading player-powered disc golf app will demonstrate how much this sport continues to thrive.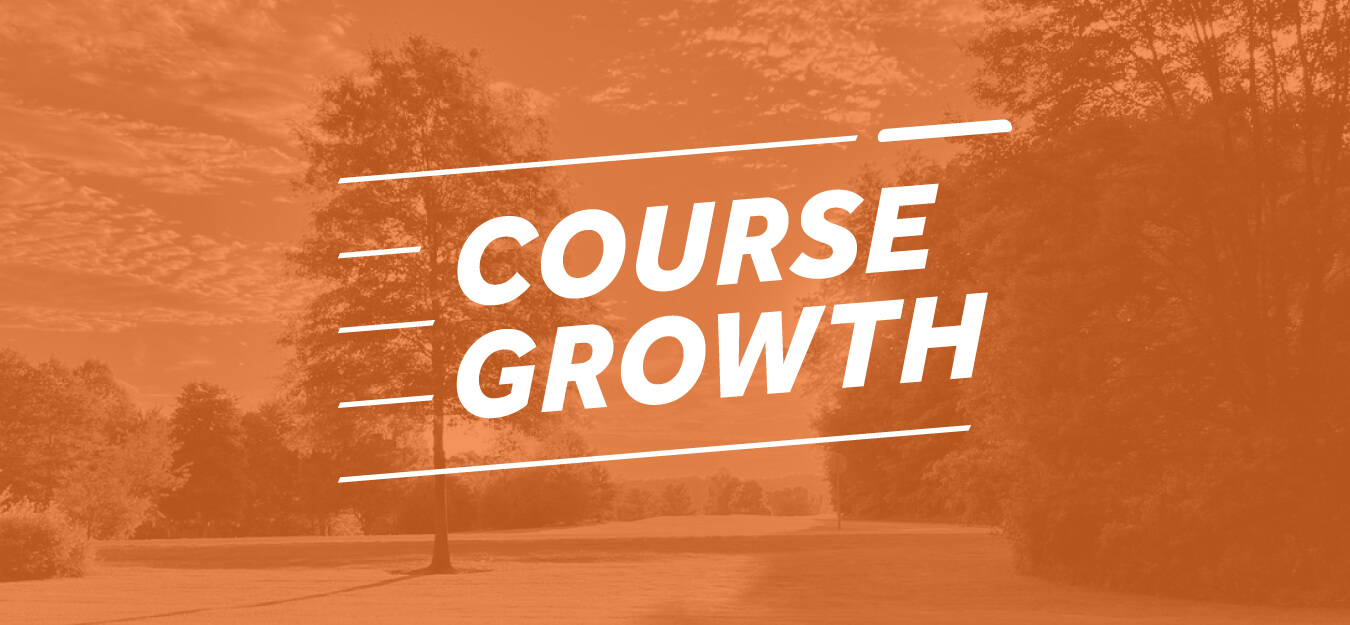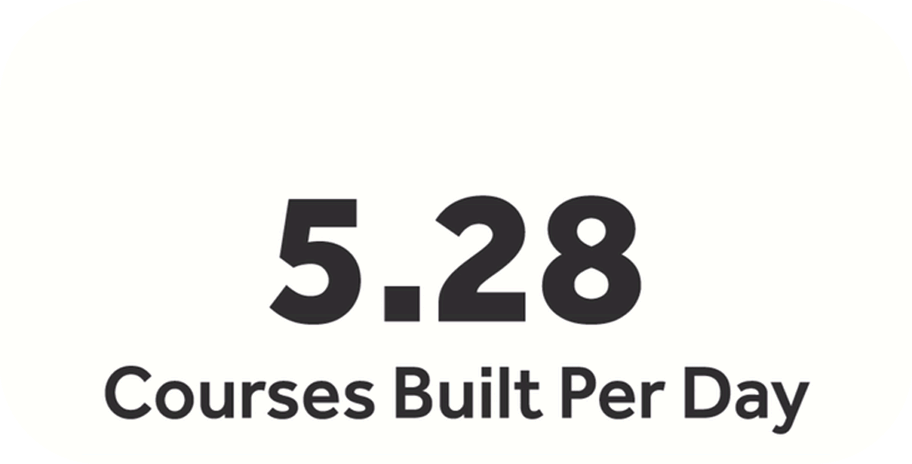 That's up from 3.5 per day in 2020—a 50% increase.
Disc golf course infrastructure is what will make the sport sustainable for the long haul. Building more places to play has wide-reaching implications for continued growth, whether it's in public parks, private venues, or community spaces like schools and churches. Just look at Calgary, Alberta, Canada as a perfect case study.
According to Calgary Disc Golf Club President James Koizumi, in late 2020 players were faced with losing one of the city's most popular 18-hole courses "indefinitely" as it needed to be pulled for environmental recovery. Another course was set to be removed at least through Fall 2021 for a construction project. That left the club down to one course and scrambling for alternatives as they sought to accommodate the surge of players who found disc golf during the pandemic.
Luckily, they had data on their side.
Combining UDisc round counts and information from the 2020 Growth Report, Koizumi and his fellow club leaders determined that disc golf provided more than 1 million hours of recreation for Calgary citizens. The power of that number has helped the club earn a seat at the table in all parks and recreation planning discussions and helped them find suitable temporary locations while their previous courses were out of commission.
More importantly, that statistic helped Calgary secure six more courses for 2022 and beyond.
Koizumi's advice to fellow disc golfers looking to do the same? "Translate the stats and align them with city stakeholders' goals."
9,450+ courses have been installed since 2012. Take a ride in our disc golf rocket ship and check out how courses have grown over time!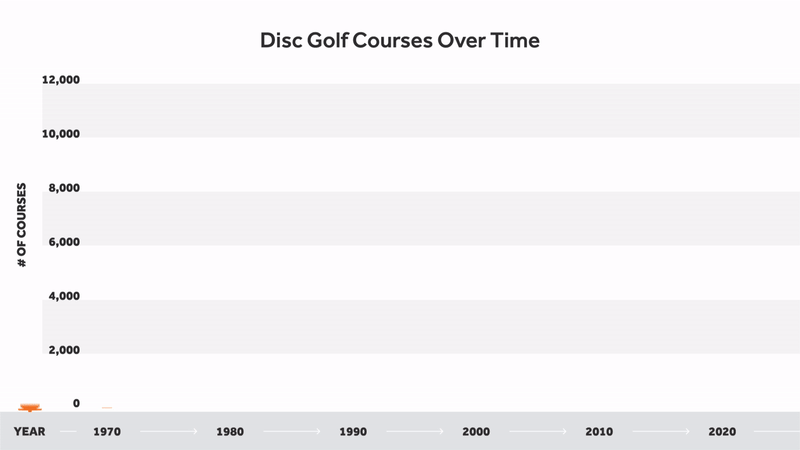 Thank your local disc golf clubs, parks and recreation departments, and volunteers—they've been grinding for the last decade to get more courses in the ground.
Want to make that rocket keep flying higher? Check out our article How To Get A Disc Golf Course In Your Area.
Free courses in public parks continue to be the lifeblood of the sport. Indeed, disc golf's low barrier to entry is one of its most attractive features, as it's easy for new players to dip their toes in the pond and quickly get hooked.
But if the parks are a little too busy for your schedule, there are plenty of other great venues that are adding disc golf each day:
Disc golf is truly an international affair, with more and more countries adding the sport every day. There are nearly 9,000 disc golf courses in the U.S., while more than 4,300 are spread throughout the rest of the world.
As for countries where the sport was already established, we've got to give a shoutout to a few places that power through the cold and have built the sport into a national pastime. Check out how many courses these three powerhouses added in 2021: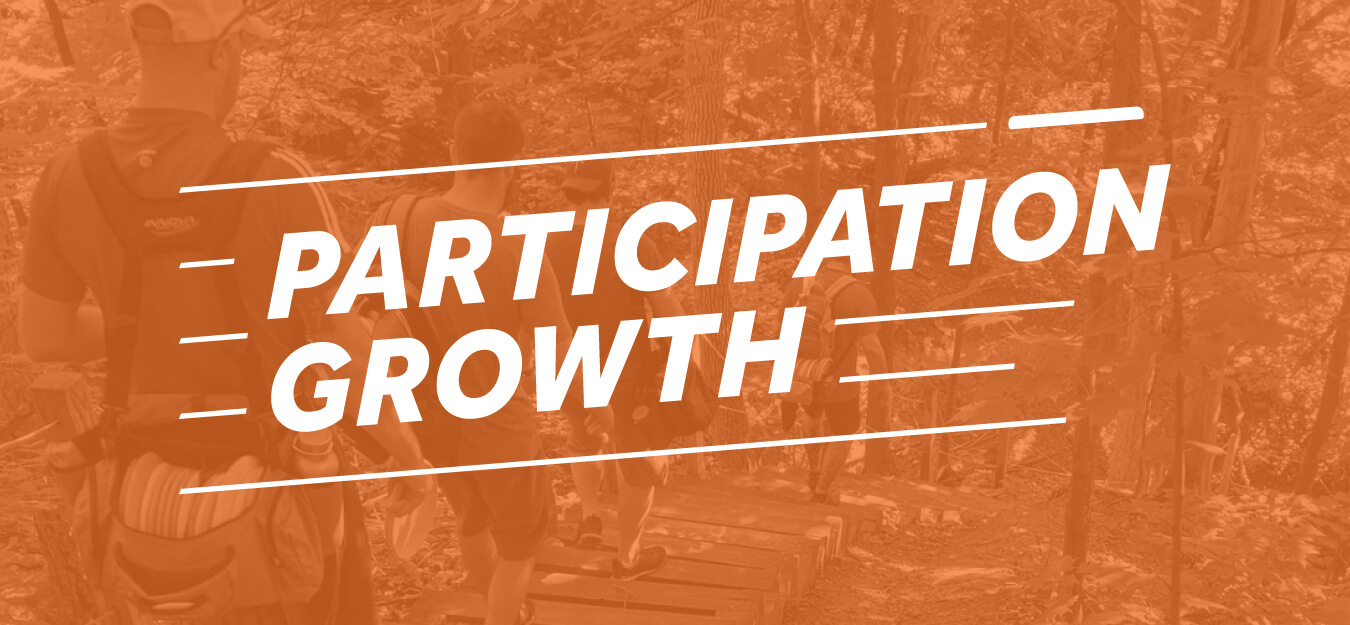 All those new courses have provided a bevy of opportunities for disc golfers to get out and play. And play they did.
That's a nearly 50% increase over 2020 scoring numbers, a clear sign that disc golf's popularity has staying power.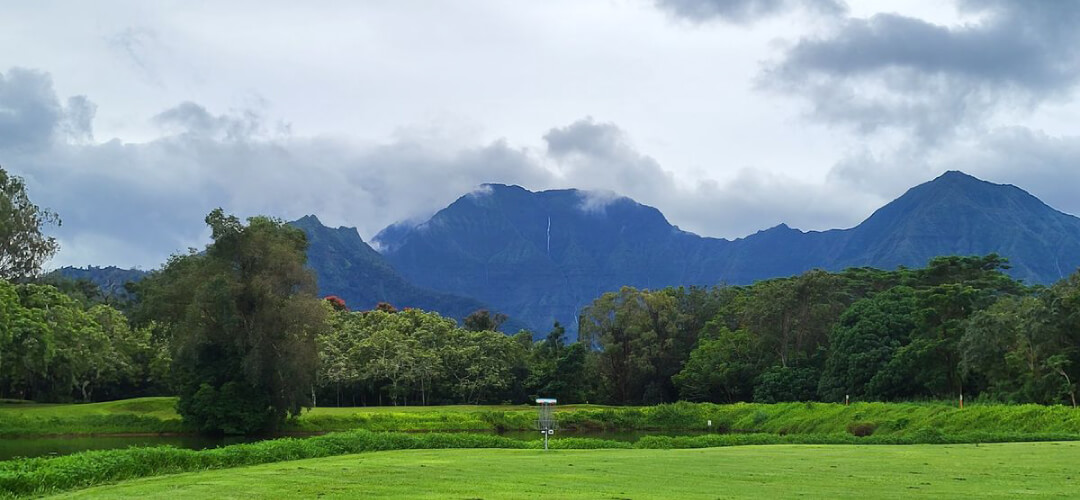 Every U.S. state experienced double-digit growth in rounds played from 2020 to 2021. Disc golfers in Hawaii, in particular, flocked to the course in droves: Aloha Staters played 121% more disc golf in 2021!
Indeed, a few countries deserve special recognition for their participation growth, as well. Of countries with at least 1,000 rounds scored on UDisc in 2020, Mexico set the pace by jumping up 136% in 2021. For countries with 10,000 rounds, the Åland Islands grew by 111%. And among nations with 100,000 rounds last year, Denmark took the crown by doubling its play, logging more than 285,000 rounds with the app.
Some more eye-popping stats:
Scoring on UDisc has more than quadrupled since 2019.
Since 2016, scoring has grown by 1,445%.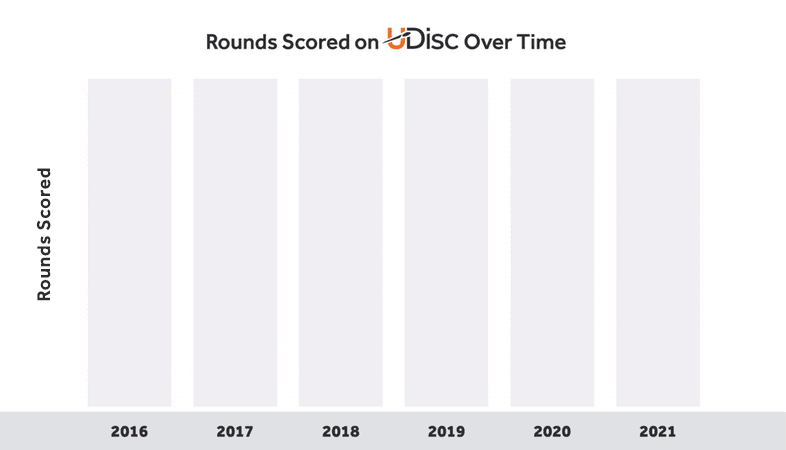 Curious where all 17.2 million rounds were played in 2021? Zoom in to find your home course:

Talk about network effects. Disc golf grows via word-of-mouth, as respondents in our November 2021 in-app survey reported huge numbers of sharing the sport with friends and family. Here's the breakdown from more than 7,700 responses:
Suffice to say, the app has come a long way since it started as a hobby project in 2012. The UDisc community grows and thrives with every round played, every course added, every throw measured, and every review written.
From our team to all of the players, thank you for sharing this milestone with us.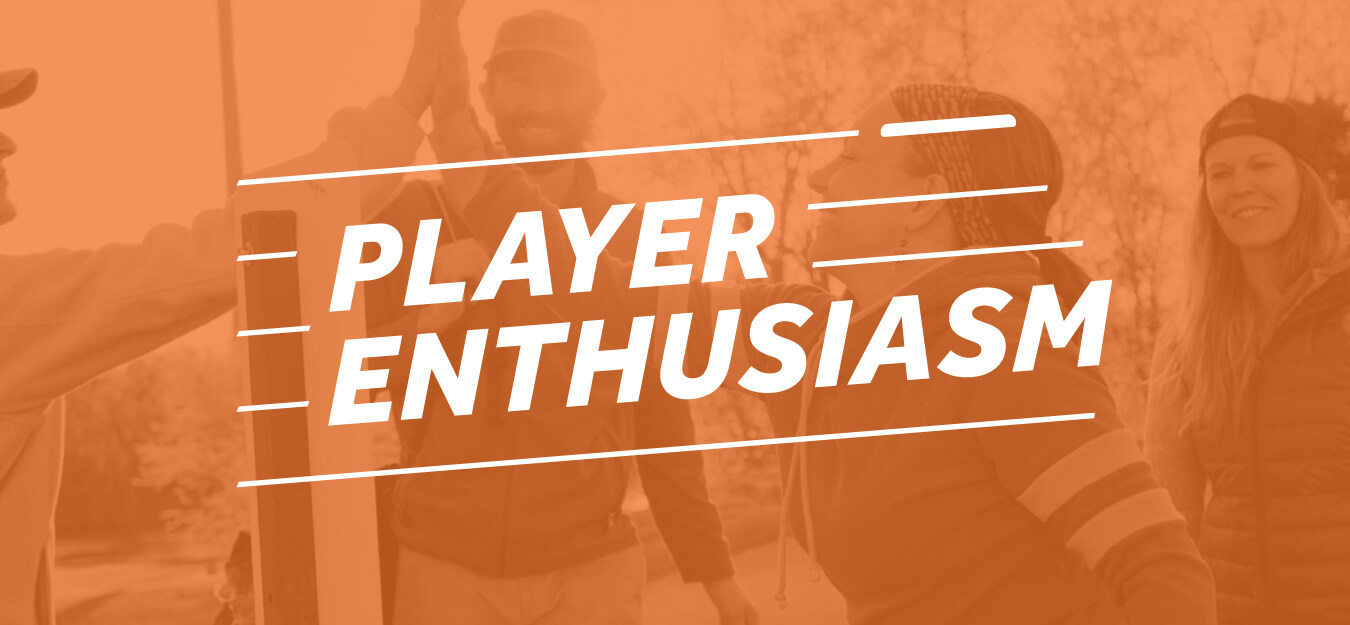 Of survey respondents who were playing in 2020, almost all of them carried over their appetite for the sport into 2021: 97% feel as excited or more excited about disc golf than they did last year. If that doesn't bode well for the game's future, we don't know what does.
We crunched the numbers and found four categories of disc golfers based on their scoring habits with the UDisc app.
Casual Disc Golfers: 24% Casual disc golfers use the app to score a handful of rounds per year. Their interest in the game is developing, or they are familiar with the sport but are not frequent players.
Regular Disc Golfers: 27% Regular disc golfers make up just over a quarter of the players on UDisc. They score a round with UDisc roughly once per month and top out around 20 rounds played per year.
Dedicated Disc Golfers: 35% Dedicated disc golfers represent a significant portion of the UDisc participation base. These players tend to score with UDisc roughly once a week. They are frequent disc golfers.
Hardcore Disc Golfers: 14% Hardcore disc golfers are the final, most avid members of the UDisc population. These enthusiasts play multiple times per week, with some scoring more than 100 rounds per year. The most prolific disc golfer on UDisc scored 1,355 rounds in 2021!
We asked players to rate, on a five-point scale, how much they think about disc golf or talk about it with others. The averages of their self-reported results are quite intriguing:
Started in 2021: 3.47 out of 5
Started in 2020: 3.65 out of 5
Started in 2019 or earlier: 3.65 out of 5
Simply put, it doesn't really matter when you started playing. Once disc golf hooks you, it reels you in.
---
Fueled by a potent combination of players sharing their love for the game and hard-working organizers building more and more courses, disc golf is seemingly powered by rocket fuel. The sport continues its journey to the stratosphere in 2022, and we're excited to work with the community to get as close as we can.