Pro Majors are the pinnacle of competitive disc golf. They feature fields of the world's best players vying for high payouts. The increased media attention Majors bring means little-known players can create buzz with breakout performances while current stars have a chance to cement their legacies with an ever-growing number of pro disc golf fans.

So far there have been 96 events the Professional Disc Golf Association (PDGA) has awarded Major status that had a division for Open Women (also called FPO, which stands for Female Professional Open). Currently, 25 different women have claimed a W at an M.

Click below to jump to information in this post about disc golf Major winners in FPO: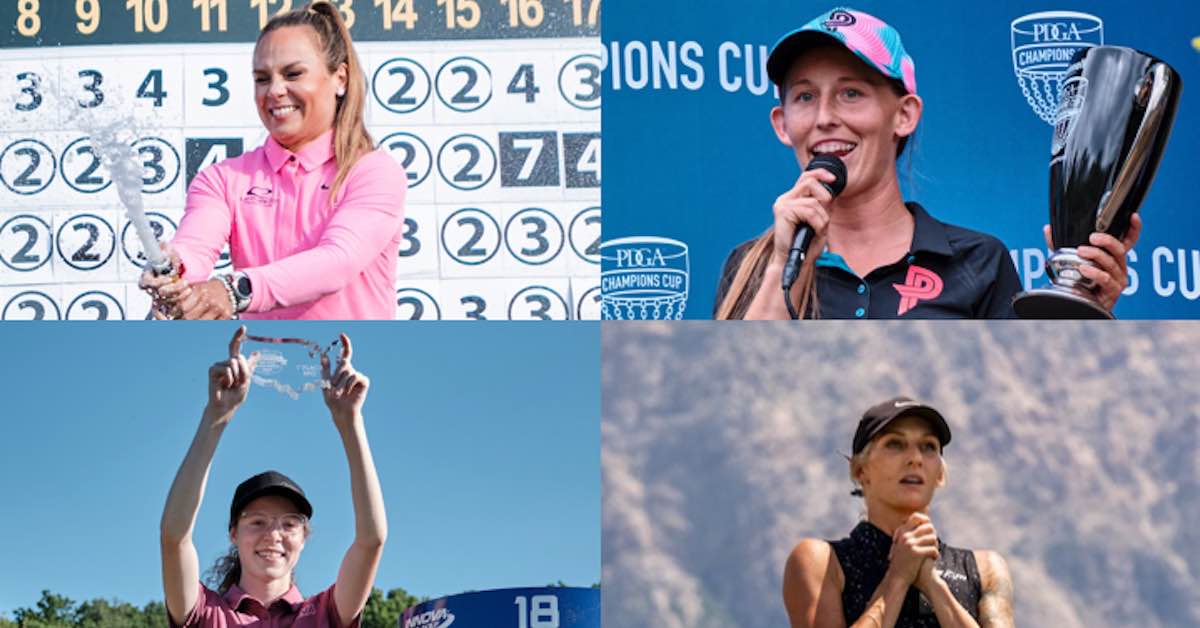 Interested to see all this information for Open? You can find all MPO Major winners here.
All Open Women/FPO Disc Golf Major Winners
On mobile, swipe left/right to see all columns in the table above.
Which Woman Has Won the Most Pro Disc Golf Majors?
Paige Pierce has won 17 PDGA Major tournaments in the Open Women/FPO division, which is the most of any player in the sport's history. Pierce surpassed Valarie Jenkins' 16 Major titles when she won the 2022 European Open.

For a look at how many titles every FPO Major winner has, see the table below (on mobile, swipe left/right to see all columns):
NUMBER OF DISC GOLF MAJOR WINS IN OPEN WOMEN DIVISION

10+

5-9

4

3

2

1

Paige Pierce (17)

Valarie Jenkins (16)
Catrina Allen (7)

Elaine King (7)

Des Reading (7)

Juliana Korver (6)

Kristin Tattar (6)


Carrie Berlogar



Sarah Hokom






Vanessa Chambers

Marie Jackson Elsner

Birgitta Lagerholm

Chris O'Cleary

Sarah Stanhope

Lesli Todd

Angela Tschiggfrie


Ramona Hale

Hailey King

Hannah Leatherman

Becky Powell

Paige Shue (née Bjerkaas)

Eveliina Salonen

Amy Schiller

Beth Tanner

Tita Ugalde
FPO Winner Earnings at Disc Golf Majors
These are some of the most interesting facts about what women have earned for winning at pro Majors:
Total payout to FPO winners at Majors
Collectively, FPO winners have taken home $223,816 from all Majors. The inflation-adjusted buying power of those winnings is about $287,618.
Average payout for FPO winners at Majors
Over 96 events, FPO champions have earned on average $2,331 for a Major win. All totals adjusted for inflation, the number goes to $2,996.
Which FPO competitor has earned the most from winning Majors?
Paige Pierce's $53,603 earnings from Major victories ($63,187 inflation-adjusted) is the most of any woman in history. Notably, Kristin Tattar's sweep of 2023 Majors has her just $282 behind Pierce's unadjusted payout total for Major wins.
How Many Different Events Have Been FPO Disc Golf Majors?
Events of 14 different names have been Majors with an FPO division. Here's each of them in order of the frequency they've occurred as Major competitions with a separate pro women's division (number of iterations in parentheses):
PDGA Disc Golf World Championships (40)
U.S. Women's Disc Golf Championship (22)
European Open (10)
Japan Open (6)
The Player's Cup (3)
Scandinavian Open (3)
Women's National Championship or Women's National Disc Golf Championship (3)
Aussie Open (2)
PDGA Champions Cup (2)
Copenhagen Open (1)
European Masters (1)
Konopiste Open (1)
PDGA Championship (1)
Stockholm Open (1)
The History & Purposes of Pro Disc Golf Majors
To learn more about how disc golf ended up with events called Majors and the vision disc golf's governing body, the PDGA, has for these competitions, give our post "Disc Golf Majors: Every Open Winner Ever" a read.
One thing you won't learn there, though, is the history of the women-only Major the U.S. Women's Disc Golf Championship. That event has been run nearly every year since 2001 with the only exception being 2020. Check out the 'Tournament History' section in our 2021 USWDGC tournament profile to dive into this Major's background.
Nerd Out Even More About Disc Golf's Biggest Events
If you enjoyed this post, we have a similar one devoted to the longest-running pro Major with an Open Women division. Check out the winners, runners-up, who has the most top 5s, and more in FPO at Worlds.

Don't want to miss it when we put out more content like this? Subscribe to our 'Release Point' newsletter.