In 2015, an ESPN year-in-review show was playing on the television in the Maryland home where Tom Rowse lives with his wife and his son, Cush. One clip in the show was Nate Doss' 2015 ace of hole 1 in the final round of the Memorial Championship.
With its epic water carry and the hard smash of disc into chains, the shot fascinated Tom's son, who has autism.

"The first time Cush heard the chains speak, he was like, 'Whoa,'" Tom—who often refers to disc golf basket chains speaking and singing—said. "He rewound it about a hundred times. Giggling and rewinding; giggling and rewinding."

Something about the sport had clearly caught his son's attention, and Tom turned and asked Cush a question.

"Do you want to learn to play disc golf?" he asked.

"Yes," Cush replied.

These were the first steps in a journey that, just over three years later, has resulted in father and son playing over 800 rounds together. Each one of those rounds has helped a young person relax and be himself and, bit by bit, created a father-son bond tighter than Tom ever imagined possible.
Why Try It?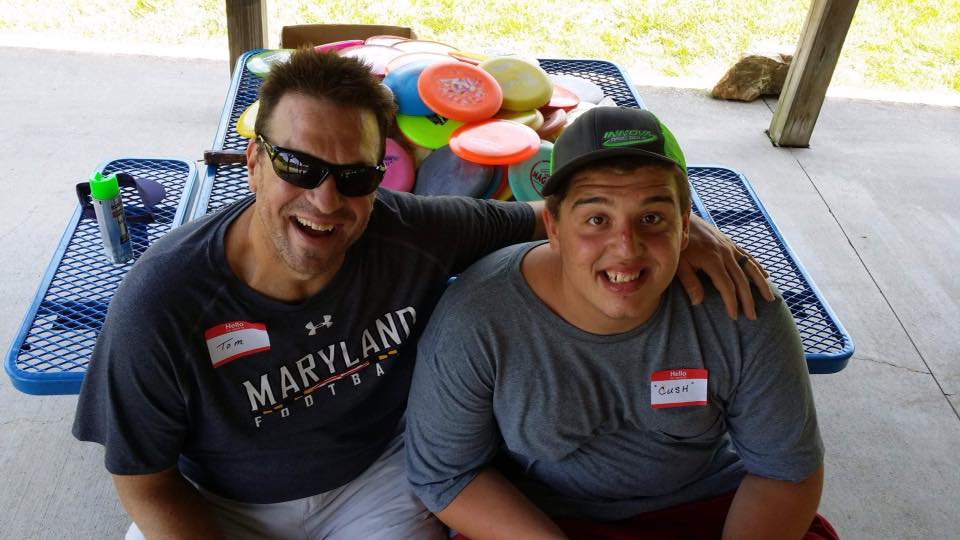 Tom had been looking for a physical outlet for Cush for years before the ace caught his son's eye.

"We were in a really bad, bad place when we started playing," Tom said earnestly. "He had escalating violence against me and my wife. He was angry; it was puberty. He had all those hormones going off inside of him and he didn't know how to express himself. He could only express himself with lashing out in anger."

And, before, there hadn't been much of a solution to these outbursts. Tom said that if he didn't do an activity with his son, he'd become angry. However, though hiking and swimming were occasionally effective, most activities Tom tried to do with Cush also caused his son to become frustrated. But now there's a relief valve in these situations that almost always works.

"Any time we have behavioral issues—he acts out, he tries to hit me—I always say to him, 'What's next?'" Tom said. "And he says, 'Disc golf' every time. And I ask, 'Are you gonna be good?' He says, 'Yes. Disc golf.' And we go, and he is. The best word for it would be 'sanctuary.' It's the sanctuary of the chains."
A Healthy Addiction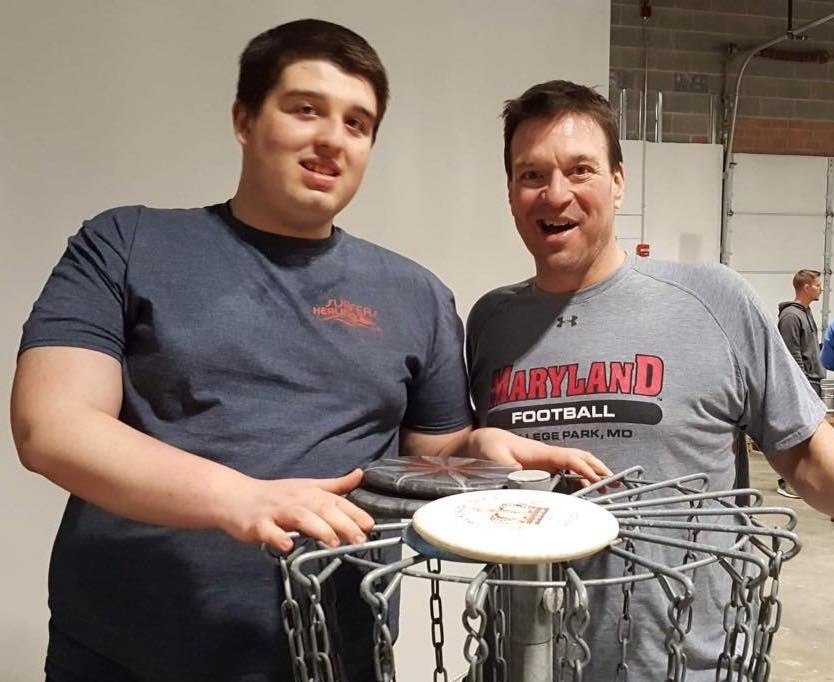 Tom's wife bought him a disc golf starter set for Christmas in 2015, and though it took three months before Tom and Cush first set foot on a course, the realization that they'd be back took just one hole.

"We got to about five feet on that first hole and I threw the disc in, and his eyes got wide," Tom said. "I asked, 'Do you want to do that?'"

Cush did, and after a few tries, he got a putt in the basket.

"He made the chains sing and then smacked them a little bit with his hands to make them sing some more," recalled Tom fondly. "Then I threw the disc in hard and made the chains sing real loud. His eyes went huge. By the end of the round, he'd made the chains sing a few more times himself, and that did it."

Now, Tom says that hearing "chainspeak"—as he refers to it—is one of the biggest pleasures of his and Cush's lives. They've developed a routine that when Cush returns from school on the bus, they immediately pack waters and head out to the course. Usually, their destination is Seneca Creek State Park, just five minutes away from their home.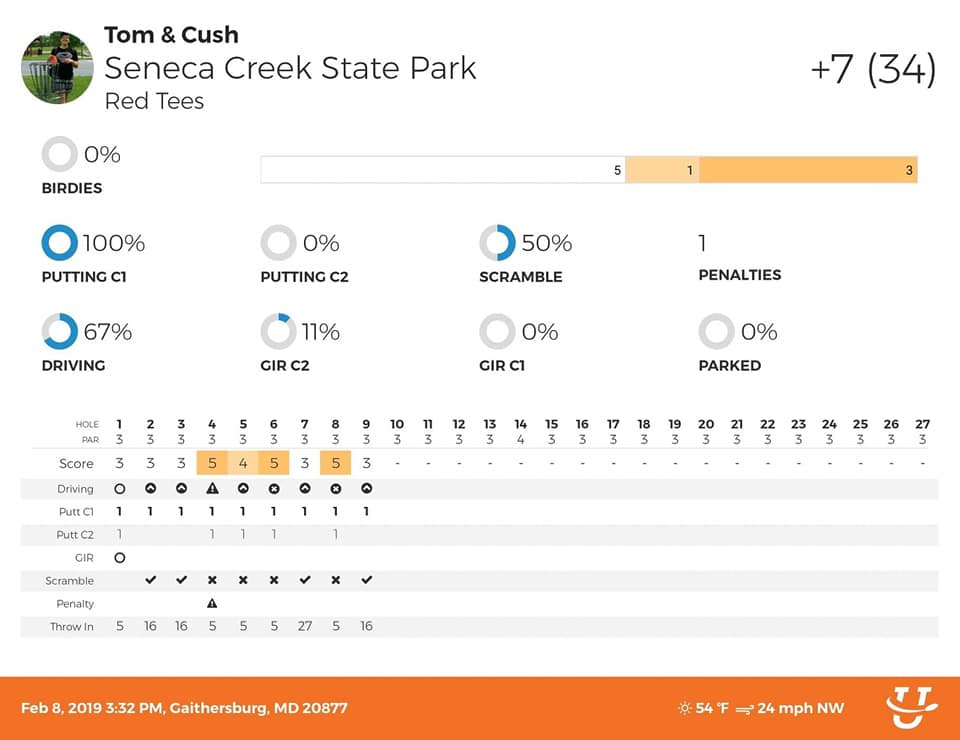 "Every day we go out, play nine holes, and get an hour outside," said Tom. "He gets out any kind of aggression or problems from the day. We go out, throw some discs, laugh at each other and with each other. It's an addiction that's healthy."

All of this happy, relaxed time spent together has helped deepen Tom and Cush's relationship.

"We've always been close, but it wasn't this close," Tom said. "I'm proud to say that on this day, we have the strongest bond I've ever seen between a father and son, and it means so much to me."
A Special Moment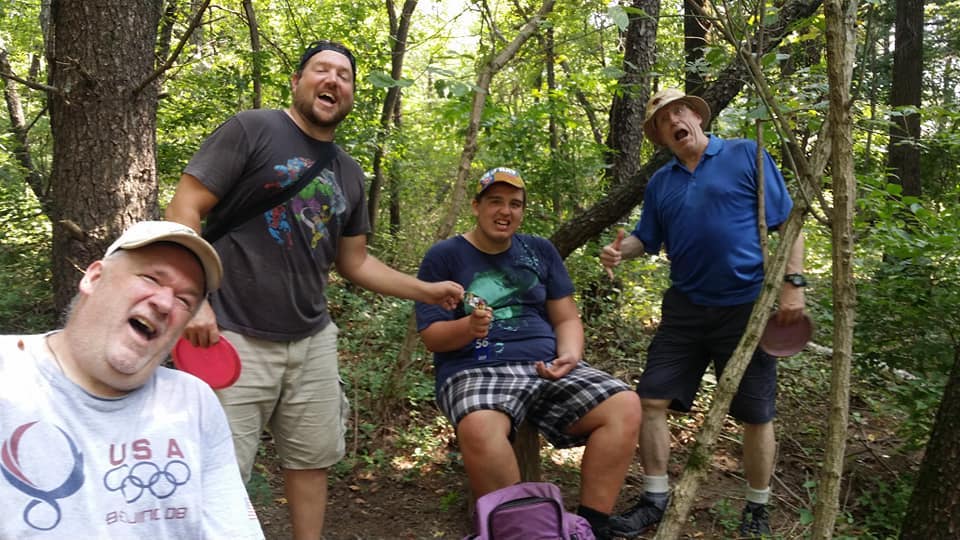 Though Tom clearly relishes every time he and Cush get to play, he described one moment that stands out to him above all the rest.

"One time I went out with all the guys from our home course, and we played an impromptu tournament that some of the guys put on," Tom said. "We played all day, and they included Cush in everything—making sure he was carrying the bag and being my caddie and doing his putting when we got close. He had a great time with it; they were encouraging him and giving him high fives."

Afterwards, the group retired to one of the players' houses for refreshments and the awards ceremony. Tom and Cush went, too.

"They did announcements and announced the winners and everything, and then they announced the MVP," Tom said, needing to pause a little before being able to continue. "They said the MVP was the Most Valuable Putter. Then they started talking about how he carries his dad's bag and all that stuff, and that made me cry. It was a great moment. Those are the friendships—the times I remember."

Despite being profoundly touched, Tom was likely not surprised by this show of love from his fellow disc golfers. He said that one of his favorite things about disc golf is how "everyone is passionate about including everybody," and that passion for inclusion means disc golf has become a social outlet Cush has never had before.
Advice for Other Parents of Children with Disabilities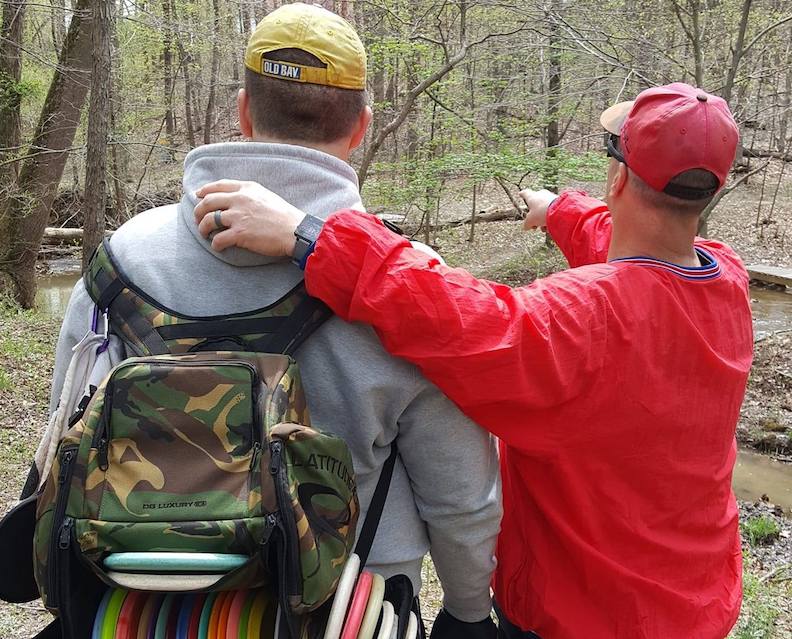 Tom believes that disc golf has the potential to help many more people with similar challenges to his son's. To that end, he's run disc golf classes for both children and adults with autism and even helped install a disc golf course at a local school for autism. He says it's amazing the effect that "chainspeak" has on the students there and the others he's taught the game to.

"They're quiet, their eyes go wide, and you know what the first thing they want to do is? Try it."

There's even an aspect of disc golf that many see as a nuisance that actually mimics a common practice used with those with autism.

"For children with autism, they often put on a weighted vest or ankle weights and it's supposed to bring them into the here and now and make them be in the present, in their body," explained Tom.

A disc golf bag seems to serve the same function as these weights, and Cush loved carrying one from the beginning. Now he's the permanent caddy, happily toting his and his dad's 35 discs along each round.

For other parents of autistic children who may want to try disc golf with their own sons or daughters, Tom also had a few tips. He said to start just with putters, and the parent may want to do most of the longer shots and then get their child to finish out the hole once the distance is short (approaches or putts). Tom also put disc golf in Cush's Individual Education Plan at school and said that the physical education teacher has helped Cush learn to throw correctly.

But the principle underlying for all Tom's advice on this topic is simple: "Make it fun." And this is a tenet he's followed with his own son from day one. However, at least in the case of Cush, it isn't one that's hard to abide by.

"'Steady' Ed [the father of disc golf] supposedly said, 'He who has the most fun wins,'" Tom said. "And when we're on the course, I know who's having the most fun. It's not me or anybody out there playing tournaments; it's my boy. He's got a smile a mile wide, and he loves it."
Notes:

1. If you are interested in learning more about Tom and Cush's adventures, you can like and follow the Facebook page and blog Exercising Autism.

2. There is some question surrounding whether "person with autism" or "autistic person" is the more appropriate and respectful terminology. We followed Tom Rowse's suggestions in regards to this matter here.