There are currently around 400 disc golf courses on college and university campuses in the world, and there are plenty of reasons so many places of higher learning maintain facilities for the sport.

Disc golf is great for both mind and body and gives students a fun opportunity for healthy, outdoor social time. Additionally, disc golf courses can make assets out of underutilized college property as the sport can be played in woods, park-like landscapes, and most anywhere between.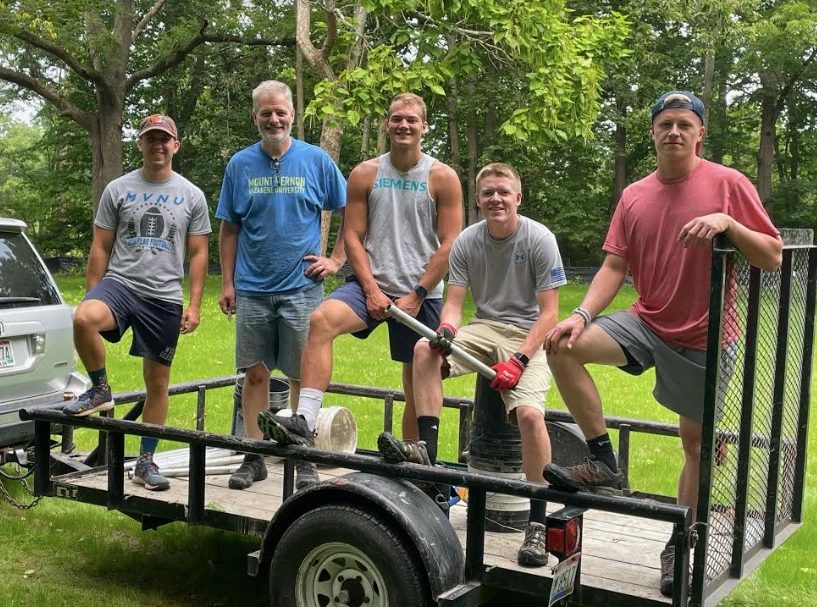 Still, though 400 college courses is impressive, there are over 4,000 universities in the United States alone, meaning there are scores of colleges missing out on all the great benefits disc golf offers campus communities.

Are you a college student looking to get into the disc golf industry? UDisc's 2023 Summer Internship program is now accepting applications! Learn more here.
Since it's unlikely that university leadership will independently decide to create a campus course, it's largely up to students to get the ball rolling. But how do you put together a disc golf course proposal with high potential for success?

Here we answer that question based on the advice and experiences of students and staff currently or formerly involved with disc golf organizations at universities.
Get Data Supporting the Need for a Disc Golf Course
If you propose building a disc golf course at your university, the very first and most important question you'll have to answer is this: Why do we need one?
One obviously convincing response is that a significant number of students and staff would use it. According to the president of Kansas State University's disc golf club, there are various ways to provide proof of current and/or potential interest in disc golf.

"In preparation for my attempt to put in a disc golf course at our university, this summer I have put together a handful of materials including maps, diagrams, testimonials from other parks and universities, and a petition to gauge interest among students and staff," said Ethan Tschanz. "In my experience, it is always good to come in with all of your ducks in a row, especially if your audience isn't familiar with disc golf."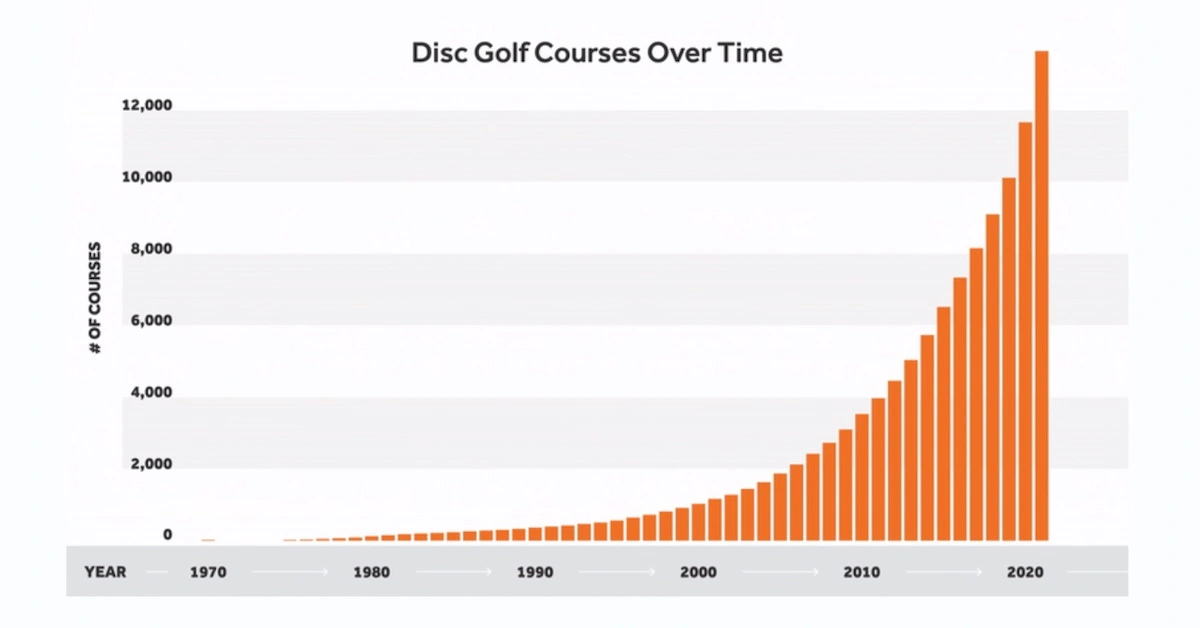 Along with petitions and testimonials, data showing enthusiasm for the sport in your local community and the steep upward trend in disc golf's popularity generally are valuable additions to any proposal for a course. Luckily, we at UDisc can help you out in both cases:
The

Disc Golf Growth Report

is our annual breakdown of disc golf's progress. In it are tons of stats, figures, and testimonials showing the growing economic and social impact of disc golf in terms people who may not be familiar with the sport can appreciate. 

We're also happy to provide you with

local disc golf data

, just like we did for Paul Harris, one of the founders of Bowling Green State University's disc golf team.





"UDisc was extremely helpful when we made a pitch for funding from the university," said Harris. "We were able to access the course statistics and show just how many rounds (and likely students) were playing our home course. We hope to use those same numbers to help us get a course physically on campus in the new future."





Reach out to our team at

help@udisc.com

to get information about how much disc golf is played in your region or specific area courses.
A final great bit of evidence supporting your campus' need for a disc golf course could be the lack of access students currently have to the mental and physical benefits the sport provides. 
"My biggest advice to new and existing clubs is to evaluate how accessible disc golf is to the people on campus," said KSU's Tschanz. "Disc golf is the perfect passive exercise activity, and that is something every student, professor, and campus worker needs. However, if the nearest course to your campus is a 20-minute drive away or if it is extremely tough for beginners, you are not likely to see much growth in the pool of players."
To find out what sorts of courses are in your area and how accessible they are to students, just do a search for your college town on the UDisc Courses disc golf course directory.
Prepare Disc Golf Course Details
So you've got everything you need to make a compelling case that your school would benefit significantly from a disc golf course. Now you'll need to know exactly what sort of course you'd like to build and a possible location for it.

Here are some of the most important things to consider:
Where would you put it?


Have a place (or places) in mind that you think would be ideal for a course and have a clear explanation of

why

it's ideal. The biggest thing here is to never forget safety when selecting a site. Disc golf in tight quarters with high levels of foot traffic is

not

a good idea.

Who is the course for?


Because your goal will be to grow interest in disc golf among a student body and staff who are largely unfamiliar with it, your aim should be to create a course that will engage – and not intimidate – new players. Showing that you're aware of this and have already considered how to hit that target will strengthen your pitch.





Good starting points are saying you'd keep hole distances fairly low, make transitions from hole to hole short, steer clear of thick patches of rough likely to eat discs, and create diverse shot shapes so players will stay entertained and develop a wide repertoire of throws.





You can also throw in the advantages of having two sets of tees so players can develop their games, but you should be ready to discuss the extra costs associated with that if you do.

What baskets would work best?


Make sure to balance your desires as a disc golfer and the need to keep costs in check. You may have your favorite basket that seems to catch every putt, but is that the most affordable choice for your course? Check your options with local retailers or even reach out to companies directly to see if they can offer any deals.

What tees would work best?


Concrete, turf, pavers, and even just grass, gravel, or dirt are teeing options. Look into the pros and cons of each and have a suggestion for which you think would be the top choice for your school.

How much signage will you need?


Clear signage minimizes frustration with guessing where baskets are and where to go next after finishing holes. Have an idea of the minimum signage you'd need to create a good experience for players and how much it would cost to have it.
Make It Clear You'll Volunteer
It takes a great deal of physical labor to put in a course. Having a group of volunteers who pledge to help build the course before asking for course approval will illustrate commitment from your group.
"We as a team have put in a lot of manpower to make the changes needed to the course on campus," said Adam Luthman, president of the University of North Carolina's disc golf club. "Our college has given us money to expand our course, add concrete tee pads, and make most necessary adjustments. They just needed us to meet them halfway to help out with the labor. Due to our hard work, all along the way, we've had great backing from our school."
Along with a group committed to installation, make sure you have a crew willing to help maintain the course once it's installed as well as people who can donate their time to run events that give other students a chance to learn about disc golf. This will show the university you're thinking about how to maximize the potential of their investment in a course without costing them additional funds.
Have a Cost Estimate
There's no set cost of a disc golf course. The price of one depends on so many factors – available land, tee surfaces, basket type, etc. – that there's no general number you can give for any sort of course.
However, you're sure to be asked about the price tag for the course you're proposing, and you should have at least a rough estimate. To come up with one, reach out to local disc golf clubs to see if they can connect you with anyone involved in a recent course build in the area. They should be able to fill you in on what they paid for baskets, tees, etc., and help you come up with a ballpark figure.

Keep in mind that manufacturers and/or local disc golf shops may be willing to aid college kids looking to build a course, and it could change your bottom line significantly if you get in touch with them about your aspirations.

"I went to the local shop Bomb Disc, and just asked the owner face to face if they were interested in sponsoring a collegiate team," said Harrison Adams, president of the disc golf club at Morehead State University. "Fortunately, they were very interested in it and it worked out for both sides. This current season, I reached out to Prodigy via email and we were able to work out a sponsorship agreement. Both of these sponsors were easy to work with and I recommend any new club reach out to as many companies as they can. Most companies are more than willing to help out and support collegiate teams/players."
Have a Time Estimate
As you gather the information about the costs of your course, you can also learn more about how long it takes to install baskets and tees, clean up fairways, and other course-building essentials you may not have considered. Use this information to come up with a timeline for building your proposed course.
Be Prepared to Respond to Questions About Safety
Like any sport, disc golf isn't without its hazards. You need to be ready to show the university you take those risks very seriously and have thought deeply about what it will take to mitigate them as much as possible.

"When picking your area, safety should be the number one concern," Tschanz advised. "When I design courses, I find it helpful to imagine the worst case scenario and adjust accordingly. If you're putting a course in such a densely populated area, you want to make sure even the 'WTF Richard' guy can play safely."
Along with picking the right location for a course, signage alerting people to be aware of discs, steering clear of blind basket locations and landing zones, and avoiding criss-crossing fairways all are great ways to keep passersby and players alike safe.
What If They Say 'Yes' to a Course But 'No' to Funding?
If your university is willing to allocate a space on campus to disc golf but can't financially support building a course, the dream doesn't have to be over. There are many ways to raise the funding necessary to build a course.
One common disc golf club fundraiser is to sell discs with a school logo or mascot on them to students, staff, and nearby community members. Fundraiser tournaments or events can also help, and you can always try to find fellow disc golfers with businesses nearby.
"Reaching out to local communities and clubs is a big help," said Carson Brock, founder of the University of Georgia's disc golf club. "Our community was all extremely generous and very supportive of our university community."

You can also just start small and upgrade over time, like Tschanz did at KSU. 
"We currently have an object course on campus, but I am currently working on getting a permanent beginner-friendly course built on campus grounds before I graduate," said Tschanz.
An Inspiring Send-Off
No matter how great your pitch is, you may not get everything you want when asking for your school's support in creating a campus disc golf course. But never lose sight of the fact that any sort of start is a good thing, and with enough passion and hard work, it can eventually become everything you're dreaming of.

That's at least what happened at Mount Vernon Nazarene University, which elected to start with a nine-hole course. Years later, after the disc golf club received a grant and had many students volunteer to lead the cause, they were able to expand their course to the full 18 holes they had hoped for. Since adding to the course, the school has seen a vast increase in play by both students and faculty members.
"Anytime the weather is nice, when you walk by, someone is playing," said John Mohnasky, assistant Director of Development at Mount Nazarene. "Especially when students are here, it's busy, but even over the summer it's far busier than it was before we expanded the course."
It took a massive effort from all volunteers, but the most work fell on three students who led this initiative. These players are great examples of how a small group can make a big impact on disc golf's future on your campus.
"The three students mapped out the holes with flags in the ground, designed the entire course, and did the brunt of the work in clearing the land and putting in the course," said Mohnasky. "They took the old course and redesigned the whole thing. Without their passion and desire, this wouldn't have happened."