Are you a college student looking to get into the disc golf industry? UDisc's 2023 Summer Internship program is now accepting applications! Learn more here.
How to Grow Disc Golf at Your University
Did you know 78% of disc golfers were introduced to the sport by a friend or family member? That's according to a UDisc survey conducted in 2021, and it indicates the major role referrals played in disc golf's recent explosion and their importance to the sport's continued growth.

Now, if you were trying to think up the ideal place to find new friends whom you could share your favorite sport with, it'd be hard to come up with anywhere better than college campuses.
College campuses are filled with individuals open to exploring new hobbies and sports. Disc golf is a great option for college students looking to learn a new activity as it's relatively inexpensive, fairly easy to learn, and accessible in many parts of the world. Disc golf can be played at any degree of regularity, solo or in groups, and gets people outside and moving.
College disc golf clubs and students all over the country are hosting events to increase awareness of the sport, provide education on how to play, and facilitate people's first positive experiences with a disc. Often, as their disc golf communities grow, students see (or even catalyze) nearby disc golf infrastructure doing the same: new courses go in the ground and the number of disc golf leagues and events goes up to meet increased demand. Of course, the bigger the sport gets and the more official courses and competitions there are, the more legitimacy disc golf gains.

There are many ways to bring disc golf to your college campus. One method doesn't fit all; you can get as creative as you'd like while spreading the good word of disc golf. Here are some successful initiatives active college clubs are using to grow the sport:
Bring Disc Golf to the Students with Tabling and Sampler Events
The best way to introduce new people to disc golf is to let them experience it for themselves. However, it can be difficult to get new players to travel to a course, buy discs, and play without knowing much about what they are getting themselves into in the first place. Bringing the sport to the students is a simpler, more direct way to give people access to try out disc golf before committing too much time or money.
All you need to host one of these disc golf sampler events, according to clubs and individual advocates we talked to, is a portable disc golf basket and a few discs for people to play with (plus some enthusiastic hosts!).
Northeastern University hosted a Grow the Sport event in 2021 on the quad of their campus. The leader of the event, Casey Buttke, scheduled a time and date with the university to set up a basket and a putting station. For this event, she and her friends set up a table with information, disc golf materials, and a basket to draw attention to the event. At the time of the event, Buttke wasn't attached to a club. In fact, the event showcased a promising opportunity for a club.
"It was a great way to demonstrate potential interest in an intramural or club disc golf team being formed in the future," said Buttke. "I had a ton of people stop to talk and learn about the sport."
On the day of the event, Buttke eagerly set up as foot traffic began to bustle between class changes. With the help of several friends at the table, Buttke encouraged people to stop and try disc golf. Dozens of people got to experience the sport for the first time, in addition to getting information on how to play disc golf in their town. 
Students at Ohio State saw success from a similar event, the "Oval Ace Runs."
"We went into the main park area of our campus and set up a basket for people to try to throw into and win a prize," said Lance Haupricht, vice president of the Ohio State University Disc Golf Club. "Some people who weren't familiar with disc golf tried it out and had fun. We had candy and small prizes for people who gave an attempt. If you're trying to run a similar event, I'd definitely get approval first, but from then on try to make it as fun and inclusive as possible! Simple is better when introducing people to disc golf."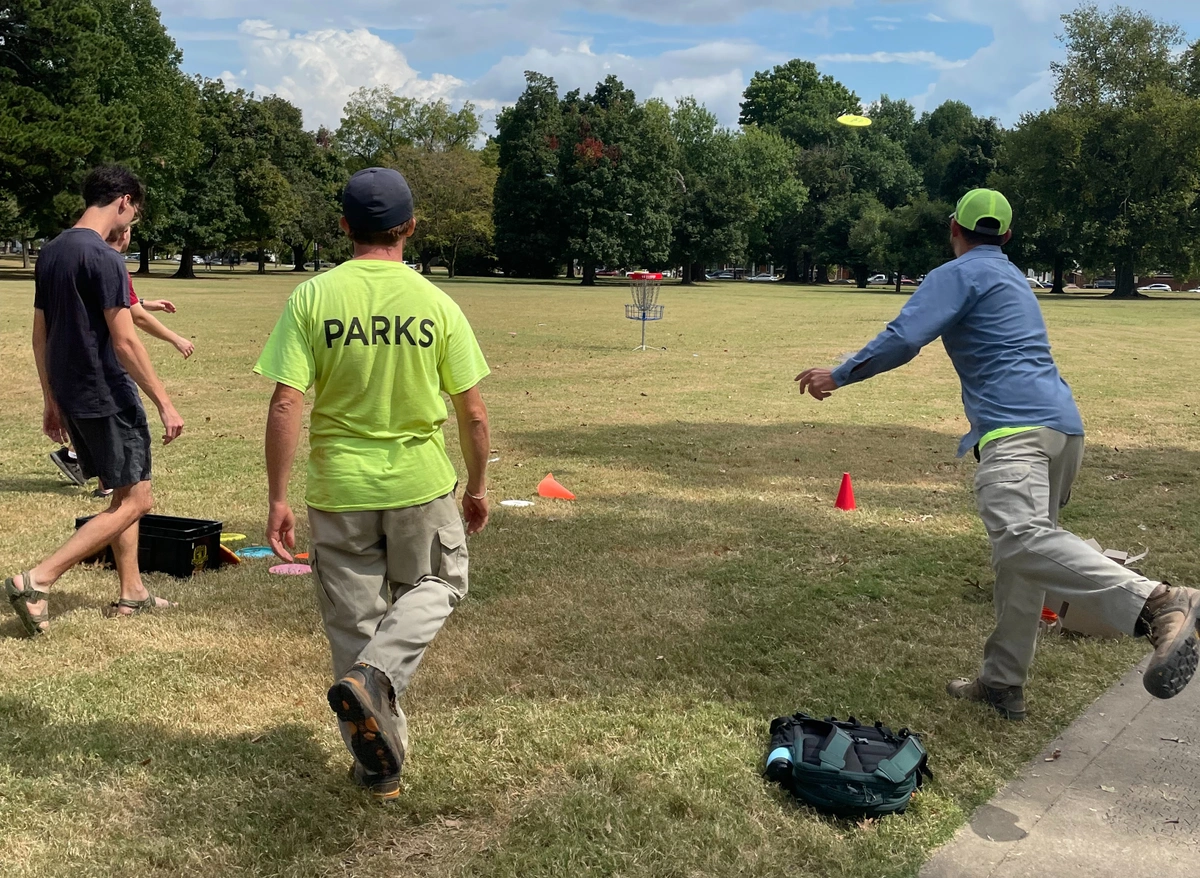 If you can give away discs for new players to take with them, that's even better. Removing barriers for potential players is massive in getting new disc golfers on the course.
"At the festival for new students, UNC actually bought 200 custom stamped putters with our logo on them and we set up a table and baskets," said Adam Luthman, president of University of North Carolina's disc golf club. "Because of the school's donation, we could give everyone who stopped by our table a putter for free so they could try it out."
Northeastern University confirmed the extremely positive impact of giving out discs.
"For anyone who is thinking of running a similar event, I cannot recommend donated discs enough," said Buttke. "I collected them by reaching out on Facebook to my local community to see if anyone had some old putters they'd be willing to contribute, and I got a great response. That was definitely what pulled people over more than anything else, especially when I told them they could keep one of the putters if they could make a 10 foot putt with it in the practice basket!"
Some other tips to keep in mind when hosting a tabling or sampler disc golf event:
Hang flyers advertising the event 1-2 weeks prior

Spread the word through other on-campus groups

Organize a group to run the event

Play music

Pass out information about disc golf (see resource kit)

Offer small prizes or incentives for participating

Ask local stores/disc golf leagues/disc golfers to donate discs to give away at this event

Have fun!
Try Disc Golf with Coaching and Clinics
If you're hoping to give people a more thorough chance to experience disc golf, a clinic may be the best approach. Clinics can be hosted on or off campus, indoors or outdoors, and can focus on any element of disc golf. This approach means advertising the event via flyers, social media posts, and word of mouth invites.
At the event, have multiple 'coaches' available to provide one-on-one lessons. Some topics to include in the session are basic disc golf rules, how to throw forehand and backhand, and how to putt. These can be run indoors or outside, depending on your available resources. Offer a session that accommodates most student schedules, or, even better, host multiple events so anyone interested can attend. 
Mizzou's women's disc golf club hosted a clinic to attract potential new female members and help grow the sport.
"For the clinic, I created fliers, put information on social media, and invited everyone I knew,"  said Alexis Kerman. "Since we had multiple coaches out helping, we were able to work with all of the attendees individually or in small groups."
The University of Illinois also had success with teaching players who were new to the sport.
"At quad day, we advertised the clinic as an introduction event to our club," said Jonathan Klein, adviser and former president of the disc golf club at the University of Illinois. "So many people we told about the clinic actually showed up. We did CTP competitions at the clinic [and] I did a form clinic – people would step up and we'd show how to grip the disc, how to throw basic forehand, and how to throw a basic backhand. It was really informal, but a bunch of people stuck around after to learn more. Tons of people were talking and meeting other people who were interested. It's a fun way to start off the year."
Some additional tips for hosting a disc golf clinic:
Secure a good location for the clinic - open fields near or on the campus are best!

Bring basket(s) and discs for participants

If possible, give attendees a disc after the clinic

Offer multiple dates and times
The Real Fun: Create a Pop-Up Disc Golf Course on Campus
To give people the full experience of playing a round of disc golf, consider planning a pop-up course for either casual play or a one-off tournament.
What's a pop-up course? It's a temporary setup with portable or semi-permanent baskets that can easily be moved to create a fun, safe layout. Pop-up courses don't necessarily need to be a full 18 holes to be successful – you can have plenty of fun with four to six holes that feature some unique shots. This will require more approval from your school, but it can pay off as one of the more powerful grow-the-sport initiatives you can put on.
Bradley University saw success with a pop-up course on the quad of their campus, an area with lots of space and surrounding foot traffic. The club set up a mini disc golf course in hopes of attracting curiosity about the sport. In the past, this initiative was successful in gaining public attention, according to the club's president Kevin Lauer.
Bowling Green State University opened up a temporary nine-hole course on their campus and incentivized students to try it out with custom stamped discs.
"We hosted a Student Invitational on campus that was free to all current BGSU students last year," said Paul Harris, one of the founders of Bowling Green State University's disc golf club. "We had custom stamped Buzzzes from Discraft with our logo available for free to the first 60 students that signed up to play the temporary nine-hole course we set up on campus. The event was a huge success and we are hoping to do it again this year."
Some additional tips for hosting a disc golf pop-up course:
Keep the layout beginner friendly. Holes around 200 feet/61 meters are best to give a taste of what the sport is like without discouraging new players.

Set up the pop-up on an area of campus you can spread out. While extremely popular areas may increase visibility of disc golf, no one wants their first introduction to the sport to be getting hit by a wild disc. 

Not enough space? Consider condensing the pop-up course to resemble a disc golf putt-putt course. A putt-putt course is typically composed of

super-short holes that have fun lines to the baskets through trees, over bushes, or even with self-made obstacles.

Have materials or a short introduction prepared so new players don't go in completely blind. 
Bring-A-Friend Disc Golf Events Bring a Crowd
Most disc golfers likely have someone they know who still doesn't know what disc golf is. With this in mind, create events that are not only welcoming and fun, but also purposefully made for disc golfers to bring potential new players.
There are a few formats you can choose for this style of recruiting, but doubles can be less intimidating for first-time disc golfers. For some friendly but fair competition, set up a doubles match with the members of your club using UDisc Leagues. But here's the catch: The person they bring has to be completely new to disc golf.

Start off with a shorter, easy nine-hole course if there's one near you and consider a doubles format like alternate shot rather than traditional best shot so that the newer player doesn't feel like their shots don't matter. Prizes and keeping score are optional.

This format will allow for less pressure and more fun while letting new players experience the sport in a unique way. 
Tips for hosting a "Bring A Friend" disc golf event:
Bringing more than one friend is always permitted!

Host the event on a date when the majority of your active members can participate

Offering prizes can add bonus incentive to participating
Create Disc Golf Mini-Games and Fundraise at the Same Time
To tackle two birds with one stone, consider how you can use disc golf on campus to fundraise while also spreading awareness of the sport/your club (note: this will require permission and potentially permits through your university). Can you set up a sort of carnival game involving discs and a basket? Set a small price to attempt the game of your choosing. Increase the stakes with prizes to motivate participation.
Be sure to advertise that the money earned from the event will be used for the disc golf club, to grow the sport, or to put baskets in the ground.
Practice Disc Golf in Highly Visible Areas on Campus
If you want to help grow the sport but don't have enough time or resources to plan a big event, you can still get disc golf in front of people who may not know what it is.
"We host most of our practices on the quad so people passing by can see us and learn about disc golf," said Charlie Chemers, treasurer of the disc golf club at the University of Illinois. "Just setting up baskets and practicing on a busy part of campus helps attract people to our club."
Putting practices, short upshot work, and social disc golf outings can all take place on common areas of university campuses. If anyone walks by and is curious, any member can easily explain what the group is doing and welcome the person to participate.

"We put on a putt night..in a park on campus – everyone who has a basket brings it out and we all hang out and play putting games," said Jackson Palmer, president of Appalachian State University's disc golf club. "We do this on campus so that people walking by can see what we're doing and get involved. We've configured ways to play disc golf versions of cornhole, horse, and around the world. We set up a bunch of different stations with every kind of competition we can come up with."

When holding events like these, think about putting up signs or posters near walkways explaining what you're doing and where to learn more about your club (social media site and/or webpage).

Partner with Other Clubs by Co-Hosting Events
Hosting collaborative events with other clubs is a great way for both clubs to learn about new, interesting hobbies.
"Joint events with other clubs are a great way to diversify your club," said Klein. "Retention for women's players is difficult, especially with so many men in the club."
Klein's solution to this retention issue is to host joint events with clubs that are different in diversity than the disc golf club on their campus. Last year, for example, their club saw success after hosting a joint event with the equestrian club at their university.
Get Creative: Show Us How to Grow Disc Golf
This post just scratches the surface of the extensive list of ways you can grow the sport on your college campus. Every university is different, so tailoring your approach to fit the needs and lifestyles of your school is best. The more out of the box, the better. 
We love seeing the creative ways schools are celebrating the sport while bringing in new players. If you host any events designed to spread the word, tag us in your social media posts so we can share the love. All it takes is one person dedicated to spreading the sport to start a domino effect.