Most disc golfers know the feeling of rushing through the last few holes in a race against the sun. Carefully choosing bright discs that will stand out in the growing gloom, players sometimes need every last second of daylight to squeeze in a round before night falls. However, especially in colder months when the sun sets earlier, disc golfers have to get more creative to have any chance of evening playing time. 
One solution many intrepid disc golfers and disc golf leagues have explored is simply not letting the dark stop them. Using a variety of tools and tactics to make courses playable and discs visible, people play what's commonly known to disc golfers simply as "glow." Taking place on courses of varying designs, glow rounds typically begin after dark and provide a new, challenging twist to playing a course. 

Below we take a look at a glow disc golf league and a couple of glow events from around the U.S. and also give you a little advice on how you can play disc golf in the dark with or without a formal event happening nearby.
How Do You Play Glow Disc Golf?
For glow disc golf events to work, organizers need to help players do the following: see where holes begin and end, know the rough shapes of fairways if there are significant obstacles, and safely find their way through the whole course.
These necessities are typically taken care of by event managers setting up portable light sources throughout a course. Baskets can be indicated by hanging glow sticks or the shine of battery-powered lights. The same goes for tee pads, fairways, and the paths between tees.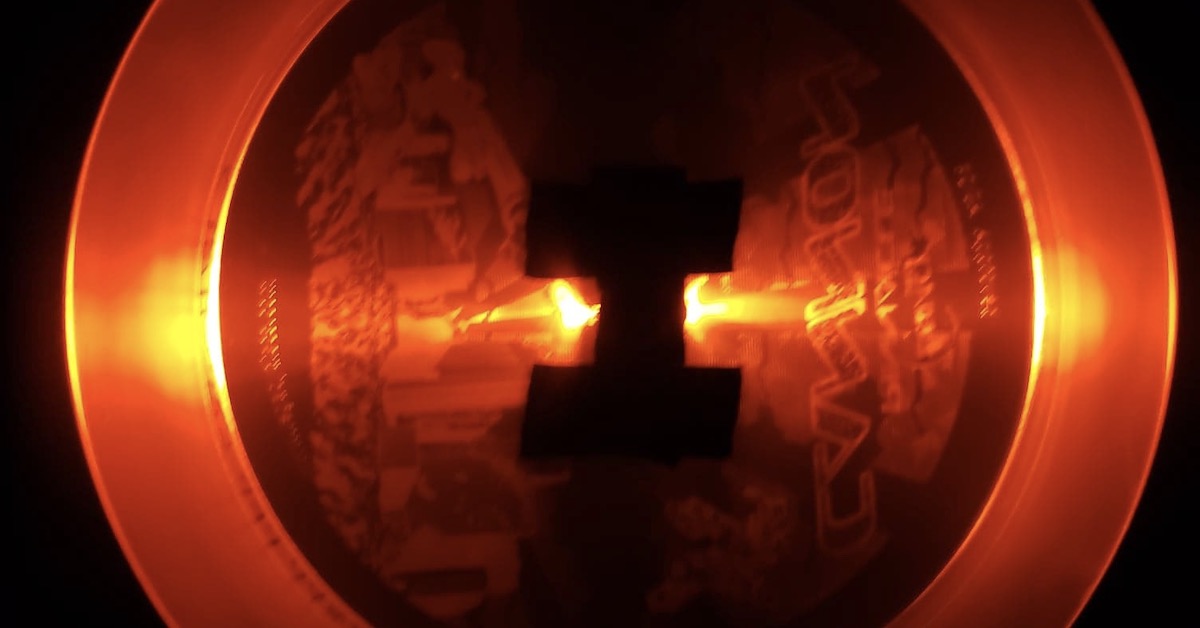 But those lights won't illuminate a whole course, so players need to come prepared with the right equipment to make sure they can find their discs again once they've thrown them. Here are a few typical ways people keep up with their disc golf discs in the dark:
Glow-in-the-dark discs: Many companies make discs out of glow plastic. Like most glow-in-the-dark objects, these discs appear green in the dark for a certain period of time when they've been exposed to enough light. Luckily, adding a glow disc to your collection doesn't necessarily mean you won't want to throw it in the daytime, too. In fact, some people prefer certain discs in glow plastic for rounds during the day or night.


Glow tape on normal discs: If you don't own glow discs or prefer to play with the discs you're used to, you can try glow tape. Like the plastic of glow discs, the tape is visible in the dark after enough light exposure. Put a few strips of the removable tape on the tops and bottoms of your discs, and you should be able to find them barring a disc sliding too far under leaves or other debris. Glow tape requires frequent "charging" (light exposure) during rounds – ideally before every throw – to remain effective.


LED lights attached to discs: Some players also purchase small, battery-powered LED lights that they secure to their discs with tape. It's best to use discs made with plastic that's translucent so one light can shine through both sides.

Additionally, the type of tape you use is important. Avid Minnesotan night disc golfer Chris Hall swears by Scotch Super 33+ tape. He suggests using it liberally in an H pattern (see the image at the top of this section) and securing the light at the very center of the disc so its weight doesn't adversely affect flight. And if you're playing in cold weather, Hall advised only applying the tape when discs are warm but then allowing both disc and tape to acclimatize to the cold before taking your first throw.
A final tip is to remember that discs and glow tape are likely to lose most of their shine over the time it takes to play a round of disc golf. Experienced night disc golfers make sure to always have a UV flashlight with them to keep discs and/or tape glowing brightly through the night.
Year-Round Glow Play in Denver, Colorado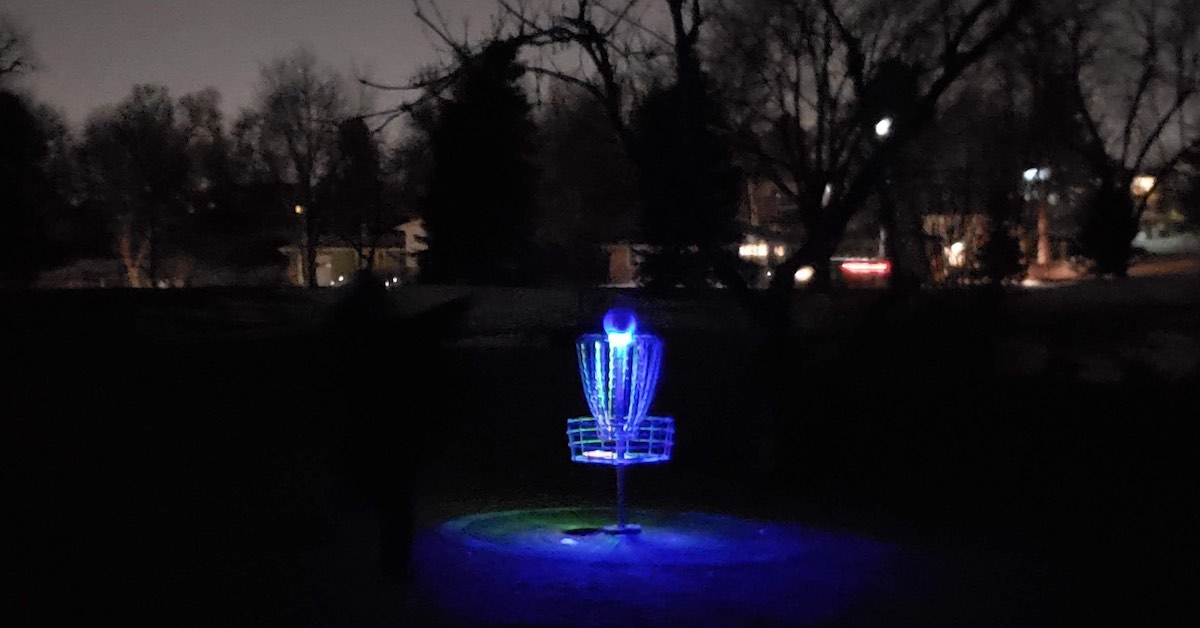 While some clubs are just now beginning to explore the idea of glow rounds, others, such as the Mile High Disc Golf Club (MHDGC) in top-five U.S. disc golf city Denver, Colorado, have embraced night disc golf for years. Since 2017, this dedicated group of disc golfers have put on two glow rounds of disc golf per week (Thursdays and Fridays) in south and north Denver. 
"Glow disc golf is much more casual than other events we put on," explained Lauren Johnson, Membership Coordinator of MHDGC. "No one is out there to shoot their best shot but rather to have fun playing with different people every week."

She also noted that these rounds include a wide demographic of attendees from every age, gender, and experience level. 
Denver's glow leagues take place at Centre Hills Park in Aurora, Colorado, and Johnny Roberts DGC in Arvada, Colorado. The glow disc golf rounds include closest to the pin (CTP) challenges and an ace pool. Players bring their own glow discs and UV lights, but the directors of the club additionally provide glow tape and lights for people to use during the round. Johnson underlined the strong local support for glow by sharing that after she posted on the MHDGC Facebook page asking for funds to put lights in baskets, it took just two hours for the money to be raised.
"The community is truly the best part of the event," shared Johnson after recounting the influx of donations. "Players always help put up the lights and take them down after the round. I could not do this without the community and I'm so thankful for what we have created."
Festive and Fun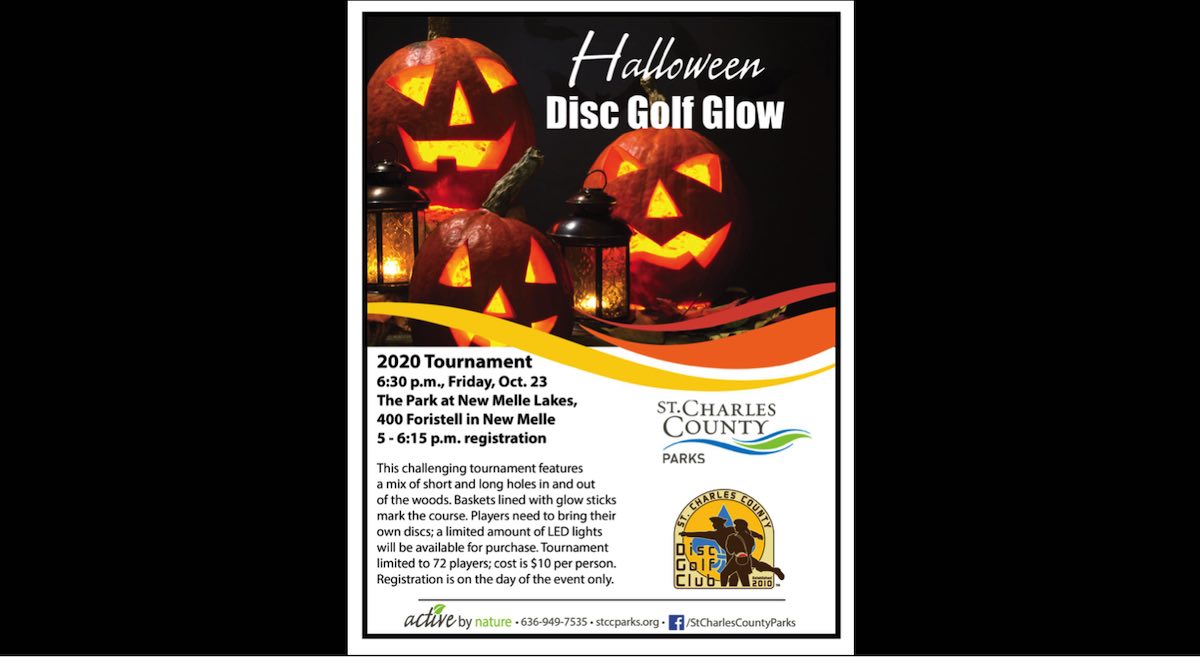 Although holidays may look a little different in 2020 due to COVID-19, disc golf can be a relatively safe way for communities to still celebrate. For example, the directors at St. Charles County Parks in Wentzville, Missouri, saw a disc golf glow event as the perfect avenue for letting people have some Halloween fun at New Melle Lakes disc golf course.
In addition to the regular lighting tools used for glow rounds, there were jack-o-lanterns throughout the course helping direct people to tee pads, add light, and create a generally festive atmosphere. People felt the holiday spirit as many attendees arrived in Halloween costumes.
This was the second year this spooky round has been played and loved by attendees. The staff at St. Charles County Parks strives to be an innovator in creating unique, fun disc golf events that push the boundaries of what disc golf is. Seventy-two players showed up for this event to compete for cash prizes and to celebrate the holiday with fellow disc golfers. 
"We are extremely lucky to have a great disc golf community that is supportive of our initiatives and events," shared Nancy Gomer, Marketing Coordinator at St. Charles County Parks. "We really believe the sky's the limit on our events." 
Full Moon Frenzy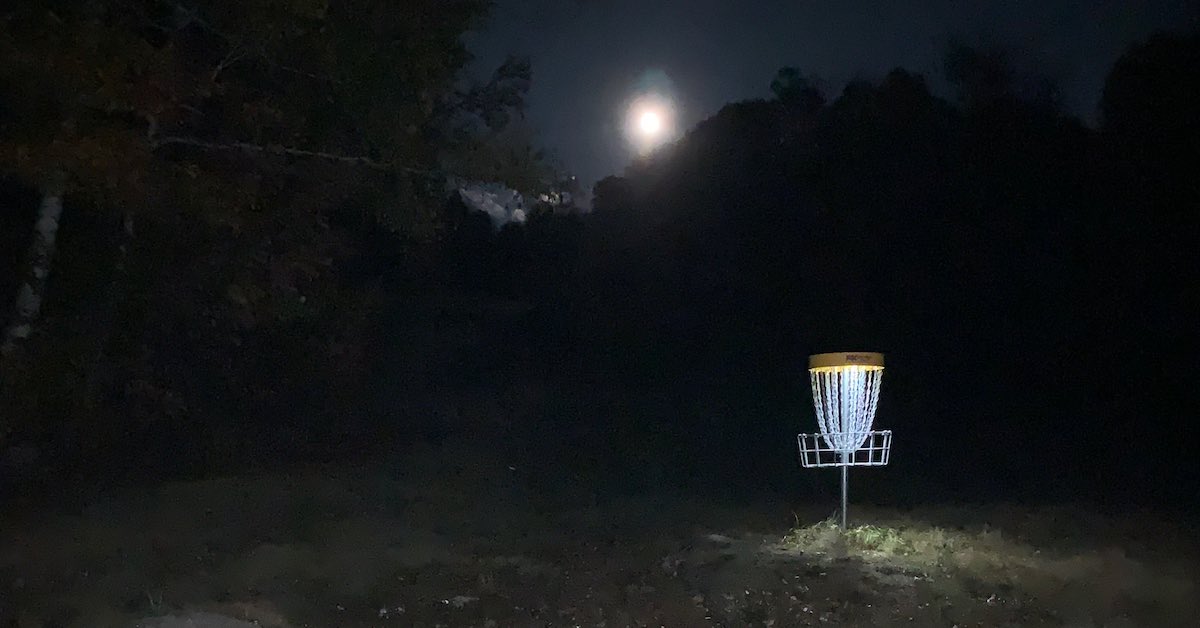 Once a month when the moon is full, the sky is just bright enough to create perfect conditions for glow. Waterville Valley Resort in New Hampshire capitalized on this during their first glow round, combining well-lit tee pads and baskets in the mountains with the full moon's silver light to give disc golfers an unforgettable round. 
During the event, players went up the mountain on a ski lift a little before dark to get to the first tee pad of Waterville Valley Disc Golf Course and get the lay of the land before dark. They then played 18 holes while descending the mountain. At this event, the staff had lights, glow discs, and glow tape available for purchase. The course had glow sticks surrounding its tee pads and lights in the baskets. 
"This event was a lot more interactive with cards in front and behind you compared to normal rounds," commented Ian Cullison, Director of the resort's Adventure Center. "Getting to see the discs in front and behind you flying really gave everyone a feeling of being in it together. You could connect with cards all around you."
Players at this event needed little additional light as the full moon provided ample illumination. Still, the glowing discs and baskets made for a colorful, fun round. Cullison said that there are hopes for such full moon glow rounds to happen on a monthly basis going forward.
Where Can I Play Glow Disc Golf?
If you've gotten interested in trying out glow disc golf yourself, one thing you can do is browse UDisc Leagues for a glow league near you. Just because "glow" isn't in the league name, don't discount it. Make sure to read the league description for any mention of "glow." Nothing there? Consider creating your own.

Also don't fret if you don't find a league and don't have time to run one. You can get some friends together with the right equipment to create your own course or see if there's a course in the area open after dark where you could hang a few glow sticks whenever you find the time.