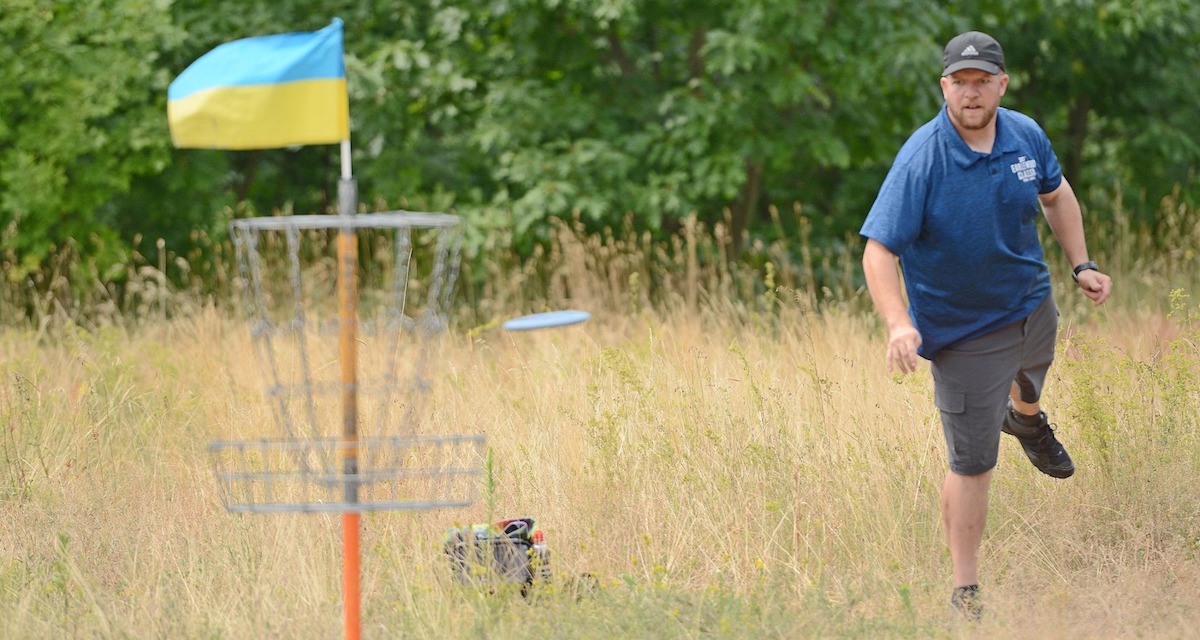 People in places with established disc golf scenes may find it bothersome to only have two nearby courses to choose from. In November 2016, Ukrainian disc golfers were excited simply to get two baskets. And even those weren't close together: One stayed in Ukraine's capital, Kyiv, and the other went to the city of Lutsk over 400km/250 miles away. 
Still, such meager resources haven't daunted the Ukrainian disc golf community. For example, with just those two baskets, its members put on a tournament (non-PDGA sanctioned) in September 2017 played on a nine-hole layout where intrepid players moved targets to create new holes after completing previous ones. And though such a setup might sound almost comical to some, holding this event led to a huge step forward for the country's scene.
A British participant in the tournament, disc golf legend Derek Robins, said he would help secure more baskets. Not long after, Discmania CEO Jussi Meresmaa sent seven baskets and 50 discs to Ukraine, with Robins and two others covering shipping and customs costs. Suddenly, a nine-hole layout didn't require players to move baskets.
Current Ukrainian disc golfers are hoping that such stories are the foundations for an illustrious history of disc golf in their country. However, at the moment it's still a movement just starting to find its feet.  We corresponded with Yuliya Pastovenska to find out more about the state of Ukrainian disc golf. Pastovenska is a native Ukrainian now living in the U.S. who is nevertheless very connected to the scene in her homeland. She was also the tournament director of Ukraine's first PDGA-sanctioned tournament in July 2018.
The following interview was conducted via e-mail, and it has been edited for length and clarity.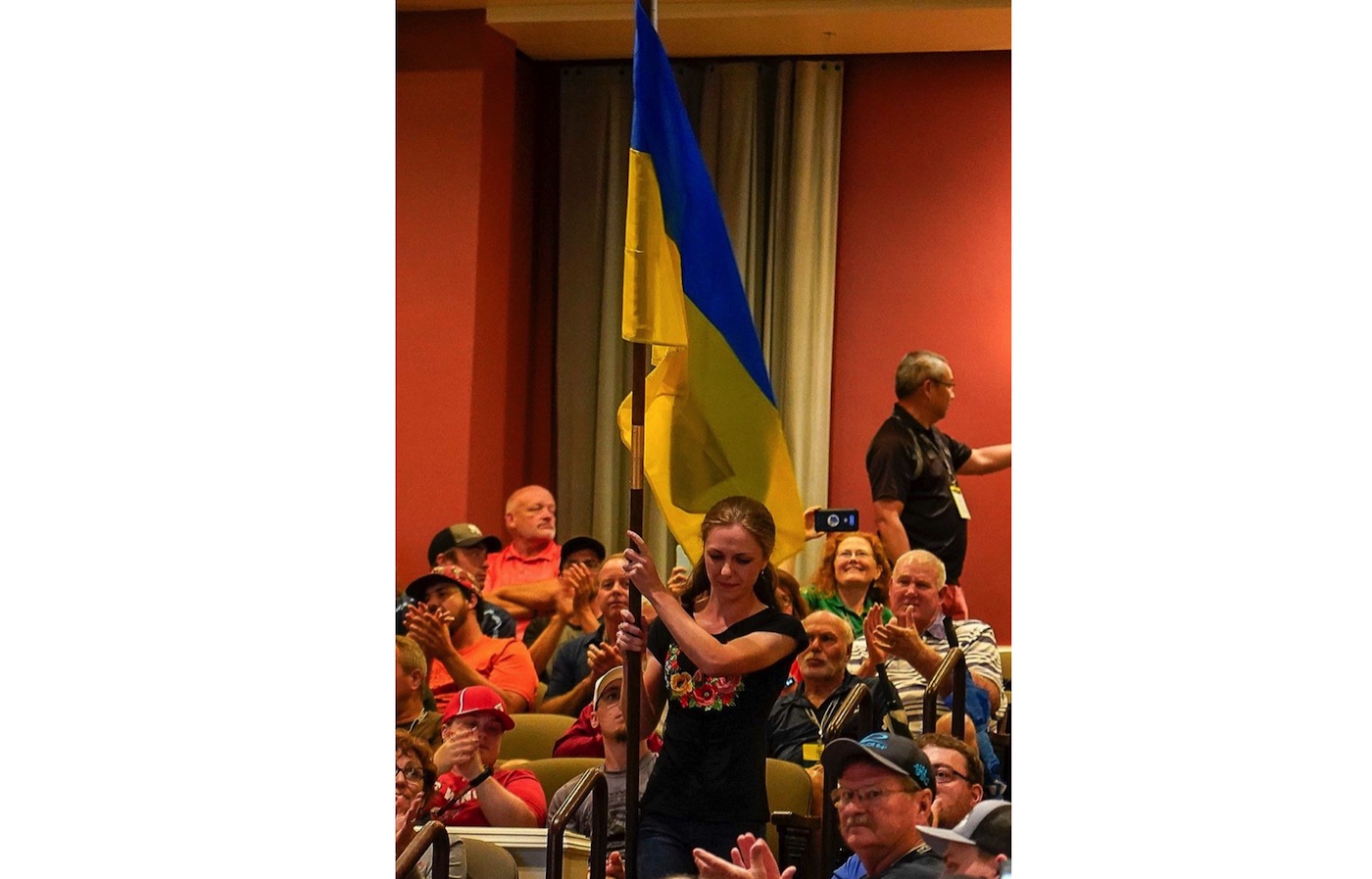 UDisc: Why do you believe Ukraine could be a good place for disc golf to grow?

Pastovenska: Ukraine is a beautiful country with a rich history, friendly people, delicious food, and it's very affordable to visit. Disc golf is a relatively new sport in Ukraine but, like in many other countries, it's growing pretty fast. Many great athletes come from Ukraine, and Ukrainians like to compete and push themselves to be better. I think that playing an 18-hole layout with only one basket every weekend says a lot about their love for this sport. 
UDisc: In 2016, Russian Aleksandr Makarov was awarded a PDGA Innovation Grant to help grow disc golf in Ukraine. Did Makarov help introduce Ukrainians to the sport?
Pastovenska: Ultimate frisbee players from Kyiv and Lutsk knew about disc golf going back to 2006 although they didn't have the right discs to play with and they didn't know the rules. In 2015, Dmitro Strelchyn created a Facebook community called "Disc Golf Ukraine" and started calling his ultimate friends to play disc golf. That's when Ukrainians started promoting disc golf. A small group of friends started playing games in different parks, where they would throw regular frisbees to some poles, trees, and other targets. 
In November, 2016 Ukraine got two baskets and 20 discs thanks to the PDGA and Makarov. One of the baskets went to Kyiv and the other one to Lutsk. Disc golf really started to grow in those two cities, and around the same time Tatiana Machulka and Bohdan Alexeev translated the rules of disc golf into Ukrainian.
Since the beginning of 2017, members of the disc golf communities in Kyiv and Lutsk host leagues almost every weekend, putting leagues during winter time, and tournaments.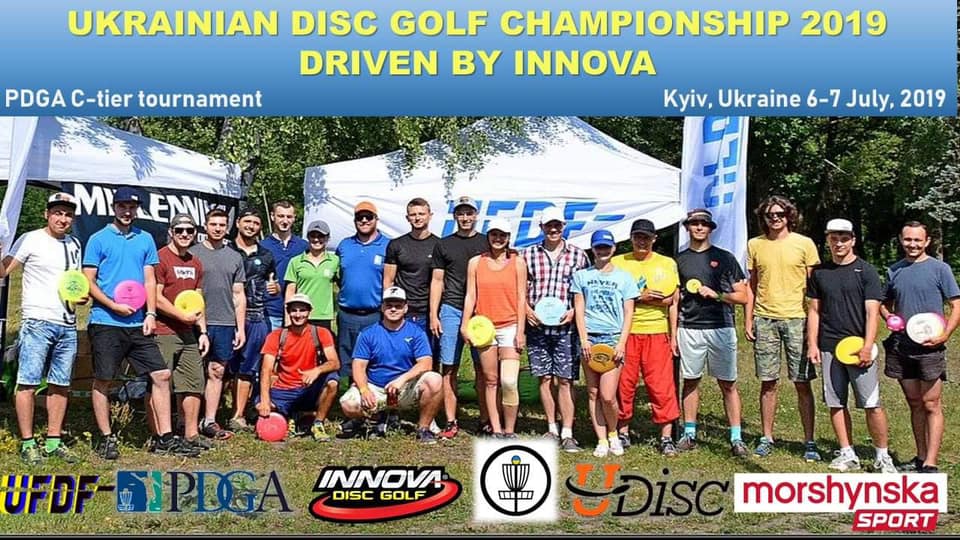 UDisc: Ukraine has hosted four PDGA tournaments, with the first one being in August 2018. What have these tournaments been like to organize and play in?
Pastovenska: I started playing disc golf for fun in states in 2014. Since then I've competed in 84 tournaments with 34 wins. When I found out about Ukrainian disc golfers, I was super excited and wanted to meet them. Since they had nine baskets, they wanted to have a PDGA tournament. Being the only certified TD, I volunteered to run the first PDGA event, which I did with the help of Aleksandr Ratushniak and Bohdan Alexeev.  
That event was the Ukrainian Disc Golf Championship held in Kyiv at Muromets Park on July 7, 2018...There were 15 players from Ukraine and four players from the USA. It was a C-tier event, consisting of two rounds of 18 holes that we played on a nine hole layout twice for each round. The players packs were discs donated by our friends in America, Innova Champion Discs, and from our own personal collection.
My husband and I ran the Ukrainian Disc Golf Championship 2019 driven by Innova again this year and it had 24 participants, the most participants any Ukrainian tournament has had to date.
UDisc: Ukraine is still working on a getting a permanent course. What efforts have gone into making it possible?
Pastovenska: I wanted to do something special [for the 2019 Ukrainian Championship] that would help Ukrainians to finally get their first permanent course or at least start the process. We needed money. First, I decided to donate all my winnings from this year's tournaments. Second, Jeremiah Desrosier (last year's MPO champion) knew the guy who could make us a design for discs—John Dorn. He's designed multiple stamps for big tournaments.
I told him what I wanted to see on a disc and he did a wonderful job illustrating the Cossack, a Ukrainian warrior, throwing a disc. I contacted Innova about making 100 discs in CFR Color Glow with that stamp. They turned out beautifully. I started selling them on Facebook and in my local club in Columbia, SC. In about a month and a half, the discs were sold out. I can't express how much I appreciate every single person who purchased a disc (or two). 
All the money that we raised from selling fundraiser discs, entry fees, my winnings, and donations from local disc golfers and businesses will go towards building a permanent course.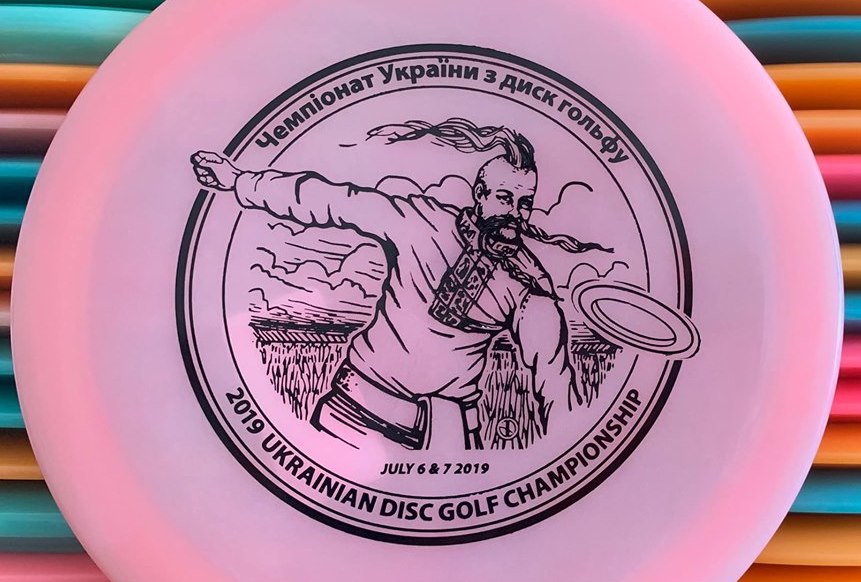 UDisc: Where will the course be and when do you think it will be finished?

Pastovenska: The course is going to be at Muromets Park, Kyiv. The money that we raised is not enough for professional baskets and shipping. But it's enough for producing them in Ukraine. We found a welder that can make the baskets by PDGA standards and the first one is already in the making. I don't know when the course will be ready, but I am sure we will see the progress and pictures in the Facebook groups Kyiv Disc Golf and Disc Golf Ukraine.
UDisc: Is there anything else that you think is important for people to know about Ukrainian disc golf?
Pastovenska: I want to keep spreading the word about Ukrainian disc golf and help those guys as much as I can. They are very hardworking and fun people who are curious about disc golf, and they deserve some recognition in the disc golf community.    

If anyone is looking to make an impulse trip to Ukraine this weekend, the country's fifth PDGA-sanctioned event is taking place in Lutsk from August 10-11, 2019. More details here.