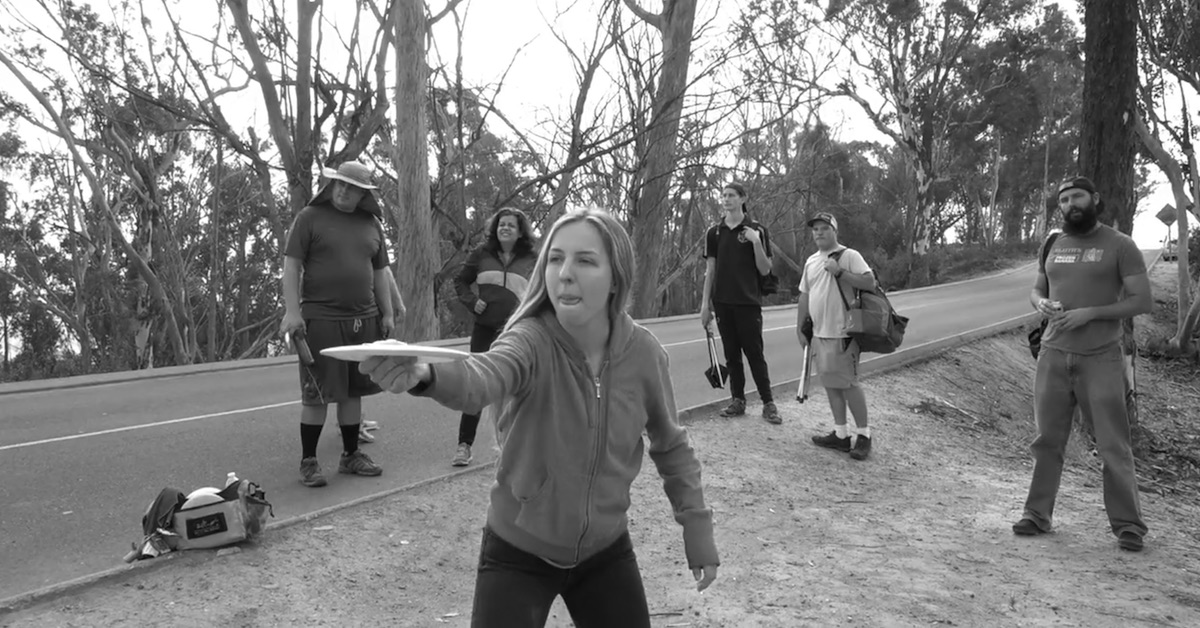 The number of sports movies is too high to count. For U.S. football, what millennial doesn't remember at least one substitute teacher popping in Remember the Titans or Rudy? Basketball is featured in critically-panned cultural reference points like Space Jam and Air Bud and gripping documentaries like Hoop Dreams. There's Happy Gilmore and The Legend of Bagger Vance for golf. Heck, competitive sheep-herding has Babe.

With disc golf's increasing popularity, it was only a matter of time before the sport caught a screenwriter's eye, and that screenwriter turned out to be Lucas Astrom. Astrom cowrote and directed the comedy Hard Plastic, which is currently under review for inclusion in over 20 festivals for 2020. It follows two main storylines: a young woman dreaming of being a professional disc golfer and her eccentric, junk-...sorry, antiquities-store owning father dealing with a severe midlife crisis. The film is a family affair, and comic actor Andy Dick (NewsRadio, The Andy Dick Show, Less Than Perfect) plays the father of his real-life daughter, Meg Dick. Astrom is Andy Dick's son and Meg's brother.

Curiosity about the movie has been growing in the disc golf community, and we reached out to Astrom to discuss it. He was more than happy to tell us about what it was like to make the film and his views on its commercial future and possible benefits to disc golf generally.

The following interview has been edited for length and clarity.

UDisc: What's your background as a writer and disc golfer?

Astrom: Out of high school I started doing improv comedy in Los Angeles. I did improv and stand-up for 11 years. I've just been focusing on comedy pretty much my entire adult life. I started writing probably about eight years ago, and this is the third script I've written. I decided to make it because sometimes you just have to make your own opportunities.

As for disc golf, when I was in high school, my friend and I just stumbled across Oak Grove one day. We just played with one disc each and were lovin' it. I haven't really looked back. During the season I catch most of the main events either on Jomez or Central Coast.

UDisc: Do you think the tone or style of the movie is comparable to anything else?

Astrom: It's hard to compare it to anything. It's a comedy with very big jokes, but the subject matter is also very serious with his midlife crisis and the relationship between the father and the daughter. It's this really awesome mix: makes you laugh and tugs on the heartstrings a little bit.

UDisc: And your dad, Andy Dick, was a cowriter?

Astrom: Yeah, I mean, we improvised a lot on the set, and he said, "You have to make me a cowriter." And I said, "Yeah, of course." You know, you do what you gotta do to please your stars. 

UDisc: [laughs] I can use that, right?

Astrom: Of course!

UDisc: So how long did filming take?

Astrom: Filming took about a month and a half. It took two years writing the script and about two years of post production after we finished filming. It's been about a four-year process.

UDisc: So filming was the easy part.

Astrom: [laughing] Not really, man! I had this guy who said he was gonna greenlight us for a $100,000 budget, and I was like, "That's perfect! Let's do it." He pulled out right when we were ready to go, so I did a crowdfunding campaign online. I said, "Hey internet, I could do this for about $30,000," but we only raised about $1,200 from the campaign and we shot the whole movie for that. It was hard. I was wearing all the hats. I was doing cameras and audio, location scouting, prepping for the next day. It was just a whirlwind of shooting and production. It was fun but tiring.

UDisc: And what was it like filming so that your sister who isn't a professional disc golfer looked genuinely good at disc golf?

Astrom: She's actually really talented for not having played much. People aren't ever going to believe this, but the first shot in the movie is her hitting a 50-foot downhill putt at a 40% incline or something. But she hit that putt on the first try! I was shocked. That even happened another time, too, when I lined her up for a huge putt. But a lot if was strategic camera work and editing.

UDisc: And did you work with local disc golf groups much during filming?

Astrom: The disc golf community was super friendly. We would just show up at events—one of them was the Wintertime Open—and talk to the tournament directors, and they would let us shoot some incredible live shots. And that really adds to the believability and production value. To pay people to come out to recreate a tournament would cost thousands, and we got it for free because of the love.

The guys at Legacy were also really helpful. They're the company that we feature in the film. Just super friendly and super cool.

UDisc: How do you plan to distribute the movie?

Astrom: We're trying to figure that out. We've submitted to 27 festivals. We're considering pitching it to something like Hulu, Amazon, or Netflix, but the route right now is to wait for the festival circuit and see what happens there. A lot of distributors go to festivals, so a distributor could pick it up at one of them.

UDisc: Do you think it's got a real chance at success?

Astrom: I have pretty high expectations because it's so funny. Between me and my dad, the comedy is top shelf.
UDisc: What are your biggest hopes for the movie?

Astrom: I hope that people see it. I want for it be online and just to make people laugh. I would love for it to turn people on to disc golf as much as to entertain disc golfers. It's definitely got the potential to do both.