When we published our first "'Home' Courses" article last week, we were excited to see that it inspired more disc golfers to share their homemade tracks with us on social media and through e-mail. With everyone needing an injection of fun into their lives right now, we decided it would be just as nice to do it twice.

From pro Seppo Paju's water hazards in Finland to two very different setups in Pennsylvania and beyond, enjoy this look at five more backyard courses that prove that though the world may be standing still, disc golfers will always find a way to go for a round.
Magic Mountain - Vermont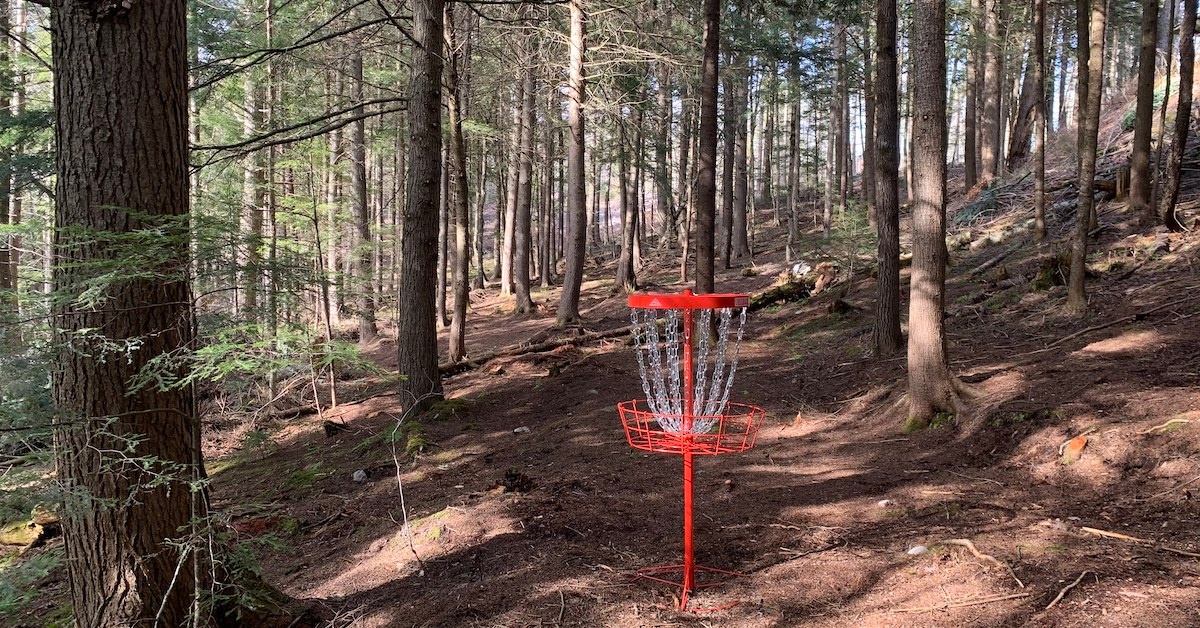 Matt Cote, Operations Manager of Magic Mountain Ski Area in Vermont, bought the former ski chalet he and his family now call home in 2017. Ever since, he's been using his scant free time to carve fairways out of his wooded, sloping land.

"It was very overgrown and generally a neglected mess," Cote said. "I got to work immediately but worked in stages and cleaning in between—cutting back all the bushy encroachment growth from the last 20 years on the edges, then limbing back the bigger trees once they were exposed, felling the standing dead timber and bucking up any big deadfall into movable pieces, pole sawing every branch below 20 feet [6 meters] and stripping out all the years of branches and deadfall in the fairways. It's been several years of working as I get a chance, and with my work I don't get a lot of chances. That said it's finally good enough to play, and it's been a real joy that I continue to work on and improve as I can, with a lot of fun details envisioned."

This wasn't the first course Cote installed. He and his team put in the disc golf course owned and maintained by the Ski Area he works for. But with the pandemic putting normal life on hold and two teenagers (along with a 14-month-old) at home, Cote said the home course has been an excellent source of quick fun available just outside the door.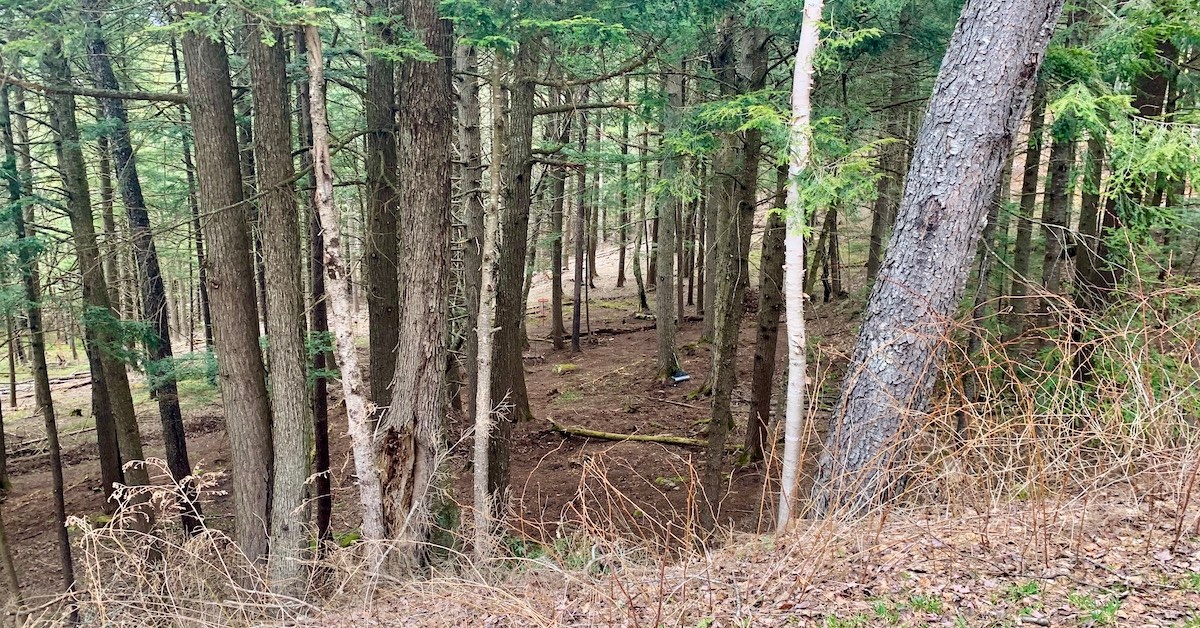 "Courses pretty much everywhere around are closed but the one out my door is open to me and only a few steps away," Cote said. "The wife loves it, the kids love it, and the dog is as infatuated as I am. My approach game is improving quickly and my putting has never been better. Bringing the pooch out for a #2 has never been so good for my short game!"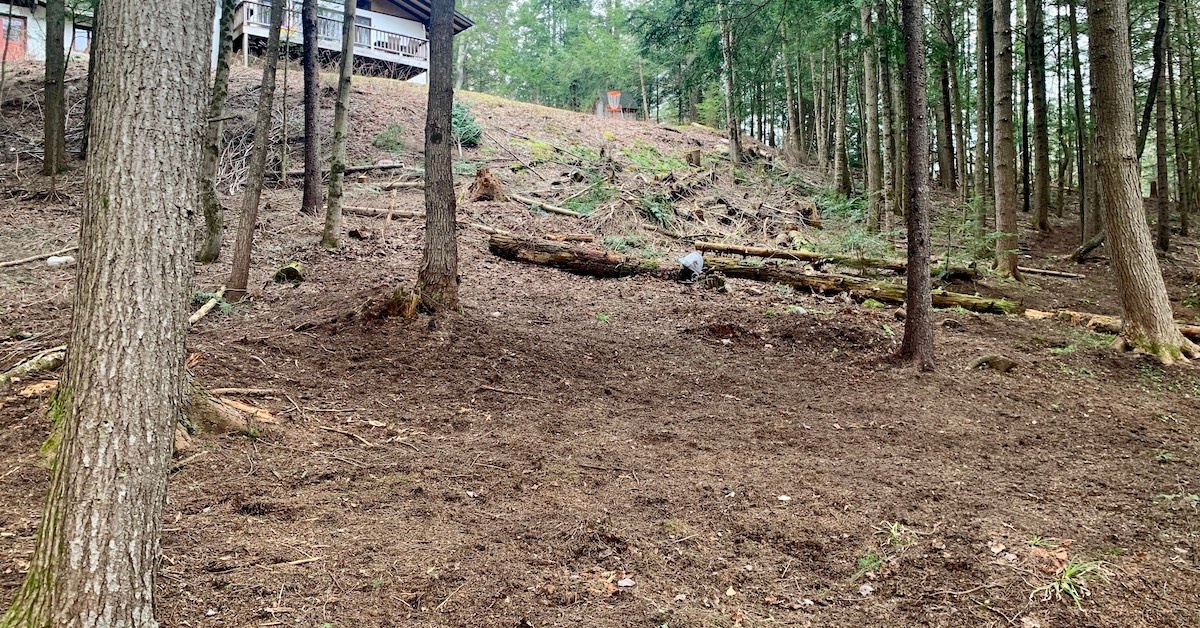 The course is a nine-hole putter-only affair built around four baskets. No hole goes over 180 feet/55 meters. Cote has also created some interesting house rules and is already planning more uses for his course once socialization appears to be safer again.

"Hitting the house or a car is a penalty stroke," Cote said. "Pot luck BBQ family league will be a go once some kind of COVID normalcy is attained, and I've got a neighbor building holes too, so the general attitude is one of optimism—getting ready for better days despite the pandemic craziness out there today."

Farming Out - New Zealand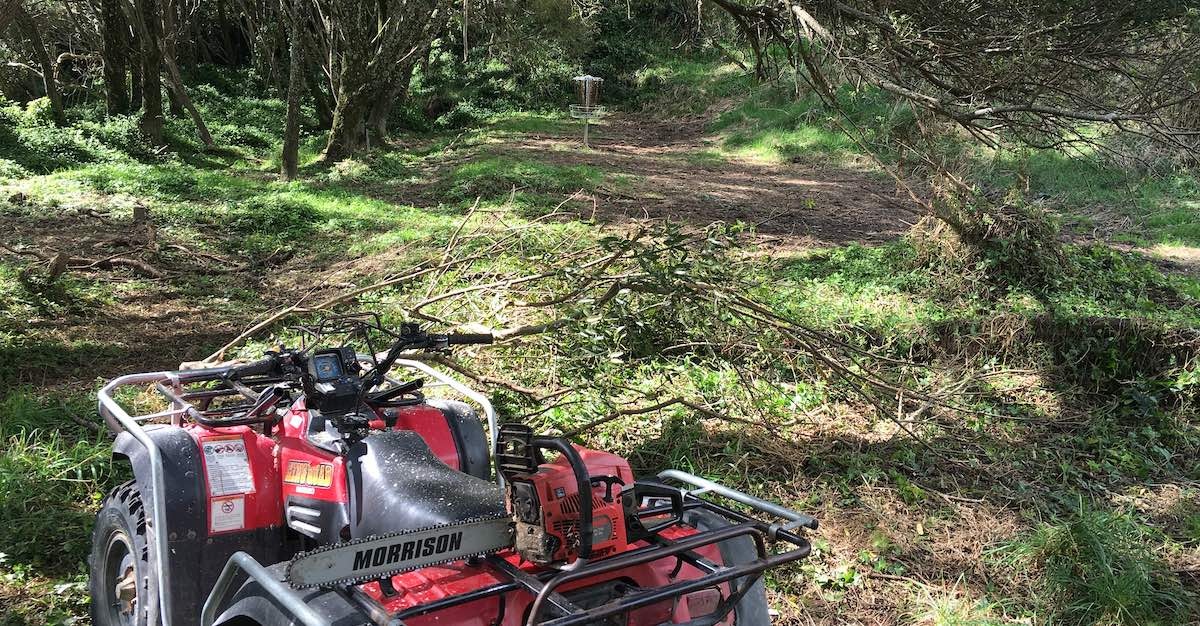 Sometimes social media can bring about connections we'd never have thought about otherwise. That was exactly the case for Anthony Rodgers just before New Zealand's strict measures to battle the spread of COVID-19 took full effect.

Rodgers lived in New Zealand's capital city, Wellington, and had made a post on social media expressing his worry about being stuck in an urban area during the pandemic. A combination of comments on that post led Rodgers to contact Ryan Kitto, a man who had a private course on his property, to see if he would be keen to have Rodgers as a guest.

Despite only having met and spent time with Rodgers during rounds of tournaments, Kitto checked with his family and then told Rodgers they'd be happy to host him.

"I packed up my car and headed up the road to Woodville," Rodgers said. "Woodville is a small rural farming community 30 minutes' drive from even the nearest decent supermarket."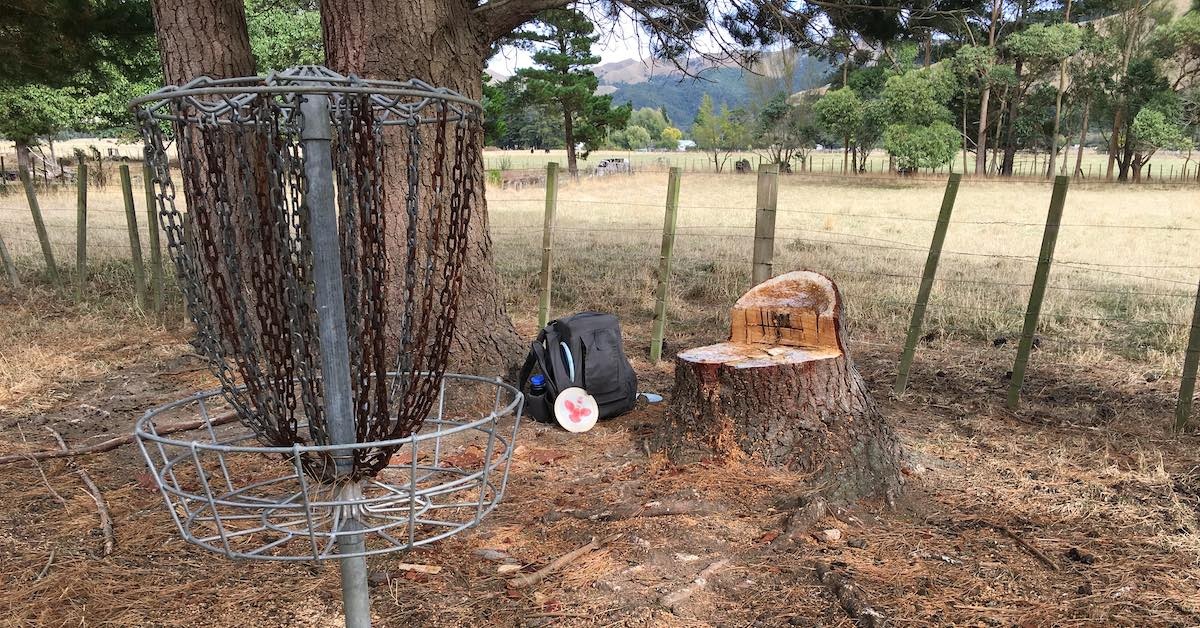 With 10 acres/4 hectares of property, Kitto had been able to put together a fun, challenging course that, before the pandemic, was seeing scant use. Now, Kitto and Rodgers play a round a day, posting updates of their play to social media to give their less-lucky disc golfing friends something to look forward to.

"At first we were hesitant to make comment on social media about our rounds, not wanting to stir up the masses that were locked in doors in cities not being able to partake in their favorite pastime," Rodgers said. "There was an outcry for more from our buddies throughout New Zealand stating that this gave them a chance to throw vicariously through us."

For a long time the course record stood at 9-under par, with neither player being able to beat that mark. Then, one fateful day, Kitto hit an ace during a round that was already going well. And when they reached the last hole, Kitto had the box and parked his shot, assuring birdie and a new course record 11-under par round. Rodgers was at 9-down at that point and really only had one choice to defend his honor.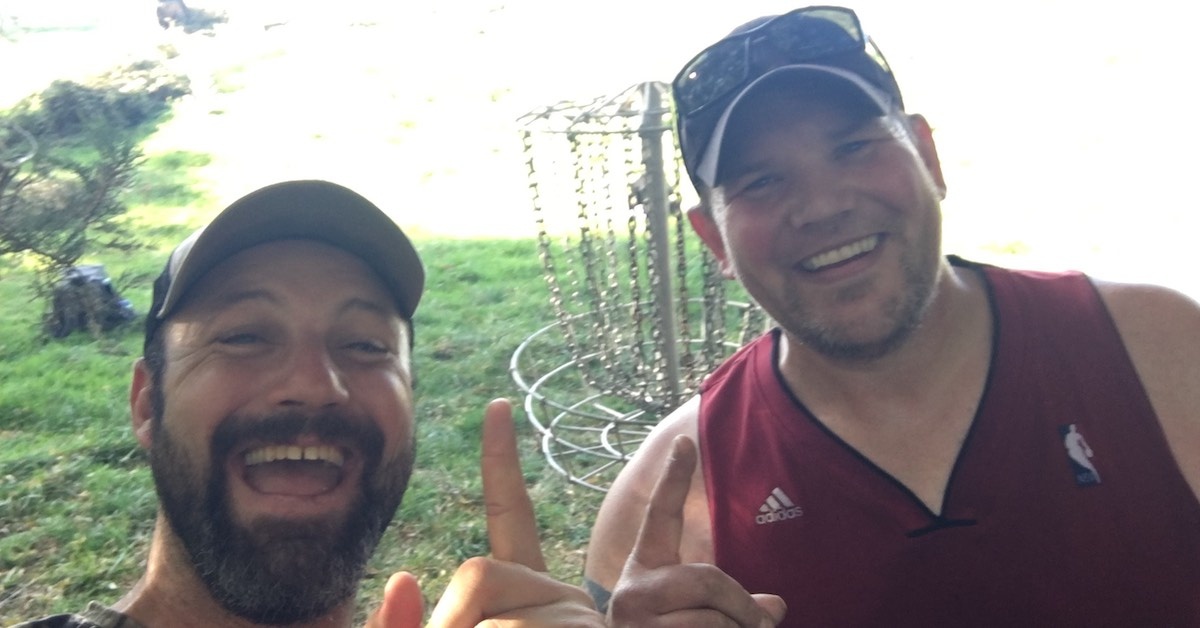 "The [eighteenth] hole is a short blind right-bending shot begging an overstable flick," Rodgers said. "I make mention before I throw with Ryan about to be up two shots that it would take an ace to tie and take down the new course record. And sure enough, my trusty Justice stalled out perfectly and hit the bucket...Best round ever!"
A Family Project - Pennsylvania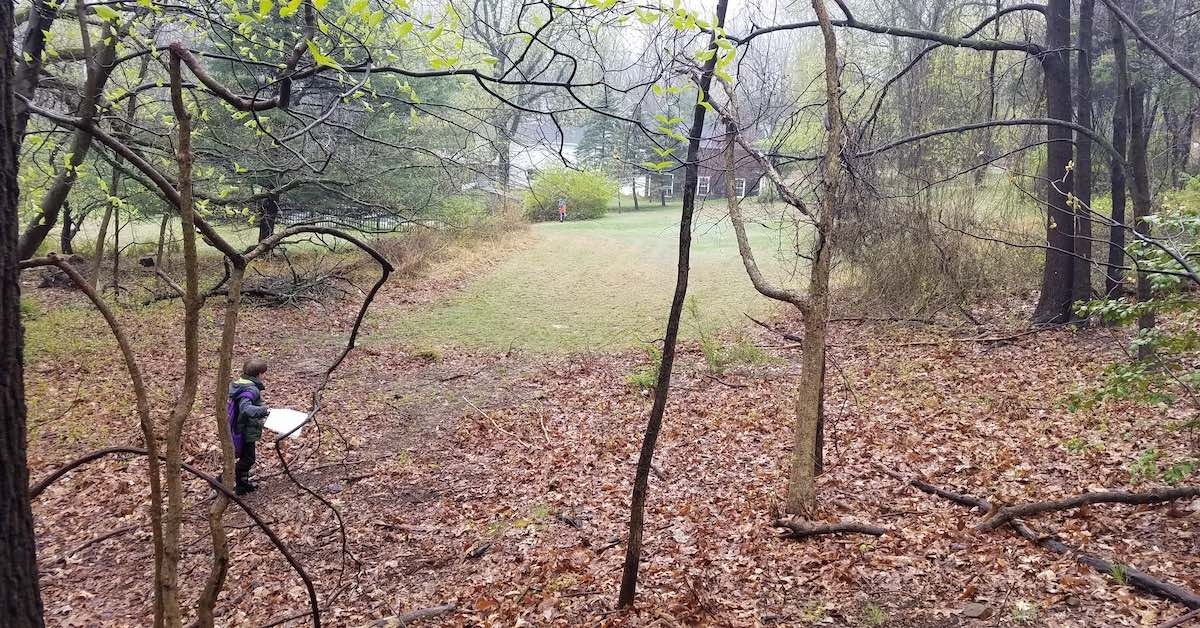 We admit that when we read Shawn Lowery's e-mail, it made us feel a little warm and fuzzy inside.

"My two boys have wanted to create a course in our yard and your blog article spurred them into action," Lowery wrote.

Lowery went on to say that with schools shut down and Colton (seven) and Connor (10) at home, disc golf has been a great outlet for everyone.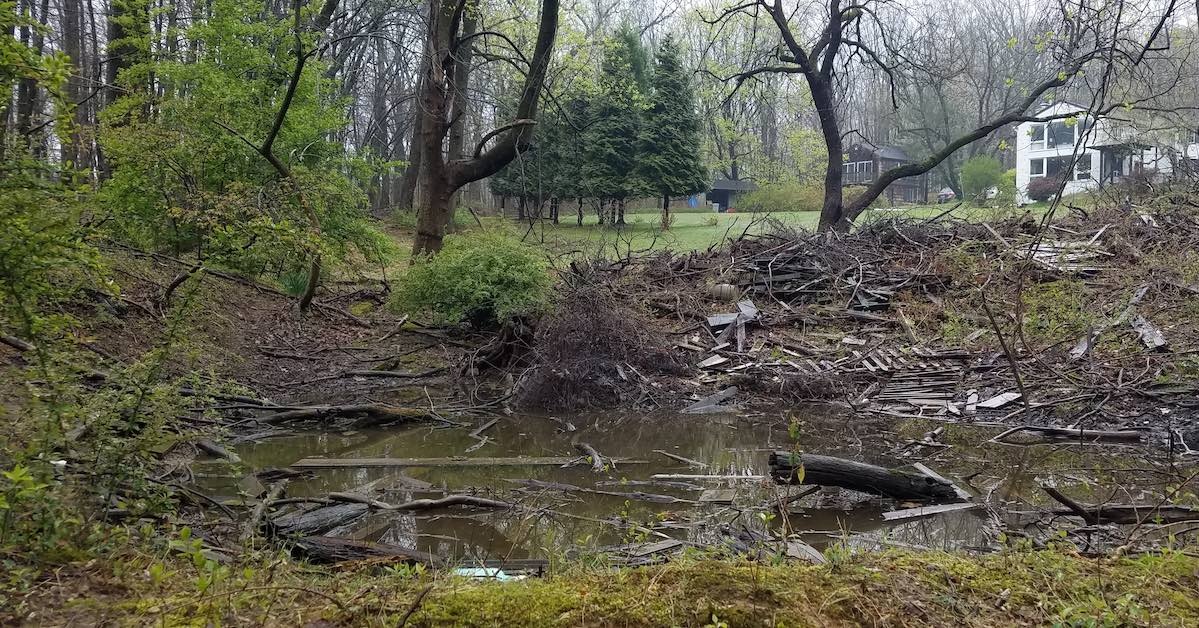 "The three of us have fallen in love with disc golf and spent nearly every day in quarantine playing nearby courses or simply in the yard," Lowery explained. "It's been extra special for mom and dad to see Connor take a liking as he's on the autism spectrum and most traditional organized sports were a challenge for him. We've loved getting out in nature together, exercising, developing our skills, and making a great use of time while school is closed."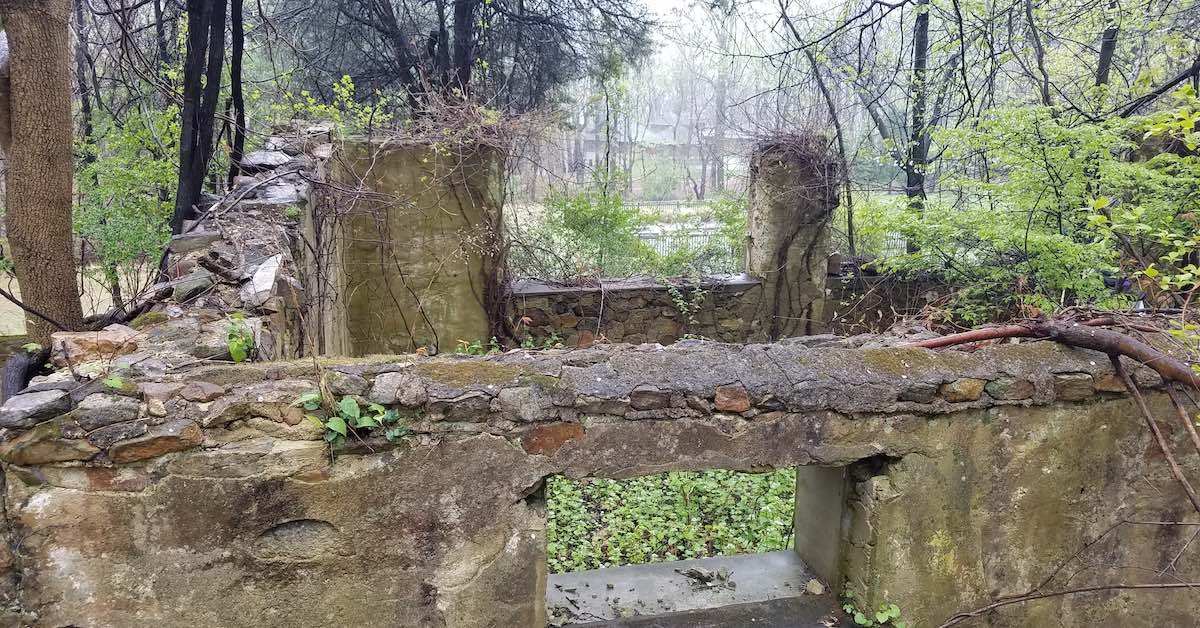 The kids had a lot to work with designing the course, with the Lowery family owning a 5-acre/2-hectare lot featuring plenty of interesting features and a variety of terrains. Shawn Lowery reported that Connor loves a tee shot they've designed to be thrown from a balcony and his favorite part of the sport is trying to get an ace. Colton enjoys getting to spend time with family and how their home course has just about everything: woods, open field, and elevation changes.
Far From Child's Play - Pennsylvania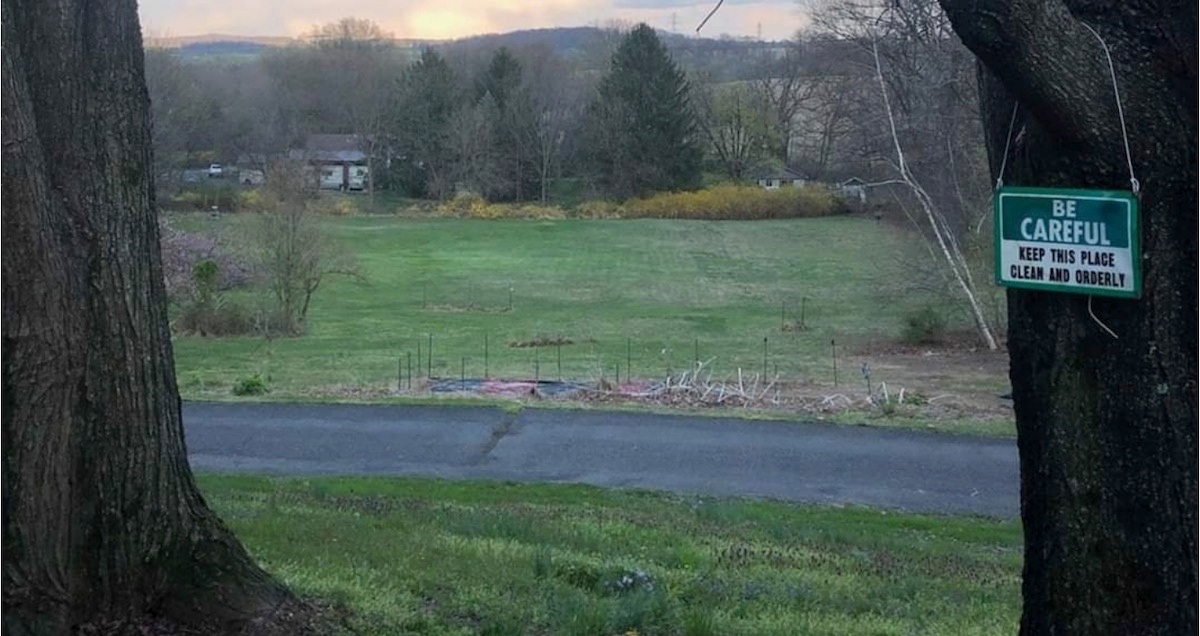 Our second trip to the Keystone State gives us a course of a far different sort.

Before the pandemic hit, Timothy Moyer was playing the majority of weekdays and tournaments on most weekends. Local courses stayed open after Pennsylvania's government put out rules and regulations to stem the tide of the pandemic. However, Moyer noticed that they were becoming overcrowded and many players weren't following social distancing guidelines.
Fearing he could play a part in having courses pulled altogether, Moyer, who's waiting out the worst of the pandemic at his parents' home in the countryside, voluntarily stopped playing.

"You could imagine after about a week of not playing I was going nuts," Moyer said. "I asked my parents' permission to put a few baskets up on the property. The end result: 11 baskets, 18 unique holes, requiring every shot in the bag."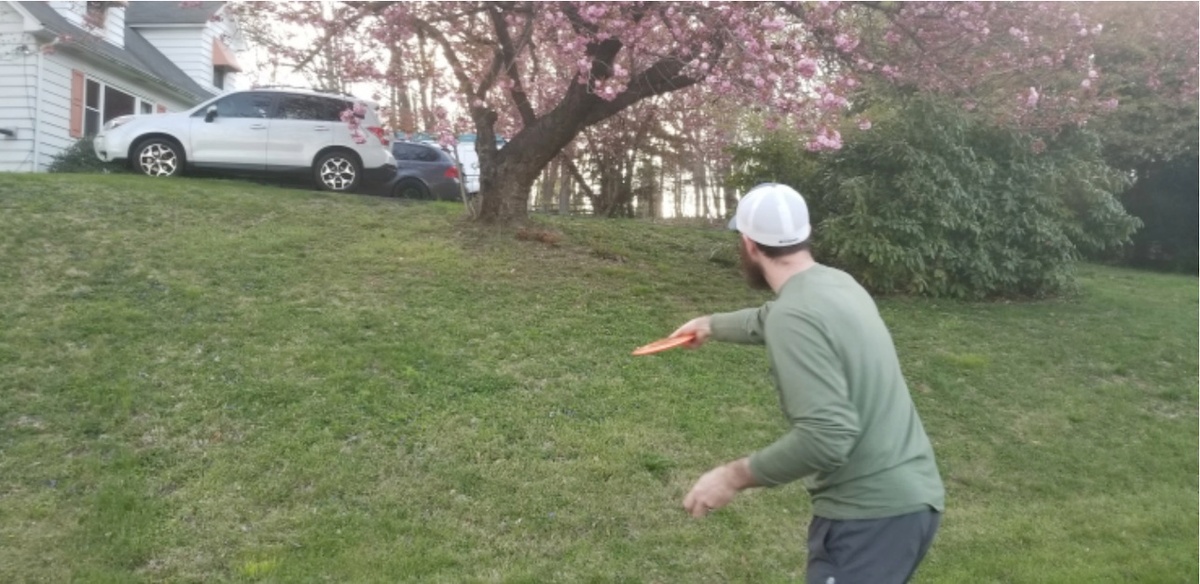 With an abundance of land to work with, Moyer designed the course alongside friends Ryan Brown and Ryan Nelson with serious players in mind. For example, hole one welcomes challengers with a 405-foot/123-meter downhill shot right from the start. Another standout is a hole with a triple mando before an island green. Fail to make any of the mandatories or the island, and you get the pleasure of a 70-foot/21-meter putt to save par.
With a variety of talented players taking the course on solo or in small groups, the course record stands at just 7-under par.
Moyer wanted to thank the disc golfers from around the Lehigh Valley who leant out their baskets to help make a place where responsible play was truly possible.
Paju's Permanent Playplace - Finland

If you watch pro Seppo Paju's vlog, which is published on the Prodigy Disc YouTube channel, you already know about the course he set up early on in the pandemic. If not, you're in for a treat. We gave him a call to learn a few more details about the course not in vlog episode he dedicated to it.

The property where Paju lives is next to a lake and offers up 2.5 acres/1 hectare of area for him to work with. This the land Paju grew up on, and he says this was far from the first hole he's created on it.

"I've played in the yard for the last 15 years, and there's gotta be up to 100 different holes I've played there" Paju said. "But I decided I wanted to make one official nine-hole layout and to make it almost as hard as it could be."

That desire for difficulty is clear with basket placements like this one:
Paju said the PDGA's recommendations for players to stay home and off courses prompted him to make this "official" layout now. He said that space obviously hampered what he could create, but he did design it with one of his training goals in mind.

"I've been wanting to get my putter stroke back, so that was one of the reasons why I really wanted to have all sort of different lines," Paju said. "You're going to be putting on almost every hole, so it really gets your upshots and putting good."

Some basket placements can create extreme putting situations, like on hole 1.



When we asked what hole Paju likes best, he didn't take long to answer.

"Probably hole 7," Paju said. "It's over the water almost all the way and plays from a dock over the water. It's anhyzer all the way and the longest hole, also. It's 87 meters [285 feet] uphill. That's the hole where I've lost the most discs, but it's also a very nice view."

You can take a look at it here:


Hopefully No Need For Another Sequel

We want to sincerely thank everyone who shared the stories of their truly "home" courses with us. Like the rest of you, we're hoping that the moves many places around the world are making to lighten restrictions won't need to be taken back due to a resurgence of the disease, making a semblance of regular life, and activities like disc golf, seem safe again.

That said, as much as we've enjoyed telling the stories of people making the best out of trying times, here's hoping there'll be no need for "'Home' Courses 3." Stay safe and be well!

All the photos in this piece are courtesy of the disc golfers discussed in each section.