Before Sunday, Mainer Scott Walsh had gone two years without an ace. With a streak like that, his expectations for nabbing a hole-in-one during a doubles round at New Hampshire's Moose Mountain disc golf course were pretty low. It wasn't even an event he'd planned to attend until two buddies messaged him almost simultaneously the night before urging him to go.

It was a good thing Walsh gave in. During the round, he ended his ace drought with a downpour. Walsh threw in four aces during the one-round competition.

Walsh's feat flabbergasted and thrilled those who witnessed it – including Walsh himself – and, based on numerous shocked reactions on social media, it seems sure to become a legend of New England disc golf. Learn how it all went down and how Walsh and others reacted below.
Each Ace In Detail
Now, purists might say that Walsh only pulled off two "real" aces during his round. There was an odd number of players at the doubles competition, and Walsh was playing Cali (playing alone and allowed one extra throw per hole to compensate for having no partner). Only his first two aces went in on his first tee shot while the other two were results of Walsh opting to throw his extra Cali shot from the tee.

For us, that fact doesn't really lessen Walsh's achievement. Based on 2020 UDisc stats, aces happen in disc golf on average once out of every 2,053 holes, so hitting two holes with just two chances each during a single round is still ridiculously unlikely. Also, the longest ace Walsh hit came from his first shot on the hole.
With that clarification out of the way, here are the details on each ace.

Ace 1: Hole 9, 342 feet/104 meters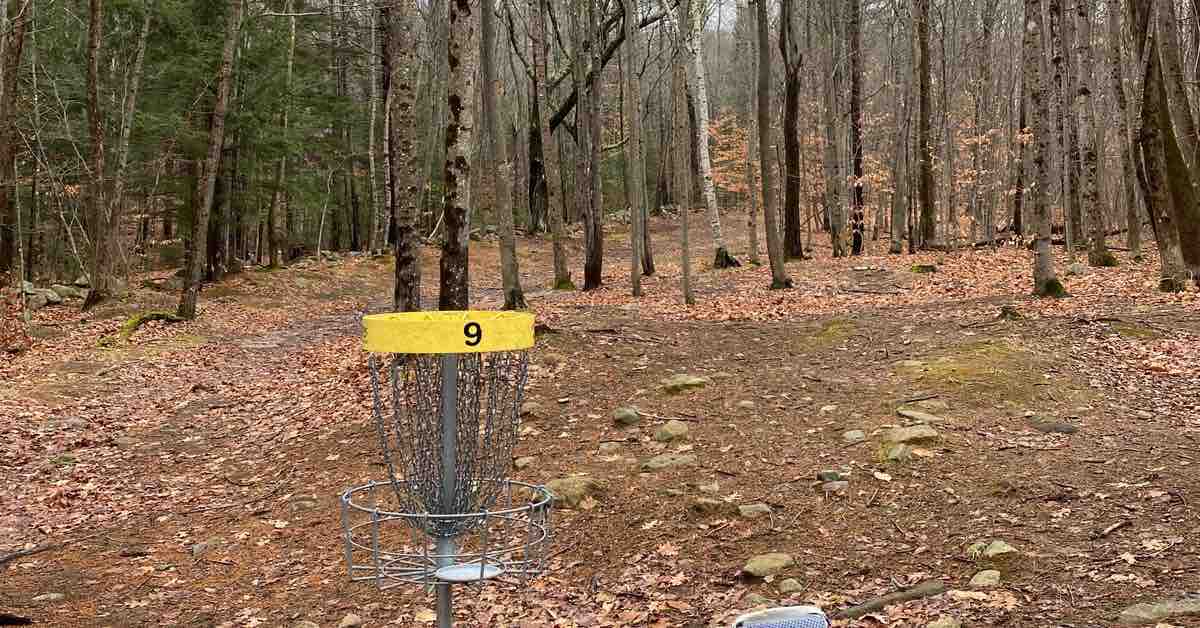 Walsh's first ace came courtesy of a perfect skip into the chains with a Discmania Essence.

"I actually thought [it] hit chains and jumped out," Walsh said in a video interview his friend Dan Jenkins conducted with him and card mate Daniel Racaniello after the round.

But the disc had stuck, and once everyone realized it, the celebrations began. Technically, the ace was an albatross as the 342-foot/104-meter hole is billed as a par 4.

Ace 2: Hole 11, 150 feet/46 meters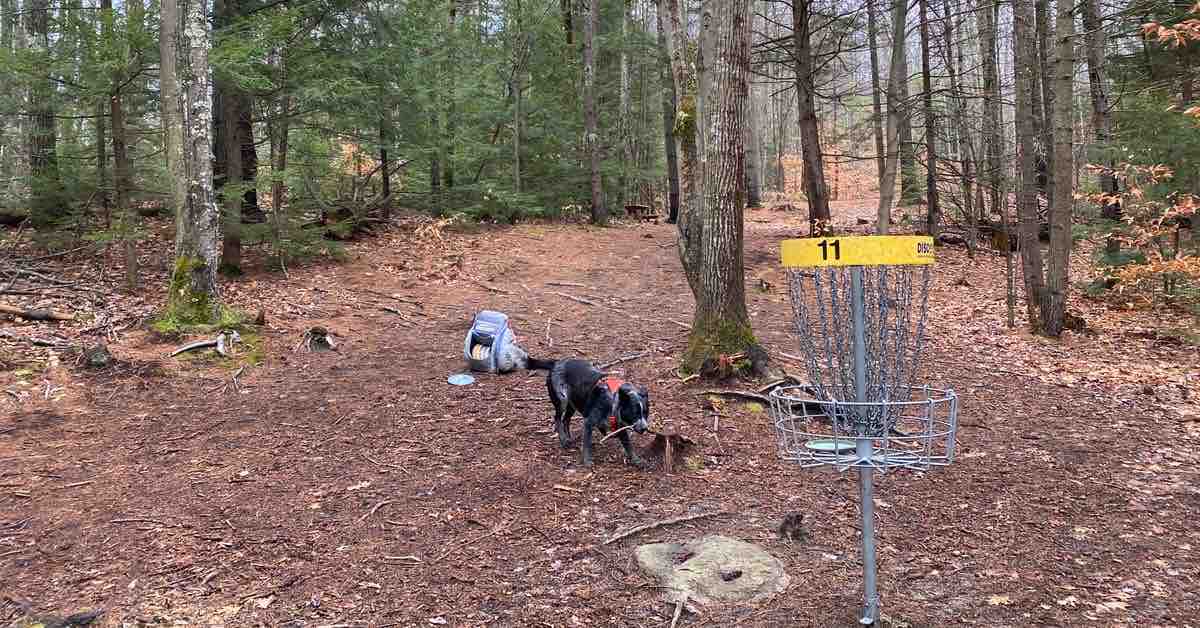 Just two holes later, another disc had chains stop its skip. This time it was a metal flake Innova Firebird that did the work. Though the hole was much shorter, the shock was much greater among everyone on the card.

Racaniello described his reaction to the shot in a comment on Facebook.

"At this point my soul was crushed and [I k]new I wasn't going to win dubs, so I embraced it and kept joking that he was going to hit more," he wrote.

Ace 3: Hole 15, 162 feet/49 meters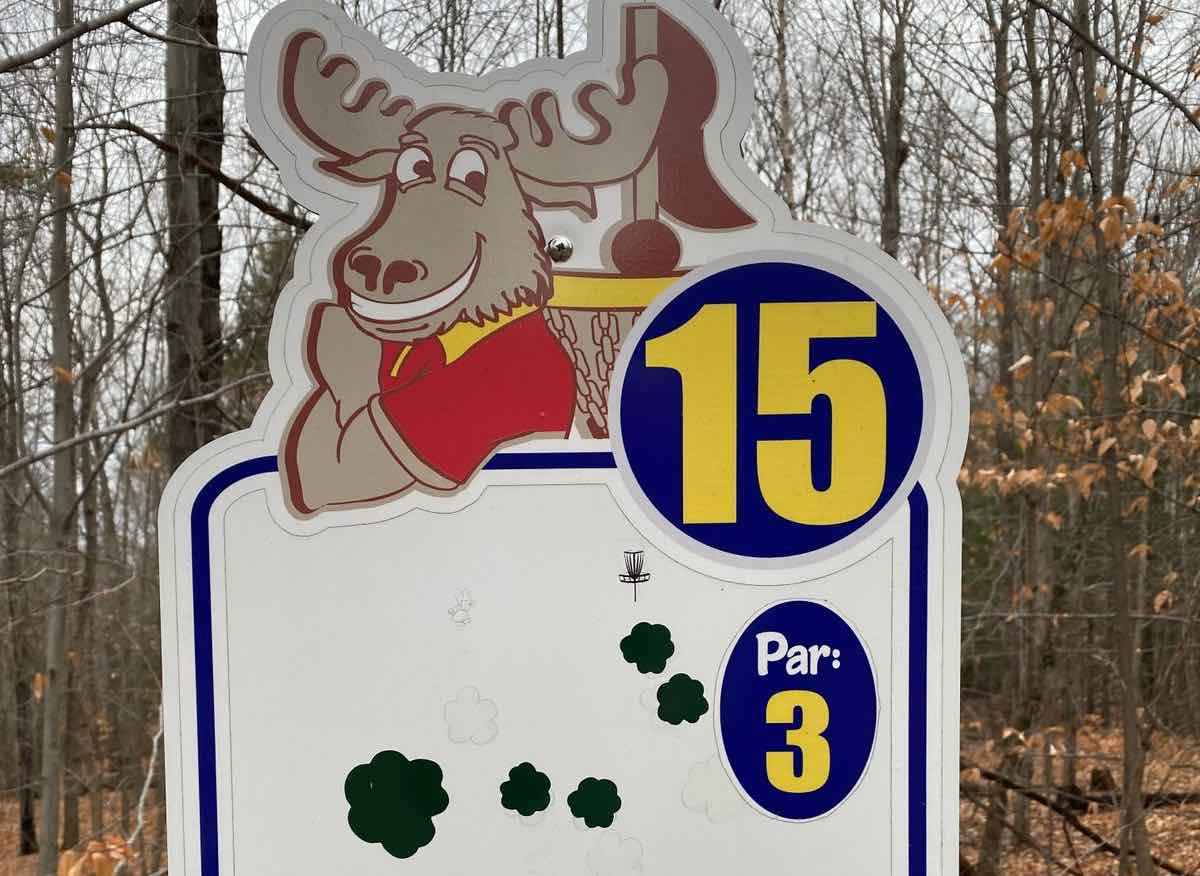 Walsh didn't ace hole 15 off the bat. Instead, his first shot landed close enough to the basket that he made the decision to use his one extra shot on the hole to give it a run. Because, at this point, why not?

Needing no skip this time, Walsh's Champion Innova Panther smashed chains and stayed in, initially creating more bewilderment than excitement on the card.

"Kind of a silent celebration on that one because we were a little confused," said Racaniello in the video interview.

For his part, Walsh recalled stepping away from the group and bursting out laughing because he was "so crazy nervous and excited."

Ace 4: Hole 17, 178 feet/54 meters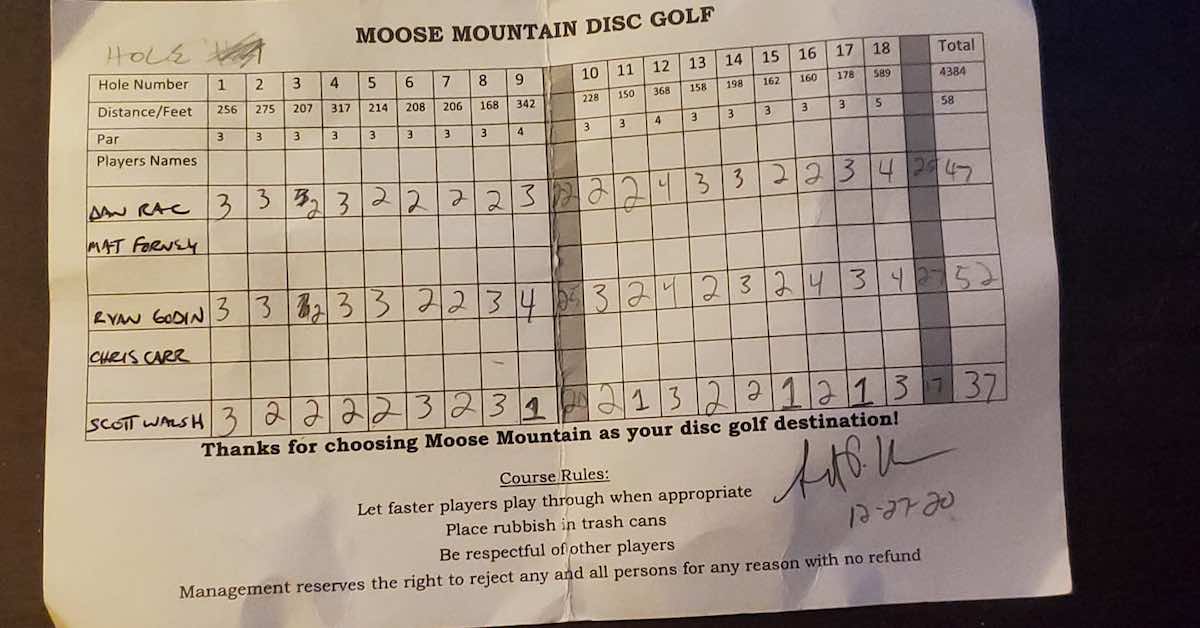 Walsh's final ace came on the course's penultimate hole. Moose Mountain's hole 17 is a downhill shot, and the green was icy. This meant if your disc landed anywhere near the basket without skipping or sliding away, you'd made a good shot.

Walsh put his first drive in the circle and decided that, with the way his round was going, there was no reason not to go for the basket. He tossed a beat-up Innova Aviar down and immediately thought it was far too high – even going so far as to wave goodbye to the disc from the tee pad.

But whatever magic was in the air for Walsh struck again, and the disc took a sudden drop to chain-level and crashed in.
Crazy End to a Crazy Year
If you'd like to hear the story of these aces in even more detail and put a voice with the man who threw them, you can check out the full video interview led by Jenkins here.

For his part, Scott Walsh is overjoyed by what happened and loves that people who weren't even there are getting such a kick out of it.

"It's incredible that people are so supportive and psyched about this," Walsh told us. "So much positive energy. Crazy way to end a really crazy year."

Along with having the round of his life, Walsh pocketed a $41 ace pot and won the doubles event by three strokes.