Editor's note: On December 12, 2022, the Professional Disc Golf Association announced changes to rules governing transgender women's participation in women's divisions at sanctioned disc golf competition that will take effect on January 1, 2023. The rules described in this post only remain valid until that date.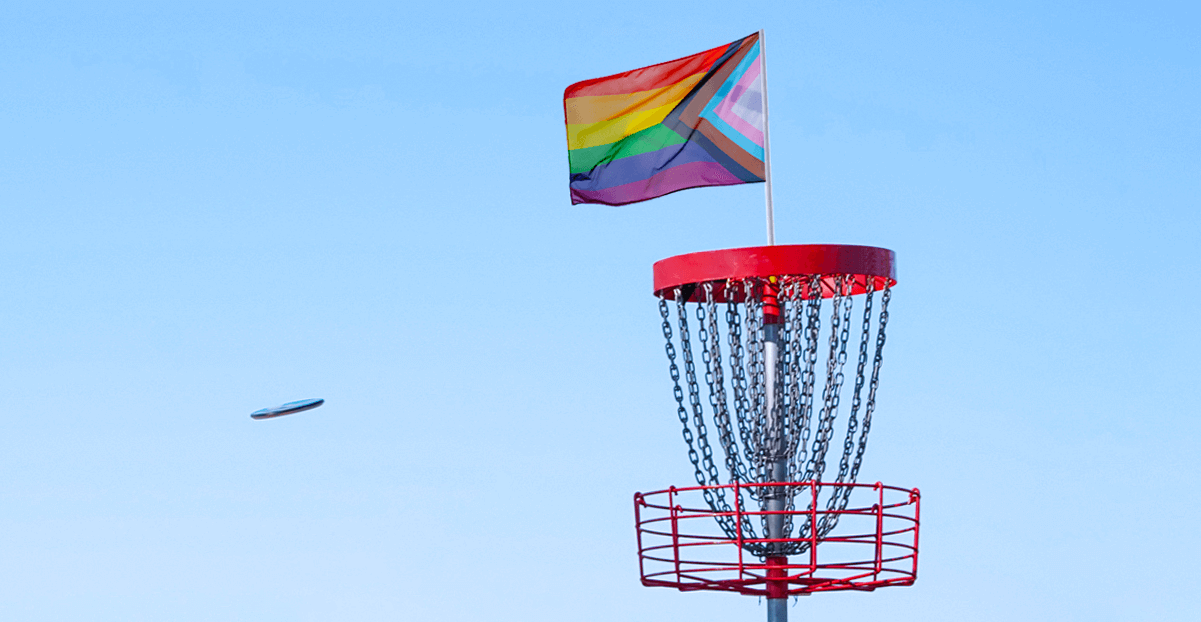 Over 1.6 million individuals, or about 0.6 percent of the population, identify as transgender in the United States, according to the Centers for Disease Control and Prevention's (CDC) Behavior Risk Factor Surveillance System (BRFSS) and Youth Risk Behavior Survey (YRBS). While visibility and open dialogue have increased dramatically in recent years, the UCLA School of Law, with use of CDC data, concluded that the percentage and number of adults who identify as transgender in the U.S. has actually remained relatively steady over time (2016 was the earliest point of comparison with the BRFSS and YRBS). Notably, that same data illustrates a recent shift toward acceptance of gender identity earlier in life as the youth transgender population has nearly doubled.
If the percentage of transgender individuals has largely remained unchanged, what has caused a perceived increase in conversation and controversy surrounding transgender athletes?
Polarization About Transgender Rights in Sports
Transgender rights have become a hot-button issue in both politics and sports. News outlets, politicians, and social media have a massive impact on the public perception of transgender individuals. 
In sports, particularly, there has been a zoomed-in lens on transgender women competing in gender-protected divisions. In 2021, Laurel Hubbard became the first openly transgender woman to compete in the Olympics when she participated in weightlifting. This sparked a wide range of public response, including outrage and hate speech. Many spoke to the "male advantage" in sports despite Hubbard's less than impressive showing (completing zero accepted lifts). 
Though the big debates are extremely recent, the International Olympic Committee (IOC) has actually discussed and developed its framework for transgender athletes to compete for close to two decades: The IOC first convened an ad-hoc committee of its Medical Commission in October 2003 in Stockholm, Sweden; in May 2004 the IOC publicly adopted the committee's recommendation that transgender athletes could compete at that year's games in Athens.
Since its initial ruling, the IOC has continued to review and update its gender-based eligibility guidelines based on new evidence. Only following Hubbard's performance, though, did the IOC's rules receive widespread public scrutiny.
Similar history is true of disc golf. The structure and policy for transgender athletes was in place years before the first openly transgender disc golfer began competing. 
What Are the Rules for Transgender Women Disc Golfers?
Currently, transgender women athletes are eligible to compete in women's divisions in disc golf if they either:
Have undergone removal of testosterone-producing organs, which may be accompanied by gender-affirming surgery, or
Had suppressed testosterone levels below 10 nmol/L for at least 12 consecutive months
This means that to play in a women's division at any PDGA-sanctioned event, transgender women competitors must submit paperwork, blood work, and/or medical history to show they have met all standards. Keep in mind, too, that access to and the affordability of medical transitions vary across states and countries, with many places requiring a therapist's diagnosis of "gender dysphoria" before any intervention takes place.

The PDGA's rules follow those adopted by the International Olympic Committee in 2015. The PDGA adopted them in 2019.

The 10 nmol/L measure was set based on research of typical hormone levels for cisgender men and women (men and women who identify with their sex as assigned at birth). However, the IOC recently released guidance on rules related to transgender athletes that advocates moving away from testosterone level testing as the practice has caused international controversies. For example, cisgender women athletes like sprinter Dutee Chand and middle-distance runner Caster Semenya – neither of whom is transgender – have a condition called hyperandrogenism that affects their testosterone levels and have both faced bans from competing in women's divisions.

Much like the IOC, the PDGA had rules in place for transgender athletes prior to the years it adopted its current regulations. After the IOC set its first set of rules for transgender athletes in 2004, the PDGA adopted those in 2010.
The first openly transgender woman competed in a women's division in disc golf in 2014.

In 2021, the IOC released a new Framework on Fairness, Inclusion, and Non-Discrimination on the Basis of Gender Identity and Sex Variations. The 10-point process provides sports' governing bodies with guidance for how to modernize their policies regarding transgender competition, and the PDGA is currently in the process of reviewing the framework.
"The PDGA medical subcommittee is committed to aligning the PDGA competition standards in conjunction with the new IOC guidelines and framework with regard to participation for transgender athletes," said PDGA Director of Marketing Danny Voss. "The committee's priority is to balance inclusion and access to competition with fair competitive practices formulated from evidence-based information. In the meantime, the current PDGA standards are in effect for all PDGA-sanctioned events."
Do Transgender Women Have an Advantage in Sports?
Research looking at the effects of gender transformation on athletes is generally sparse though there has been a small amount of data published on the topic.

One study performed by Joanna Harper, a medical physicist, long-distance runner, and transgender athlete, used the age grading method to compare race times of herself and seven other transgender female distance runners before, during, and after their transitions. The results of this study showed that all of the athletes tested within average range relative to their cisgender competitors. Obviously, these results cannot be extrapolated for all sports, but with the limited studies of transgender athletes available, this is one to note.
Another study performed by Timothy Roberts, a pediatrician and director of an adolescent medicine training program, utilized the Air Force's fitness test to compare athletic advantage before, during, and after transition. This study found that at the one-year mark currently used by the IOC, slight advantages may still exist. However, by the two-year mark, all advantages had been largely reduced to the level of an average cisgender female athlete. 
Roberts said there is no way to remove all of an athlete's advantages – regardless of their gender identity – according to a report of the study by NBC News. 
Roberts referred to the notion that upbringing, economic standing, and hereditary factors all play major roles in an individual's athletic advantage. Someone who grows up in a supportive household that can fund athletic training, for example, will have an inherent advantage over someone who doesn't have access to equal opportunities. Additionally, even among cisgender women there is massive disparity between "good" or "bad" frames for different sorts of athleticism (e.g., the vast differences between ideal builds for gymnasts versus those of basketball players).
Some individual sports' governing bodies, such as cycling's UCI, rugby's World Rugby, and swimming's FINA, have gone further than the IOC in their rules regarding when transgender women can compete in gender-separated divisions. World Rugby has an openly-stated ban on transgender women participating in women's competitions, and, though they aren't phrased as such, FINA's requirements also essentially amount to a ban. 
Largely, these decisions were made due to uncertainty surrounding potential advantages of transgender athletes. More information and scientific research are vital to a fair assessment of competition moving forward. 
The Effects of Gender Transformation on Transgender Women Disc Golfers
In a sport such as disc golf that is largely based on touch and technique, the effects of transitioning on transgender women may look different than other sports. 
"The athlete would lose strength, explosiveness, stamina, endurance," said Laura Nagtegaal,  a transgender FPO player and member of PDGA's Board of Directors, Competition Committee, and Women's Committee. "In disc golf, that would mean losing distance [the more that distance is based on technique rather than muscle/power, the lower the effect on distance thrown by losing testosterone is most likely going to be]. They would not lose their putting game or their mental game. Technique is not hereditary, and it certainly is not gendered. It's thousands of hours of practice and perhaps a bit of talent and predisposition."
Nagtegaal went through her gender transformation surgeries all while continuing to play disc golf in the MPO division until she met all standards to move to FPO. 
"As the effects of Hormone Replacement Therapy lead to testosterone deprivation, my power level dropped - and with it, my rating," Nagtegaal said.
At Nagtegaal's peak in MPO, her rating was 905. After beginning hormones, her rating fluctuated greatly but eventually dropped to below 875. After her gender reassignment surgery, her rating took another hit: She dropped to below 870. In addition to her power dropping, she saw her usable distance decrease considerably, falling from about 380-390 feet/116-119 meters to barely 300 feet/91 meters.
Natalie Ryan, a transgender woman competing in FPO who recently won her first Disc Golf Pro Tour event at the Great Lakes Open, transitioned prior to learning how to play disc golf. Her distance, she said, came from a strict fieldwork regimen – six to seven hours per day in her early career – and not biological advantages.
"Not a lot of people know that's what it actually takes to throw as far as I do," Ryan said. "They think it comes to me naturally, but it doesn't."
Hate the Rules, Not the Players
Currently, what most frustrates many transgender women disc golfers we spoke with is that public discussion of transgender women athletes largely consists of personal attacks on individuals who are playing by the rules. 
"If the policy is correct or not, that is for the medical committee to decide," Nagtegaal said. "Currently, we are all eligible to compete following all of the rules. Don't like it? Say you don't like it, but do not personally attack us for following the rules."
The two entities most involved in disc golf competition policy, the PDGA and the Disc Golf Pro Tour (DGPT), are unified in their mission to protect players and uphold the current rules. Within the last year, both organizations released official statements regarding transgender competitors. These statements emphasize the sport's rules related to transgender competitors (bloodwork requirements prior to playing in gender-protected divisions to show hormone suppression through medication and/or surgical procedure) and established policies that prohibit hate speech, misgendering, and other harassment both online and in-person.
"Whether folks agree or disagree with the current PDGA policy on transgender competition, any comments that are hateful, bullying, or incite potential violence against any DGPT athletes will simply not be tolerated," Disc Golf Pro Tour CEO and Tour Director Jeff Spring said. "There is plenty of room to have an opinion in contradiction with the PDGA policy on transgender competition and to also show respect and understanding for the human beings involved with the topic. I implore the members of the disc golf community that feel compelled to speak their minds on this topic to consider this and to find more appropriate rhetoric or spaces to share their thoughts if necessary."

Notably, shortly after the first win by an openly transgender woman at a DGPT event on July 31, 2022, both the DGPT and PDGA reaffirmed their commitment to upholding the current rules regarding transgender women's participation in sanctioned competition.
The efforts of these governing bodies are vital to the safety and support of transgender players. 
"I don't think the importance of these statements can be emphasized enough," said Nova Politte, an openly transgender disc golfer. "We have so few staunch allies that this gesture means everything. It means that at least at a PDGA-sanctioned tournament or a DGPT tournament it's not open season on us, that there will be consequences for treating us badly, and that we will be taken seriously as people when we report abuse."
Personal attacks and hate speech are an unfortunate, but prevalent, portion of the transgender narrative within the sport of disc golf.
"It's strange to me to read what they write because almost all of it is dead wrong," said Politte. "They get my life wrong, they get my motivations wrong, they even get basic biographical facts about me wrong. It is as if they have made a scarecrow which bears almost no similarity to me whatsoever, hung a sign around its neck which reads 'Nova,' and then they point and laugh at the scarecrow, thinking this will somehow hurt me. It doesn't. The only emotion that registers for me is pity because these strangers are expending so much mental energy on just hating someone they don't even know." 
Transphobic comments and hate speech – calling a transgender woman a man or addressing her as "he," for example – and are especially harmful when individuals are newly open with their gender identity or sexuality. 
"Local groups have a big opportunity to make people feel more welcomed, but they can also do the opposite," said Chloe Alice, an openly transgender disc golfer. "Bullies in the sport, especially when you're new to coming out, will hinder people from playing. To those people commenting horrible things: There are people watching and you're the ones keeping the sport from growing."
Visibility of Transgender Athletes in Disc Golf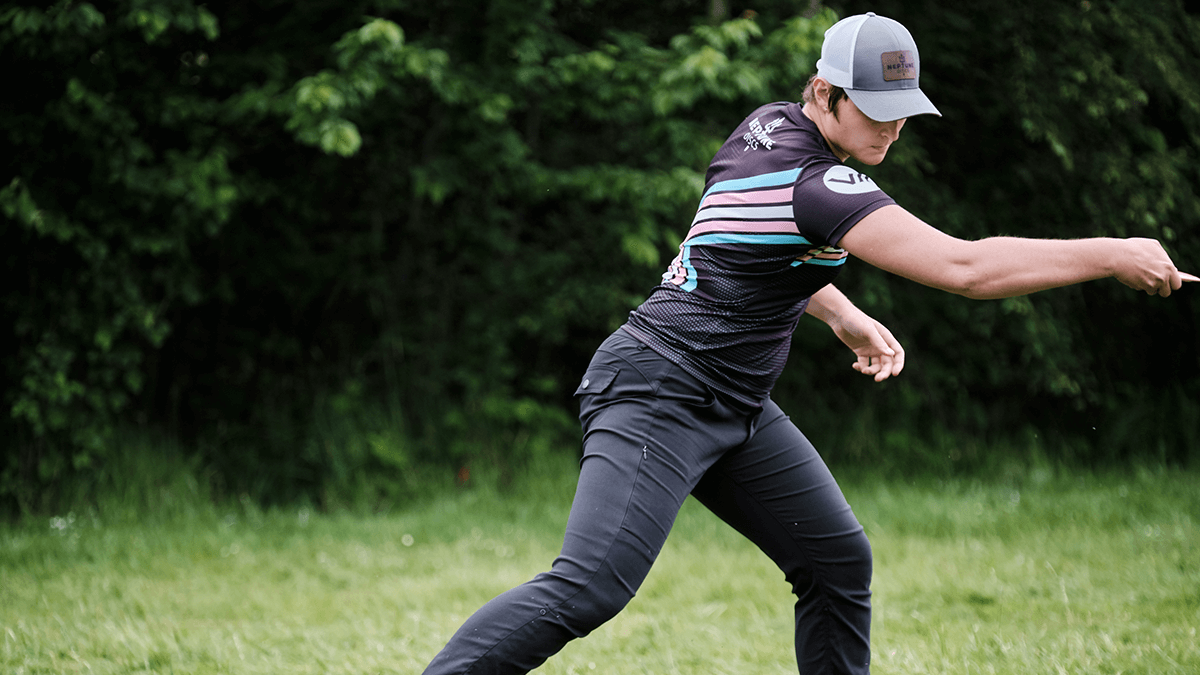 When on a bigger stage, transgender disc golfers are bigger magnets for negative comments and criticism. 
"I was the first openly transgender world champion," said Nagtegaal, who won the FA40 division in 2019. "I faced a lot of turmoil, but I faced it head-on knowing I wanted to be the lightning rod so maybe one day someone like Natalie or Chloe or whoever else could show up and not have to face the same storm I did."
As ugly as the conversations often get, Nagtegaal realizes that never having an open discussion about transgender or any LGBTQ+ issues is also not a solution. Acknowledgement of the LGBTQ+ community and discourse about how current societal norms affect its members aren't political statements but necessary stepping stones to understanding and peaceful, respectful coexistence.
"Visibility will inevitably lead to awareness; through awareness the path to acceptance can be found and followed; somewhere between awareness and acceptance, open dialogue must exist," said Nagtegaal.
While this dialogue happens, some transgender athletes hope to serve as beacons for others like them – visible lights to help guide those wading through confusion, vitriol, and even threats of physical violence.
"The visibility of transgender competitors is incredibly important," Ryan said. "The more visible each person can be, the more likely more people will join. It not only can help grow the sport, it can help kids that don't have anyone to look up to to have someone there to root for – someone more familiar to them that is going through the same struggles. I chose to tour so that all the other people who needed someone like them to be represented would have someone."
Work to Be Done, On and Off the Fairway
Through open dialogue, increased visibility, and structural support from the governing bodies of the sport, there is hope for increasing disc golf's acceptance of diversity. However, there is a lot of work to be done by all parties active in the community. 
"Being welcoming means being not welcoming to intolerance," said Politte. "If intolerant voices are speaking, and no tolerant people are countering that message, then intolerance carries the day. What this means at the local club level, or even just out at the park, is that if someone is saying or doing bigotry, it's not enough to just let them speak and then to carry on as if nothing had happened. They must be challenged, out loud, at that very time. How many times has an LGBTQ+ player who is new to a group been slurred indirectly, heard nobody challenge this, then drifted away from disc golf never to return?"
Allies are a vital part of the fight for equality on and off the fairway. 
"When just those affected speak up, you don't get the traction," said Nagtegaal. "You're 'just a minority.' When allies join, the traction grows. It was the case for the #metoo and Black Lives Matter movements. I hope, for diversity, that is the case here too."