The "off season" is over and the 2020 professional disc golf season is here!
The pros weren't the only ones upping their games this winter - we've added some new things to UDiscLive.com to make it even more fun to follow.
USDGC Road to the Championship
In partnership with the USDGC & Innova Discs, during the 2020 season you can track players who are in position to qualify for a USDGC spot in real-time on UDisc Live. This is something we've been thinking about for years, and we're thrilled to have this tool to help players on the cusp of qualification make decisions on the course.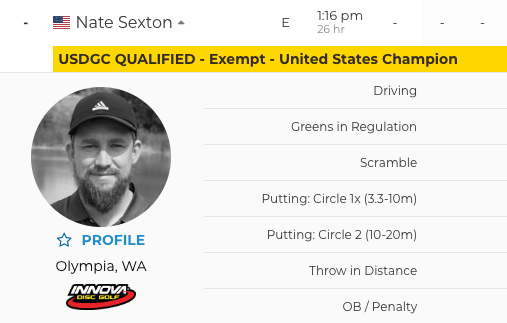 The Road to the Championship will make following your favorite players more exciting than ever. Will we see someone check UDisc Live and run a long putt on the last hole of a tournament to try to secure that coveted USDGC spot? We hope so.
To see the Road to the Championship in UDisc Live, make sure you enable it on top of the leaderboard: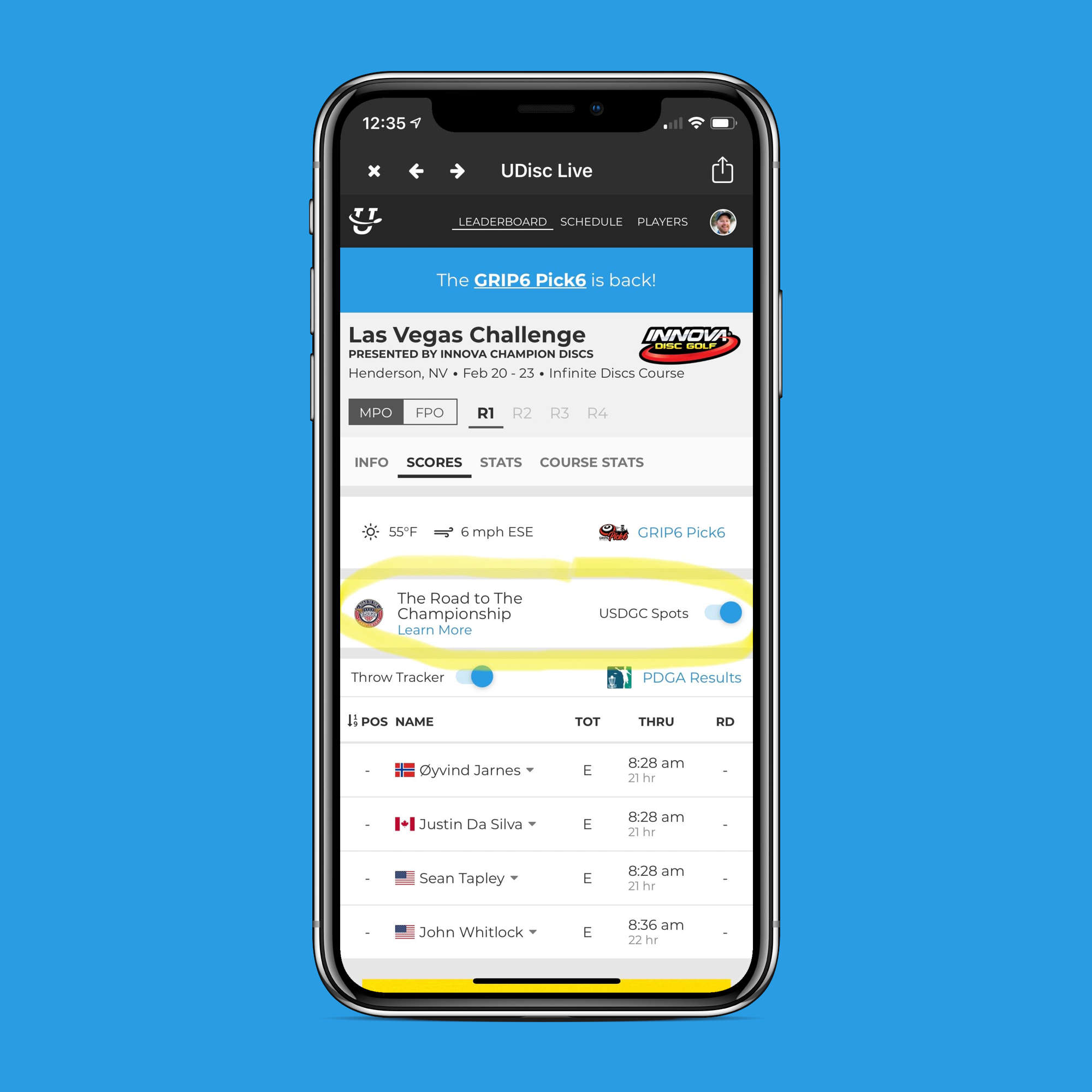 Return of the GRIP6 Pick6
UDisc has partnered with the wonderful people at GRIP6 Belt company to bring the GRIP6 Pick6 back for its second year! If you're not familiar with the GRIP6 Pick6, it's a fun competition that allows you to have some skin in the game while pros are competing on the course. To play, pick your top 6 players between the MPO and FPO fields - your total points are calculated in real-time, and the picks resulting in the fewest total points win a GRIP6 belt.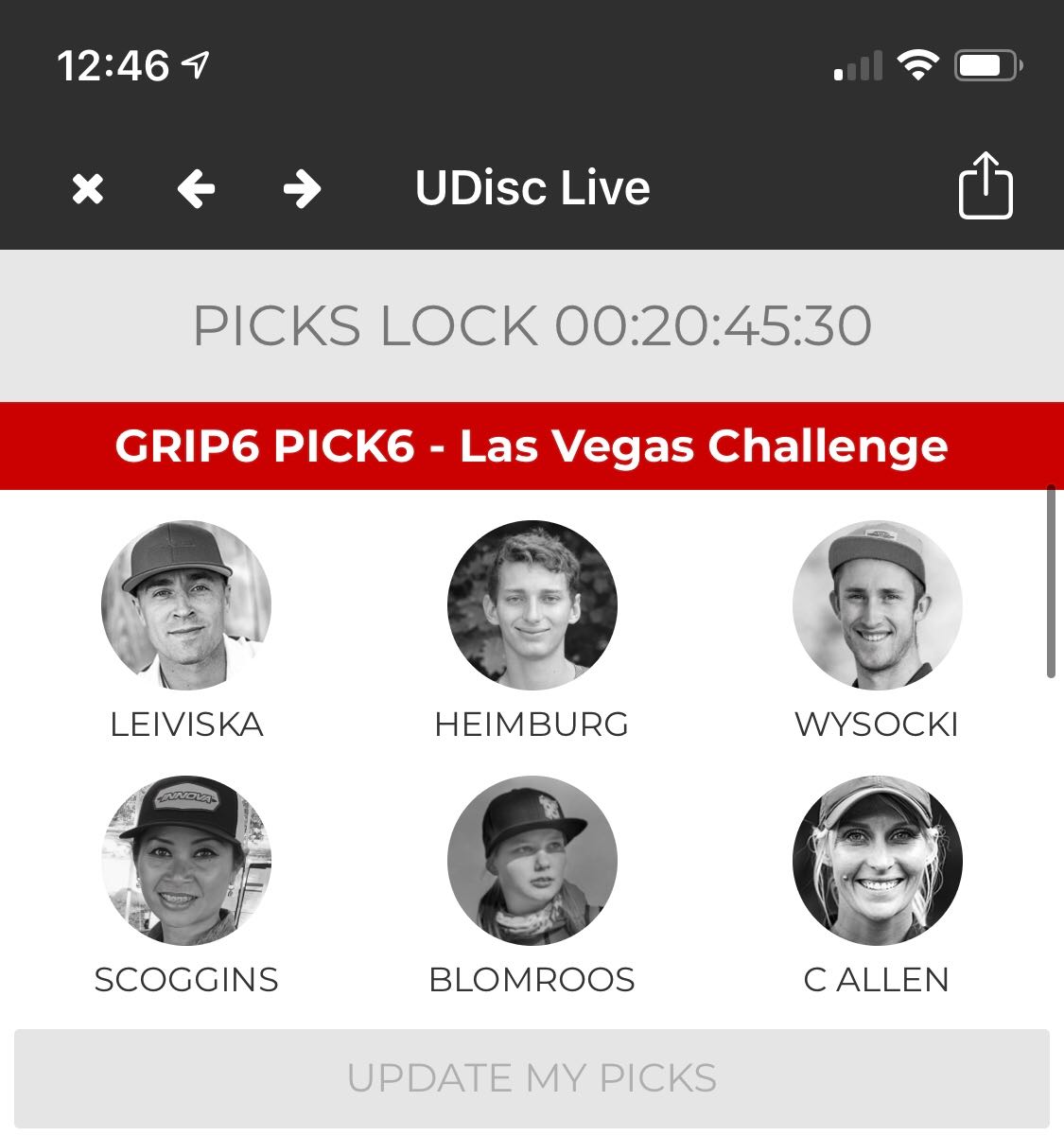 Head over to UDisc Live and make your picks on the GRIP6 Pick6 page, or open the UDisc app and tap the banner on top to make picks.
Scramble Rate Redefined
The definition of "scramble rate" on UDisc Live has always felt a bit soft. At all of UDisc Live's tournaments so far, players have received a scramble if their drive was not in C2 in regulation, but they saved par. This resulted in rewarding players with easy scrambles when they had a simple upshot to put their disc under the basket and save par with a tap in.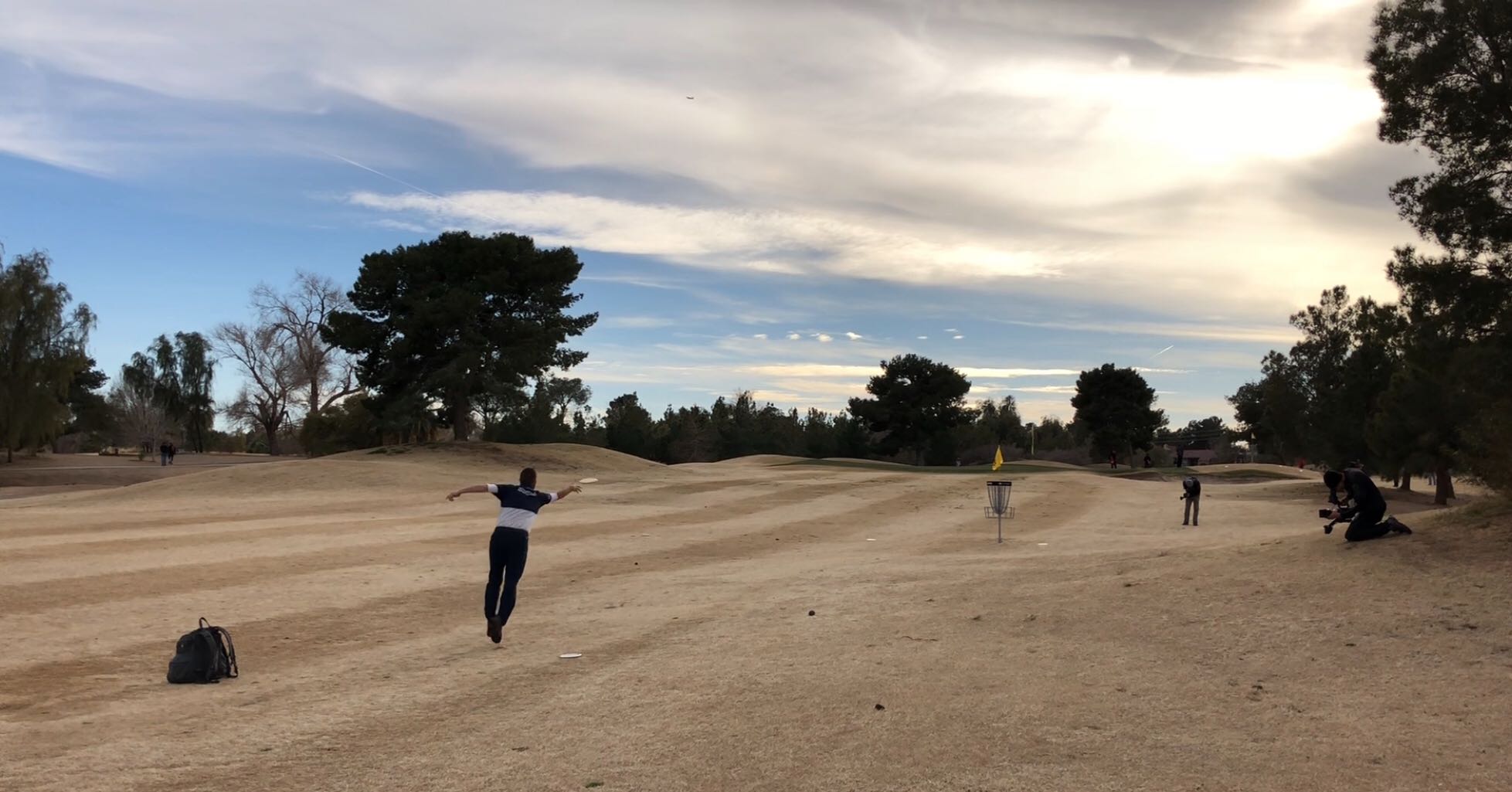 For 2020 we've improved the scramble definition, and updated all past UDisc Live results to use the new definition. Check out definitions for all UDisc Live stats here.
New scramble definition:
A player receives a scramble if they throw OB or off the fairway and still save par or better.

Note: If a player lands OB inside Circle 1, they are eligible for a scramble. The percentage is calculated as the number of holes with par or better where a player was off the fairway or OB at any time.
This change will also make its way to the regular UDisc app soon - don't be alarmed if your scramble rate changes!
Updated Info Tab
The "Info" tab has been improved to be more useful. In addition to listing tournament information, it details the media companies at each event so you know how to follow.
There is also a new "Round & Hole Information" section to help you research which layouts are in play for each round. As an added bonus, this page will also show which holes are played in the case of a sudden-death playoff. Check out the Info tab here
UDisc Live. Every Weekend.
With 36 tournaments on our schedule, you'll be able to follow disc golf on UDisc Live almost every weekend. From the Las Vegas Challenge in late-February to the DGPT Tour Championships in mid-October, there are tons of exciting events to track. You can view the full UDisc Live schedule on the schedule page of UDiscLive.com.


This will be the 5th season of UDisc Live. We'd like to thank all of you for following professional disc golf and using the UDisc app!