Note: Disc golf's Presidents Cup will be on UDisc Live again on July 20, 2022. Get updated information for this year's event in our more recent post "Disc Golf's President Cup: What It Is & How It Works."


On July 17, 2019, the fight for the Presidents Cup will go down in Nokia, Finland. It's a team contest that has taken place before every European Open since 2006, and it pits some of the best players from Europe against those from the USA on the famous course known as The Beast. In an individual sport where competitors are normally rivals, the chance to see top tier athletes work together as allies is electrifying.
But despite the high level of interest the event has garnered over its eight previous iterations (spectators at the last Presidents Cup in 2017 were estimated at around 1,000), audiences haven't always had an easy time following the action. Often, even people in attendance were foggy on the exact importance of a particular shot or match-up in the context of the overall event. This year, that will all change.
For the first time, people all over the world will be able to see not just individual results and stats, but also team scores and how each throw could affect them on UDisc Live.

Below, we've laid out the important details of this unique event so that when the time comes, you'll know exactly what's happening and why. We also snagged interviews with the captains of both Team USA and Team Europe. They filled us in on what it means to them to take on the role and how they think their sides can bring home the W.
The Teams
This year both Team USA and Team Europe are undeniably stacked. Both crews also have non-playing captains who are responsible for strategy and inspiration. Nate Sexton is leading the USA and Finn Janne Hirsimäki is at the reins for Europe. Each team consists of six men and two women with one reserve of each gender in case of injury. Here are the line-ups with current ratings:

USA
Catrina Allen (973—highest rated female player in the world)
Gregg Barsby (1026)
James Conrad (1035)
Kevin Jones (1036)
Paul McBeth (1057—highest rated player in the world)
Eagle McMahon (1049)
Paige Pierce (970)
Ricky Wysocki (1049)
Reserves:
Jeremy Koling (1024)
Hannah McBeth (917)
Europe 
Henna Blomroos (Finland, 965—highest rated female European player)
Sylvain Gouge (France, 1011)
Simon Lizotte (Germany, 1040—highest rated European player )
Väinö Mäkelä (Finland, 1024)
Teemu Nissinen (Finland, 1014)
KJ Nybo (Denmark, 1022)
Eveliina Salonen (Finland, 960)
Jalle Stoor (Finland, 1018) 
Reserves
Leo Piironen (France, 1012)
Kristin Tattar (Estonia, 956)
Note: The original line-ups for both teams have changed since first being released. These are current as of July 15, 2019 at 12pm.
The Set-Up
The Presidents Cup is played in two phases, and we'll explain how both work in this section. However, it's important to know that before the Presidents Cup begins, the captains number their male team members from 1-6 and their female team members 1-2. Neither team knows how their opponents are numbered until the event begins.
Phase 1 — Stroke Play by Card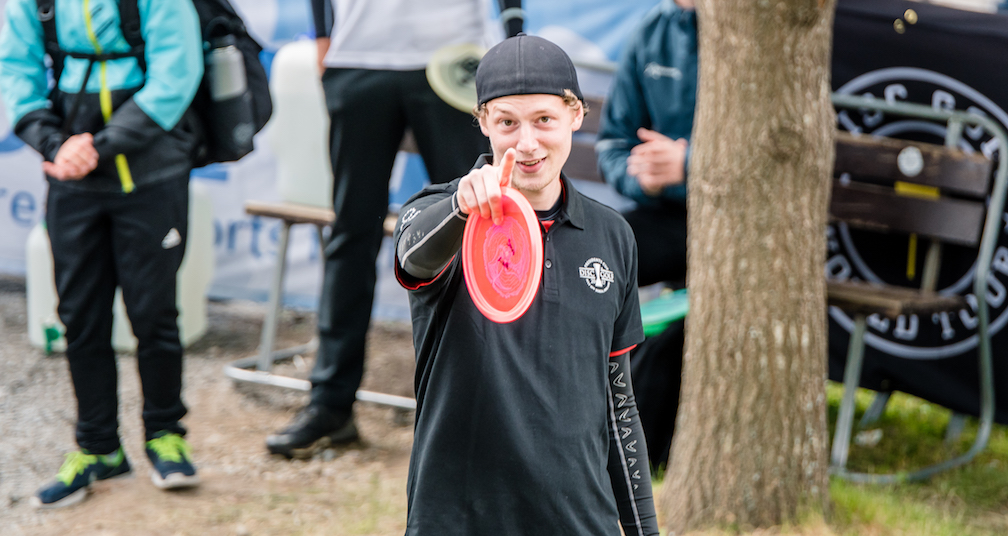 In Phase 1, four cards of four players each—two from Europe, two from the USA—are created to play a nine-hole layout. One card is composed of the two US women and the two European women. For the other cards, the players are matched up according to their numbers.

For the sake of an example, let's say both teams number their players by rating. That would result in players being numbered like this:

USA: #1 McBeth, #2 McMahon, #3 Wysocki, #4 Jones, #5 Conrad, #6 Barsby, #1 Allen, #2 Pierce

Europe: #1 Lizotte, #2 Mäkelä, #3 Nybo, #4 Stoor, #5 Nissinen, #6 Gouge, #1 Blomroos, #2 Salonen

The Phase 1 cards would then be the following:

Card 1: #1 McBeth, #1 Lizotte, #2 McMahon, #2 Mäkelä

Card 2: #3 Wysocki, #3 Nybo, #4 Jones, #4 Stoor

Card 3: #5 Conrad, #5 Nissinen, #6 Barsby, # 6 Gouge
Card 4: #1 Allen, #1 Blomroos, #2 Pierce, #2 Salonen

On these cards, players would play with traditional rules and scoring and simply go after the best score possible over the nine holes. There are a total of seven points up for grabs on each card, with the best score earning four, the second best earning two, the third best earning one, and last place earning nothing.

Suppose that Card 1's scores turned out like this: Lizotte 5-under, McMahon 3-under, Mäkelä 2-under, McBeth par.

Lizotte and Mäkelä would earn five total points for team Europe (Lizotte four, Mäkelä one) and McMahon and McBeth would earn a total of two for the USA (McMahon two, McBeth none).

This means that in the unlikely scenario that a team's players are the top two on every card, they would earn six points per card, reaching the highest possible total for a team in Phase 1: 24. The other team would have just four points for being third on each card.

It's also important that to know that if players tie, they split the points evenly.
Phase 2 — Match Play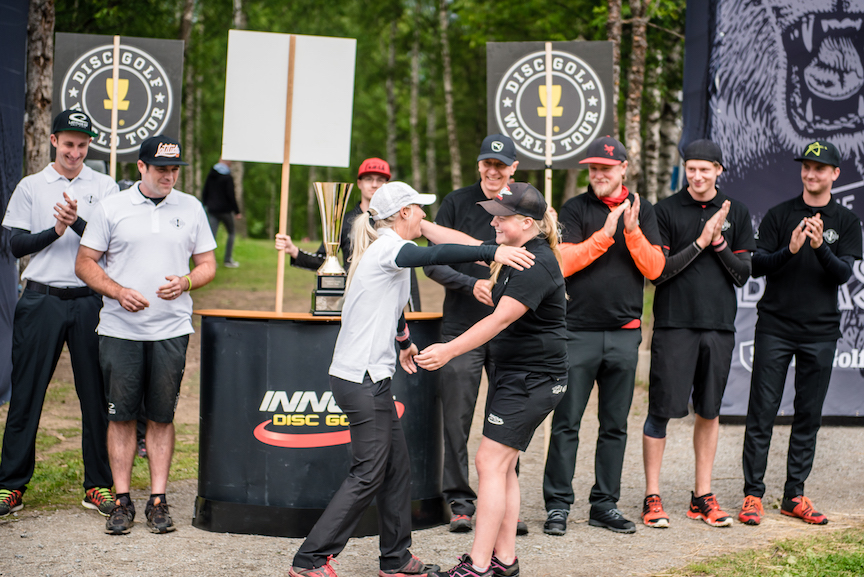 The numbers given to the players before the tournament started are even more important in this phase because we're moving into match play.

Match play is not based on overall score but on doing better than your opponent on individual holes. Unlike skins, where tied holes are "pushed" and able to be earned by the first person to win a future hole, tied holes in match play are considered complete and never earn any points for either competitor. You win match play once you have bested your competitor on more holes than are left to play. 
At the Presidents Cup, USA's #1 will play Europe's #1, #2 will play #2, and so on in the match play format. Again, they compete over nine holes, and, again, we'll give you a scenario to help see how it would work.

Referring to the imaginary numbering in the Phase 1 section above, USA's #1 woman Catrina Allen would be up against Europe's top woman Henna Blomroos.
If they both had the same score on each of the first five holes, they would be tied. But if Allen then won the next three, there would be no need to play the ninth hole because Blomroos would have no chance to catch up to Allen in just one hole.

If this explanation still isn't quite clear, you can read our in-depth match play rules explainer "How Does Disc Golf Match Play Work?".

Each match play win earns three points for a team and a tie earns one and a half points. With eight match-ups, the highest total a team could earn would be 24. 

If both teams are tied after Phase 2, the captains will choose one player each to represent their team in a sudden-death, best-score playoff.

The Captains
It's hard for a team to be better than its leader, and this year both sides have seasoned veterans as their captains. We asked both of them similar questions about how they view the Presidents Cup, their roles in it, and what they think needs to happen for their side to win.
Janne Hirsimäki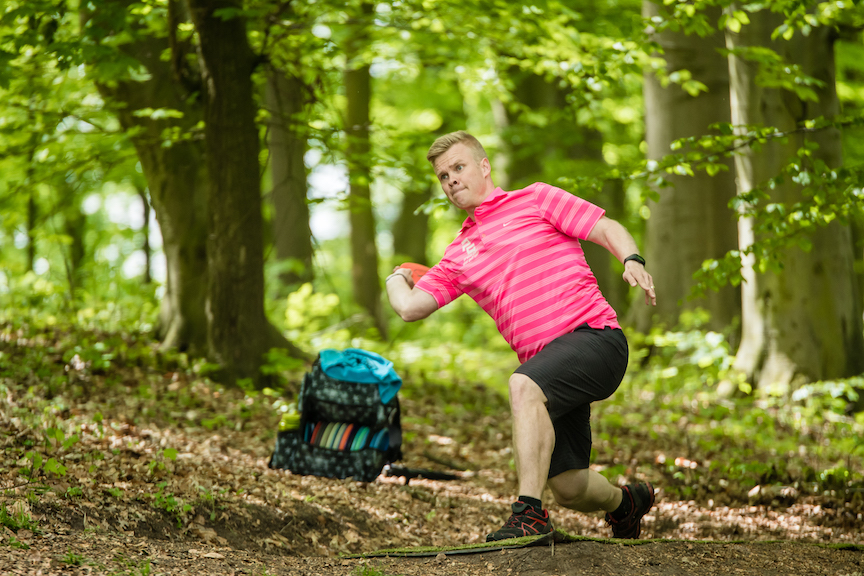 Hirsimäki is trying to be the first Team Europe captain to lead a team to victory. The tally is currently 8-0 in favor of the USA. But he's a player used to long odds, calling himself an "older player who's still able to compete with the youngsters and refused to play in the MP40 division."
His resume includes being 2015/2016 Finnish National Doubles Champion with teammate Teemu Nissinen (they took second the next year), placing second in the Open Division of the Finnish Nationals, and also being second on the podium at the 2018 European Disc Golf Championships in the MP40 division. 

What does the Presidents Cup mean to you, and how did it feel to be chosen as captain?
I am truly honored to have been chosen as captain of Team Europe. Ever since I went to the European Open for the first time in 2011 as a spectator, I've secretly wanted to appear in this event. Due to my "old" age and the fact that the world's top players are improving by giant leaps year-by-year, I had already realized that maybe I would not make an appearance due to my performance. So this was a pleasant surprise and I felt that others had really noted my performance as a competitor.
How much time have you spent thinking about strategy already?
Not much really. I know our team members are highly skilled and possess huge amounts of experience; I feel they simply need to feel motivated and ready from the first throw. The rest will be history.
Do you think Europe has more of an advantage in the individual or match play phases of the tournament?
Europe will be strong in both parts of the tournament. Different playing styles require different strategy, and we've already discussed some plans with part of the team. We will have all the angles covered by the time the tournament kicks off.
Besides simply playing better than the other team, what factors do you think are key to Team Europe getting its first win?

We've let the win slip away from us earlier simply due to nerves playing a role in the beginning of the first half. This year, Team Europe will have no pressure, only something to gain and our young guns have one more year under their belt of wins and defeats. So overall, we are stronger mentally and will be prepared to start off hot. In a tournament as short as the Presidents Cup, it is important to stay calm and for everyone to find their own game pace as soon as possible. This time we will not be left out in the cold but will be bold and confident to begin with.
Nate Sexton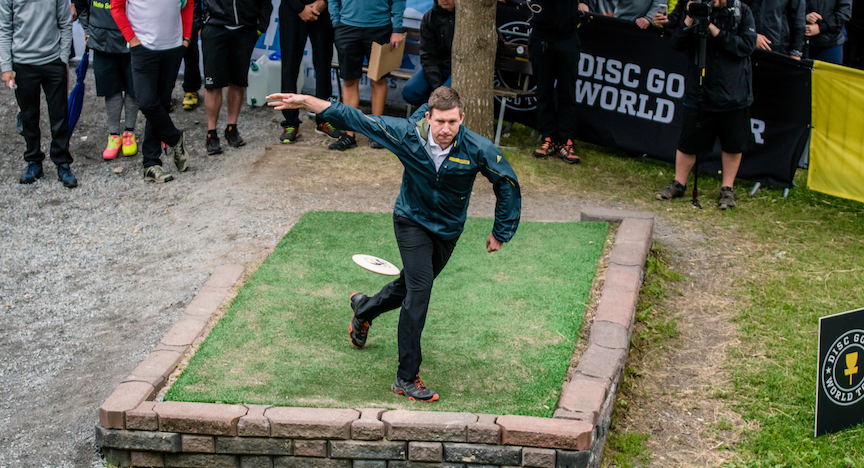 For fans of professional disc golf, Nate Sexton needs little introduction. He's the 2017 United States Disc Golf Champion, 2018 Canadian Disc Golf Champion, one half of what is likely the most-watched post-production commentary duo, and Innova Team Captain. He has the burden of keeping the USA undefeated in a year that Europe is fielding what may be its strongest team in the history of the event.

What does the Presidents Cup mean to you, and how did it feel to be chosen as captain?
The President's Cup is an event unlike any other in disc golf. It is the closest thing we have to an "All-Star Game," and the USA vs Europe format is always exciting. I am honored to serve as team captain. I take it as a huge compliment from the fans and the event organizers that I was nominated and ultimately chosen.
How much time have you spent thinking about strategy already?
I have spent quite a bit of time mulling over possible seeding lineups for Team USA. I have even discussed some possible lineups with some of the team members...but only when no Europeans were in earshot!
Do you think Europe has more of an advantage in the individual or match play phases of the tournament?
I don't think Europe has any advantages, but I think the match play format can be a bit more unpredictable so I would give them better odds to find success there.
Besides simply playing better than the other team, what factors do you think are key to Team USA staying undefeated?
I think our team needs to take the match very seriously. Europe has a very talented squad and they are hungry to get their first win. We need to go in determined and endeavor to play each shot like it is the deciding shot. I think if we do that, we can build a sizable lead and take some pressure off in the afternoon rounds.
More Questions?
If something is still unclear or you'd like to know more about how teams and captains were chosen, you can likely find the answers you're looking for on the European Open website's Presidents Cup page. Just click here to go there.