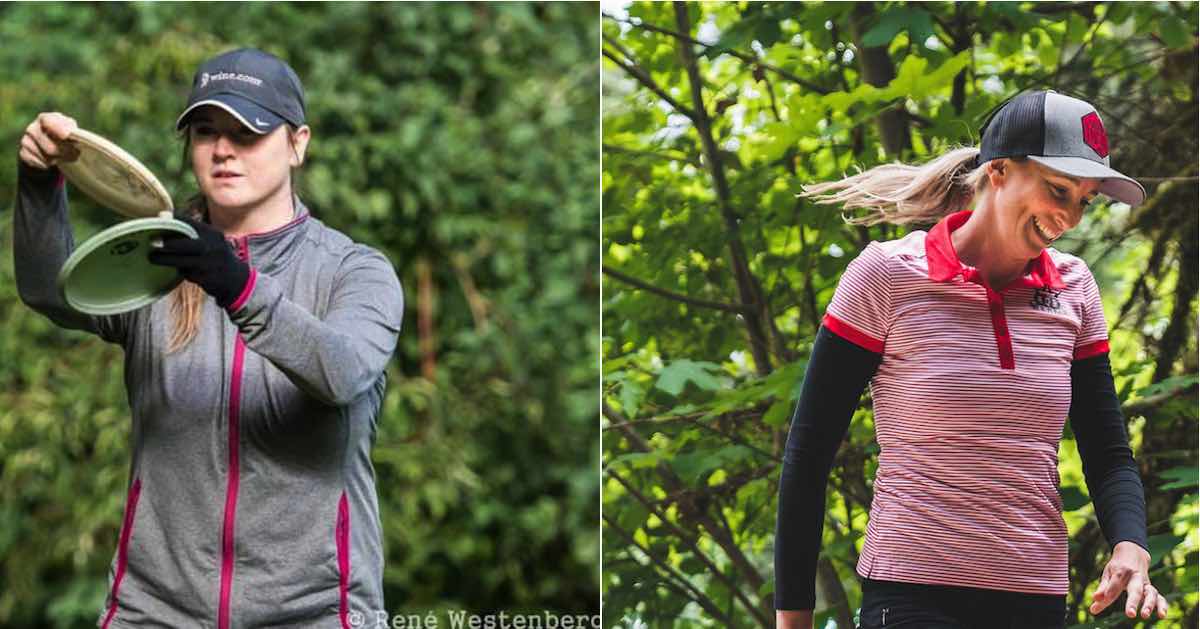 In other articles we've posted focused on leagues – one on the basics of starting a disc golf league and another on the how playing leagues can make you a better disc golfer – two of our sources were league organizers Nikki Wyatt (née Nash for those who read league-starting basics article) and Zoē AnDyke.

Wyatt is a disc golfer from the Houston, Texas, area who began the women's league Chicks Chasing Chains in 2017 that has since grown into multiple chapters in her home region as well as Tulsa, Oklahoma, and near Seattle, Washington. AnDyke is a former touring pro, founder and current CEO of the non-profit Universal Play Disc Golf, and operator of multiple women's leagues across the state of Oregon.

When speaking with these women, it was clear that the way they've chosen to run leagues is doing something that many in the disc golf world have been attempting for years: attracting more women to the sport. Read on to learn more about what their successes can teach us about how women's leagues can help with this goal and key things people who may want to start a women's league should keep in mind.
The Value of Women's Leagues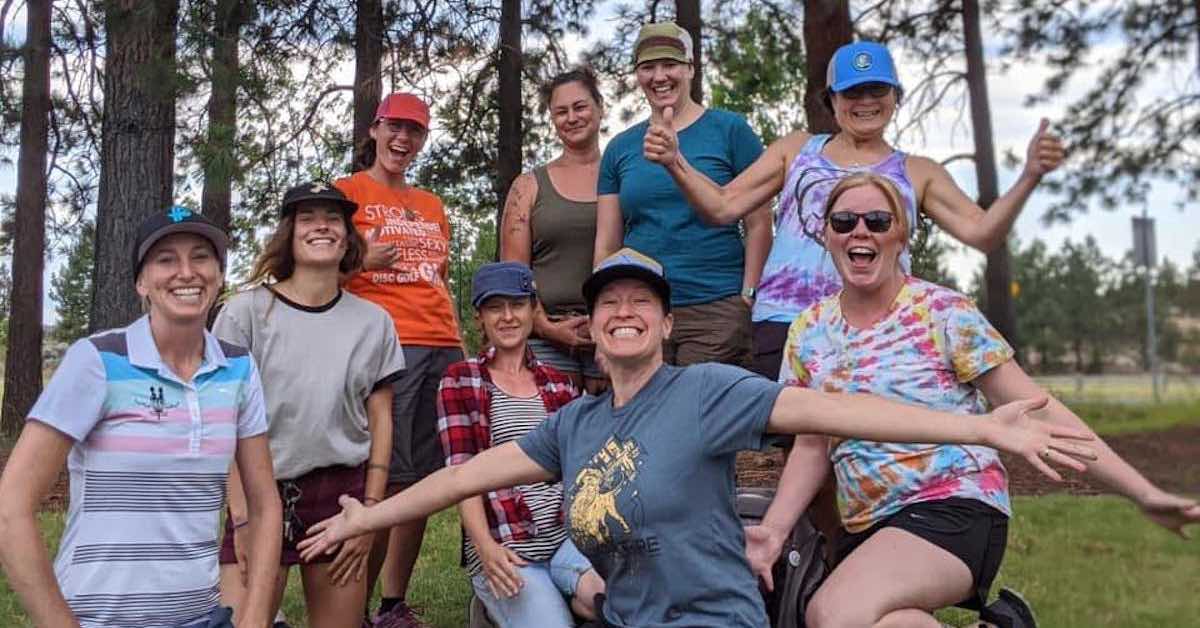 Most disc golfers support the idea that disc golf growing is a good thing. For one, it would likely lead to more recognition from local governments, making it easier to sell them on the installation of new courses. But it's clear the strategies that have been used to grow disc golf up to now have far more effectively convinced men to play than women.

"The women's side of the sport only accounts for about 8-10%, if not less, worldwide," AnDyke said.

This means there is the potential for exponential growth for disc golf if more women realize that the sport is something they can truly enjoy and benefit from. Women's leagues are likely one of the places where that can happen. 

Wyatt explained that one of the reasons for this is that when women play mixed leagues, they often feel harshly judged or even disdained by some male players.

"Mixed leagues are fun, but when you're a new girl, it's very intimidating and you don't want to play it," said Wyatt. "[When I was new] I played somewhere and got paired with some guy for random doubles, and he wasn't in the best mood about it."

AnDyke expressed similar sentiments. She said she knew from experience what it was like to have to learn almost exclusively from men and started women's leagues specifically so other women would have the option to follow a different learning path.

"I learned through playing with better players, who were almost all men," AnDyke said. "But because I learned that way, I wanted to make sure other women didn't have to do that because it's really intimidating and uncomfortable. There's also the fact that not every man on a disc golf course is a qualified educator – in fact, most aren't. So playing with women is a safe, necessary, and comfortable way for women to learn."

Wyatt also mentioned that woman-to-woman exchange of disc golf knowledge was an extremely valuable and important aspect of women's leagues.

"If you are a woman, it's easier to learn from a woman," Wyatt said.

What's more is that for both Wyatt and AnDyke, the idea that women's leagues increase female participation in, enjoyment of, and dedication to disc golf isn't just a theory. They're seeing results that show the correlation.

From interactions on her leagues' social media pages and verbal accounts from participants, AnDyke said she can see that more female players are meeting up outside of league nights to practice skills or play casual rounds. In the Houston area Wyatt has seen a big uptick in female participants at local tournaments, and many of them have played a CCC league.
Tips for Starting Women's Leagues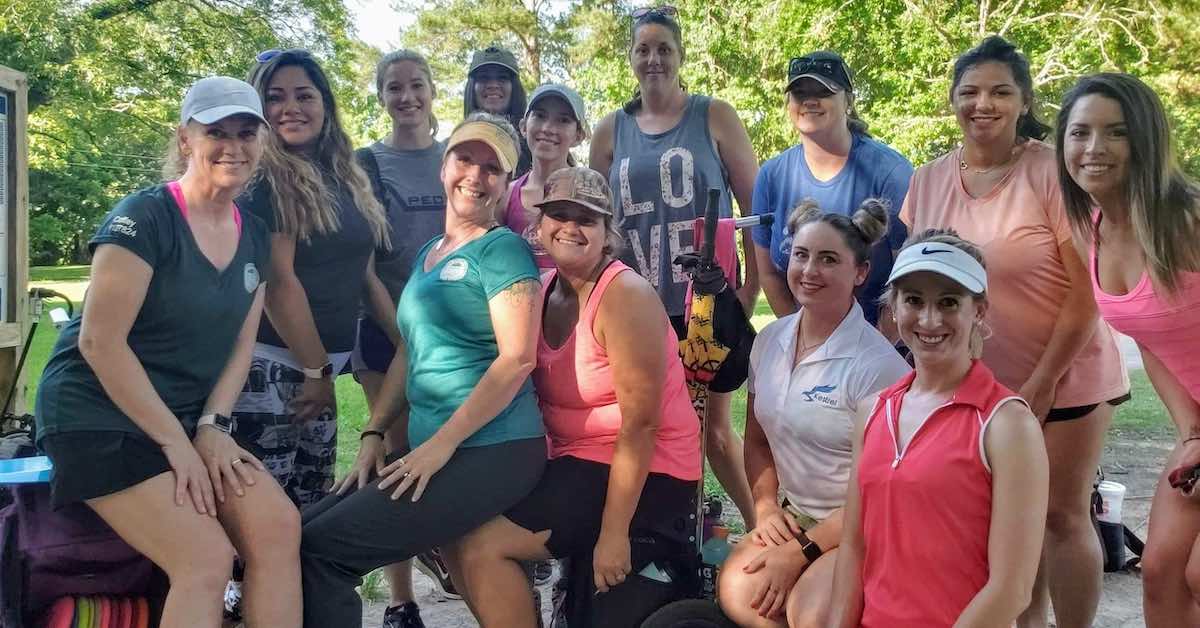 For those interested in getting a women's league going in their area, there's much to learn from Wyatt and AnDyke. Below we present some of the biggest questions a potential women's league organizer might have and how the two women's experiences present possible answers.
How do I get women to play in a disc golf league?
The first thing to know is that expecting immediate success when establishing a women's league (or any league, really) might be setting yourself up for disappointment. Though CCC has grown, Wyatt said it took almost six months of running her league before she started meeting anyone she didn't know there.

"A couple of times it was just me," Wyatt recalled. "I'd wait until start time and then just play alone."

The way Wyatt's league grew from those meager first sessions was, in her words, through "a lot of bugging people and being patient." Some of that "bugging" happened online, consisting of constant and numerous posts about CCC in social media groups dedicated to disc golf (general and female-only) in the Houston area. She and friends helping her with the effort also initiated in-person conversations about the league any time a chance presented itself.

"I had a girl named Jennifer Pace, she's very outgoing, and I had little cardstock handouts, so any time we saw a woman on the course, she would chase them down," Wyatt said.

Along with persistent digital and face-to-face advertising, league operators could also consider how to create a draw beyond just offering women's-only league play. For example, AnDyke said an effective device she uses to entice women to play her leagues is offering a five-minute lesson at the beginning of each league night. That way, no matter what happens on the course, players receive something of value to take home when they pay the league's entry fee.

Clearly not every area will have a former female touring pro to give lessons at league nights, but creating any draw that adds value to the league experience could help more women become interested in participating.
How do I keep women playing my disc golf league?

Just because someone plays a league once doesn't mean they're sure to return. And AnDyke believes there's one thing that will scare people away from a league like nothing else.

"The biggest deterrent from leagues is when they're not kept on a dependable time structure," AnDyke said.

If players can't plan things like family time, work, or meals around when a league should start and end, it's not a league AnDyke believes many players will be willing to take part in repeatedly.

One way Wyatt keeps the time commitment down for players at CCC is not doing payouts weekly. Instead, players pay an upfront fee to participate in the league (Wyatt's leagues run in sessions, not year-round), and payouts all happen on the last night of the league. This means anyone tight on time simply needs to finish her own round and doesn't have to wait for scores and payouts to be calculated each league night.

Speaking of payouts, another thing AnDyke believes has helped her women's leagues be successful is reducing the emphasis on winning. Along with things like closest-to-pin and longest-putt prizes, AnDyke said she focuses on rewarding growth more than victory at her leagues. She does this by recognizing women who, for example, have improved their scores the most or brought the most new players to the league.

AnDyke also intimated that physical or monetary rewards at leagues may not be as important as they are often made out to be.

"Remember that it's not always about prizes or payouts," AnDyke said. "I think that's a misconception. It's certainly a big draw, and if you have the resources or sponsors to donate, it's a very good element to have. But even if you don't have huge prize packages for payouts, just having a place for people to gather with an expected time that can be repeated is what people need."
What else should I know?

Something AnDyke emphasized is that leagues don't need to be run by someone who's an outstanding player.

"You don't have to be a great disc golfer to run a league," AnDyke said. "You have to have great leadership skills, be good at organizing people and bringing them together."

She did add, however, that even if you're not the strongest player, you'll need a strong grasp of the rules of disc golf to run a league. 

Lastly, for those thinking of starting a women's league who may be a little intimidated by the organizational necessities that'd come with it, you could consider becoming a new chapter of Chicks Chasing Chains and simply using the format they've honed over the last three years. For more information about how to do that and the support CCC can offer, send an e-mail to chickschasingchains@gmail.com.

Using UDisc Leagues – a free platform – to organize and score your league could also make league management much easier than you think it would be. Leagues run by both AnDyke and Wyatt use the platform, which makes things like paperless scoring, paperless check-in, live leaderboards, and more possible. Find out all about UDisc Leagues.
Grow the Sport for Everyone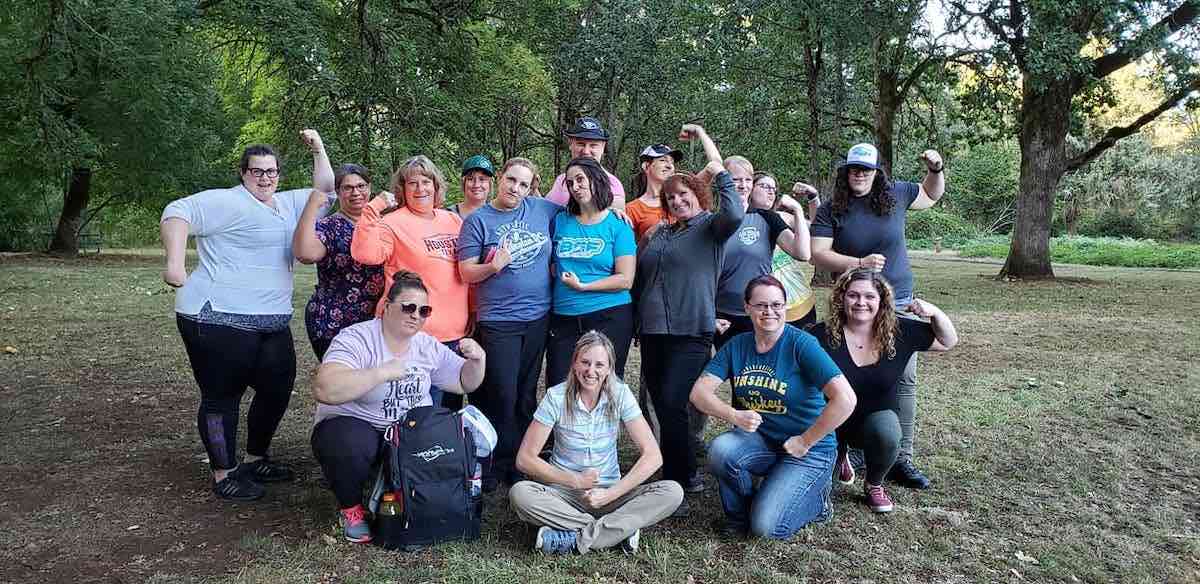 One thing we asked Wyatt when we talked to her was what she believed was needed generally to get more women to play disc golf. Her answer stuck with us.

"I think you need a small group of females to motivate other females to do it," Wyatt said.

And it seems clear from AnDyke and Wyatt's experiences that a women's league could be a place where those small, motivational groups form and gain cohesion. And it's our sincerest hope that this article catalyzes the creation of at least a few women's leagues across the world.
Additionally, we're interested in learning more about disc golf's growth in population sectors where it has traditionally struggled or within groups that are often overlooked. If you're involved in any efforts matching that description, contact our editor, Alex Williamson, at alex@udisc.com.