DeLaveage was one of the world's top 10 disc golf courses in 2020. Check the master post for all things World's Best Disc Golf Courses 2023 on Monday, February 13, 2023, to see where it ranks this year.

The rest of this post has not been updated since the publication date.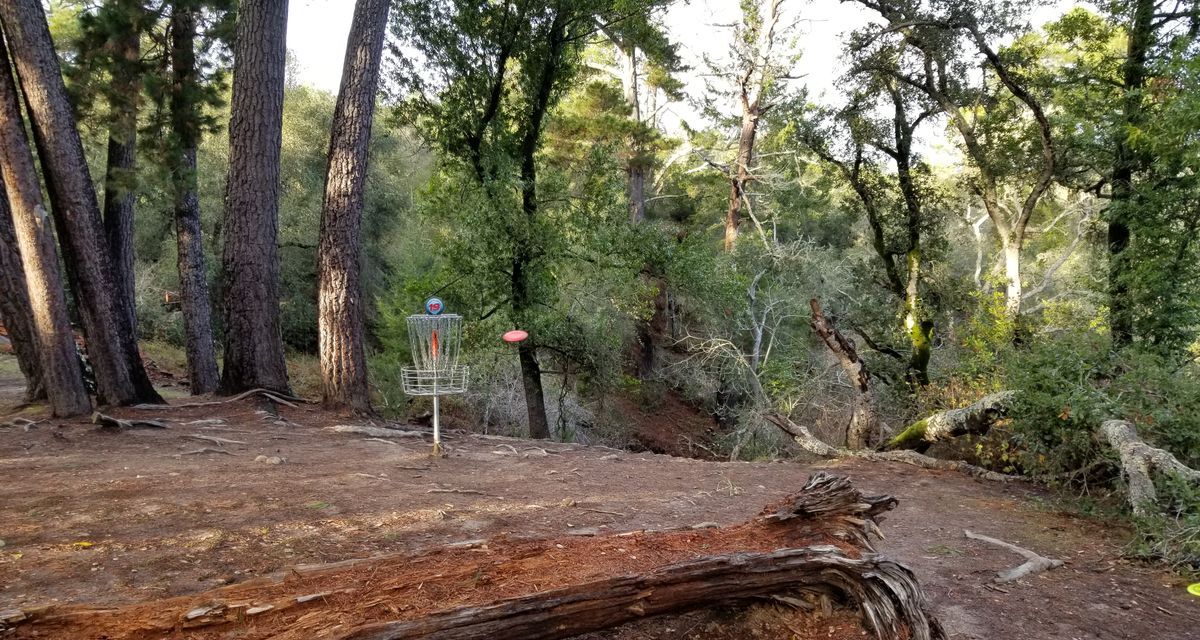 The Basics

The rankings for World's Best Disc Golf Courses are based on the over 1 million ratings of courses all over the planet entered by disc golfers using UDisc. However, we have done work to account for how regions and cultures tend to rate courses differently, helping to assure the courses that made and missed this list did not do so as a result of regional hype or hypercriticism. That said, the courses on this list earned their spots purely from their stats and not due to the opinions of UDisc's staff. Honestly, we were just as surprised and interested in the results as our readers.

The course grades are relative to how close each course was to a perfect five-star rating. No course on the list achieved a 100.
History of DeLaveaga Disc Golf Course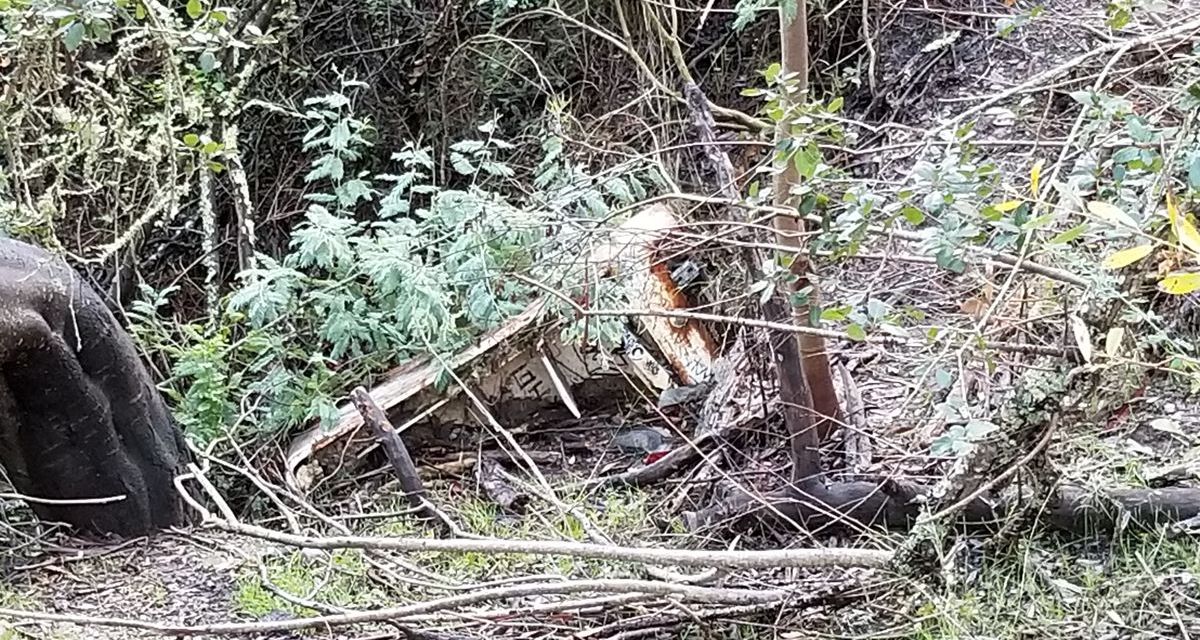 In the early 1980s, disc golf was seeking a true home in Santa Cruz. Players had built a course at the city's Cabrillo College in the early '70s that had been closed after a few brief years due to lack of space. In '78, a course opened on the campus of the University of California Santa Cruz (UCSC). That lasted just a few years before the school wanted it gone due to concerns over liability if someone was hit with a disc.

But for Tom Schot, a co-designer and builder of those first two courses and a leading member of Santa Cruz's enthusiastic, expanding group of disc golfers, it simply wasn't an option to have nowhere in the city to play his favorite sport.
"We really had no choice," Schot said. "We needed a spot to play disc golf. I didn't want to stop the energy that was happening at the time."

The spot Schot thought could work was DeLaveaga Park. With over 500 acres, the park had no shortage of space, but that didn't mean there weren't obstacles.

"It was kind of an off-limits place," Schot recalled. "It was overgrown with brush, overgrown with poison oak, and it was where all the people would come and dump their garbage. And off-roaders with their big trucks and motorcycles would go up there and just chew up the ground...Nobody thought it would be a good spot for a course, but I just kept saying, 'We can do this! We can do this!'"

True to his word, Schot and a small group did, indeed, do it. 

Throughout '82 and '83, holes were planned (primarily by Schot), trash was picked up, brush and poison oak were painstakingly cleared, and stand-offs with off-roaders were had. The city took notice of the disc golfer's efforts and provided trash bags and a large dumpster for the group to put refuse in. Schot also mentioned one extreme measure the disc golfers took to fight the tradition of dumping trash in the park.

"We would dig through the piles of garbage and find addresses and call the people at the addresses to come pick up their junk," Schot said.

The result of all this hard work was a course with 18 targets consisting of four baskets bought directly from the Father of Disc Golf himself, "Steady" Ed Headrick, and 14 posts. DeLaveaga Disc Golf Course—more often called simply DeLa—had finally been born.

Things still weren't perfect. Schot said off-roaders continued to come in, now ripping out baskets and posts along with tearing up fairways, and some dumpers carried on bringing their trash to the property. But with a permanent home to protect, the disc golfers didn't back down from these challenges. Slowly but surely, disc golf grew while the other activities tailed off. A club was formed, more and more posts were replaced with baskets, holes were tweaked, and DeLa's reputation began to spread.

"People from 100 miles away were coming!" Schot recalled, with excitement in his voice even nearly four decades after the fact. "There just weren't courses that were exciting like DeLaveaga. And I was always marketing it as the world's best course, kept telling people, 'You gotta come play DeLa.'"

Despite the growing notoriety and success, the course and club's durability had to undergo one more big test. In 1986, the ball golf course that was also in the park wanted to expand onto the land used for disc golf.

"The ball golfers had the money, the people on the board, but we fought," Schot said. "One player's wife was an attorney and we made a big presentation to the board of directors, and we got them to acknowledge that we had first right to the property."

After this victory, Schot said disc golf at DeLa "just kept going."

Amazingly, besides holes that were added over time and a few changes in playing order, Schot says the course's design has changed very little from his original 1983 layout. He admits to being "astonished" that a course he created with no overarching philosophy besides using what the land had to offer has withstood the test of time as well as DeLa. Even with the huge advances in disc engineering that have allowed for greater and greater distance, DeLa continues to be accessible enough for amateurs to enjoy while challenging enough to impress the world's best—a feat few courses from any era can claim.

Though DeLa certainly owes a lot to its designer, something Schot heavily emphasized about the course is that no one person can ever take credit for it.

"The thing about DeLa is that it took such a big effort from everybody to make it what it is," Schot said. "I was at the right place at the right time, but it wasn't just me. It was the love people had for coming up there...the excitement people had for coming together and playing on this piece of property. Once the players started taking ownership, it was the most gratifying thing I could imagine."

And it's not just the still-thriving club that continues to improve and maintain the course or even people who've simply played DeLa that now feel a part of that ownership. With the audience for disc golf videos growing and a tournament which DeLa partially hosts, the Masters Cup, being one of the most-watched competitions in existence, disc golfers all over the planet are beginning to feel like DeLa is a part of their heritage. Unwittingly, that small group of Santa Cruz disc golfers in the '80s created not just a home for disc golf in Santa Cruz, but a place that would eventually seem like home to the disc golfing world as a whole.

Oh, and by the way, that ball golf course that tried to take over DeLa? There's now a permanent disc golf course installed on its property and its pro shop sells discs. Similarly, UCSC now has an 18-hole disc golf course on campus. 
What's It Like to Play Disc Golf at DeLaveaga?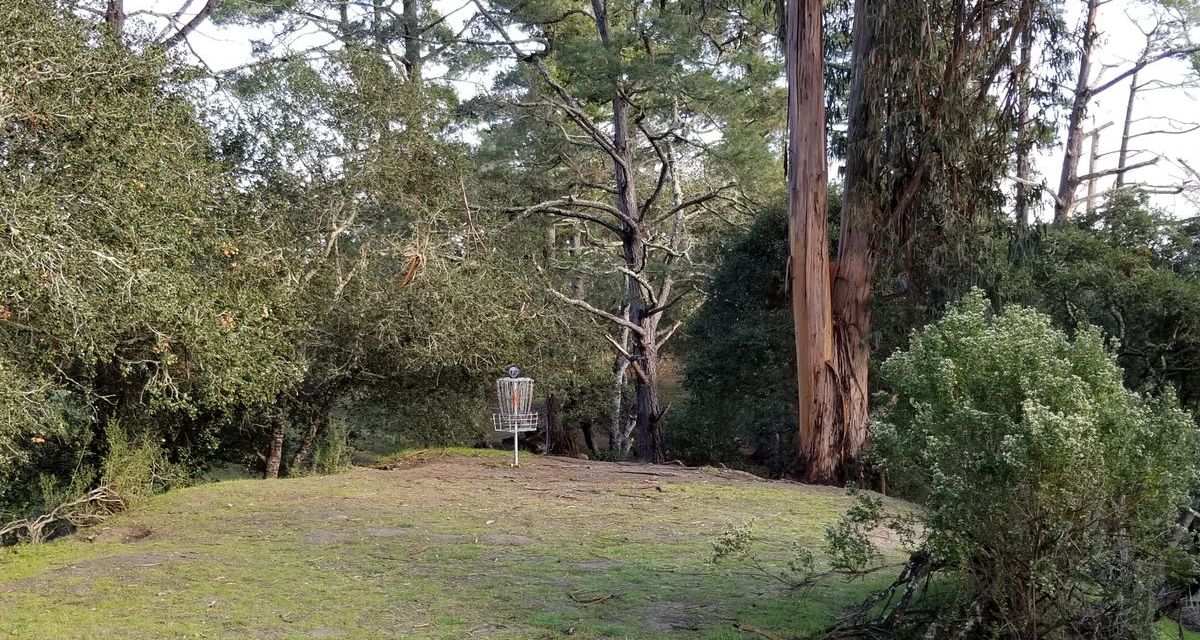 It's interesting that DeLa's allure is comprised mainly of two aspects that could sound pretty unattractive individually. The first of these is what Schot termed "elements of disaster."

What he was referring to will be familiar to anyone who has played DeLa or watched footage of it being played. Baskets are often put in positions where errant putts or drives can sail down steep hillsides covered in thick, nearly impenetrable brush. Roots and trees in the fairways can stop or redirect discs that otherwise would've landed in ideal spots.  And roll-away potential? Yeah, there's a little of that. Just take a look at two shots from JomezPro's "Heartbreaking Disc Golf Shots" compilation from 2019 both filmed at DeLa:


Such small catastrophes are so common on the course that it's come to be known as "getting DeLa'd." 
And the second of DeLa's seemingly off-putting central aspects? An abundance of relatively short holes. 21 of the full layout's 29 holes are below 350 feet/107 meters, with 13 of those being under 300 feet/91 meters. That's not the what most people expect from elite courses nowadays.

The magic of DeLa, however, is perfectly playing these aspects off of one another. The constant threat of disaster makes the numerous shorter holes thrilling. Lines are tight, upshots are precarious, and anything can happen with just a moment's lapse of concentration. Similarly, bad breaks can be made up for because the course offers a huge number of birdie chances for players of a wide range of skill levels.

So when you go to DeLa, expect a lot of elevation, tight fairways, tree kicks, and rollaways. But also look forward to a course where your next birdie could be around almost every corner.
Signature Hole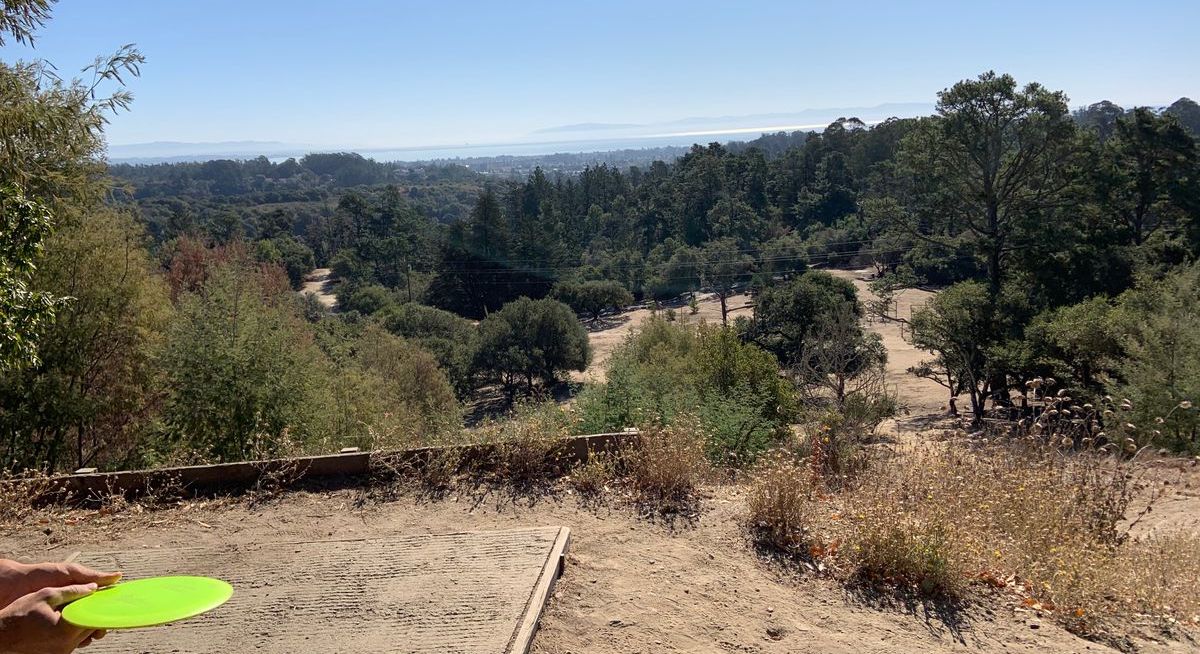 DeLa's signature hole might just be the place where the obsession with signature holes in disc golf began, and its name is a cultural reference point in the disc golf world. If there's a hole anywhere that asks for a shot from way up high to way down low with a beautiful view from the tee, you can bet someone has described it as, "that Top-of-the-World hole." But only DeLa has the Top of the World.

Top of the World, or DeLa's hole 27 (24 in the traditional Masters Cup layout), offers a majestic view of the city and Monterey Bay beyond. But players still have plenty to look at after they're done admiring the view because it's also an over 500-foot/152-meter par 3 that lets disc golfers watch what they love most: discs flying...and flying. From the elevated tee, there are many possible routes and angles of attack, and players with the time and no back-ups hurrying them along are likely to try every one of them before making their way down to refill their nearly empty bags.

But you don't have to just take our word about the hole's quality. Listen as professional disc golfers Jeremy Koling and Nate Sexton discuss the hole while commentating on the 2018 Masters Cup for JomezPro (and check out a few throws on it, too):


Three Real Five Star Reviews

Three real, unedited reviews from UDisc users. To see 's latest reviews, visit its page on the UDisc Courses website.
The disc golf pilgrimage. Lives up to the hype
nitemayor
Can I give it a 10/5 rating? This is a dedicated course ONLY for disc golf, and has it all. You want elevation changes? Signature holes? Bombers? 200-350ft technical wooded shots? Get ready to test every shot in your arsenal. Managed by a passionate community since the '80s. Top of the world is something you'll never forget. Whenever i'm in California I make the trip to DeLaveaga because it's my favorite course of all time.
ryanloiacono
This is one of the most iconic courses in the world. It does not disappoint. Great variety of holes. Some tight fairways, but fair. If you love disc golf, this course should be on your bucket list.
davidkihm