This was one of the world's top 10 disc golf courses in 2020. To learn what the current world's best courses are and why this course is no longer in the top 10, give World's Best Disc Golf Courses 2021: #1-#100 a read.
THE BASICS
The rankings for World's Best Disc Golf Courses are based on the over 1 million ratings of courses all over the planet by disc golfers using UDisc. However, we have done work to account for how regions and cultures tend to rate courses differently, helping to assure the courses that made and missed this list did not do so as a result of regional hype or hypercriticism. That said, the courses on this list earned their spots purely from their stats and not due to the opinions of UDisc's staff. Honestly, we were just as surprised and interested in the results as our readers.

The course grades are relative to how close each course was to a perfect five-star rating. No course on the list achieved a 100.
COURSE HISTORY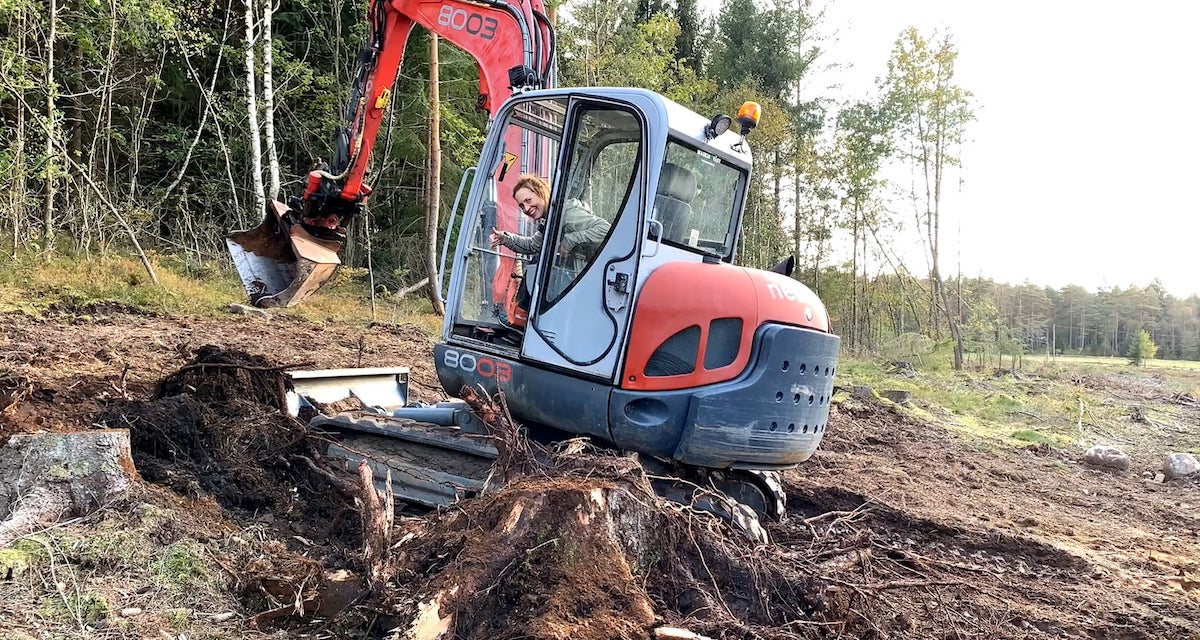 Camilla and Jonas Grundén were fed up. Throughout the early 2000s, they'd been part of multiple efforts to build courses on public land around Gothenburg—Sweden's second-largest city with a population of around 580,000—and every time they'd gotten started, another project would come in and take the area they thought they'd secured for disc golf. There was only one way to be sure it wouldn't happen again: Buy land where they decided the priorities.

Their thorough search for the right real estate near Gothenburg eventually led them to a place 30 minutes north of the city.
"It was close to Gothenburg and big enough, which isn't easy to find," Camilla said. "It was an old farm that had been left abandoned for 15 years, so there was scrap and trash everywhere, really run-down. But the area and woods were beautiful."

Part of what created that beauty was the variety the property offered: heavily wooded areas, fields, big changes in elevation, and even a creek. Unable to imagine the type of work it would entail, the Grundéns gave in to the lure of a place with everything they needed to create an amazing place for disc golf despite the debris and decayed buildings on the verge of collapse. The land became theirs in 2013.

"After buying the land, we didn't have a huge amount of money for other things, so we did a crazy amount of work by hand—like, way too much," Camilla said.

And even after putting in "too much" work by hand, there were still certain things the Grundéns just couldn't do themselves. One example is that they had to pay a company to take away about 20 tons of scrap metal from an area they wanted to build a fairway on. Luckily, selling the metal offset the cost of having it moved.

Something else they needed outside help with was cutting paths through walls of trees to create the wooded portions of Ale's courses.

"We decided how we wanted some of the holes designed and then we'd stretch long plastic bands through the trees to mark where they should be cut to make the fairways," Camilla said. "We were a bit lucky because the guy driving the tree cutter was a disc golfer, so he understood why we wanted the trees cut in these strange shapes. It's actually why we went with that company because cutting disc golf fairways isn't the most efficient way to cut trees."

The back and wallet-breaking efforts of the Grundéns—as well as a third partner, Dan Johansson, who joined them after they purchased the property—resulted in the completion of Ale Disc Golf Center's Yellow course in 2016 and White course in 2017. And the public's reaction so far suggests that the raw potential for disc golf greatness the land had to begin with has been refined into something wonderful and potent.
Ale's presence on this list shows the high esteem UDisc users have had for it. Additionally, the facility has received votes of confidence like being chosen as a host for a Norwegian National Tour event in 2019 (Ale is in Sweden, you'll recall) and being called "absolutely top notch in every way" by the likes of pro disc golfer Jeremy Koling. Though the owners are constantly working to add to and improve the courses and other facilities, they're also overjoyed with their creation.

"It's just the most wonderful place—I love it," Camilla said. "I'm very happy we didn't know from the start how much work it would be because we'd never have done it if we had."
WHAT GOLF CAN I EXPECT?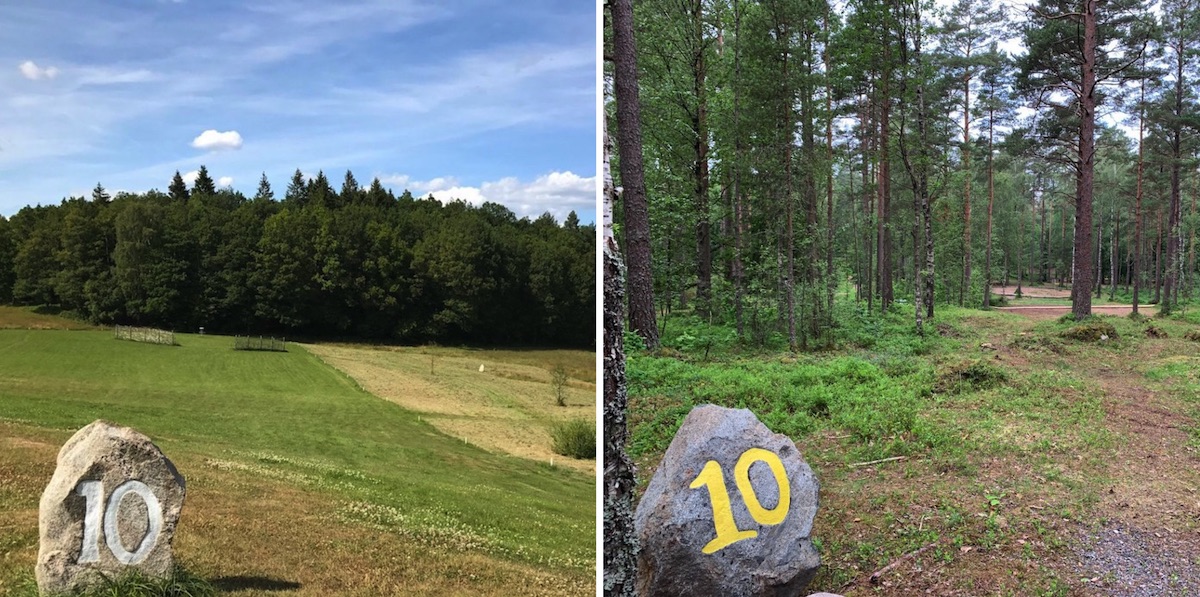 Ale Disc Golf Center has two 18-hole courses, the Yellow and the White. Though they have some aspects in common, they offer very different experiences, so we're taking on each one individually below.

Ale Yellow

The very first hole of the Yellow course is a great indication of what's to come. Take a look at it in this flyover from SM Disc Golf Productions' coverage of the The Open at Ale:


The hole isn't very long, but it forces players to throw an accurate shot or be faced with a rough of small trees that make recovery from errant drives difficult. The fairway also rises in elevation from tee to basket with plenty of interesting contours between. These features of changing elevation, tight fairways, and punishing rough continue throughout the Yellow course. Additionally, finesse will always win over power on Yellow.

However, don't think that these similarities mean the course is bland or repetitive. The holes demand various shot shapes, range from having gentle slopes to steep rises and drop-offs, and the creek that winds through the property is both atmospheric and effectively used as an obstacle in places. Because Ale is on private property, playing a round on Yellow is often like a quiet walk in the Swedish woods with fun, exciting holes along the way.
The White

If you're looking to test yourself, Ale White is the right course to play. During PDGA tournaments, shooting even on the par 63 course is typically rated around 990. For those who don't know much about the ratings system, that's a high rating for all but the sport's most elite players. Put another way, based on current ratings, less than 2.5% of current PDGA members would be expected to play par or better on Ale White.

Again, let's look at a prime example of what White offers up—the 984-foot/300-meter par 5 hole 4:
As you can see in the video, Hole 4 demands a throw of over 400 feet/120 meters to attain the first prime landing zone and any hope of birdie. However, it's not just distance that matters. The abundant trees usually cause errant players to agonize over whether trying a low-percentage line through a narrow gap is a better choice than losing a stroke by just laying up on the fairway without gaining much distance.

But, like Yellow, one hole can't demonstrate everything White has to offer. Yes, there are other big shots through the woods, but White also takes players over fields, allowing them to really open up after the careful play needed in the forest. There are holes that incorporate the property's huge changes in elevation to dramatic effect (see hole 12 in the SIGNATURE HOLE section below for an example). Again, Ale's creek is both beautiful and seemingly anxious to take strokes on many holes.

Overall what stands out about White is that though it's tough, it's never unfair. Each hole's demands are clear, and meeting those demands has nearly everything to do with your skill and not chance. So even if you leave White with a bad taste in your mouth, there's always a little sweetness in knowing you've just played an outstanding course.
SIGNATURE HOLE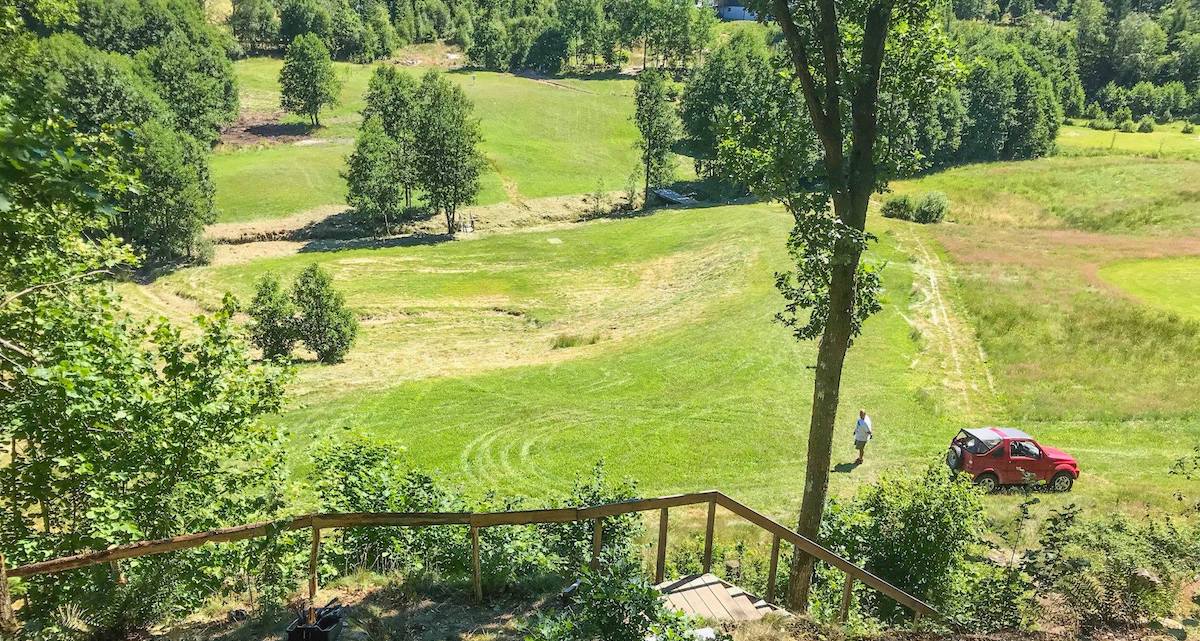 For Ale co-owner and designer Camilla Grundén, the hole that stands out as the course's signature is obvious though she hates admitting it. When asked, she groaned before reluctantly saying, "Well, Hole 12 is the consensus."

And for someone who has put so much effort into a place, it makes sense why it's hard to admit that the par 3 is what people often most remember about the course.

"It took the least work out of almost all the holes; it was just there," Camilla said.

Still, it's hard to forget a hole where you tee off from a cliff aiming at a basket over 500 feet/152 meters away in a field below (we mentioned it was par 3, right?). Take a look for yourself and see if you're able to get it out of your head any time soon:


AMENITIES
Camilla Grundén works at Ale Disc Golf Center full-time, so you can always expect well-mown grass and pruned fairways. Here are other things that the center offers visitors:
A six-hole short course for new players that will soon be expanded to nine holes (also accessible for strollers and wheelchairs)
Benches on every hole
Driving range
Pro shop with snacks and drinks available for purchase
A large barn that can provide shelter during events
Putting area with multiple baskets
EVENTS & LEAGUES
Events: Ale has hosted numerous tournaments in its brief existence. To find upcoming tournaments, use the Event tab in the UDisc app to find events near Gothenburg, Sweden that are based at Ale. Alternatively, you can search on the PDGA's website for upcoming tournaments or e-mail the course's owners at info@discgolfcenter.se.

Leagues: May-August, there's a weekly league on Thursdays that begins at 6pm.
BEST TIMES TO PLAY
Traffic is pretty light at Ale Monday-Thursday according to UDisc data. Friday isn't too bad but gets busier, and the weekends can be slammed. If you can only make it on the weekends, try to start before 9am or, when the season allows, after 6pm if you want the best chances of light traffic.
THREE REAL FIVE STAR REVIEWS
Three real, unedited reviews from UDisc users. To see Ale's latest reviews, visit its page on the UDisc Courses website.
Hard to find words to describe it. Only thing that is lacking is my skill. :)
inducter
Insanely well kept course with great attention to detail. A real challenge for the amateur player but also a great experience. Can't wait to get back 😊
jeppesvendsen
Like playing in a piece of art in the middle of the western Swedish forest. Fantastic facility with three different courses.
*
nenjarickard

*translated into English
Want to find out what course is #6? Click here.