Diavolo was one of the world's top 10 disc golf courses in 2021. Check the master post for all things World's Best Disc Golf Courses 2023 on Monday, February 13, 2023, to see where it ranks this year.

The rest of this post has not been updated since the publication date.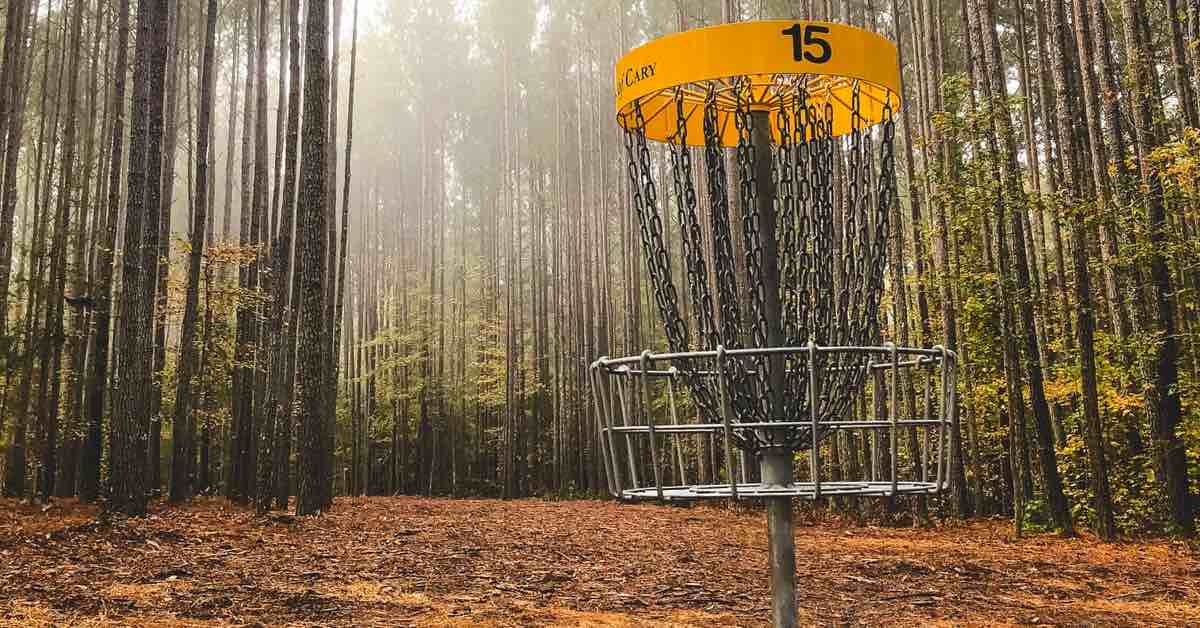 The Basics

The rankings for World's Best Disc Golf Courses are based on the over two million ratings of more than 11,000 disc golf courses all over the planet by disc golfers using UDisc. However, we have done work to account for how regions and cultures tend to rate courses differently, helping to assure the courses that made and missed this list did not do so as a result of regional hype or hypercriticism. That said, the courses on this list earned their spots purely from their stats and not due to the opinions of UDisc's staff. Honestly, we were just as surprised and interested in the results as our readers.

The course grades are relative to how close each course was to a perfect five-star rating. No course on the list achieved a 100.
History of Diavolo Disc Golf Course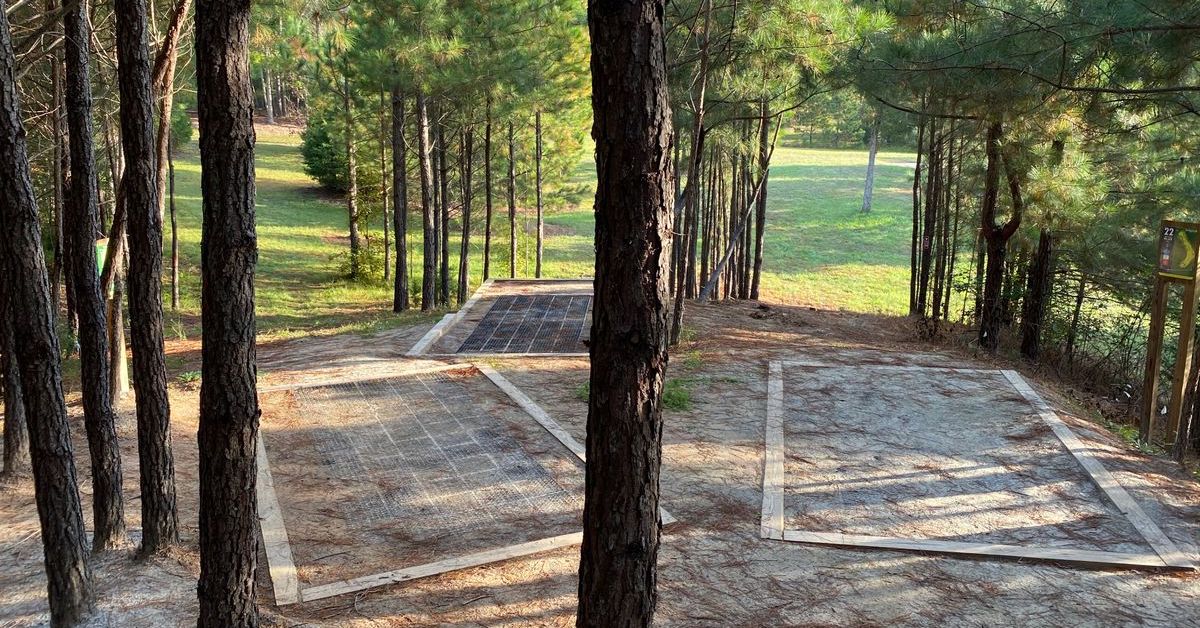 Throughout the year, we at UDisc check up on which courses in the directory seem to be making moves toward or away from the top in terms of ratings. When Diavolo was added to the directory in October, it got our attention almost immediately. It shot up the rankings like a rocket, amassing a huge number of high ratings from disc golfers on UDisc and, amazingly, ending up as a top 10 disc golf course in the world after being open just a few months before we pulled the stats to make this year's list.
But that meteoric rise is the only thing about Diavolo that ever happened fast. When we asked co-designer of the course Mike Sink, the Town of Cary's Operations and Program Supervisor for Sport and Events, what the timeline for creating the course was like, he succinctly described a lengthy set of processes.

"The quick answer is 10 years to dream, five years to plan, two years to dig," said Sink.

But Sink, who is a longtime disc golfer and in charge of disc golf in Cary parks, wasn't alone in the dreaming, planning, and digging. Fellow co-designer Jay Pontier – an ambassador for disc golf equipment company Innova, President of Capital Area Disc League (CADL and formerly Cary Area Disc League), and an experienced disc golf course designer – was with him every step of the way.
The first project the two ever partnered on was the Downtown Urban Open (DUO), which started in 2012. That tournament is an unorthodox disc golf event that offers players the novel experience of urban disc golf, which includes things like playing around office buildings or through and inside of parking decks. DUO is a fundraiser co-hosted by the Town of Cary and CADL, and proceeds help a Cary program that offers residents reduced-price or free Parks, Recreation, and Cultural Resources programs.

Pontier said that after the tournament, they always do a ceremony where they hand a check to Cary's parks director, Doug McRainey. And after the first event, Pontier made a point to plant a seed in McRainey's brain.

"That first year after we handed over the check, I said, 'Doug, you know why we do this?'" Pontier recalled. "He looked at me and said, 'Please, Jay, tell me why you do this.' And I told him we were starving for newer courses in the area – we'd been stagnant for so long."
Seeing the success of the first DUO, McRainey was open to Cary increasing its permanent disc golf offerings, and when the town got a community investment bond that same year, it set aside part of it for funding disc golf development. Sink soon began working closely with Pontier to identify the ideal location for a new course, but he didn't know that Pontier had already done plenty of independent scouting.

"Jay was actually taking me on the tours of our park facilities to show me where the next disc golf course could go," Sink, whose profession revolves around Cary's parks, said wryly.
But it wasn't just about finding town property that could be transformed into a great disc golf course. The two had to identify land that they wouldn't need to alter hugely in their pursuit of greatness. If they had to make too many changes, the applications for permits and other processes would have eaten up too much of their funds to allow them to make the world class course they both hungered for.

Eventually, they settled on a property on the western edge of the town that had water features, elevation changes, some open areas, and plenty of woods through which they could carve challenging fairways. After the town gave them permission to use the land for disc golf, course planning began.

Combined, finding and securing the land and subsequently planning the course was a five year process. Still, Sink and Pontier were determined not to let impatience to have a new course lead to the cutting of any corners. For example, instead of creating an inferior design that they could afford to pay contractors to complete extremely quickly, they created a Cadillac design that contractors would only create the rough outline of and dedicated CADL members and other disc golfers would volunteer their time to refine.

"Other parks, when they have the opportunity, are gonna pay somebody to do all of it," Sink explained. "But Capital Area Disc League was able to provide most of that labor...which allowed us to do so much more but also took a bit more time. It also allowed us to be more iterative in our process, to fine-tune holes, instead of saying, 'Alright, we put 'em in in a month and we're just gonna fine tune as people play over the next five years.'"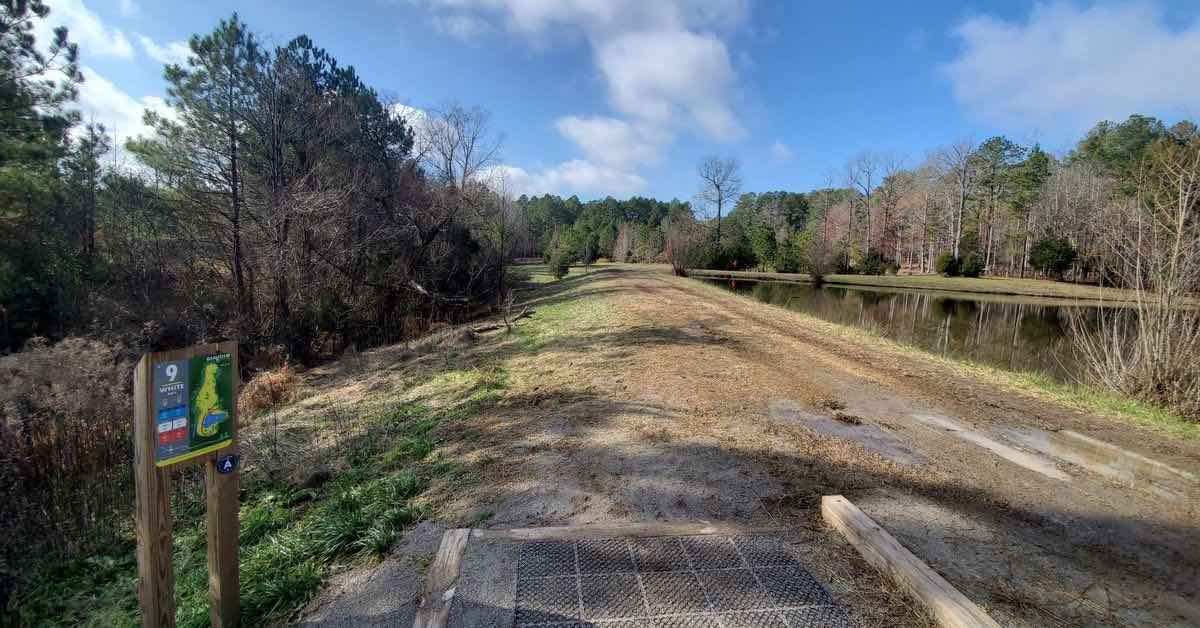 Part of that fine-tuning included Pontier bringing other disc golfers to the unfinished course to play holes and see what tweaks they needed.

"I would bring some of my friends who are pros, advanced, and amateurs and have them throw and see the groupings and see if I and they felt like they were quality holes," Pontier said.

And if something did need to be changed, no decision about how to change it was made lightly.

"We stayed out way too late way too many nights asking, 'What do you think? This tree here or this tree there?'" Sink said. "I can't tell you how many single tree conversations we had."
All of this added up to the creation of the course taking two years. However, it also meant that player experience was far better than on most newly-opened courses that are still working out major kinks. The readily apparent attention to detail and polished feel to Diavolo's challenging and thoughtfully constructed holes are likely why the course ended up making it into the top 10 of the World's Best Disc Golf Courses as quickly as it did.

Also impressive is that Diavolo has earned those high ratings while being absolutely slammed with players. Sink procured pedestrian counters for the course, and he said that in the first month, they recorded over 6,000 players on the course. For scale, another popular area course averaged only around 1,500 players per month the year before.

This unqualified success has attracted the attention of other area parks departments, and Pontier and Sink are overjoyed that Diavolo's glowing reception could help spark more investment in North Carolina disc golf from other local governments in central and eastern regions of the state.

"Diavolo coming to fruition has allowed us to show off what disc golf can be to a lot of other municipalities," Sink said. "I can't tell you how many tours we've given since the course came online to other Parks and Rec directors. Hopefully we've been able to be a catalyst for other local parks."
Recent & Planned Developments as of 2021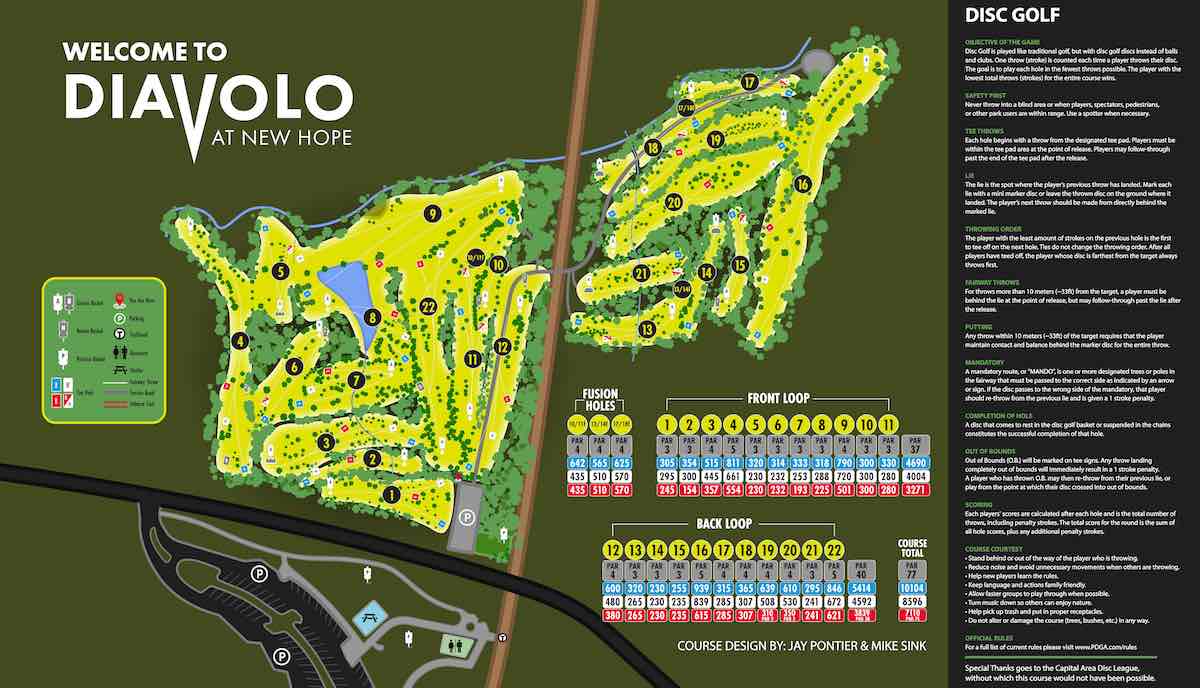 Diavolo may have been a fairly well-polished gem from the start, but that doesn't mean there aren't plans to make it even better.

Currently, the course has two sets of tees installed: blue and white. You'll see red tees on signage, but they're still in the works. Both Pontier and Sink stressed that the placement of the red tees was thoroughly considered as they constructed fairways and will provide players the same quality experience they can expect on the blue and white layouts.

Additionally, there are plans to create a nine-hole loop designed for novice players.
What's It Like to Play Disc Golf at Diavolo?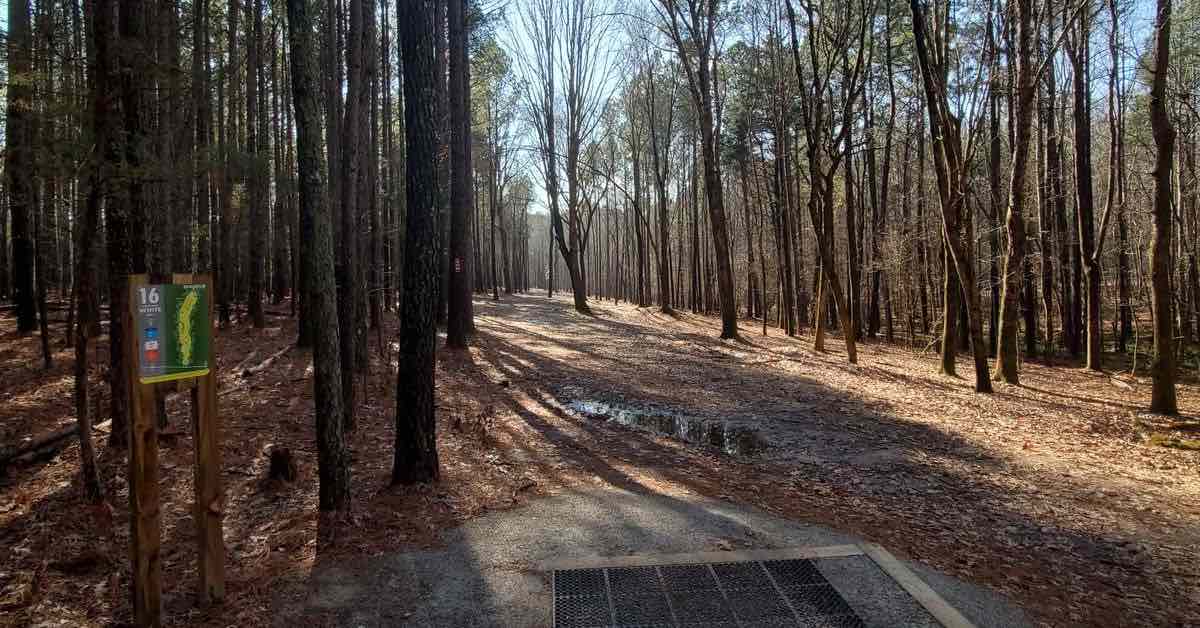 Diavolo is made up of two eleven hole loops. You start and end each loop near the parking lot, making it easy to take a mid-round trip to grab or drop something off in the car or to just play half rounds if that's all time allows for.

As for what you can expect to find on those two loops, the answer is this: a little bit of nearly everything. Though the property doesn't have a huge amount of elevation, Pontier and Sink utilized it where they could. A pond on the property is in play on two holes, and there's a mixture of open and wooded fairways.

A constant positive mentioned in reviews is that the course demands players accurately throw a wide variety of distances and shot shapes.
In relation to difficulty, Pontier said he views design very mathematically and tries to stick with the Professional Disc Golf Association's course design guidelines closely. This is why the course's different tees are blue, white, and the forthcoming red. These are the same colors you'll find in the PDGA's guidelines, which uses blue to denote holes and courses appropriate for players with advanced skills, white for those who are at an intermediate level, and red for beginner and recreational-level players.

There are also three "fusion holes" where players can opt to play two par 3s as a single par four. These are marked on the course's tee signs and can be found on holes 10/11, 13/14, and 17/18.

No matter which set of holes you choose to tackle, know that plenty of care was taken to make sure the layout would be fun and varied. Pontier and Sink wanted each configuration to provide a unique and high quality experience, not just offer shorter or longer versions of the same holes.

Finally, Diavolo's 45 acres are designated for disc golf, so you won't have to worry about parkgoers grilling in fairways or waiting until long lines of pedestrians are clear of your throwing area. There are the occasional bicyclists on the American Tobacco Trail that goes through the land, but the effect of that on play is extremely minimal.
Signature Hole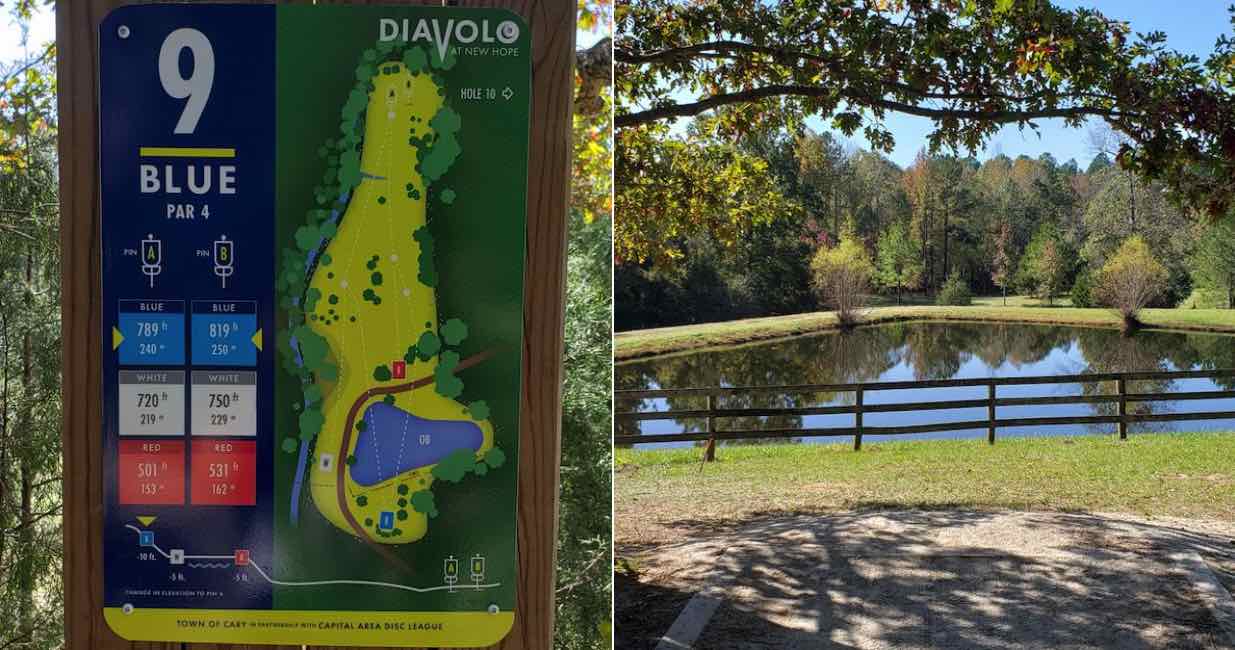 When we asked Pontier which hole he believed was the course's signature, his answer was unequivocal.

"I don't usually give this type of answer," Pontier said. "I normally say that it's not for me to say, it's for the community. But it's obviously hole 9."

From the blue tee, hole 9 starts players off looking down over the course's pond. Most players will need the extra distance downhill shots can allow for to be in a position after their drive where they can hope to reach the pin for a birdie. This par 4 can be either slightly over or under 800 feet/244 meters depending on the pin placement.

And if the distance wasn't challenge enough, there are also bushes and small trees that were strategically left near typical landing zones to force players to aim their power drives and not just huck as hard as they could.

"It's the beautiful view, the struggle to get in the right place with your drive...it's a journey," said Pontier, further explaining why hole 9 was a standout hole on a course full of standout holes.

You can take a look at hole 9 in this flyover from Three Decent AMs' YouTube channel:


Amenities
Along with consistently excellent signage and multiple tees per hole, visitors can also expect these extras when playing Diavolo:
Public restrooms
Drinking fountain
Picnic shelter
Dedicated parking for the course
Access to the American Tobacco Trail
Three Real Five Star Reviews
Three real five star reviews of Diavolo from disc golfers on UDisc.
Bring your drivers and your walking shoes. Massive course that'll test your whole bag but amazing design and there are definitely birdies to be had. You can tell when a course has been designed by someone who truly knows the game of disc golf and this one certainly fits that bill.
Amazing triangle course. Three sets of tees, fair, elevation, wooded holes, open holes, left bending, right bending, Length. Super fun!
PDGA Worlds caliber course. Fantastic design, diverse layout, and perfect for multiple skill levels. If you have the chance to play here, don't miss it. A+.