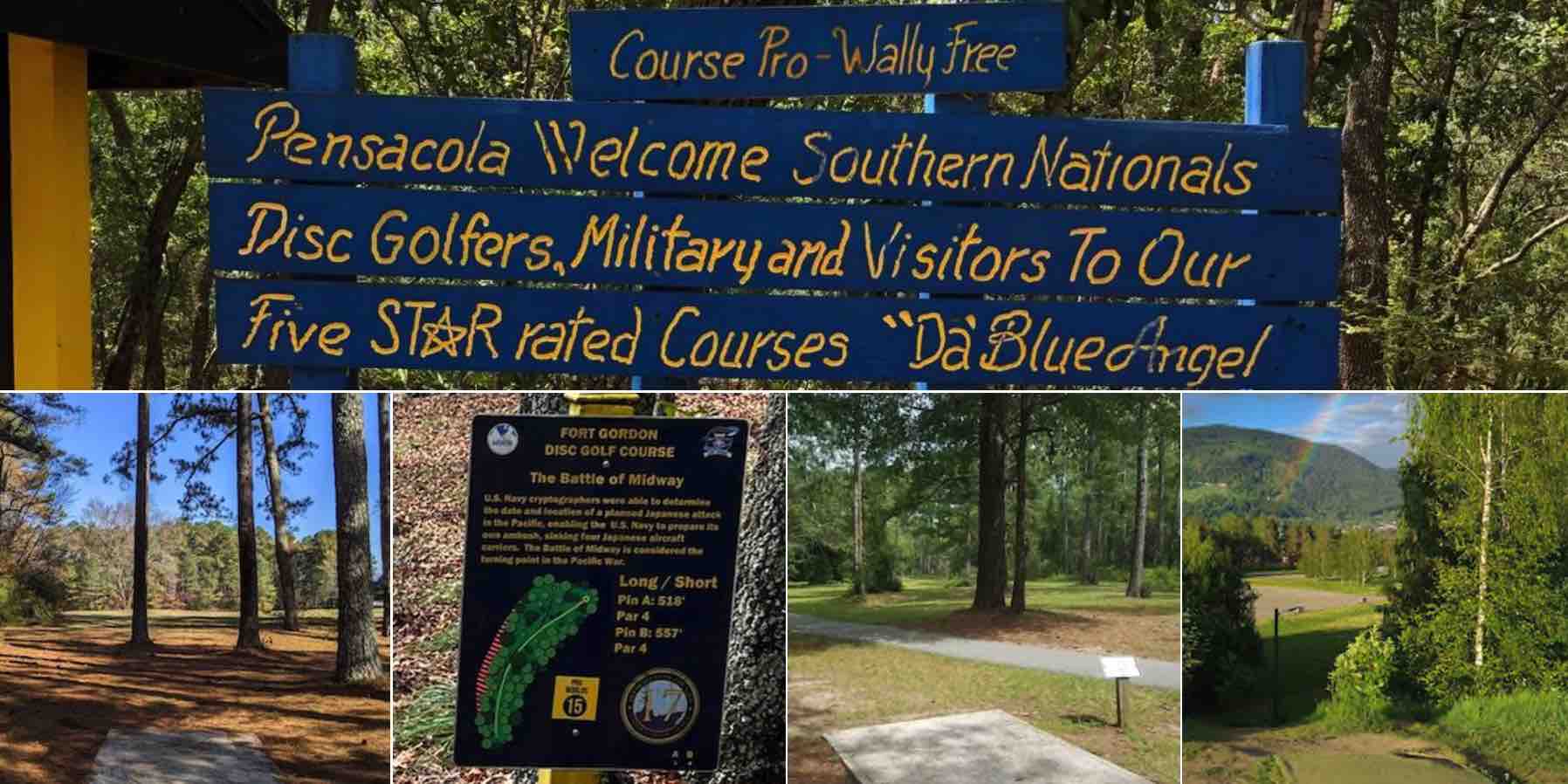 Life in the military can be full of stress brought on by frequent moves, hazardous work environments (to put it mildly in some cases), deployments to far-flung parts of the world, long stints away from family, and more. One way that military institutions try to keep their members grounded amid all the unexpected twists and turns is offering various options for healthy recreation that give those serving a chance to recuperate and decompress.

Increasingly, disc golf is one of those options at bases and similar facilities across the planet. It's a result of the ongoing growth in disc golf's popularity, which is upping demand for the sport all over – including within the world's militaries.
Below we take a look at which disc golf courses at military facilities are the world's best according to ratings from players with the #1 disc golf app, UDisc. And don't think that these courses are just for those in uniform. Every course that made this list can be played by civilians with a photo ID and some time to fill out a bit of paperwork.
Ranking the Courses
Here's how we came up with the rankings in this post:
How did you identify military disc golf courses?
Disc golfers adding courses to the UDisc directory can tag them as certain types of property, e.g., private, public, camp, or church. Another property tag option is "military base." For this post, we identified every course with that tag and ran the numbers to see where they ranked against each other based on ratings from disc golfers with UDisc (more on the math in the next bullet point). Once we had the rankings, we researched each course at the top of the list and created a top five that included only the courses on properties closely associated with a military base or station.

Keep in mind that any course not labeled "military base" at the time we ran our search was not eligible for this list.

How did you come up with the military disc golf course rankings?
The rankings are based on disc golfers' ratings of the courses in UDisc. However, we didn't go purely off of current rating. Recent course ratings affected courses' overall scores more than older ones. We also took into account how harshly or easily different countries tend to rate courses and made adjustments to even out those differences. Additionally, courses with extremely low numbers of ratings received penalties.

This is the same math we used to create the World's Best Disc Golf Courses 2022.
What qualified as a military disc golf course?
Any course on land that is owned and/or maintained by a military entity.
Did you limit what part of the world the courses could be in?
No. Disc golf courses associated with militaries all over the world were eligible.
The Best Military Disc Golf Courses: Top 5
Ten-hut! It's time to salute the top five disc golf courses at military bases in the world:
5. Jørstadmoen Disc Golf Course: Fåberg, Lillehammer, Norway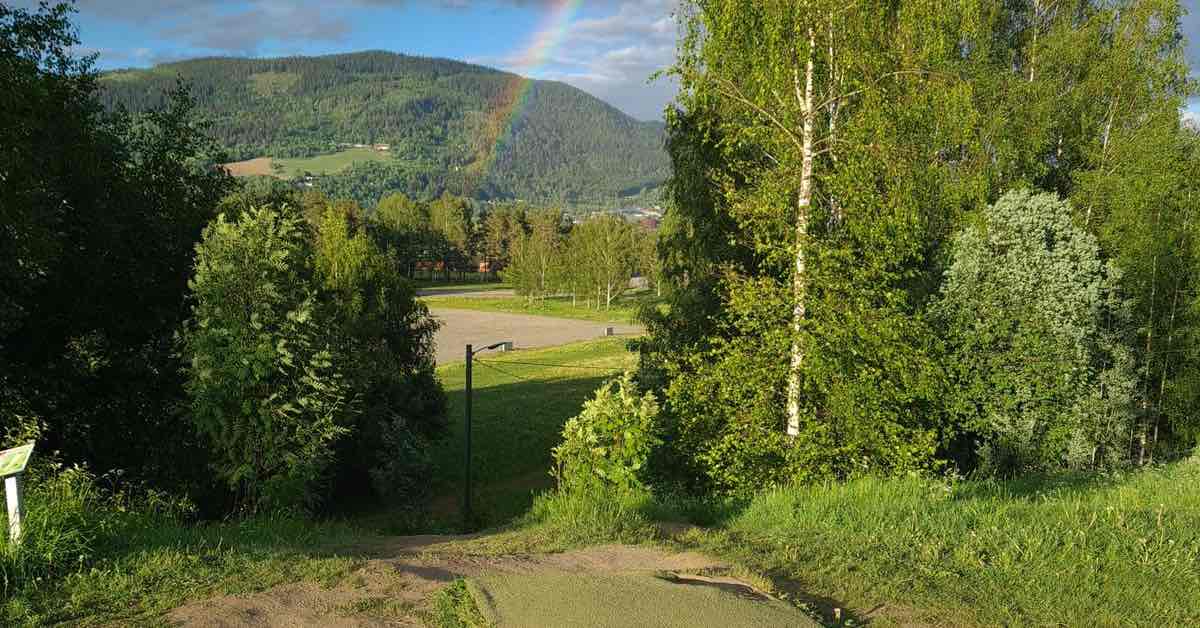 The Norwegian municipality of Lillehammer is probably best known for hosting the 1994 Winter Olympics. It may also ring a bell if you know the Netflix series Lilyhammer about a former American mafia member who ends up there in witness protection.
But in the worlds of Norwegian defense and disc golf, it has other distinctions.

Lillehammer is the home of Jørstadmoen Military Camp, which is the headquarters of Norway's Cyber Defense force and also the oldest continuously-used military camp in Norway (opened in the 1780s). When those stationed there aren't making sure Norway's information networks are secure, they can go out and play a trendsetting disc golf track.

"Jørstadmoen was the first disc golf course on a Norwegian military base," the base's Sport Officer, Håvard Engelien told us. "Due to its popularity, the idea of building a disc golf course at a military camp has been copied by many military camps in Norway."
The course is used by those stationed at Jørstadmoen as a chance to unwind.

"The course is first of all an activity for leisure for soldiers and all the employees at Jørstadmoen military camp," Engelien said. "Just as much as it is a sports facility, it is a facility where you can take a break from everyday work, free your mind, and recharge your batteries."
But the course isn't there just for military personnel. In fact, Engelien said that "civilians are the main users of the course," and those at the base see it as an avenue to "give something back" and "a good way to increase public health."
Vice President of the local club Lillehammer Frisbee, Mats Bergmo Bjørnsletten, said the traffic the course gets is incredible for most any location, let alone a place the size of Lillehammer.

"We can see in UDisc's statistics that nearly 14,000 rounds have been played so far in 2022," said Bjørnsletten. "We assume that around 20-30% of all players use UDisc, so the actual number is believed to be significantly higher. The numbers are even more impressive considering that Lillehammer municipality has right under 30,000 residents, and that the course is almost unplayable in the winter due to large amounts of snow."
If you make it up to Lillehammer (about a two-hour drive north of Oslo), expect a par 3 course that's two-thirds open and one-third wooded. It's generally flat though two holes have some noticeable elevation changes. The course is designed with beginners in mind, but it's a great place for skilled players to practice their accuracy at short distances. Two holes do crest the 100 meter/328-foot mark.
4. Fort Rucker Flying Disc Golf Course: Fort Rucker, Alabama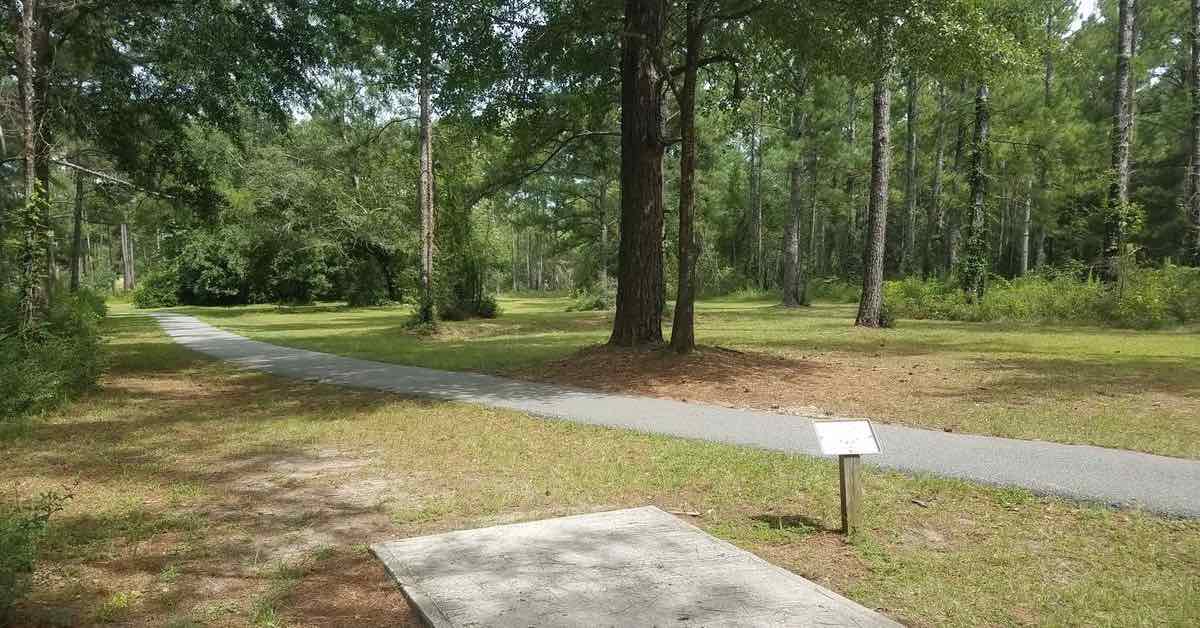 Fort Rucker is a U.S. Army base in southern Alabama that's less than an hour's drive north of the Florida panhandle. Its disc golf course, Fort Rucker Flying, went up in 2012 thanks to a partnership between its original designer and the base's Morale, Welfare, and Recreation Department (MWR). At the time it was the only disc golf course within a very wide radius.
Though offerings in the area have expanded around nearby cities like Dothan and Enterprise, Ft. Rucker continues to be a place where many have their initial contact with disc golf.

"For most, it's where soldiers first discover the sport seeing the baskets scattered throughout a popular jogging trail around the lake," said Zach Cole, a local disc golf course designer who completed a redesign at Ft. Rucker Flying in recent years and works with MWR on disc golf matters.
Today, the course offers both a "family-friendly outdoor activity" and "something fun for single soldiers living on the barracks to do on down time" according to Cole.

Disc golfers can expect a little bit of everything at this track where water, woods, open lawns, and park-like landscape are all present. Cole said the first nine holes are more open and suited to beginners whereas the back nine's woods and technicality are better for experienced players.
3. Fort Gordon Marine-Navy Disc Golf Course: Augusta, Georgia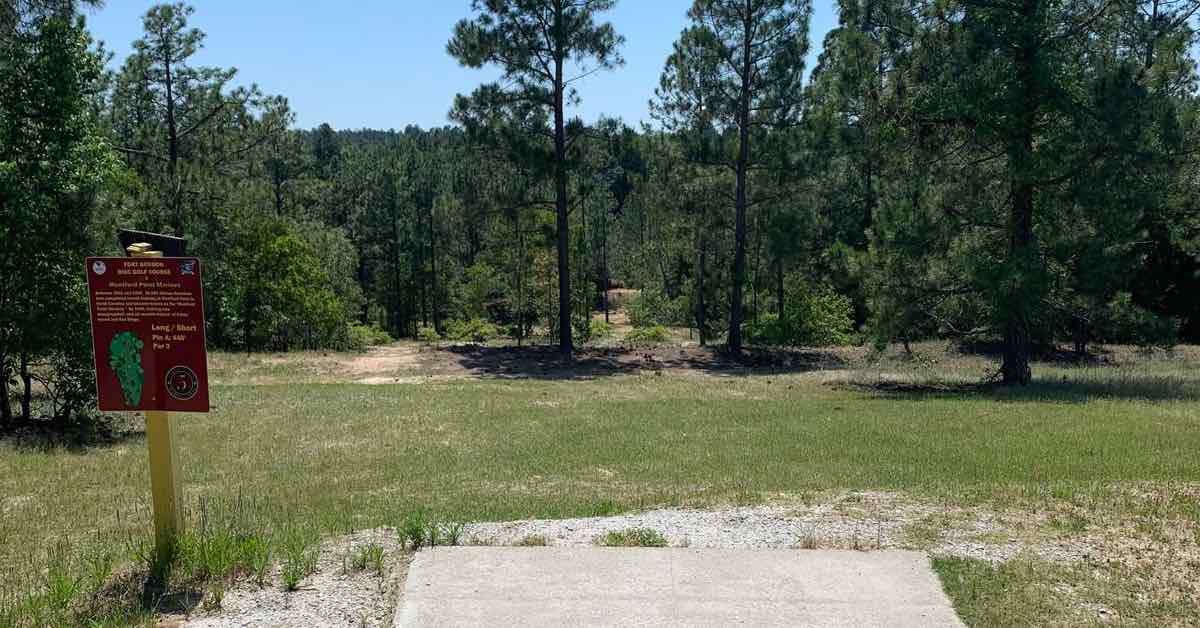 Built partly in dense woods and partly on a former nine-hole ball golf course, Fort Gordon Marine-Navy offers experienced disc golfers a chance to test their accuracy and power.
If you've been a pro disc golf fan for a while, you've likely seen Fort Gordon before. It was one of two courses used for the 2017 Pro Disc Golf World Championships, where it challenged the world's best with a mixture of tight lines and big distance. Regular changes in elevation and challenging pin positions that made roll-aways an ever-present danger added to the difficulty.
But don't get too worried – the punishing Worlds setup that featured three holes over 1,000 feet/305 meters isn't what everyday visitors face. The Marine-Navy course is a 20-hole layout that can be played from two different sets of tees. Still, both the Shorts and Longs are better suited to experienced disc golfers than beginners.
That said, there are actually four nine-hole courses at Fort Gordon that are named for branches of the U.S. military (Air Force, Army, Marines, and Navy), and some layouts are well-suited to newer players. However, not all holes were available on the Air Force and Army courses at the time of publication.
Fort Gordon's main role is training U.S. Army Signal Corps members, who are in charge of communications and information systems.