In UDisc's international disc golf course directory, there are 253 disc golf courses on land designated as church property.1 The U.S. is home to the majority of these with the state of Texas' 42 church courses leading the nation. Outside the United States, churches in places as far flung as Sweden, Papua New Guinea, and Malawi – along with plenty of other locales – offer disc golf to their communities.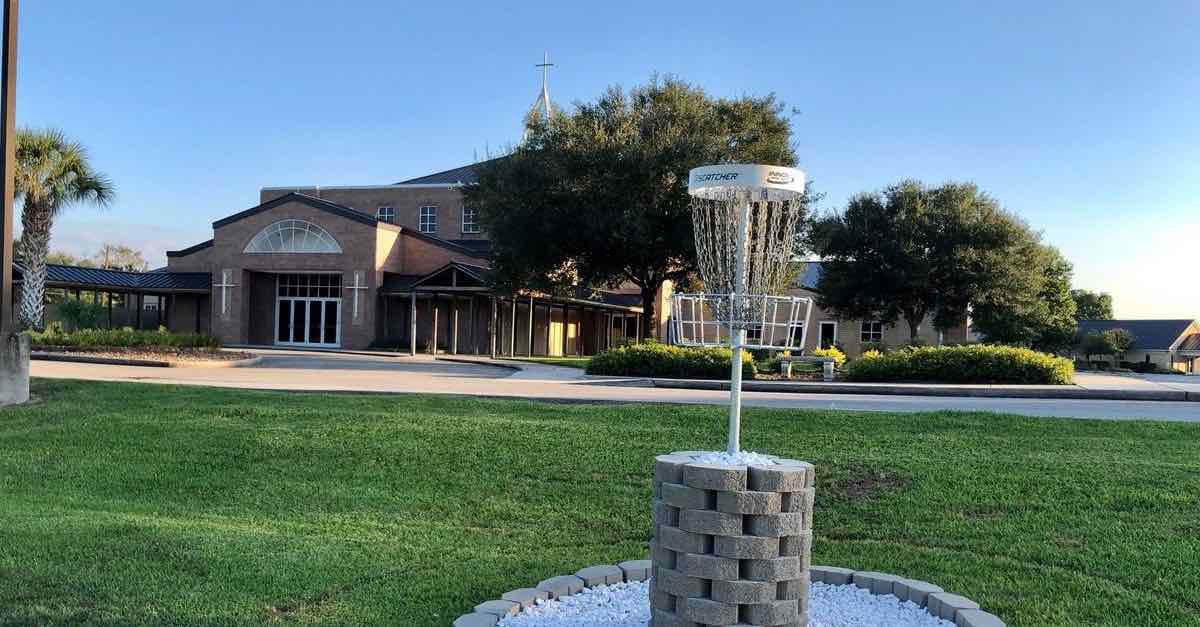 The connection between disc golf and houses of worship is growing mostly within Christian congregations, but it's doing so across denominations. For example, we found courses associated with Baptist, Lutheran, Episcopal, Methodist, Assembly of God, Wesleyan, and Presbyterian institutions.
Churches aren't alone in realizing that disc golf can add value to their organizations and align with their goals. Owners of breweries and wineries as well as managers of conservation areas have come to similar conclusions. But churches play a unique role in many people's lives, so what is it about disc golf that's appealing to an increasing number of them?
We spoke with pastors and church leaders who were involved with adding disc golf to their properties to find out why and how they decided disc golf was worth a leap of faith.
Disc Golf Increases Sense of Community
For centuries, churches were a critical way people stayed engaged with their neighbors. However, church attendance has steadily declined around the world, leaving individuals searching for meaning in other areas of their lives and church leaders seeking ways to rebuild their congregations. Some of those leaders have decided that disc golf could be an effective way to do just that.
"One-hundred years ago church was a central part of the community where people would come to gather and do more than just worship," said Josh Tufte, Lead Pastor at the Crossing Church at Union Cross in North Carolina. "This [our disc golf course] was a way for us to move back towards that. We're still biblically based, but we want to be a place for people to come and be loved and ministered to in multiple ways."
The strategy of strengthening church congregations through community building activities appears to be supported by data and research. A Vox Media survey found that the number one reason someone who currently identifies as non-religious would choose to get involved with religion again would be to find a sense of community.
Many churches are familiar with using recreation facilities such as basketball courts or baseball fields as a way to connect with a greater percentage of the population. As disc golf continues to see a huge rise in interest, it has become a compelling option for these efforts.
"Stonebridge is all about connecting with people," said David Wittenmyer, Director of Communication at Stonebridge Church in Texas and designer of its disc golf course. "We go where the people are. If people want to play disc golf, well then, we're going to get out there and play disc golf with them."
Bringing in New Congregants & Delighting Longtime Ones
For many, maintaining a sense of community became even more challenging during the heart of the COVID-19 pandemic. As an individual outdoor sport, disc golf offered fairly safe recreation and a chance for people to stay connected with friends and families.
"During the pandemic we had to switch all of our services online," said Wittenmyer. "We saw a ton of people out on the course looking for something to do. It was a safe way for people to get outside and exercise and a great way to keep them involved with our community."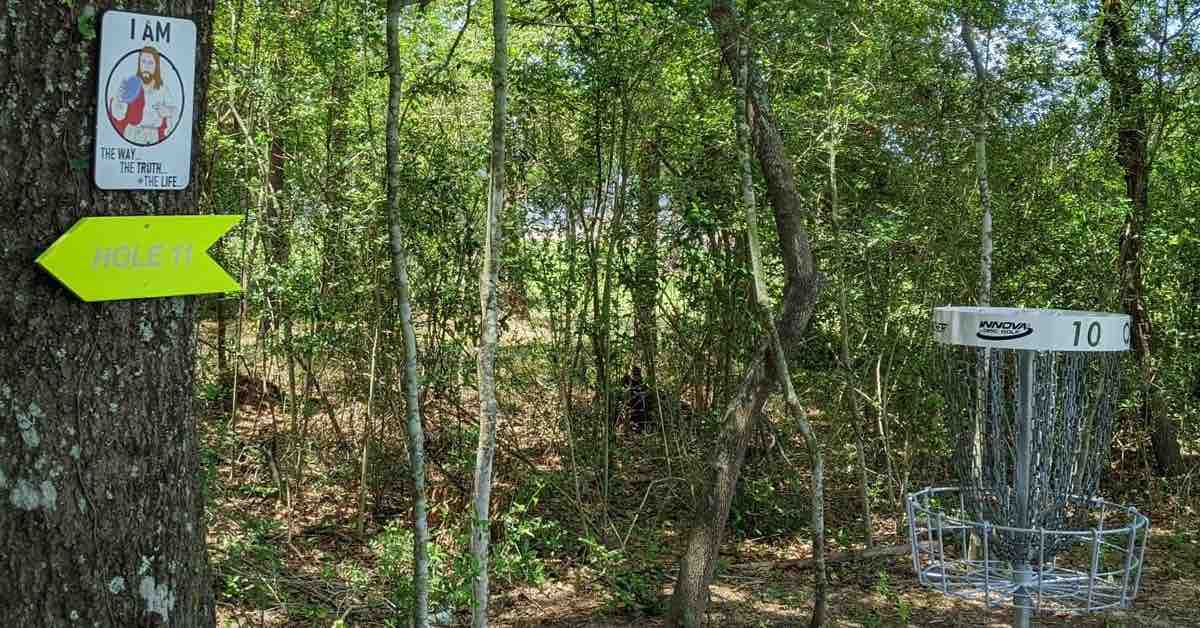 Some of those people decided to stick around and found that Stonebridge had more to offer them and their families than just the disc golf course.
"I personally know two families who originally only came out to our property to play the course and now join us at weekly service," said Wittenmyer.
Not only do disc golf courses entice a new demographic to visit church campuses, they also provide benefits for already active church members.
"Several of our constituents have told me, and I quote, that they are 'too old to play regular golf' but have taken to disc golf," said Tufte. "They say that they sweat just as much but if they throw it easily, it has less of an impact on their bodies than traditional golf."
Courses even have the potential of providing church administrators a way to relax and recharge after work. We may be biased here at UDisc, but a disc golf course certainly sounds like a better return-to-office perk than contemplative spaces or a ping pong table.
"I had heard of the sport but had never played before," said Tufte. "I now play two to three times a month with a small group. It's become a very fun pastime for us."
Low Cost & Maintenance Requirements Make Disc Golf Appealing
Tufte and others among the leadership of Crossing Church at Union Cross first became interested in building a disc golf course as a way to utilize a large area of unused property in a way that would benefit their organization. They recognized that the sport's popularity was growing and that it could help their church stand out.
But another huge point in disc golf's column was its price point – in terms of both upfront and future investment.
"The course was very cost effective," said Tufte. "Not only in regards to development and installation but also when it comes to maintenance. The course is much more affordable to maintain than, for instance, two ball fields, where we would have to mow, fertilize, and maintain the turf."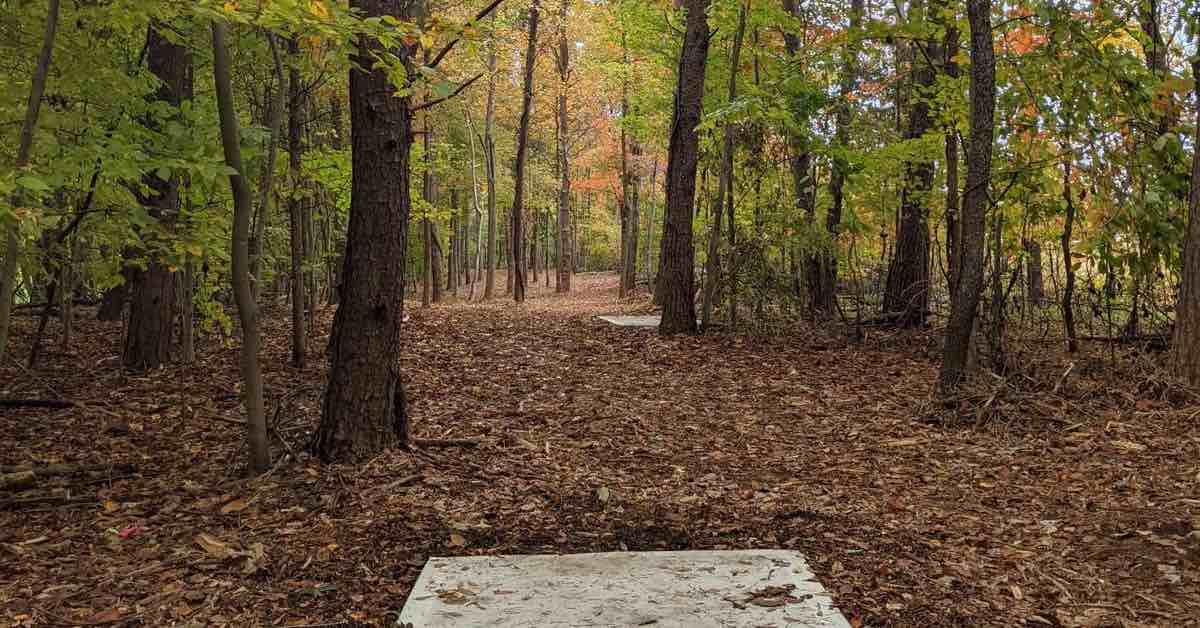 Tufte and his team wanted to build a very high quality course that would draw in the local disc golf community and keep players coming back for years to come. One of their church members who had already helped design other local church courses took the lead on design and brought in numerous local professionals to consult on the project. With over 600 ratings and a 4.5 of 5 star average on UDisc at the time of publication, it appears Tufte and his team achieved their goal of creating a quality course.
"The reception has been wildly fantastic," said Tufte. "From the beginning we wanted to do it right and build a great course, but it is above and beyond what any of us expected. We've heard that it's an incredibly challenging but fun course to play."
Not only did the course overachieve expectations for quality and community reception, it overachieved financially as well.
"We had a budget cap of around $30,000, and the final cost came in significantly below that number," said Tufte.
Wittenmyer's Stonebridge Church in Texas managed to build a course without ever having funds available to dedicate towards disc golf. Their track was designed twelve years ago and has slowly grown into what it is today.
"We've never had a disc golf budget," said Wittenmyer. "The course has just slowly been built up by the disc golf community and members passionate about the sport who've raised the dollars needed through fundraising events."
Just down the road from Stonebridge, Grace Point Fellowship Baptist Church had land that was about to be heavily taxed unless they utilized it in a way that would benefit the community.
"We could spend $20,000 to build something the community would really use and appreciate, or we could start spending thousands of dollars a year on taxes," said Nathan Sliter, Associate Pastor at Grace Point. "It became a no-brainer."
Advice for Those Advocating for a Church Course
When we spoke to Sliter, the grass was still regrowing on Grace Point's brand new nine-hole course as it was just installed a couple of months ago. Since his experience was so fresh, we wanted to know what advice he had for churches considering adding a course to their property.
Finding examples of churches that had already successfully built a course was key to getting the green light.
"We were able to point to a local church, Magnolia's First Baptist, and say, 'Hey, they just did this, and look at how many people are walking around and enjoying it everyday,'" said Sliter.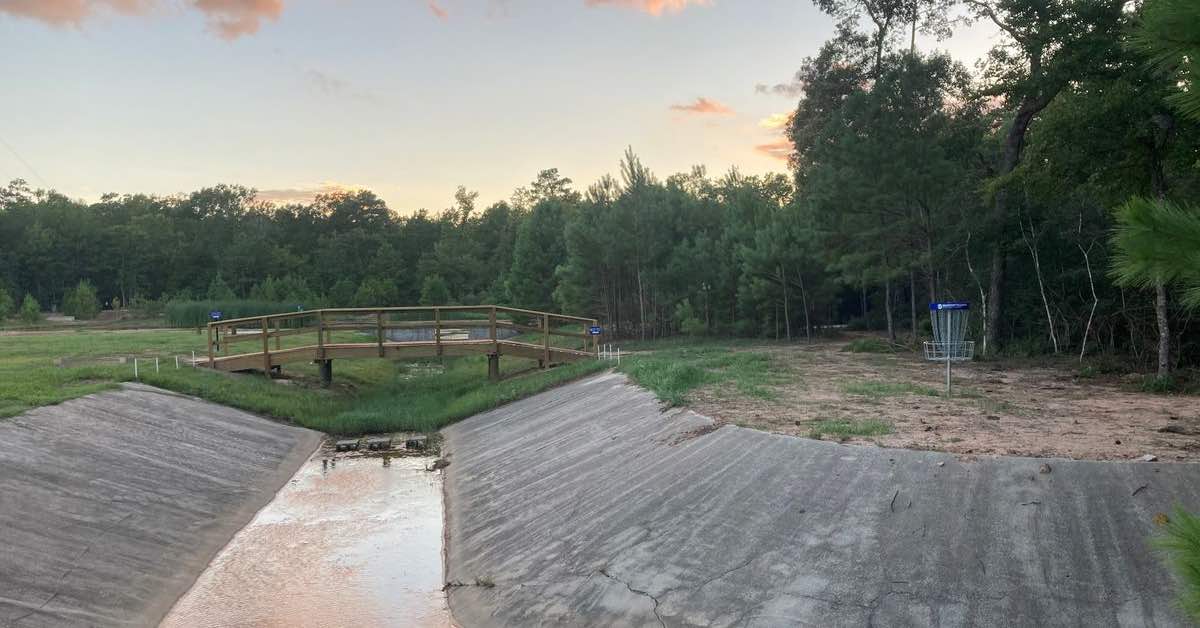 Sliter had been playing for a number of years and managed to get a few of his colleagues hooked on disc golf as well, so it was not just him but a team advocating for the course. While not new to the game, Sliter still knew he would need to build local support and rely on the expertise of others if he wanted the course to succeed.
"Don't do it on your own," said Sliter. "Do not just go out there and say, 'Here's what I think will be best.' We really reached out to people in the disc golf community to get feedback and learned so much in the process."
By connecting with area players early, Sliter was able to prove there was support for the course before his administration decided whether to invest hours or money into the project.
"The disc golf community is very generous with their time and effort," said Sliter. "The dedication of the disc golf community was a great way to demonstrate the demand for the course to administration."
With a limited amount of acreage, Grace Point opted to build just a nine-hole course. However, they made the course attractive by carefully planning it and including features such as tiered basket placements, an island hole, and a beautiful wooden bridge. Although it's a nine-hole course, it doesn't play easy, and that was by design.
"It's a lot more difficult to regrow trees than it is to remove one or two later on,"  Sliter explained. "If you make it difficult, but fair, players will keep coming back to be challenged by the course."

Though Sliter is certainly right that experienced players will love a challenge, keep in mind that there is a danger of making a course so punishing that newcomers to the game are put off or that it's not fun for families with children. A great option to get the best of both worlds is, like the Crossing Church at Union Cross, installing two sets of tees – one short and one long.
Tell Us About Disc Golf Growing in Your Community
We're very interested to learn about disc golf gaining traction in areas you might not expect. If you're part of a community of professionals, hobbyists, etc. and you've noticed disc golf becoming increasingly popular within that group, let us know! You can reach out to us at releasepoint@udisc.com.
1. In our total of church courses, we included courses tagged as 'church' as well as 'church' & 'other',' 'church' & 'private land,' 'church' & 'school,' and a combination of these terms. To avoid misrepresentation we did not count courses labeled as 'church' but cross listed with other tags such as 'university,' 'camp,' 'public park,' or 'golf course.'