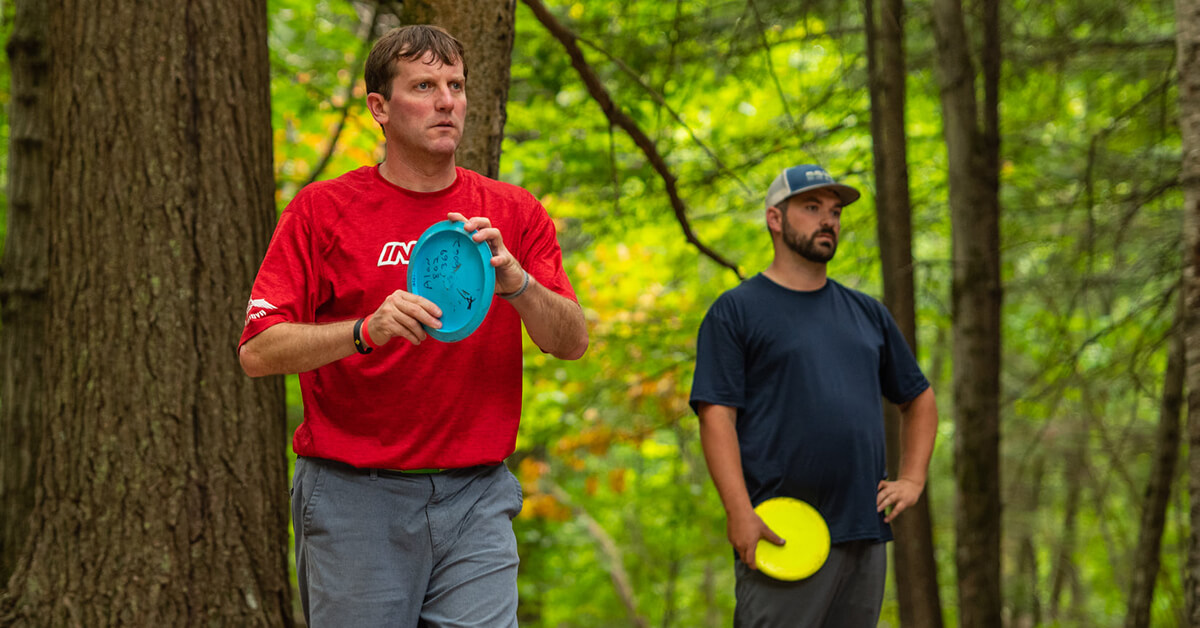 It's been a common occurrence the last few years as disc golf has continued its explosive growth: From aspiring pro disc golfers and pro shop owners to upstart manufacturers and fledgling content creators, more and more people are going all-in on disc golf as a business enterprise and aiming for not just a hobby, but a living in the sport.
Heck, even this author can relate. Once a volunteer blog writer, I snagged a role as a disc golf news editor before landing a media and communications role with the PDGA. Now I am heading up marketing efforts for UDisc and am beyond thankful to have melded pastime and passion with career.
So when I talk to people like Chris Young, I can relate with the leap they are taking. It's both exhilarating and unnerving to put your livelihood in the hands of people throwing plastic at metal; there's always the ever-present worry that we'll all collectively chain out and be left bogeying our way to unemployment and hoping it hasn't set us back when we want to move to the next challenge.
But if we're being honest, what Young has done for disc golf throughout the Northeast shouldn't give him, or anyone else, pause. It's clear he's got a plan and is executing on going all-in. 
In fact, I'd offer that he's more than all-in. I'm not sure what the term is for that, but he's doing it.
"With the boom last year and what I've built," Young says, "I feel like now's the time, for sure."
Young is the proprietor of Disc Golf Vermont, an event management and membership organization focused on providing a top-notch disc golf experience in the Green Mountain State. With a burgeoning 13-stop statewide tour, a cornucopia of leagues, and clinics aplenty, Young is spearheading a growing player base and feeding an insatiable desire for competition.
And while he was born and raised in Vermont, his disc golf story actually begins more than 3,000 miles away in another hotbed: Eugene, Oregon.
He found himself in that evergreen enclave in the early aughts, right around the time two future world champs were making their mark on the Pacific Northwest: Dave Feldberg and Avery Jenkins. Young played weeklies and other events at Dexter Park, a 4.6-rated, reservoir-adjacent storybook of a track, and struck relationships with those two stalwarts of the sport that have lasted to this day.
Needless to say, Young was hooked. But when it came time to build a family in 2007, that meant time to move back to Vermont. He dove headfirst into his home state scene, volunteering with the Green Mountain Disc Golf Club and serving as both communications manager and, eventually, club president.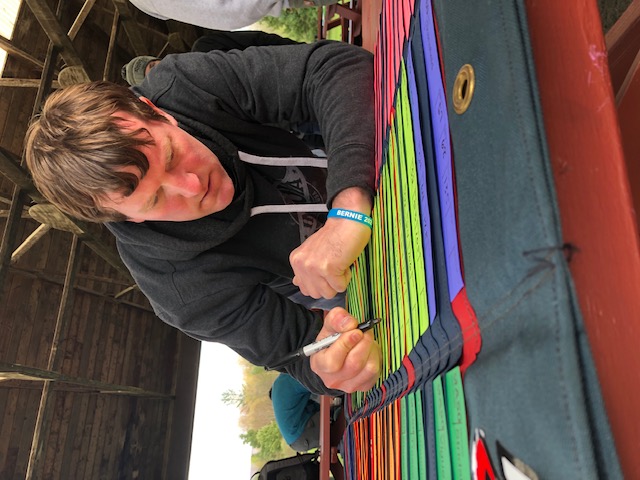 "Over the next eight years I put my heart and soul into growing disc golf here in Vermont," Young said, "and put in hundreds and hundreds of volunteer hours to host events, grow membership, talk with new sponsors and get new courses in the ground."

A highlight? Young helped the local Ice Bowl grow from a modest $500 per year fundraiser to a $15,000-earning juggernaut. 
But that was all in his spare time. A veteran of the restaurant industry by trade, Young still balanced his disc golf activities with a full-time job at Burlington's Farmhouse Tap and Grill, a farm-to-table eatery he said is one of the busiest in the city. The hustle and bustle gave him plenty of experience managing players – let's be honest: a frustrated disc golfer is probably nothing compared to an angry restaurant patron, right? – and honing in the organizational skills he'd need to continue helping the sport flourish in Vermont.
"The flexibility's nice," Young said.  "I can work days or nights and help raise my daughter, and the money's good, and I was able to get weekends off and play disc golf tournaments and help run them...I've always definitely been service-oriented – friendly, get back to people promptly  which is something I pride myself on."
That reputation grew as the local tournament scene did, and soon Young found himself working with Jeff Spring, the now-Disc Golf Pro Tour Director and CEO who made his mark running world-class events like the Green Mountain Championship and 2018 PDGA Pro World Championships at Smugglers' Notch Resort in Jeffersonville. Since meeting in 2008 the two have shared a desire to take disc golf to the next level in the state; Young was an assistant tournament director at Pro Worlds and runs the Am-side of the GMC to this day. That ability to energize the player base is what Spring said makes an impact.
"Chris has been the one to take the opportunity of having a high-level event in Vermont then grow it locally," Spring said. "Without Chris those things don't have the same amount of support locally on the ground...He continued the development of the local scene."

Young planted his roots down even more firmly in the Northeast by starting Disc Golf Vermont. Intended to fill the void left by the dissolution of the Green Mountain Disc Golf Club in 2019, Young has turned DGVT into more than just a competitive organization. It now boasts a 13-stop statewide tour, leagues, kids' summer camps, and more.
And with the economic boom that's hit disc golf in tandem with the COVID-19 pandemic, the restaurant days are done. Young is now full-time on DGVT and all it entails, and the participation numbers don't lie: The first seven stops on the DGVT this year have seen an average of 145 participants, with June's Brewster Ridge Open drawing a staggering 252 competitors to the #5 disc golf course in the world.
But that's not the only impressive number DGVT boasts. The organization currently sports 277 members and a bevy of high-end sponsors like Lawson's Finest Liquids and Zeal Optics. There's also a fitness partnership with local gym Concept Move, which brings disc golf-specific training to the table for DGVT members, as well as 13 weeks of league competition available.
"I thought about it long and hard and I said, 'Well, you're in your 40s you've got 20 years or whatever left of work – just do what you love," Young said. "And disc golf is fully what I love."
And as the roots work their way up and down those green mountains, Young is also working to spread the seeds of growth. His tour will soon have him sporting a merch trailer as he traverses the Northeast – he's helped with the Granite State Tour in neighboring New Hampshire – and Young is intent on helping the next generation of tournament directors enter the sport and find success. Plus, there are the Itty Bitty Disc Golf classes he holds during the summer for parents and kids to come out, move their bodies, and discover the joy of flying discs.
So now, as Young has turned his own pastime into profession and hard work into sustainable success, he continues to pilot his Toyota Tacoma up and down the state, disc golf and gratitude in hand.
"I keep saying I can't believe it," Young reflects as he thinks about the sport he loves finally taking him where he always wanted to go. "We've been talking about it for so long, and it's finally here."