Did you know there's more to scorekeeping on UDisc than just entering strokes for an everyday round?
Indeed, the app sports a variety of scoring modes so you can better visualize your rounds, share them with friends, or make it easier to card that tap-in birdie. The next time you're out on the course, why not try a new way to play?
Here are all the ways you can keep score on UDisc.
Singles Scoring
Whether it's trying to beat your best score or playing head-to-head against your cardmates, singles scoring mode is the default scoring method on UDisc.
In singles scoring, you and your friends can create a scorecard at the first tee and start a round. At the end of every hole, you tap the plus button to input scores, then hit "next." Any of the players on your card who have UDisc can also edit the scorecard thanks to our CardCast live scoring technology, making it easy to take turns keeping track of your round.
These rounds are automatically included in your profile stats, but you can turn that off with a toggle in the setup menu.
While this is most basic level of input on UDisc, it still comes with some bells and whistles:
Have UDisc read the tee order out loud to keep track of who's next.
Track penalty strokes, such as missed mandatories or out-of-bounds shots.
Hide overall scores, in case one of your friends (definitely not you) can't handle the pressure down the stretch
Change your starting hole easily from the start scorecard screen or anytime through the round by tapping the top right menu icon. Additionally, you can adjust the pars from the standard course pars by tapping the par button on the top right corner under the menu icon.
Doubles/Teams Scoring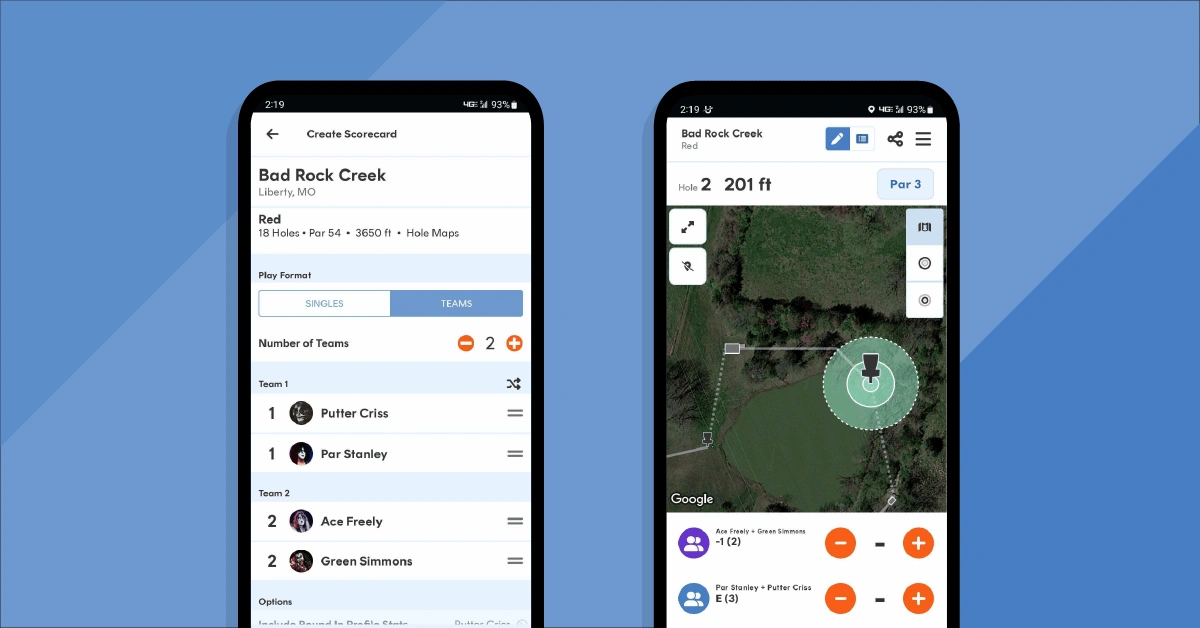 Teamwork makes the dream work! With the Teams function in UDisc scorecards, you can play doubles (or team matches) easily.
Here's how to set up Team play:
Create a scorecard as normal from the course page or your rounds screen.
After you confirm the players on your card, you can toggle the play format from "Singles" to "Teams" easily by clicking on Teams.
UDisc will randomly select who is on what team, but you can override the randomization by dragging players between groups. You can also choose how many teams are playing.
Select your scorecard preferences like a normal singles round and you're ready to go!
Please note, team scores cannot be included in profile stats.
For more help in setting up and using Teams scoring, check out the FAQ. For inspiration on fun doubles formats like best shot, worst shot, alternating shot, and more, read here.
Full Stats Scoring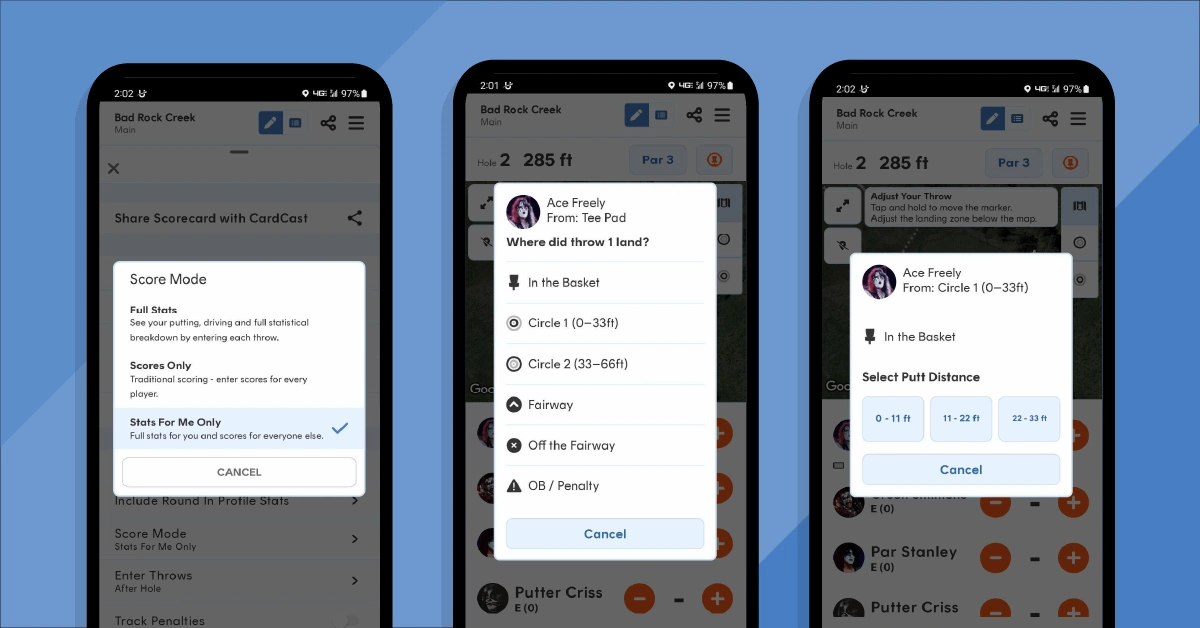 Wondering how many Circle 2 putts you made last round? How about how many times you scrambled from off of the fairway last month? It may seem impossible to remember, but with Full Stats, every shot from every round you've played is available right at your fingertips.
To score a round with Full Stats, create a scorecard as normal from your rounds tab or a course page.
On the scorecard setup screen, change the Score Mode from "Scores Only" to "Full Stats" by clicking on the score mode.
If you're playing with other cardmates, but only want to keep full stats for yourself, you can also select "Stats for Me Only" to keep regular scores for everyone else.
Start your round and then enter each throw as you progress through the hole or after you finish the hole, depending on which entry method you selected. For each throw, you'll be asked "Where did throw X land?" You'll see a list of options as shown above in the middle screenshot.
You'll continue to see these prompts for as many throws as it takes you to complete the hole.
Once you select that you made it in the basket, you'll be asked to select a putting distance. If you don't have official distance markers on the course, you can estimate where your putt was made from.
When you finish your round, click over to your profile tab in the app to see all of the new stats you've unlocked simply by marking what zones you landed in while you scored.
Watch Scoring
Don't have the time to pull out your phone at every tee? "Watch" how UDisc on your smartwatch can cut down your screen time while still keeping an accurate score!
UDisc is supported on Apple Watches, select Samsung smartwatches, Android watches, and select Garmin watches.
To start a round, use your phone to create a scorecard like normal.
Open up the UDisc app on your watch and you'll see your live scorecard pop up. Once you start your round, you can put away your phone and begin inputting your scores on your wrist.
Exclusively on Garmin watches, you can also see the distance to the pin as you play the hole. Watch scoring currently supports Singles and Teams scoring, but not Full stats or Map Scoring.
Map Scoring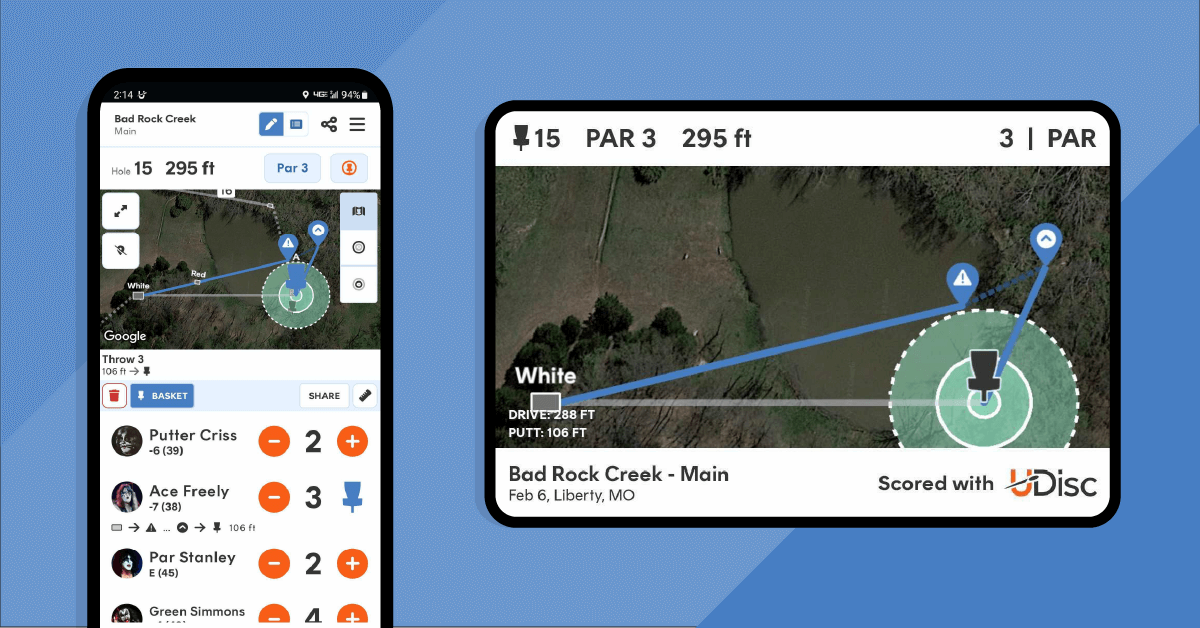 Picture this: a scorecard that actually does show how you got that birdie. Map My Score, a map-based scoring mode, allows disc golfers to get a more precise look at the way they play. Combining your mobile device's GPS and the thousands of courses on UDisc, Map My Score aims to provide more statistics and more sharing among the disc golf community. It additionally helps to give a more clear picture of what each hole actually looked like, not just the final score.
It's easy to try map scoring. Simply open the UDisc app, start a new scorecard, and you've already done half the work.
To track your first throw, tap and hold on the map where your shot landed. Or, you can walk to your lie and then tap and hold (or tap the blue plus button).
Repeat the process for subsequent throws.
Once you get into Circle 2 or Circle 1, the map will automatically zoom in for you. (If you want to be more precise before you've made it close to the pin, you can tap the C2 or C1 buttons above the map to zoom for yourself.) When you've made your putt, tap on the basket to hole out and swipe on the bottom scoring area to move to the next hole.
To delete a throw, tap the orange minus sign in the scoring area.
If you want to move the location of a throw, tap and hold the location pin for that throw until your phone vibrates. That will let you know you've grasped the pin and can move it around. Take your finger off the screen and the pin will drop into its new home.
You can even mark throws that are off the fairway or out of bounds by using the buttons below the map. If you need more help, check out the FAQ.
Scoring with the map will also help generate more accurate statistics that you can access in UDisc's "Profile" tab, including those for drives and approaches. Plus, who doesn't want to share that sweet park job with a friend?