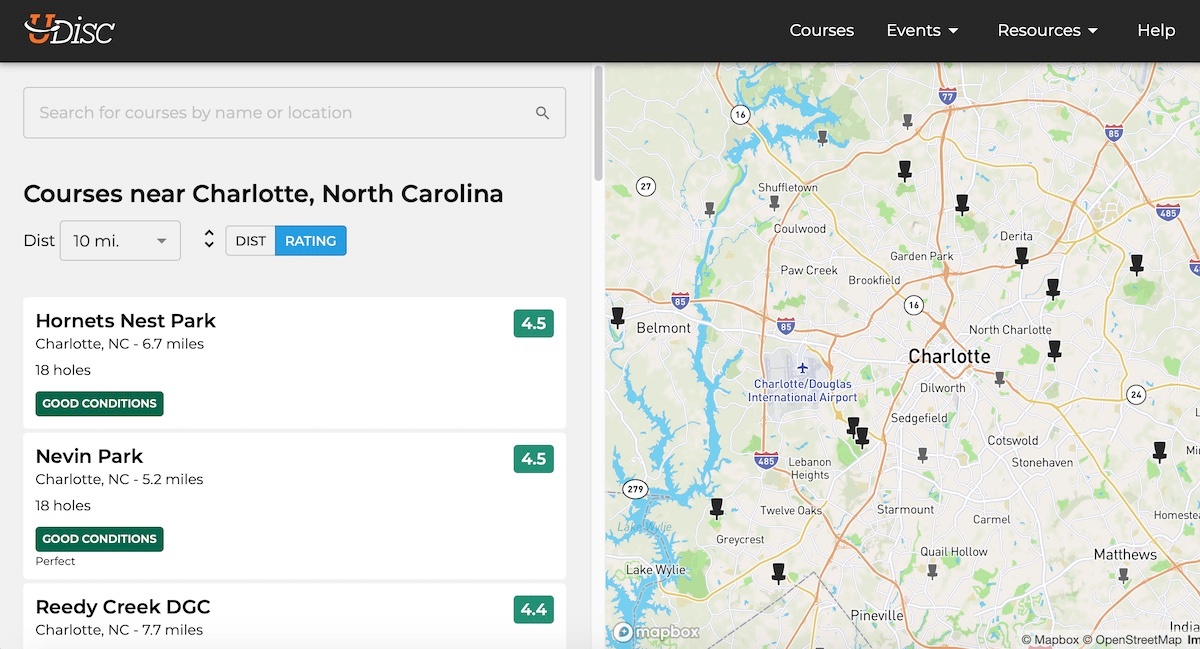 Have you ever been planning a disc golf trip and wished you could have UDisc's course directory open in a browser tab rather than needing your mobile device?

Wish granted.

At udisc.com/courses, you can now see everything you love about the in-app directory—photos, ratings, reviews, map views, and more—on your computer screen. It's been a huge project for our team to make the over 10,000 courses in our ever-growing directory available in this new format, and we couldn't be more excited to finally be able to offer it to the disc golf community. 

As we prepared for this launch, we became curious about what it was like to create and distribute directories in the early days of disc golf. How did you learn about courses across the country? Who or what team was gathering and synthesizing that data as it came in? How did you get directories in the hands of those who wanted them?

We were able to satisfy our curiosity by talking with Allen Risley, longtime disc golfer, father of pro A.J. Risley, and creator of the first course directory from the Professional Disc Golf Association (PDGA). So, join us in celebrating a step forward by taking a step back in time. It's a story with everything you could ever want: a disc golf road trip, a Gorilla Banana, and a comedic juggler. 
The Road Trip That Started it All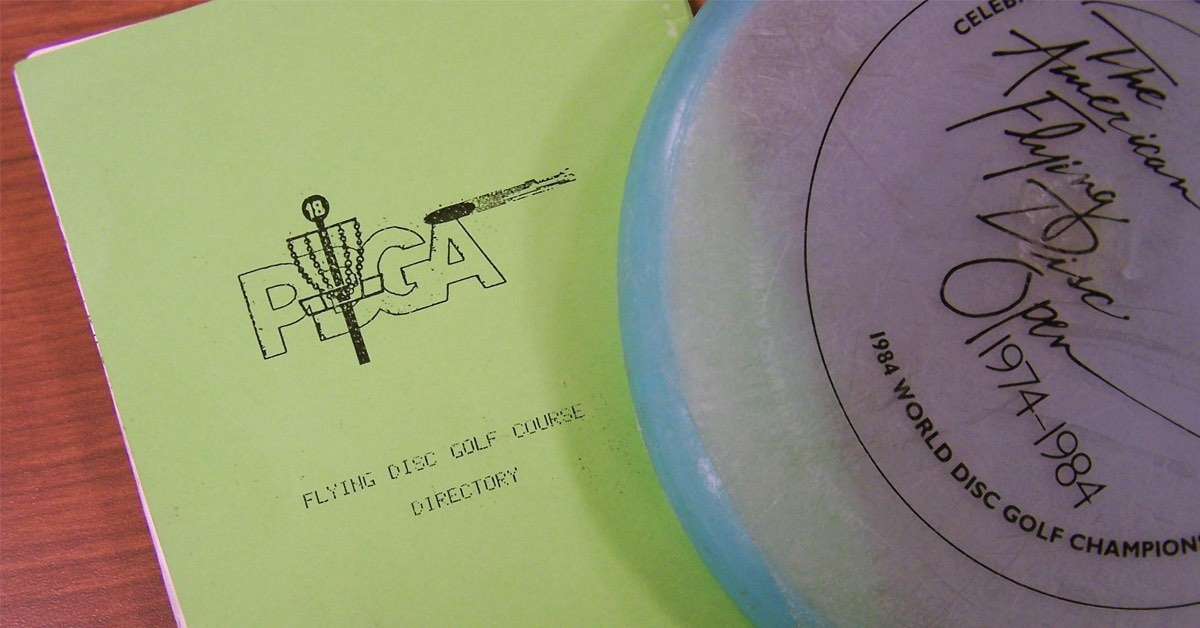 It was 1984, and disc golfers Allen Risley and Tom Monroe were planning to hit the road. They would travel from Tallahassee, Florida, to Toronto, Ontario, for the Canadian Masters with a stop at the World Championships in Rochester, New York, for good measure. And they wanted to play every disc golf course they could on the way.

The problem was this was a time when the friends' main way of finding courses was seeing them mentioned in magazine advertisements for tournaments or getting tips during rare conversations with distant contacts.
"This was...pre-internet, and there just was no list of golf courses," Risley said. "We all knew people from other towns, we could call some of them up on the phone, but things were a lot different when you didn't have a contact list on your phone and you didn't have a phone that you carried with you."

And even if you found out about a course, there was no guarantee what it would be like.

"Sometimes [it] was a park that Ed Headrick [the 'Father of Disc Golf'] had installed," Risley recalled. "And sometimes it was a park where somebody had put chicken wire circles on the ground for you to throw your shots into or tape on trees and light poles for you to hit."
Still, in an era when Risley said "the notion of a disc golf road trip was not in anyone's head," the friends set out north armed with personal knowledge, a few contacts, and their discs at the ready. The grand total of courses they played during their 1,200-mile/1,931-kilometer odyssey?

Five.
An Envelope, a Commodore, and a Gorilla Banana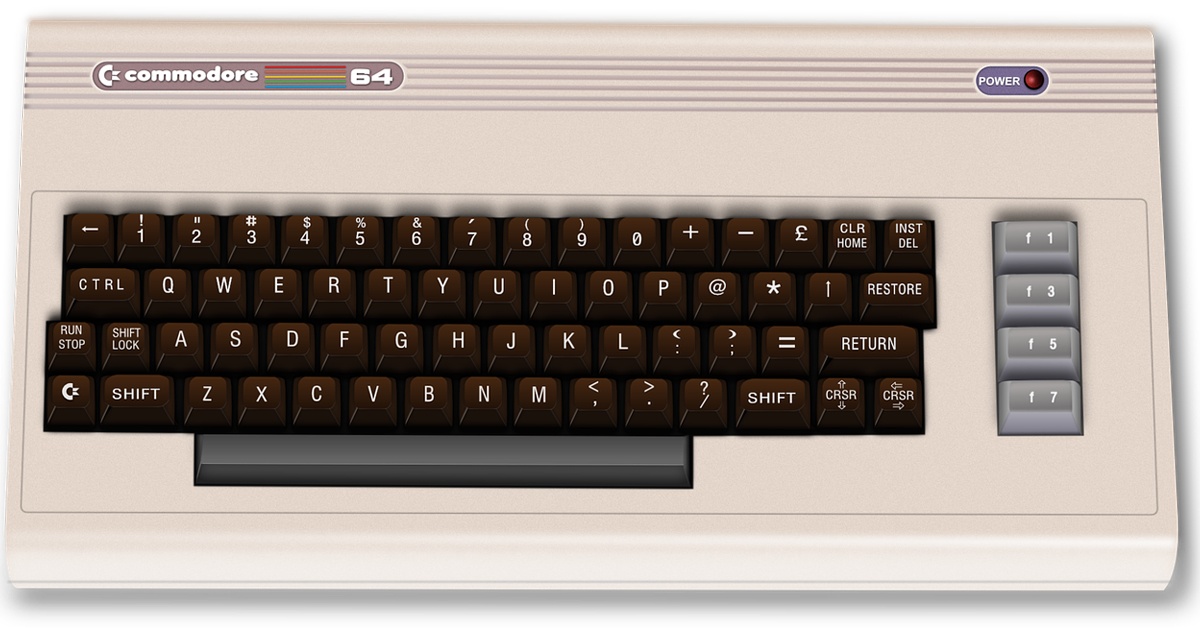 Upon their arrival in Rochester for Worlds, Risley spoke to other disc golfers about his difficulties in tracking down courses and learned he had narrowly missed many that weren't known about by anyone but locals. These near misses frustrated him, and as a self-described "data head," he reached out to the PDGA to see if he could help put something together.
"Ted Smethers [PDGA #1159] was the new director of the PDGA, and I had been pestering him for something to do," said Risley. "I was in college, I had some free time, and I wanted to help out. So he mailed me this big envelope of his notes from when he had put together the first pro tour. He had all his notes and he had a bunch of forms that Headrick had sent him. I had years worth of newsletters and the old Frisbee World magazine that Wham-O and the International Frisbee Association used to put out."
With this incredible cache of information about the locations of courses throughout the United States, he went to work. He typed everything up with a Commodore 64 computer—a machine with a whopping 64 kilobytes of RAM (even the lowest-end modern computers have roughly 2 million kilobytes)—and printed with a machine called "Gorilla Banana," the cheapest dot matrix he could find. 
"I figured the best thing to do was to put things in alphabetical order," said Risley. "First by state and then by city. I had them ready by the next year when Worlds was in Tulsa, and Tom and I travelled together again. I think I printed about 50 and took a box along and sold them for $5 to people at the event. Then there was a listing in the PDGA newsletter, so people would buy the directories from me through the mail."
When we asked Risley if he noticed any surprising disc golf hotspots while compiling this directory, he offered up a fun tidbit.
"It was interesting how you could tell the sales patterns that Headrick made," Risley said. "He must have gone to a KOA campground convention because...there were disc golf courses at KOA campgrounds across Indiana, Illinois, and Ohio that had courses."
Expanding the Directory: A Juggling Act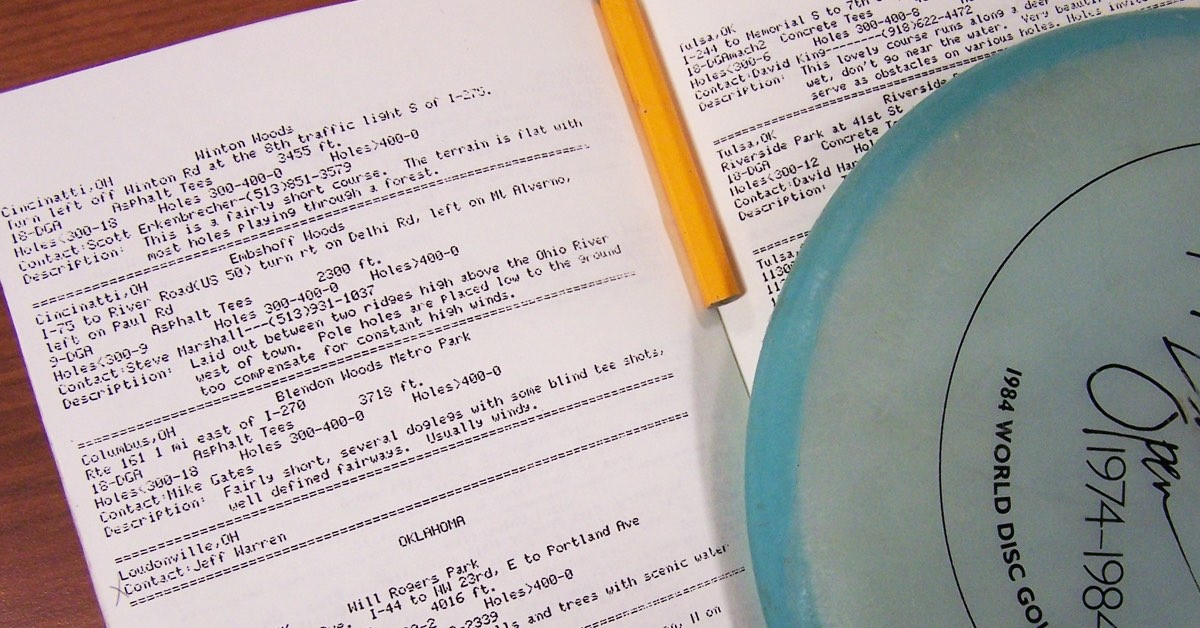 One thing Risley included in his first directory booklets were blank charts where pIayers could enter information about courses not among the over 200 Risley had already catalogued. This led to players across the U.S. sending him course updates.

The most prodigious source of information on additional courses was Gregg Hosfeld (PDGA #1602), a comedic juggler.
"Gregg Hosfeld was by far the biggest contributor of the updates over the years," Risley said. "I'd get these crazy letters from him every month or so with a list of courses he had played. He was driving around the country when comedy clubs were starting to pick up steam, and Gregg did a comedy juggling act."
Hosfeld would disc golf during the day and do comedy routines at night. Oftentimes his humor would bleed into the course summaries mailed to Risley.
"His descriptions were always kind of crazy," Risley said. "It was always very eclectic what he would choose to say about places—he would write stuff on a piece of paper, and then rather than get another piece, he would start writing more courses in the margins. He was providing a great service and a lot of information that I typed up and added into the directory." 
For the second edition, Risley added each course to his growing directory, creating a comprehensive collection of courses disc golfers could use on road trips. Along with the course name and location, it included the number of holes and their estimated distances—below 300 feet/91 meters, between 300 and 400 feet/122 meters, and above 400 feet—as well as the type of target in play. 
"At that time, we were still transitioning from object courses to basket courses, so every course listed had a designation for what type of target they had," said Risley. "Sometimes baskets, sometimes wood posts, and there was a course in Huntsville, Alabama, that had concrete pipes turned on their end with a post in the middle."
Course information continued to be sent in from around the country, and Risley created a third edition the following year. In 1987, Risley passed the directory on to Darrell Lynn (PDGA #784) once his family and grad school became the top priority. Risley's material filled several large envelopes, and he mailed them to Lynn.
"I couldn't send him anything electronically because my Commodore 64 didn't have a disc drive," Risley said. "You would turn on a cassette tape to save a file. And the way it turned out, tape recorders went at different speeds, so your data on tape might not work on somebody else's computer. So Darrell had to manually retype everything that I had done."
Run, Allen, Run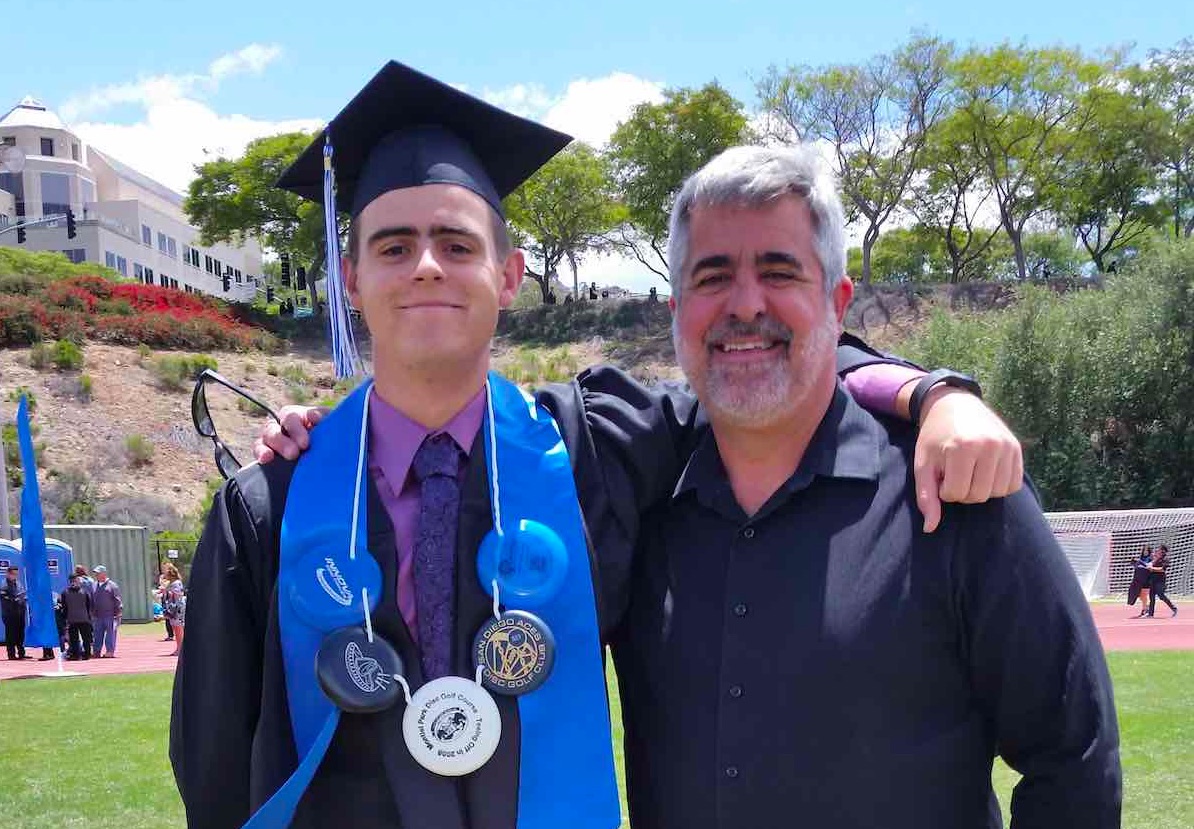 After handing off the course directory, Risley spent years working in public opinion research, as well as GIS mapping, including the mapping of disc golf courses. These days, he works in Academic IT at CalState University San Marcos, improving the accessibility for online documents and classes. Throughout it all, his love for sharing and expanding disc golf has been perpetual.
"At the school I work at, one of the things I really wanted to do was to get a course at our campus, and I wanted it to have some of the holes going right through the middle of campus," said Risley. "We have an 18-hole course and five or six of the holes go right through the center of campus, by the library and the student union. So anybody that goes to school or works there has seen a disc golf basket. Once they've gone through their years at CalState, they know what disc golf is." 
As for the PDGA directory, one of the original copies sits in his own collection, along with another at the International Disc Golf Center in Appling, Georgia. Risley looks back fondly on its creation and being present for the first years of disc golf, comparing himself tongue-in-cheek to Forrest Gump.
"The friends that I've made give me access to do a lot of cool things," Risley said. "The Innova guys that I met in the early 80s let me chase after different ideas and dreams that I have now."
This includes the popular yearly Challenge at Goat Hill, a tournament Risley created in Oceanside, California. 
"I always felt really good with what I did with the course directory as it was something that was sorely needed," said Risley. "I felt like it was a pretty important contribution to make at that time, that silly little booklet I created."
Risley's "silly little booklet" was of course truly a huge milestone on the road to the modern directory and likely played its part in helping people build stronger disc golf networks across North America. 
A special thanks to Allen Risley for his time and contributions to this article and disc golf as a whole.