See the USA's top 50 Disc Golf Cities.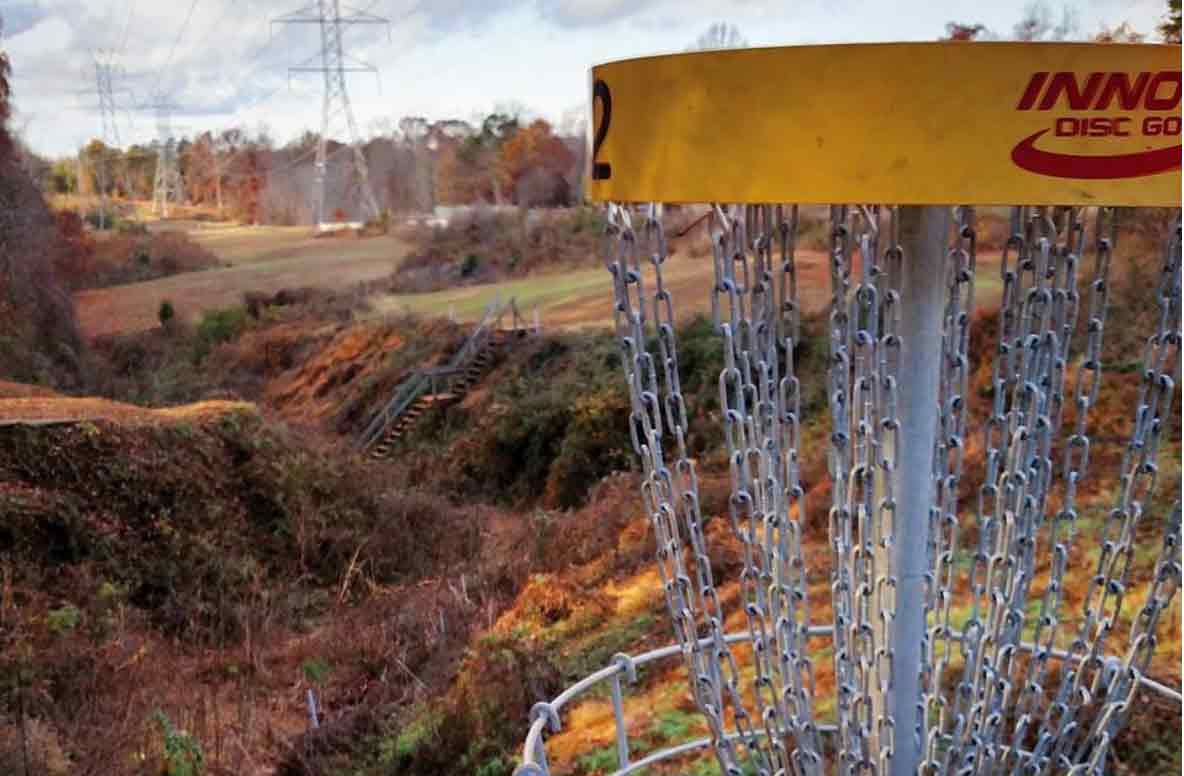 STATS
Out of nearly 400 metropolitan areas in the US that we examined, here's how Charlotte stacked up:
Quantity rank reflects the number of holes available for play within radiuses of 20, 50, and 100 miles of the city/cities, and the quality rank reflects the average ratings of local courses within those same distances. In both cases, the closer in a hole/course was, the more it counted towards an area's score. The overall grade was determined by how each city compared the #1 city.
THE FLYOVER
It's historical fact that in 1780 during the American Revolutionary War the British General Cornwallis and his troops rode into Charlotte and encountered resistance from a small group of rebels. However, what many of the city's residents take pride in is the unverifiable legend that the group fought so ferociously that Cornwallis dubbed Charlotte "a hornet's nest of rebellion" (this legend is where the NBA team's name comes from).
Whether the legend is true or not, there's no doubting that the Charlotte disc golf community has grown the sport in the area with all the buzzing energy of an insect swarm. With around 70 courses within a 50-mile radius, the city has courses per capita numbers that are off-the-charts for a place with around 860,000 residents. The quality of these courses is attested to by how high-caliber pros like Michael Johansen, Barry Schultz, Austin Turner, and Grady Shue all call the area home.
Luckily, we found two great guides for those who are considering a hajj to this disc golf Mecca. One is yet another well-known Charlotte local: 2016 United States Disc Golf Champion and the "Big" of Big Sexy commentary, Jeremy "Big Jerm" Koling. The other is Vice President of the Charlotte Disc Golf Club's Board of Directors and founder of Charlotte's largest-in-the-world putting league, Matt Cheney.
WHAT GOLF CAN I EXPECT?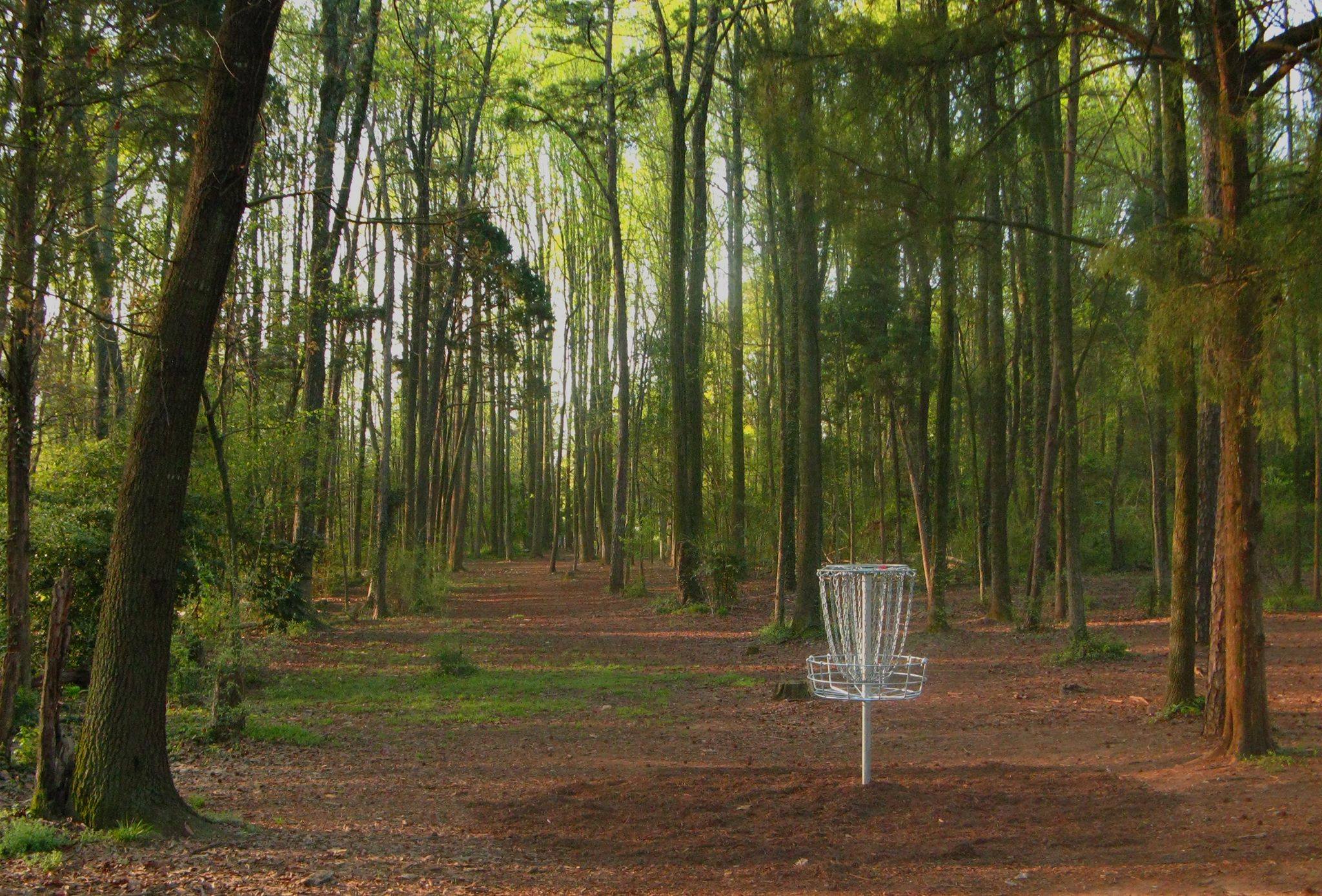 What a player can anticipate from classic Charlotte golf is simple.

"Trees. Trees. And even more trees…" said Cheney. "You gotta hit your line in Charlotte."
However, don't think that just because there are almost always trees, the courses aren't differentiated. The rolling hills in the area offer a wealth of elevation changes. And with the minds of three-time Masters World Champion and Disc Golf Hall of Fame member Stan McDaniel and 2018 Amateur Masters World Champion Mark Huether being behind or influencing many of the area's courses, it's no wonder that, as Koling noted, there's "a wide variety of courses that challenge players of all skillsets."
COURSE HIGHLIGHTS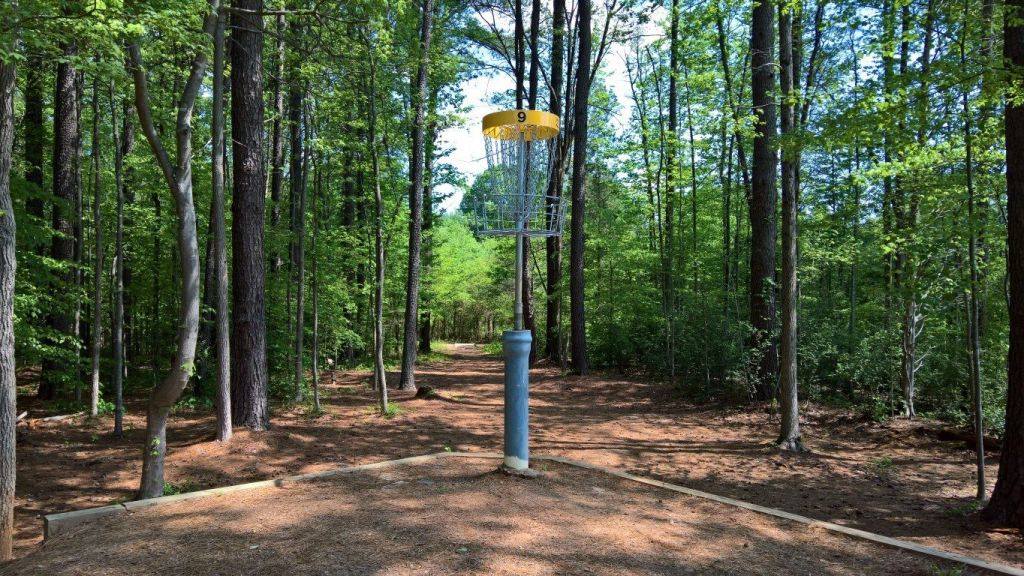 Click the name of any course in this section to see reviews, average ratings, its exact location, and, likely, photos on the UDisc Courses website.

Hornets Nest Park: Named after the story mentioned in The Flyover, both Cheney and Koling independently nominated this park as one of the best places for disc golf in Charlotte. The UDisc-using public agrees, with over 500 reviews averaging out to a 4.5 of 5 rating. The park has almost everything a disc golfer could dream of, according to Cheney: "It's half open, park style holes and half tightly wooded quintessential Charlotte style. There's water, elevation, raised baskets, OB, and many a photo opportunity." Of the six different course layouts available in UDisc, Koling's preference is the Web, which he says is full of "incredibly challenging par 3s, 4s and 5s" to enjoy in this "beautiful park."

All of these things are why this course was chosen as the host of 2019 and 2020 Disc Golf Pro Tour (DGPT) Championships, and if you want a taste of what to expect from the park, have a look at this hole flyover from JomezPro:


Renaissance Park: For a fun or warm-up round, visitors to Renaissance Park can hit up the short, intermediate-level RenSke course built in the northern part of the park. However, the real attraction here is the 9,407 grueling feet of the legendary Renaissance Gold. This Stan McDaniel masterwork pushes even the best players to their limits, and scoring anything under par is a feat the average disc golfer would tell tales about for years to come. One of Koling's favorite layouts, he enjoys the "ample elevation change" (including chasms like this one that JohnE McCray made a miraculous turbo-putt over) and how it "equally challenges [with] left, right, and straight fairways as well as long, medium, and short technical shots." Though mostly wooded, the course also includes "a few open bombers."
Other Notables1: Bradford Park (Huntersville, NC — 30-minute drive from city center), Nevin Park (Charlotte, NC — 15-minute drive from city center)
THE LOCAL ROUTES

Gear: Both Cheney and Koling agree that Another Round Disc Golf is the place to go in Charlotte for all your disc golfing needs. Even better, the store's name has two meanings; as well as getting ready for your next golf round, you can order a round of local beer from their multiple, rotating taps. You can check out more of the area's disc golf equipment retailers in the UDisc app's disc golf shop directory (see how to do that here) or on our Stores website.
Guides: The Charlotte Area Disc Golf and Charlotte Disc Golf Facebook pages are great places to find locals willing to give tips and/or meet up for rounds.

Leagues and Weeklies: You can find UDisc Leagues in the Charlotte area on Charlotte's UDisc Places page.

The Sugaw Creek Am League runs year-round (Thursdays in warmer months, Sundays in colder months) at Sugaw Creek Park.

The Charlotte Putting League (the biggest putting league in the world) runs from October through March.
Chow Down and Drink Up: After battling the hills and woods of Charlotte's courses, there's little better than a good meal and—for those who partake—a good beer. Koling suggests that "BBQ lovers should check out Midwood Smokehouse—some of the best brisket I've ever had outside of Texas." Though Charlotte is around 3.5 hours from the sea, Cheney swears by the seafood of Sea Level NC, which he says has "the freshest fish around" and "clam chowder that tastes like it's from Cape Cod." If you're looking to please diverse tastes and happen to be in town on a Friday, Food Truck Friday—South End is also worth considering. For brews, both Cheney and Koling highly recommend Lenny Boy Brewing Company—which also brews kombucha and hosts the Charlotte Putting League. Other local favorites include NoDa Brewing Company and Wooden Robot Brewery. For a recent catalogue of local breweries, check out this list.
1. It's also worth noting that the hallowed grounds of Winthrop University—annual host of the United States Disc Golf Championship—is around a 35-minute drive from Charlotte's center. However, without the ropes marking OB and other just-for-USDGC features, the course plays much differently (unless, of course, you are there at the right time of year and book a spot). Still, a trip there is worth the time, even if just to admire a revered disc golf landmark.


What city is #2? Find out.

Looking for great destinations outside the USA? Find the Top 5 Disc Golf Cities — International here.