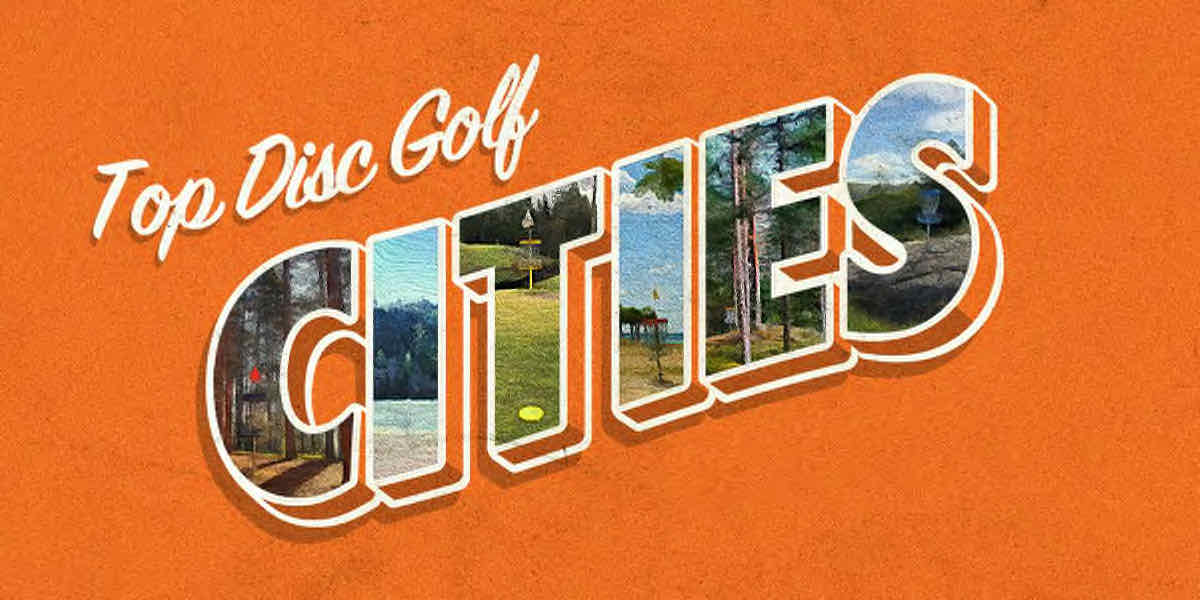 If you're reading the 2021 Top Disc Golf Cities – USA series, you might want to know exactly how we arrived at the rankings. This post will hopefully answer your most burning questions.
How Did You Choose Which Cities to Compare?
To create the rankings, UDisc's data science team looked at what are called "Metropolitan Statistical Areas" (MSAs) that are defined by the U.S. Census Bureau. According to the Census Bureau, an MSA is "a core area containing a substantial population nucleus, together with adjacent communities having a high degree of economic and social integration with that core." MSAs must contain "at least one urbanized area of 50,000 or more inhabitants." Notably, sometimes those "urbanized areas" are more than one city's population combined.

This all means that the 2021Top Disc Golf Cities – U.S.A. rankings are not based on where city limits end. Instead, they include nearby communities that are strongly tied to a city or, in some cases, multiple closely-connected cities.

In total, there are just under 400 MSAs in the United States, and we examined the disc golf offerings within the federally-defined borders of each of them.
What Criteria Are the Rankings Based On?
The central question we had in mind when creating the 2021Top Disc Golf Cities – U.S.A. rankings was this: Which U.S. communities with urban centers at their hearts are most jam-packed with excellent disc golf courses?

To find our answer, we gave each MSA a score based on a combination of its weighted course count and weighted course density.
What does "weighted course count" mean?
Every course in an MSA counted in its favor. But each course got bonus points based on how highly disc golfers with UDisc have rated it – i.e., the higher a course's average rating, the more points it was worth to an MSA's score. The addition of those bonus points is what we mean by "weighted."
What does "weighted course density" mean?
The physical size of MSAs varies greatly. Even with the course quality bonus in the weighted course scores, larger MSAs that had tons of mediocre courses would have won out over smaller MSAs filled with amazing courses. To fix this issue, we used "weighted course density," which is the weighted course score divided by the total area of an MSA in kilometers. 
Wait, doesn't the "weighted course density" cause issues of its own?
To make it so that a tiny MSA couldn't break into the ranks of Top Disc Golf Cities – U.S.A. on the merits of just one or two courses, an MSA had to have at least 100 holes (the equivalent of over five 18-hole courses) to make the list.
Anything else I should know?
Courses with fewer than six holes or 20 ratings in UDisc didn't count in an MSA's course or hole count total (and therefore also not in its course density score).
How 2021 Rankings Differ from the First Top Disc Golf Cities – U.S.A. Series
The first time we created a list of the best U.S. disc golf cities, we didn't use the system described above. Instead, we calculated cities' ranks by giving them scores based on the number and quality of courses they had within 20, 50, and 100-mile/32, 81, and 161-kilometer radii of their centers. Courses within a shorter radius counted more toward a city's overall rank.

The main advantages of the new ranking process are these:
Urban areas near substantial bodies of water aren't disadvantaged by large swaths of their radii being unusable for disc golf.
All courses in communities closely tied to a city/cities are considered equal (plus the bonus points for their quality).
All courses used to create cities' scores are within areas that federal research has determined are closely connected to those cities socially and economically.
How These Top Cities Rankings Differ from UDisc Places'
If you've ever used UDisc Places, which helps you explore the disc golf offerings in towns and cities across the world, you might have noticed that it has a constantly-updated list of the world's best disc golf cities. There are noticeable differences between those standings and the ones in Top Disc Golf Cities – U.S.A.
The reason for that is UDisc Places creates rankings based on course counts and quality within what are closely equivalent to city and town borders. As we explained earlier, MSAs include multiple cities and towns, so, naturally, the rankings differ.

All that said, both the Top 10 Disc Golf Cities – U.S.A. list and Places rankings highlight excellent disc golf destinations. Places uses a strict definition of "city" because it must to allow disc golfers to search with the tool effectively. The Top 10 Disc Golf Cities – U.S.A. series allows us to be more expansive. In the Top 10, cities can benefit from courses not far from their limits that likely wouldn't exist without the demand, traffic, funding, and/or volunteer work their large populations make possible.
More Questions? Ask Away
We hope the explanations above helped you better understand how the 2021 Top Disc Golf Cities – U.S.A. rankings were created. If you still have outstanding questions, you can reach out to us at releasepoint@udisc.com.