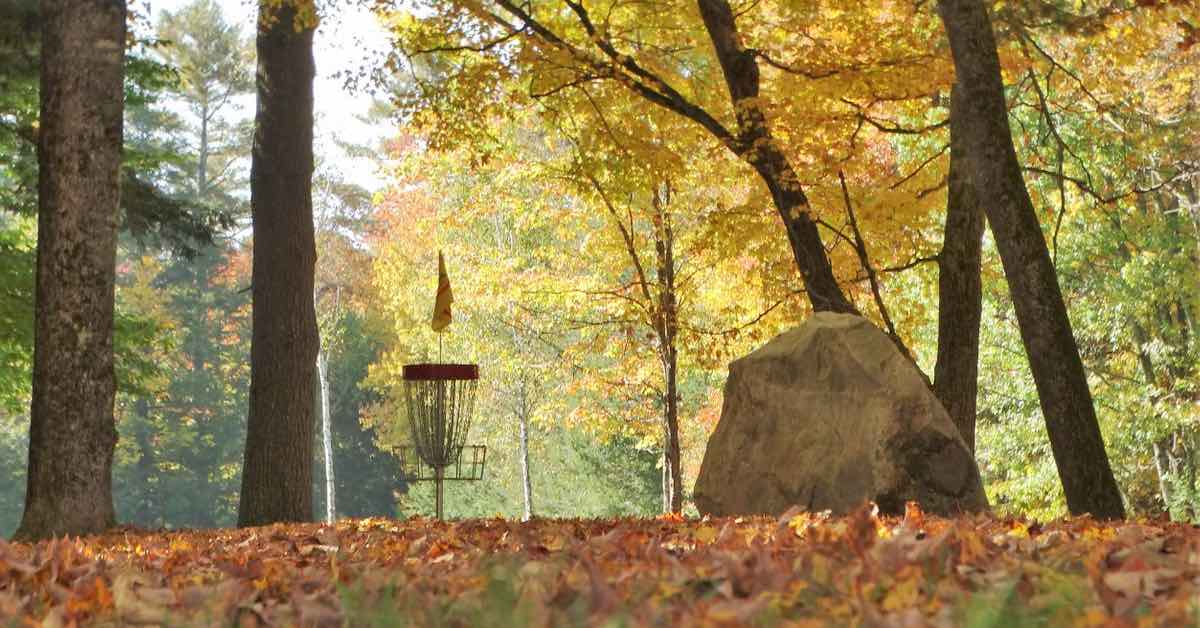 The United States' Best Place for Disc Golf
Lewiston & Auburn, Maine, and surrounding communities are the best metro area for disc golf in the United States.

When we first did Top 10 Disc Golf Cities back in 2018, we were just as surprised as most of our readers that this small northeastern metro was #1. But when it came out on top again this time around (despite some significant changes to the rankings math in 2021 – see the post linked in the "Stats" section), our reactions were knowing nods and admittedly sub-par attempts at saying "Ayuh" in old-school Maine accents.

As we learned a few years ago, Maine is the only state where privately-owned, pay-to-play courses are the norm (more on that in the "History" section). The large volume of courses in and around Lewiston/Auburn means that competition for players is high. For owners to attract steady business, they need great tracks that are meticulously maintained and have lots of amenities. As a result, most of the area's disc golf facilities would be premier desinations if plopped down alone anywhere else.

Instead, they're all clustered around Lewiston/Auburn, creating a juggernaut of quality disc golf.

Below you can learn about the history of disc golf in the area, what the best disc golf courses in and around Lewiston/Auburn are, where to get disc golf gear in the area, and how to find leagues and tournaments. We also give recommendations for great places to get a bite to eat and wet your whistle and other off-the-course attractions.
All Top 10 Disc Golf Cities
Want to see where else made the list? Find out in "Top Disc Golf Cities – USA: 2021."
Lewiston & Auburn Disc Golf Stats
Lewiston-Auburn Metropolitan Statistical Area, Maine

Overall Rank:
1


Weighted Course Count Rank:
61


Weighted Course Density Rank:
1
The Top 10 Disc Golf Cities – U.S.A. rankings are based on the number, quality, and density of courses within nearly 400 metro areas in the country. The rankings are based entirely on stats and not the personal preferences of anyone at UDisc.

If you'd like to learn more about the system behind these rankings, give "How The 2021 Top 10 Disc Golf Cities – USA Rankings Worked" a read.
Lewiston & Auburn Disc Golf History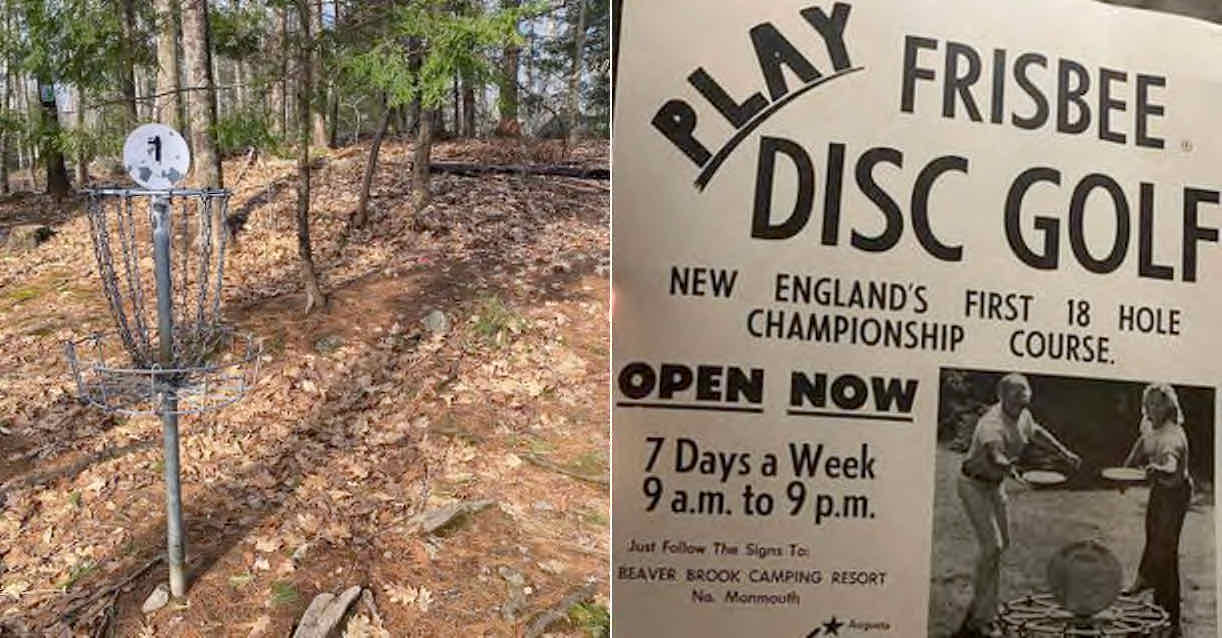 The first course with baskets in Maine was actually one of the first courses with baskets in the country. It was a project of "Steady" Ed Headrick's – inventor of the first disc golf basket and commonly called the "Father of Disc Golf" – and installed in 1978 at Beaver Brook Camping Resort about 20 miles/32 kilometers north of Auburn. The course and its original single-chain baskets from that time are still there today. The description in the UDisc course directory says Beaver Brook was where the original Maine Disc Golf Championships happened well before modern golf discs were widely available.

Despite the sport's early start in the area, the scene as it exists today didn't get going until the turn of the century. That's according to Jamie White, a Lewiston/Auburn resident and sponsored professional player who has organized the area's largest tournaments in recent years.
"Enman Field and Dragan Field established themselves as pay-to-play courses in the late '90s to early 2000s," White said. "Both properties were privately owned, well-manicured, and featured pro shops stocked with discs, drinks, and snacks. The model took off across the state and became the expected standard among players looking for disc golf experiences."

Enman (which was a 20 minute drive from Lewiston) is defunct, but Dragan Field in Auburn is alive and well (and even added a second course to its property in 2020). A testament to how the example these courses set "took off" is that nowadays the number of pay-to-play facilities within 25 miles/40 kilometers of Lewiston just with courses rated over 4 out of 5 stars on UDisc is in the double digits.

Because local disc golf is privatized and for-profit, Lewiston/Auburn disc golfers are very unforgiving of things like unmown grass or patches of disc-eating brush. Course owners either take care of such maintenance regularly, or word-of-mouth quickly redirects customers to other facilities that are in better shape. If you peruse some of the reviews on the few area courses with less-than-stellar ratings, you'll find the complaints are nearly always maintenance-related.
What's Disc Golf Like Around Lewiston & Auburn?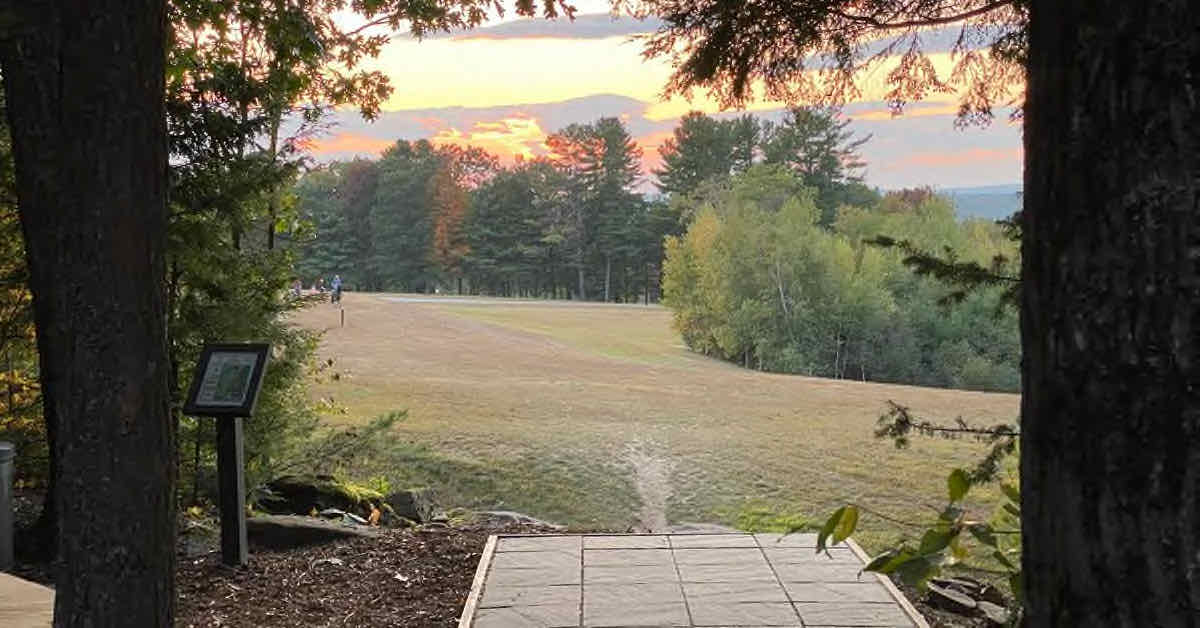 There's no limit to the type of disc golf you can find in the area. With the pay-to-play market driving the the sport's development, course owners constantly try to offer something new to attract players. Open, wooded, flatter, elevated. Beginner, intermediate, advanced. It's all available in and around Lewiston/Auburn and often at the same multi-course facilities. Additionally, expect high levels of course maintenance and more amenities than you'll find at most any public course.
Lewiston & Auburn Disc Golf Course Highlights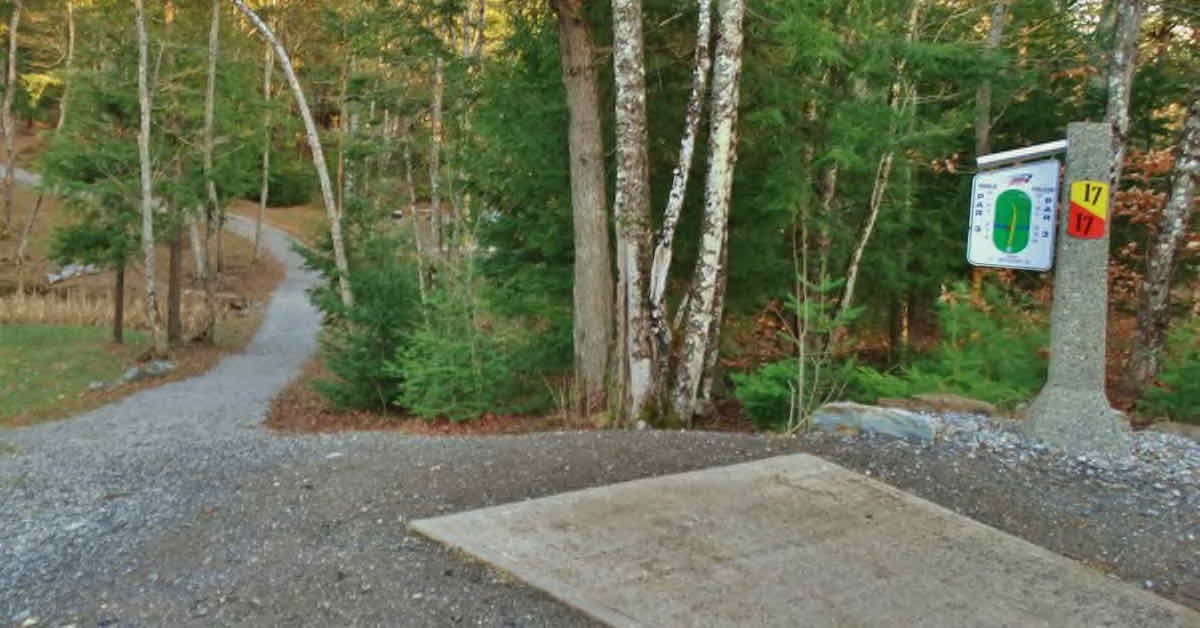 All highlighted venues have multiple courses. Click or tap the course names in the description for photos, ratings, and reviews.
Sabattus: Sabattus Disc Golf is home to three of the top five disc golf courses in Maine. As of publication, it has four courses and there's a fifth in the works. In order of increasing difficulty, the courses are the Owl (a beginner-friendly nine-hole course), Hawk, Falcon, and Eagle. The course in the works is meant to be the most difficult of all. The maintenance and attention to detail are top-notch, there's a three-story pro shop on site, and you'll find a course that's enjoyable for you to play no matter your skill level. If you're in Lewiston/Auburn, you can't go wrong at Sabattus.
Pineland Farms: This destination has two 18-hole courses: the Patriot and the Minuteman. In White's opinion, the Patriot is one of Maine's most challenging and well-designed courses, and he says most pros who visit the area consider it the region's best course. Pineland Farms itself describes the course as a "challenging 18 holes with a variety of fun obstacles and varying terrain which follows along the Access and Campus Loop skiing trails." As for the Minuteman, White called it "a shorter but still very challenging par three course that complements its longer big [sibling]." 

White also noted that Pineland Farms – which is actually home to a working farm – also "offers an amazing pro shop and market stocked full of locally and on-site sourced foods."
Other highlights
1. Acker's Acres is home to two of the best-rated courses in the metro area not at Sabattus.

2. Sporting three tee pads per hole, brand new baskets, and top-notch maintenance, Devil's Grove Disc Golf – Devil in Lewiston is steadily creeping up in the ratings (4.5/5 as of publication)

3. Visit Dragan Field – Red Dragon to experience one of the courses that kicked things off in Lewiston/Auburn.

4. But, seriously, pretty much everything around here is a highlight. Just look at the disc golf courses near Lewiston/Auburn on UDisc Courses to see what we mean.

Disc Golf Shops in Lewiston & Auburn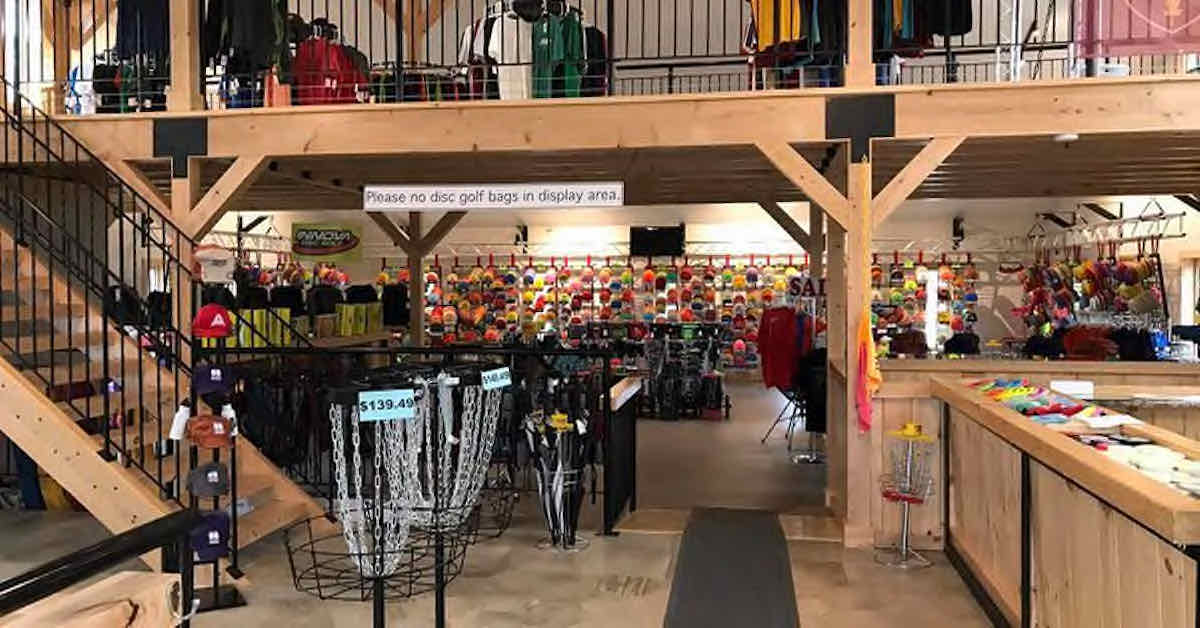 If you go to one of the higher-rated facilities in town, they'll have a pro shop with a wide selection of gear. Like with courses, Sabattus is a standout here with a three-story pro shop on its property.
Lewiston & Auburn Online Disc Golf Community
To get some local tips before heading to the region, reach out on Facebook to The Maine Disc Golf Scene group.
Disc Golf Leagues & Events in Lewiston & Auburn
You can check out this calendar to find out when every event in Maine – league or tournament – is going down. If there are upcoming UDisc Leagues or PDGA-sanctioned events, you can find them in the "Events" tab in the UDisc app.
Chow Down & Drink Up in Lewiston & Auburn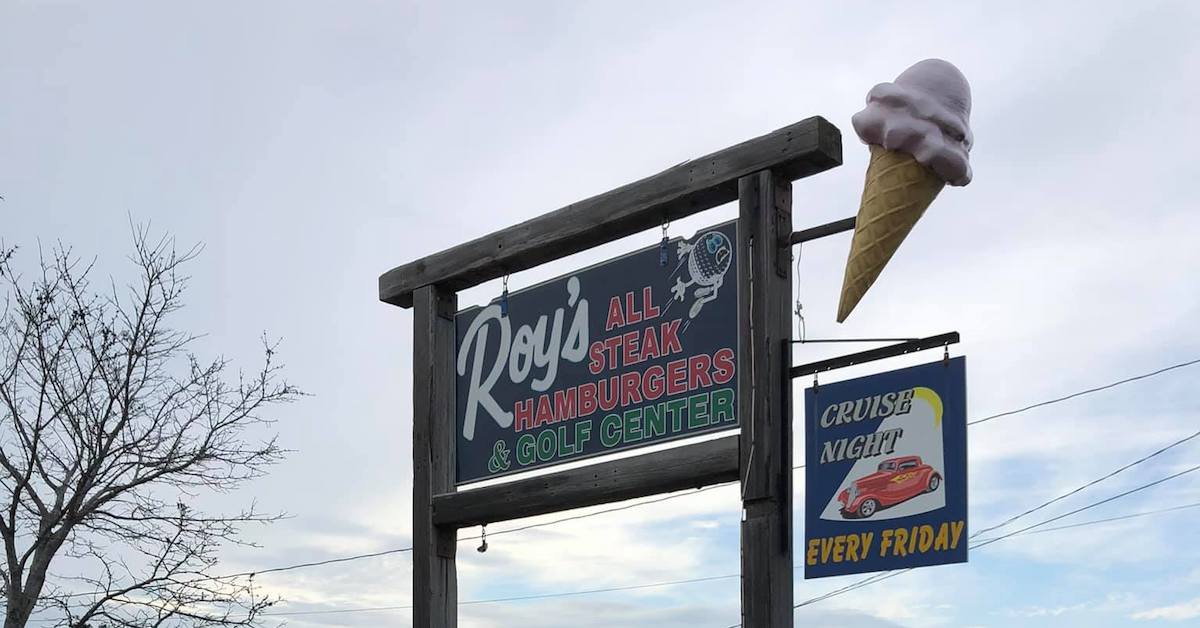 Want a good disc golf and food combo? Head over to Pine Acres, which is part of Roy's All Steak Hamburgers & Golf Center. After disc golf and a burger with sides, you can try out some batting cages, mini-golf, and/or a ball golf driving range.

Those hankerin' for some Maine lobster might want to head over to a particular favorite of White's: Mac's Downeast Seafood.
For craft beer and hardy bar food, make a stop at The Pub at Baxter Brewing Company.
What Else is There to Do Around Lewiston & Auburn?
If you're looking for off-the-course entertainment, here are a few good things to try:
Go to Portland: Portland, Maine, is about 45 minutes from Lewiston/Auburn, but the drive is well worth it. Right on the coast and full of independent shops and restaurants, it's a great place to just meander and explore.
Brews cruise: Maine is perhaps the top state in breweries-per-capita in the country. If you do head over to Portland, you might be interested in trying out a Brews Cruise to sample some of the many wonderful libations the town is serving up.
L.L. Bean Flagship Store: Seminal outdoor brand L.L. Bean's flagship store is in Freeport, Maine (30 minutes from Lewiston/Auburn). It is a massive space that's open 24 hours a day and 365 days a year. Need a new set of hiking shoes or outdoor pants at 1:13 a.m. on a Sunday? You know where to go now.