Find links to the entire top 10 and what cities ranked 11-50 here.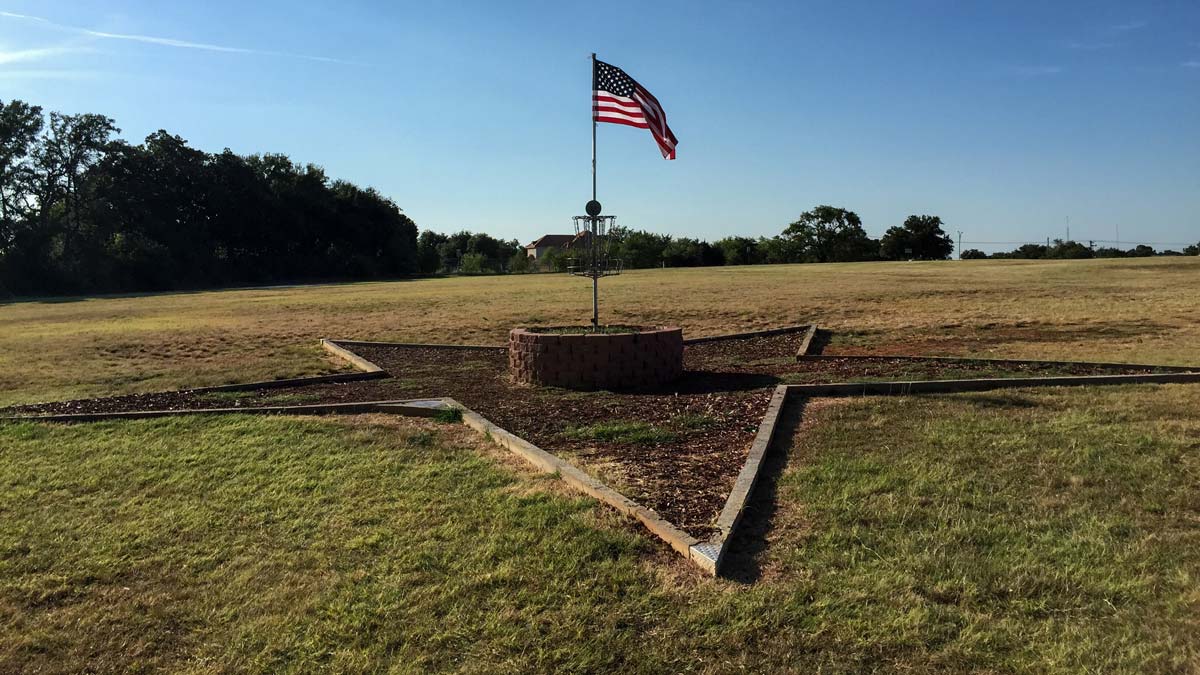 STATS
Out of nearly 400 metropolitan areas in the US that we examined, here's how Dallas/Fort Worth stacked up:
Quantity Rank: 8
Quality Rank: 24
Overall Grade: 66/100

Quantity rank reflects the number of holes available for play within radiuses of 20, 50, and 100 miles of the city/cities, and the quality rank reflects the average ratings of local courses within those same distances. In both cases, the closer in a hole/course was, the more it counted towards an area's score. The overall grade was determined by how each city compared with 2018's #1 city.
THE FLYOVER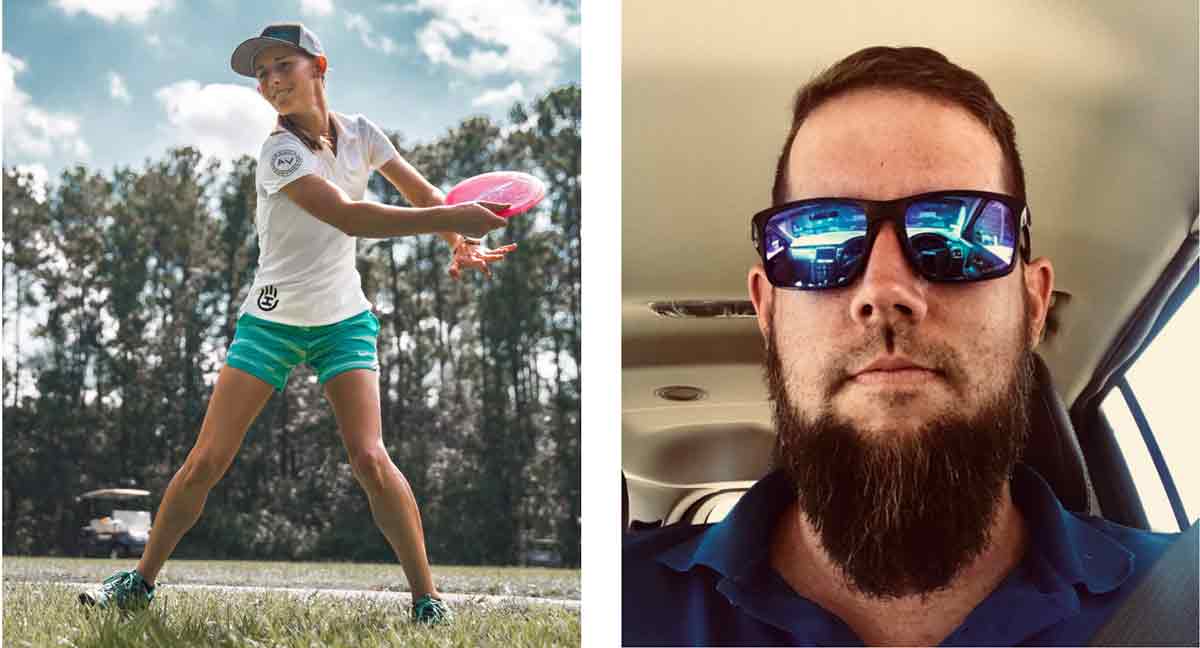 Dallas/Fort Worth has many distinctions. It's the biggest US metropolitan area not near a major body of water, the birthplace of both 7-Eleven and the frozen margarita machine, and, now, one of 2018's ten best disc golf cities in the USA.

Despite a large population that's growing fast, the Dallas/Fort Worth region has the benefit of being in the biggest state by area in the contiguous US. This means those high populations have room to spread out, with plenty of space in between where a huge volume of disc golf courses can go in the ground. If there's one thing local and visiting disc golfers have in this region, it's options.
Hoping not to get lost in the vast expanse of the Lone Star State, we looked around for a couple of guides who really know their way around Northern Texas. And, to toot our own horn a bit, we didn't do such a shabby job. Four-time PDGA World Open Women Champion Paige Pierce and founder and director of Funkytown Flyers Disc Golf (a local nonprofit disc golf promotion and advocacy group) Lee Letts filled us in on the scene in Dallas/Fort Worth.
WHAT GOLF CAN I EXPECT?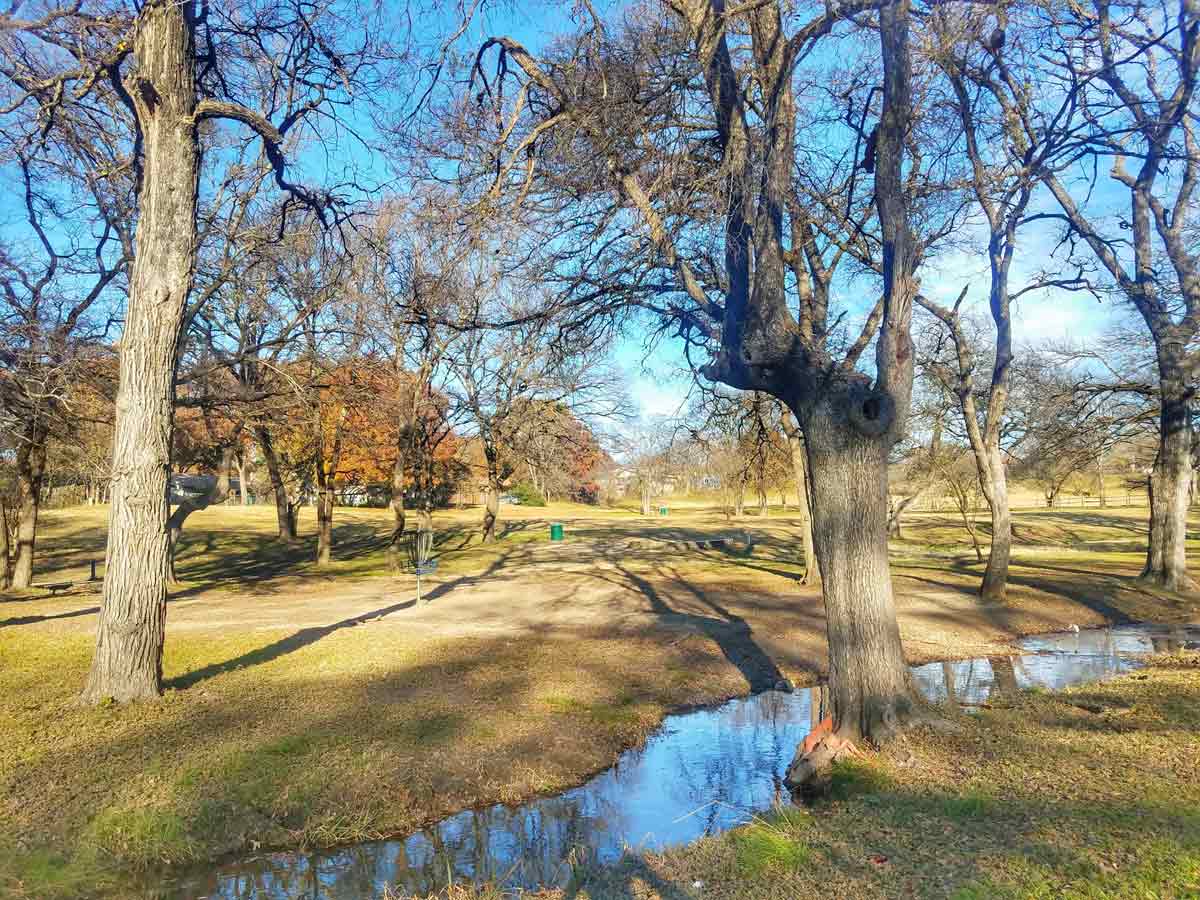 Citing "green rolling hills to lakeside sandy courses to technical wooded courses," Pierce said that the Dallas/Fort Worth area offers a wide variety to choose from. Letts explained that such variety exists because this an area of Texas "where the timberline, hill country, and grasslands meet."

Though the landscape may change, both Letts and Pierce pointed to one constant in this part of Texas: John Houck's influence. Pierce said hallmarks of his course designs are "lots of two shot holes where you are playing smart placement golf and holes with lower ceilings and tunnels to hit."
It also has to be mentioned that things can get a little thorny—literally—around these parts.
"Indian needles, poison ivy, briars, and mesquite trees are some of the more hazardous encounters you will experience In North Texas," said Letts.

However, he also intimated that dealing with such "gnarly rough" was more than offset by a plethora of tree species, comfortable year-round temperatures, "and that big, blue, beautiful Texas sky."
COURSE HIGHLIGHTS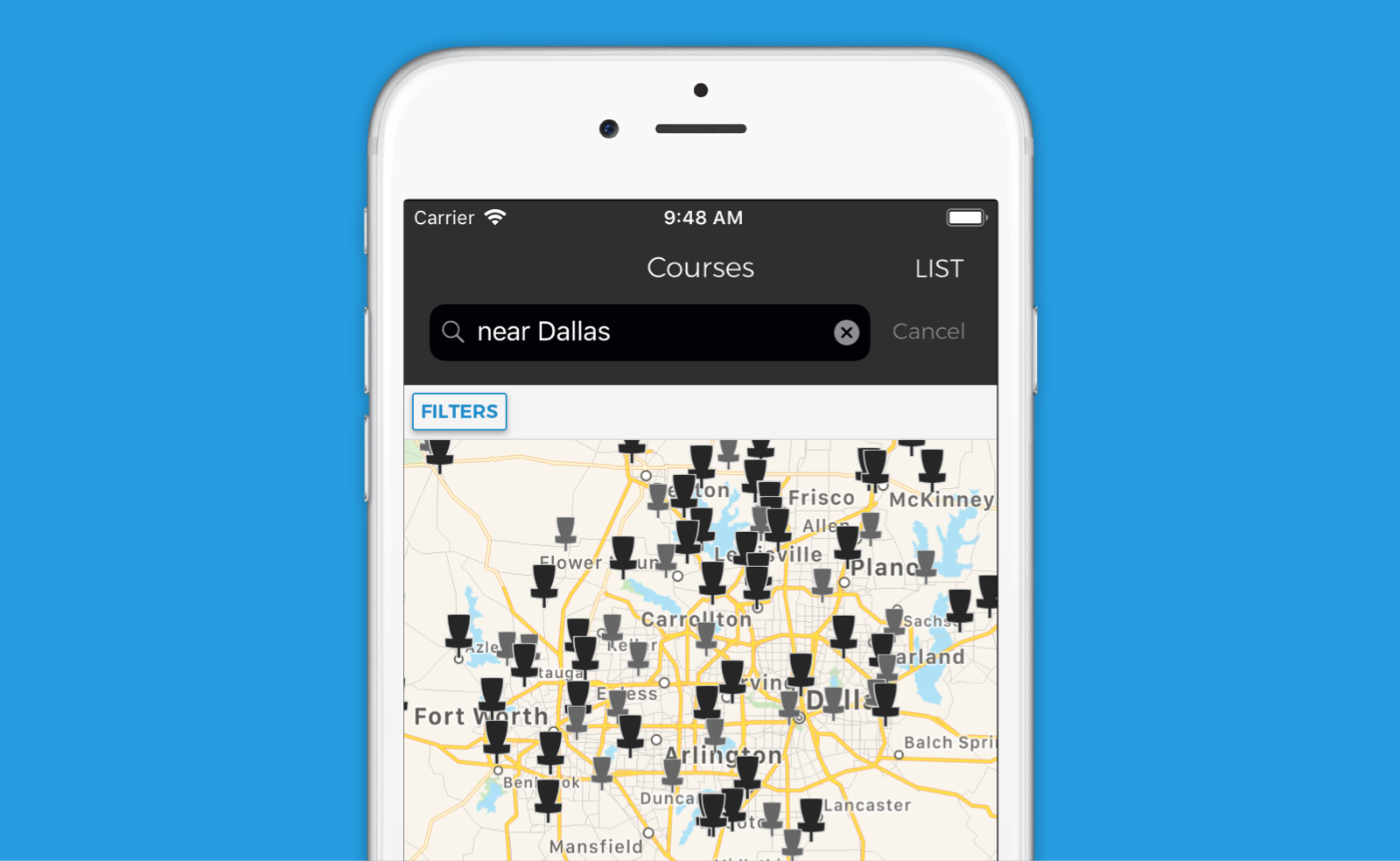 Harry Myers: Drive about 30 minutes from Dallas city center to Rockwall, Texas, and you'll find Harry Myers—one of the premiere courses in the area and a personal favorite of Letts. It hosts the annual high-profile Nick Hyde Memorial tournament, which often draws many of the best players in the world. The park also boasts more than enough elevation, trees, and par 4s and 5s to test all the shots in your bag. To boot, Letts says the park is simply "beautiful" and kept up well by the local parks department.
Selah Ranch: When this popped up on Paige Pierce's list of favorite places to play in the Dallas/Fort Worth area, we debated whether to feature it. It's almost a two hour drive from Dallas and well over that from Fort Worth. Ultimately, however, when you have two courses on the same property with nearly perfect ratings (SR-Creekside at 4.9 of 5 and SR-Lakeside at 4.8 in the UDisc app) and a four-time world champ telling you it's "one of the best courses in the country," it seemed too good to leave out. Talking about the Lakeside Course, Pierce described a "very long course with lots of water hazard shots that absolutely make you weigh the risk reward factor and choose between the safe or the aggressive play" along with wooded holes full of left- and righthand turns and dog legs. Be aware there is a greens fee and tee times need to be reserved.
Other notables: Lester Lorch Park (Cedar Hill, TX — 25-minute drive from Dallas city center/40-minute drive from Fort Worth city center), Z Boaz Park (Fort Worth, TX — 15-minute drive from Fort Worth city center/40-minute drive from Dallas city center), Towne Lake (McKinney, TX — 35-minute drive from Dallas city center/1-hour drive from Fort Worth city center)
THE LOCAL ROUTES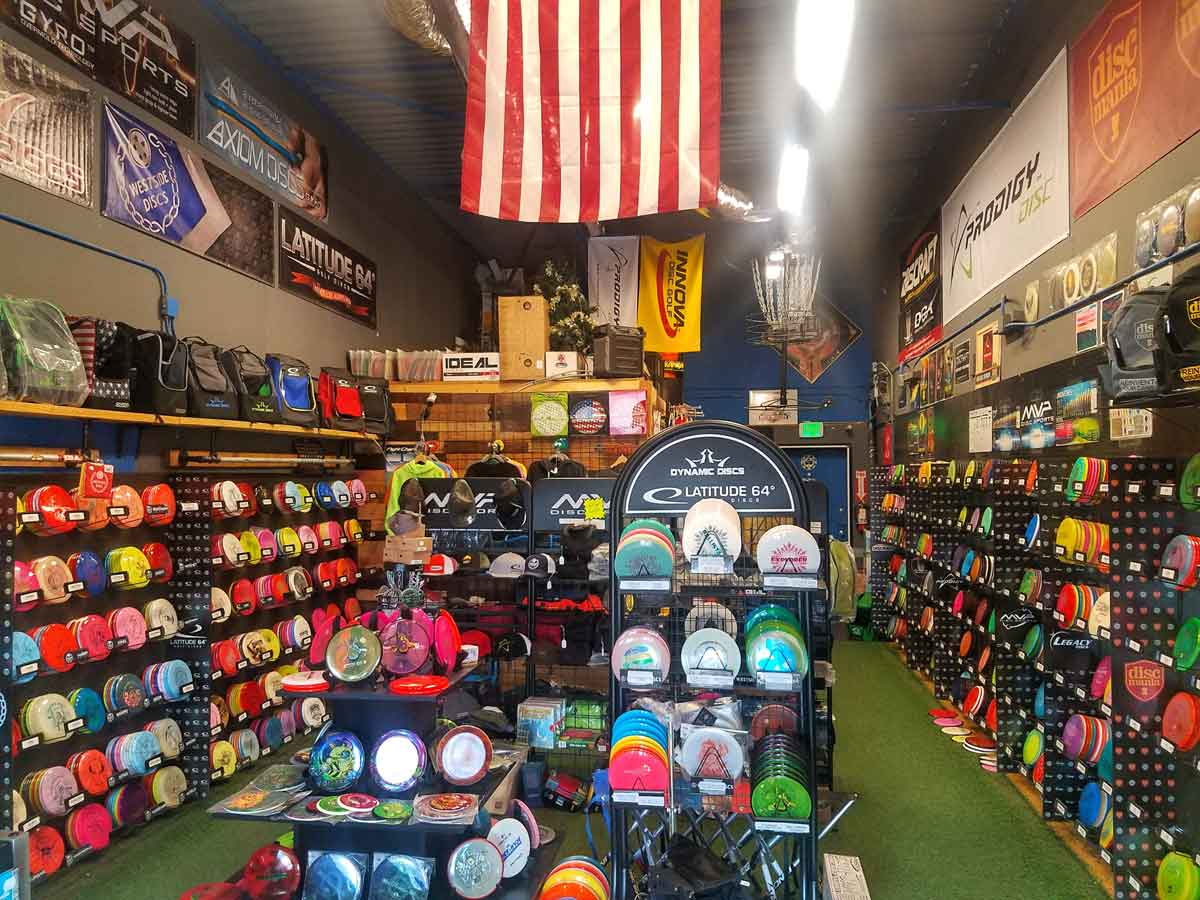 Gear: Noting its huge selection and staff that's "friendly, knowledgeable, and a tremendous support to the disc golf community," Letts says his favorite place to pick up gear is Ideal Discs in Haltom City (10-minute drive northeast of Fort Worth city center). If you're north of Dallas, Dynamic Discs Carollton is another popular option.
Guides: Both Letts and Pierce say Facebook groups are the place to go for advice or to find a local guide, with Pierce specifically pointing out the enthusiasm of the East Dallas Disc Golf Association.
Leagues and Weeklies: Letts said you can play in a mini tournament "every day of the week" in the area. For times and locations of these minis, check out this list on Facebook. Dynamic Discs also runs Flex Start Fridays tournaments that take place in the region.
Chow Down and Drink Up: Pierce's suggestion for a place to get local beer and good eats in a fun atmosphere is the Truck Yard, which hosts a rotating cast of food trucks and often has live music. And, because you can't talk about food in a Texas city without Tex-Mex, Letts says one of best places for it is Melis Taqueria. If you've already eaten and are just looking to unwind with a beer or two, your dollars could help support fellow players at The Collective Brewing Project, which is owned and operated by disc golfers.

Looking for great destinations outside the USA? Find the Top 5 Disc Golf Cities — International here.