"There's always a little bit of apprehension about switching because you never really know how it's going to go."
—Sarah Hokom, speaking with UDisc about sponsor change.
Last offseason was filled with big changes that rocked the world of professional disc golf. Other than those on the media side of the sport, the most interesting of those changes came when big-time pros switched to new sponsors. Remember the hype when this JomezPro video came out?


Beyond the general hysteria over who would go where, social media was rife with speculation about how difficult it would be for the athletes to adapt. We had to imagine, for example, Ricky Wysocki sans Harp and Paul McBeth without the almost unerringly straight lines of his Novas. Often, it was hard to dream up what would replace such staples.
Early in-the-bag videos seemed to show that the players themselves were facing similar difficulties. Paul McBeth's first video in December showed him working with all sorts of discs as he tried to winnow down a large selection. Even more revealing, Paul Ulibarris's vlog seemed to show him struggling— as late as January—to find the right discs for all of the shots he needed.
Add to all this that early results from Las Vegas appeared to showcase new discs bringing new challenges. Paul McBeth struggled with his putts all weekend, and Sarah Hokom saw a round one lead evaporate on a windy day two with her new discs.
But these things were all just impressions, and what we became interested in were the numbers. What did the stats have to say about how successful these players had been as compared to earlier seasons with their previous sponsors' disc selections?

To find some answers, we looked at the numbers put up in January-April in the years 2017-2019 by six high-profile professional disc golfers who switched disc sponsors during the offseason. Those players were Kevin Jones, Paul McBeth, Paul Ulibarri, Ricky Wysocki, Sarah Hokom, and Vanessa Van Dyken. The numbers we compared were averages of round ratings and stats from rounds scored on UDisc for each of the time periods mentioned.

After we compiled these numbers, we reached out to players for comments on them. We received answers from both Hokom and Ulibarri, and their thoughts helped add interesting personal context to the data.
Average Round Ratings
We looked at every PDGA rated round during the first four months of 2017-2019 for each player and generated an average for each year.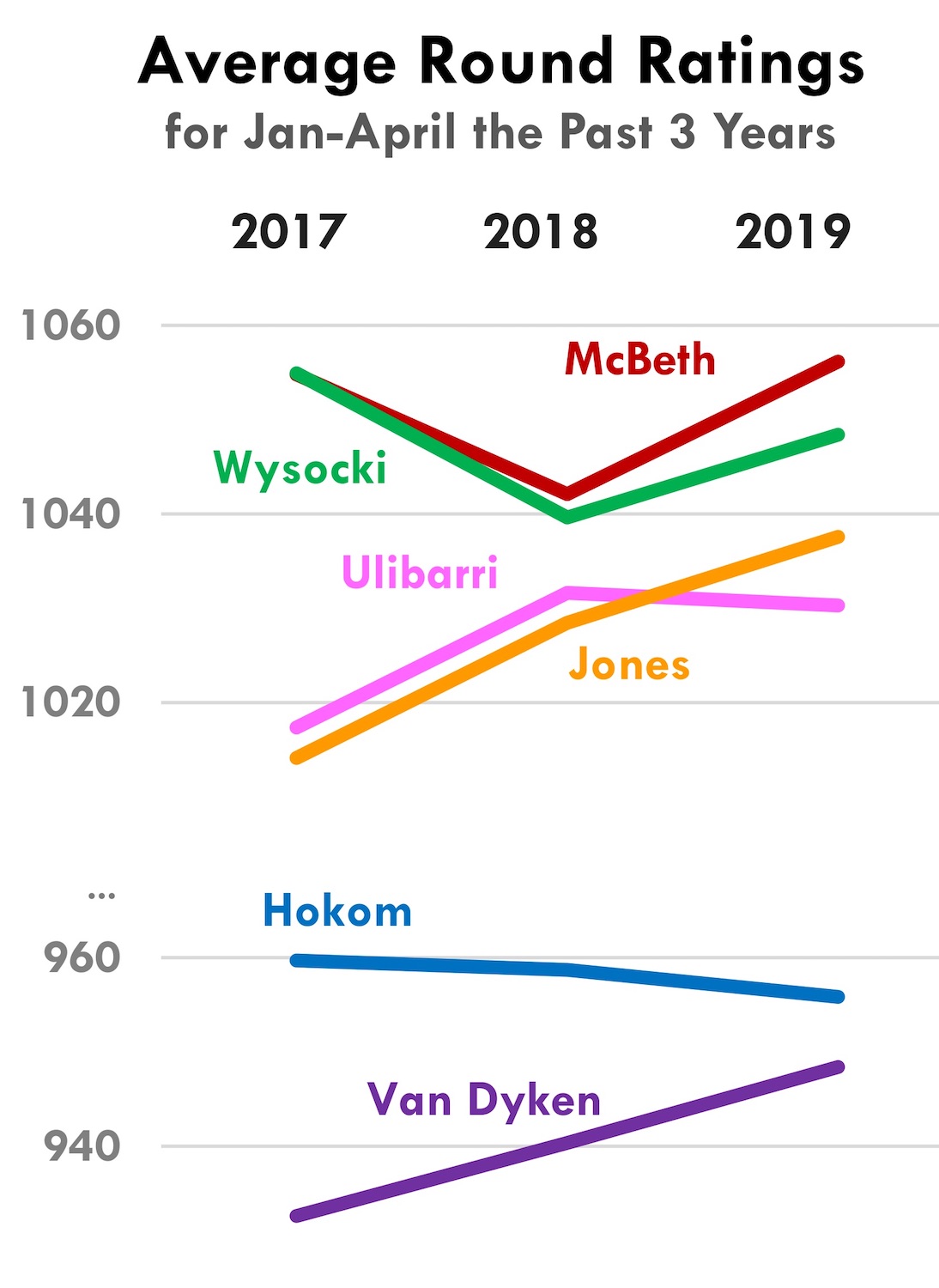 The biggest takeway here is how, of the six players, only Hokom and Ulibarri have seen a decline in their performances from the first four months of last season to those of 2019. Interestingly, the averages for both of those players were actually slightly better than previous years before they met the cruel winds of April.
However, as round ratings go, the true stunner comes when looking at McBeth's numbers in month-to-month detail. In March, he played three of the top twenty rated rounds of his entire career, a feat no other McBeth month (McMonth?) has matched. Those rounds also helped him accomplish what is likely one of the highest-rated stretches of disc golf ever recorded: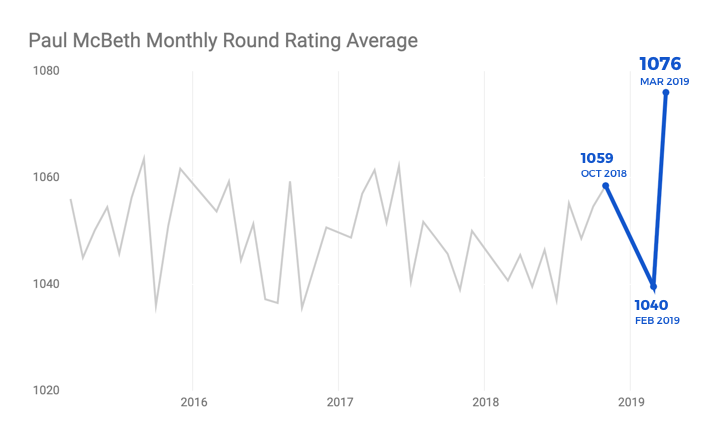 Although McBeth's April ratings have retreated from their highs, it's hard to call winning Jonesboro, The Rumble, and the Glass Blown Open coming back down to earth. McBeth doesn't need anything else to be champion of this spring, but perhaps the award for Best Adaptation to New Discs is something to consider.
UDisc Live Stats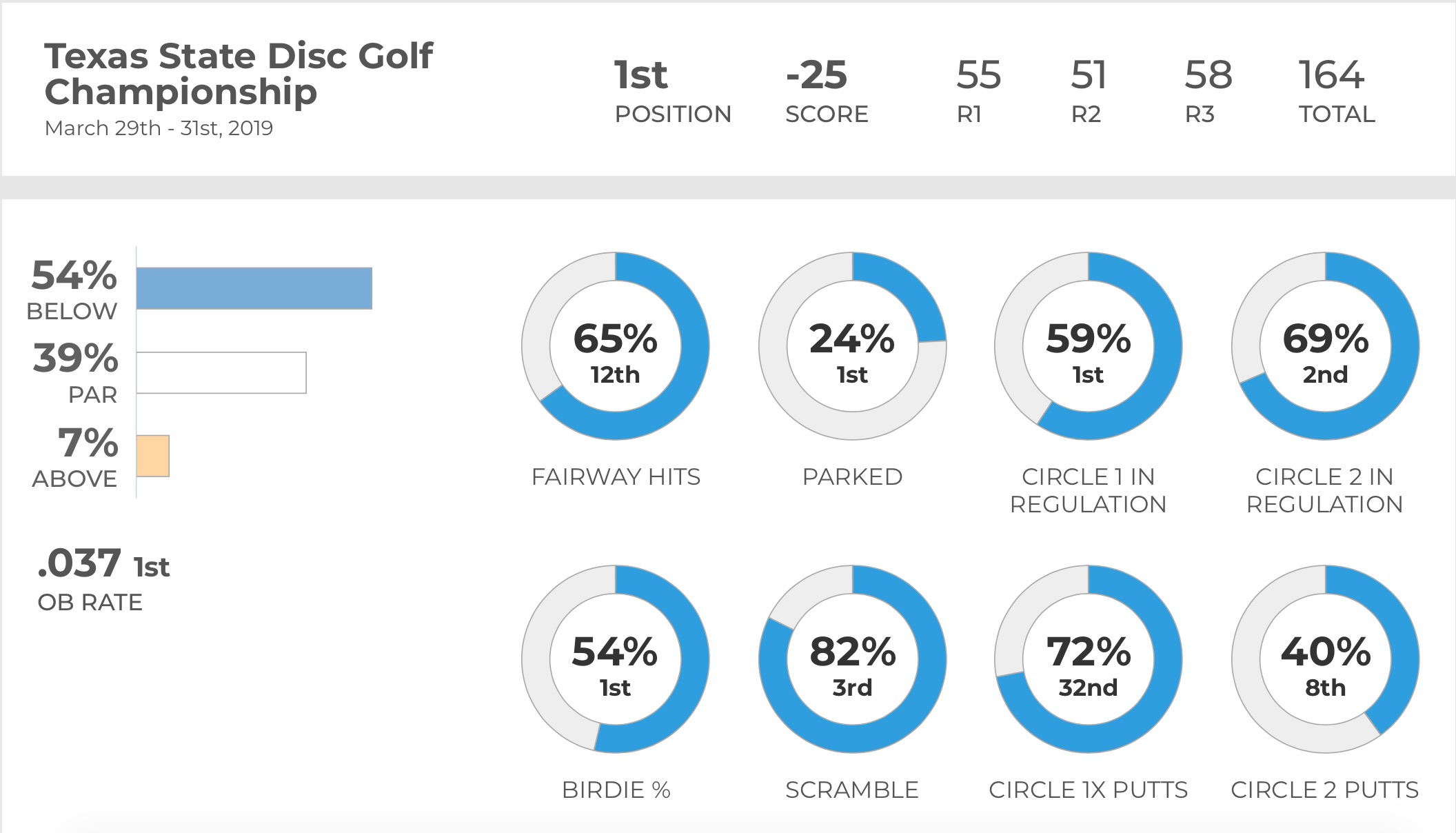 Along with looking at round ratings, we also checked to see how players' UDisc Live stats had changed after their switches. Here's what we found for each player:

Hokom: Sarah Hokom is not hitting fairways or getting greens in regulation the way she might like, but when asked, she suggested this was something other than new plastic. "I have a lot more confidence in my backhand, so I'm throwing it a lot more," she said. "But along with that, it's a less consistent shot for me." This plus managing new discs in the wind has cut her birdie rate almost in half, but she foresees that changing as the season progresses. If she's right, she will be able to build on her 3-year best start in Circle 1x Putts, avoiding OB, and scrambling.

Jones: Kevin Jones is doing a lot of things the same or just a hair better or worse than in 2018, but what really sticks out as he pushes his birdie rate right up to that 50% mark is an enormous improvement in early-season Circle 2 Putts, moving from 26% to 38%. That's compensating for his one much lower stat—his scrambling is quite a bit worse with his new plastic. Still, the mostly positive shifts have added up to a solid year-to-year improvement in these early days.
McBeth: In spite of his struggles with the putter at the first tournament in Las Vegas—where he was about 100th place for all three UDisc Live putting metrics—McBeth has taken his pink Luna putters and really started grabbing chains. His dominant March and April have been fueled by this, and, interestingly, these are the only three stats tracked by UDisc where he is better than 2017. Most of his stats fit the shape of his fairway hit rate, for example, where he moves from 88% to 77% to 83% in his season starts over the past three years. 

Ulibarri: Ulibarri has seen his driving accuracy go down while both his putting and scramble rate have improved. This explains why his overall rating average has fallen from last year, but not by much. As his drives with new discs have put him in awkward positions, he's buckled down and saved himself from many of them with improved scrambling and on-the-green performance.

Van Dyken: Like Jones, Van Dyken is on a big upswing. With only one tournament scored on UDisc Live for her in January through April of 2017 and 2018, comparisons are sketchy, especially because that tournament, the Memorial, was near the bottom of her performance arc for early 2017. Still, her birdie rate in early tournaments (and in the 2019 Memorial) in 2019 is triple her 2017 Memorial, and she's doubled greens in regulation and almost doubled fairway hits both in 2019's average and at the 2019 Memorial.
Wysocki: Ricky Wysocki is scrambling better than last year at this time, so those Pigs are, in fact, flying, in spite of Nate Perkins' concerns about this in the Nick Hyde commentary. But in no UDisc Live stat category is his rate as good as 2017 except for a minor uptick in throw ins, which doesn't look all that minor when you see one of them in action. In fact, aside from scramble, fairway hits, and Circle 1x Putts, his stats for this spring are worse than both of the previous two springs. His Circle 2 putting rate, for example, has gone from 31% to 34% to only 24% from 2017 to now in the periods we examined.
How Two Archers See Their New Arrows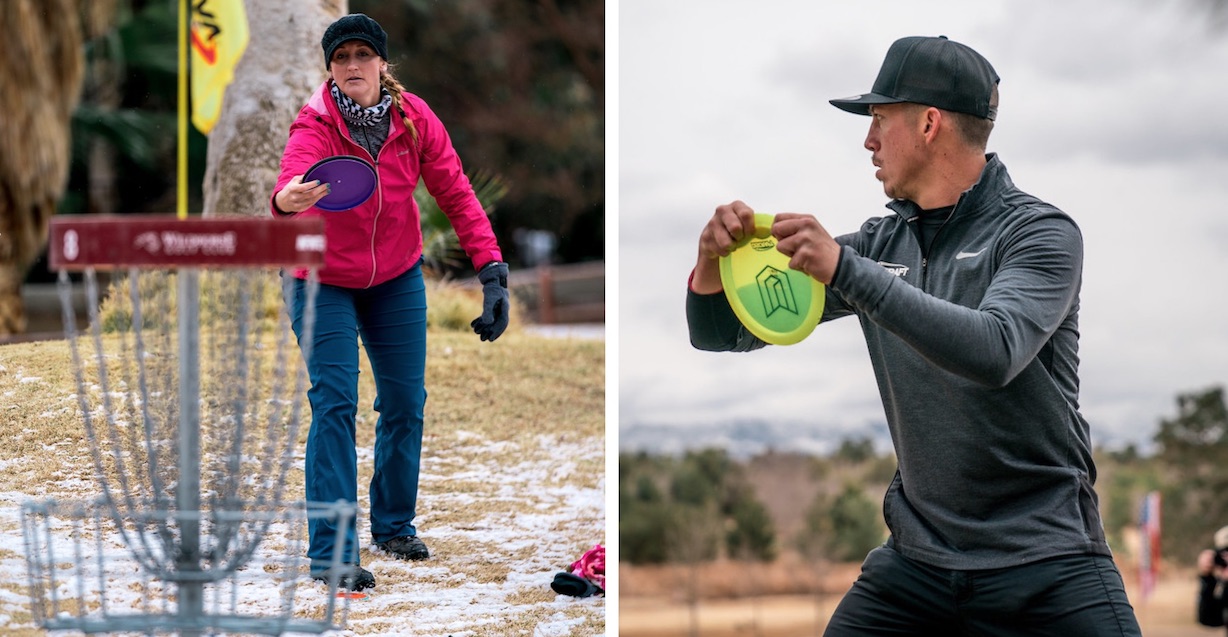 Though numbers can tell compelling stories, they often lack context. We reached out to players to help us understand how they viewed the challenges of changing sponsors and got responses from both Sarah Hokom and Paul Ulibarri. Both acknowledged that patience was a key factor in their plans for this season.

"You know, the shape and feel of the disc doesn't matter as much as just understanding the lines in different environments," mused Hokom when asked about her switch to the overmold technology of MVP. "It's more understanding the intricacies of flight in all different conditions, up and down elevation and then with wind and temperature. So it basically just takes time and experience to dial in those lines and make decisions about what's the best disc for each situation."

Ulibarri had midranges on the mind when asked about the most challenging parts of his switch to Discraft.

"The toughest thing for me has been the midrange game," he said. "It's been hard for me to locate a good release. Then again I need to spend more time in the field learning the mids I have."

In an expansion of his thoughts, Ulibarri actually touched on a point that's rarely brought up in casual debates about the up- and downsides of switching plastic, and it provides an interesting bone to chew on as we bring this piece to a close.

"In any case of switching companies I believe you are going to improve as a player if you do it right," he began. "You are going to have to put extra time in the field and the putting green in order to feel comfortable, which means you are ultimately going to probably practice more than you did before...Switching was a really slow process, and it was really hard. But I believe I'm now a better player because of the new plastic."