Are you a college student looking to get into the disc golf industry? UDisc's 2023 Summer Internship program is now accepting applications! Learn more here.
With a new school year around the corner, it's common for students to cling to their long summer days of disc golf even tighter. Going back to class, though, doesn't mean you have to part ways with your beloved putters and drivers. In fact, for many college students there are opportunities to find fellow players and new platforms for competition – all from the comfort of your campus.
From panhellenic societies to service organizations and everything in between, college clubs are a great way to get involved in the community and meet others with similar interests. And as disc golf has grown, it's become easier to link up with other players on campus. Some schools sport disc golf clubs made up of small groups of casual players who meet for rounds every so often; others are more organized, with practice sessions, coaches, and planned travel to tournaments. At the highest current level there are full-blown college disc golf teams, many of which compete in regional qualifying events to earn a bid to the annual College Disc Golf National Championship in Marion, North Carolina. 
Ready to get your bachelor's degree in birdies? We talked to several college disc golfers to get advice on how to start clubs, recruit new players, and grow the sport on campus.
How to Join a College Disc Golf Club
The first step to joining a disc golf club is to search on College Disc Golf's club locator to see if a registered entity exists at your university. Even if a campus is not registered with College Disc Golf, a casual group may still be out there. Search your school's club directory, browse social media channels, or inquire with your university's club board to see if they are serving the disc golf population.
At this time, the majority of disc golf organizations on college campuses are clubs rather than intramural or varsity teams. This allows for individuals of all skill levels, backgrounds, and goals to join together to play the sport on their own terms, whether they want to be more laid back or work toward more serious competition. Additionally, this allows players with less time for extracurricular activities to still have the opportunity to participate as much as their schedule allows.
Most disc golf clubs are free or relatively inexpensive to join. Each club is structured differently, though, so be sure to check with club members for more information on fees, expectations for attendance, and more prior to joining.
Why Should I Join a College Disc Golf Club?
Sure, solo rounds or carding up with your regular disc buddies is always fun. But is there anything better than making new friends who share your love for the sport? In addition to introducing you to a longer list of potential card mates, disc golf clubs – much like disc golf leagues – are a great way to challenge yourself and improve your game. Whether it be through practices or casual rounds, joining a disc golf club is an opportunity to learn and grow your skillset.
When you're ready for the next level, tournament play can take place through sanctioned College Disc Golf events, which feature team and individual play formats. These tournaments offer chances to get your competitive juices flowing while you also connect with students from other universities over your shared love of disc golf. 
If you're still learning the sport or hesitant to compete, though, you always have the option to keep it casual. That's the beauty of disc golf: There's a little something for everyone.
"It allows the students to be a part of something," said Ellis Gallion, coach of Mount Vernon Nazarene University's disc golf team. "Each person gets to decide if they want to go compete or not. There's flexibility in that, but most of them are hungry to compete once they get started."
Beyond connecting and competing, disc golf can be an outlet to help you make the sometimes difficult adjustment to campus life.
"My number one word of advice for people coming into college is to find something to make a big university feel smaller," said Cameron Bottum, founder and president of the disc golf club at the University of Iowa. "For me, that was disc golf."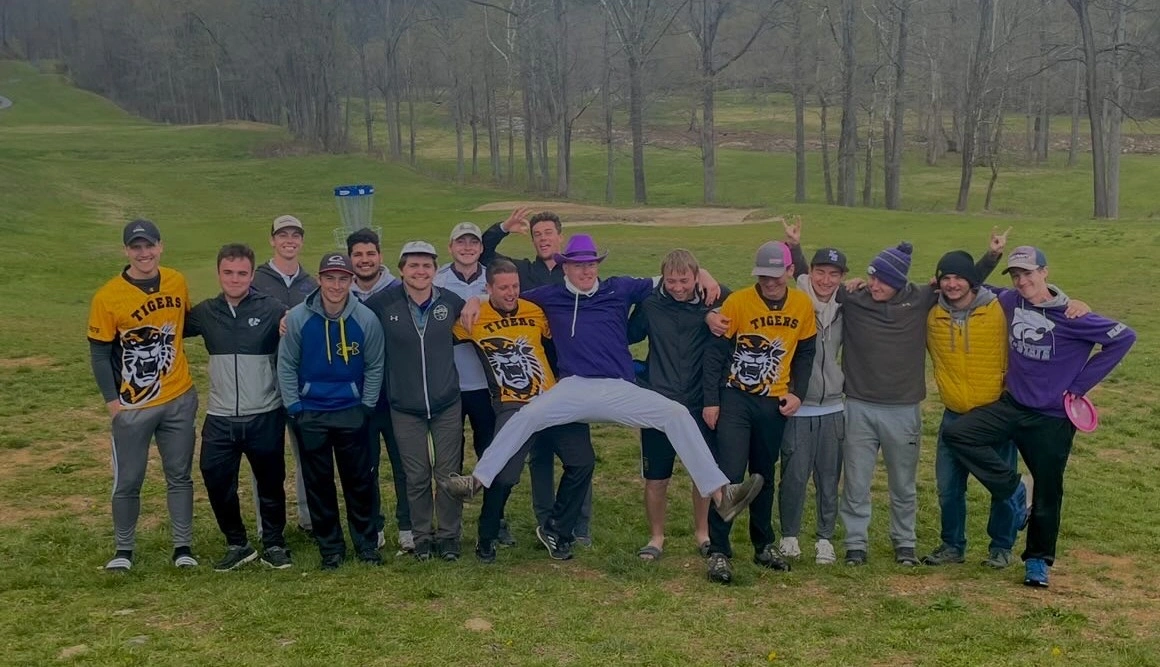 How Do I Start a College Disc Golf Club?
If your university doesn't have a disc golf club, consider making your mark on campus by starting one yourself.
It may sound daunting, but the process can be easier than you think. Since disc golf is a fairly inexpensive sport, you can start a club with minimal resources and gradually grow to an accredited organization on campus. College Disc Golf has sample documentation to assist with every step of the way, including forming the club, marketing it, and communicating with school administration to propose accreditation.
"For anyone looking to start a team, you'll be surprised how much power disc golf has right now in terms of finding engaged players, finding sponsors, and gaining school support," said Adam Luthman, president of the University of North Carolina's disc golf club. "You could find a great team and compete. You can leave a legacy behind – you can be the person who starts this amazing organization. Always ask or try because even if the answer is no, the worst case scenario is you're in the same spot you are now."
Starting a disc golf club is also a fantastic opportunity to build your resume – what better way to show off your leadership skills?
Tips for Starting a College Disc Golf Club
Plan as early as possible.


People typically join clubs at the start of the school year or at least the start of a new semester. Getting the paperwork done to start a club early ensures that your club will be listed on school websites, club lists, and all relevant newsletters. Make sure you include up-to-date contact information for prospective members who want to reach out.

Find out what you need and what resources are available – then use them.
What does your school require in order to register as a club? Some colleges mandate check-ins, proof of practice, minimum dues, certifications, and more. Since each school is different, it's important to work with your student government or recreational activities board to determine what is needed each semester. Both online and on-campus resources for clubs are regularly available.



Additionally, most schools have staff or organizations available for the specific purpose of club creation and operation. Leaning on these and your club adviser (see more below) for support can allow your club to focus more on disc golf.

Find other disc golfers before you start the club.
Many hands make lighter work. If you see someone at the local course wearing some of your school's branding, or you recognize someone on campus wearing disc golf gear, strike up a conversation and see if you can get them to help.

"If one person is tackling it, it can be a lot to juggle," Bottum said. "With a full team, it's manageable. [As president], I do a few important items. My vice president does forms, our treasurer keeps track of everything. We have our club adviser to help, as well. It's a system, so everyone can do a little bit without too much weight on any one person's shoulders."

With more people invested in the club's operations, you're also more likely to come up with unique solutions for fundraising, collaborative events, and other activities.



"Disc golfers are creative people – the more people you have, the more great ideas your club will come up with," said Jonathan Klein, adviser and former president of Illinois University's disc golf club. "Get as many people involved as you can. If somebody wants to help the club, never turn them away."

Find a club adviser (or your school's equivalent) that supports your team.
Most schools actually require clubs to have a staff member who represents and helps with individual clubs. Finding an adviser who plays disc golf may not be feasible, but you can find a staff member who prioritizes sports and outdoor activities. A good adviser who understands what you're hoping to accomplish can help greatly in making your club's dreams become a reality.



"We previously had someone who none of us really met, who we just emailed with," said Luthman. "Now, we found an adviser who is more aligned with our goals. He runs biking trails, ropes courses, and helps to maintain the disc golf course and is familiar with what we're doing. I know we can always get access to the course because our faculty adviser is supportive of what we're already doing. He understands our needs."

Register with College Disc Golf to recruit members and open the door to competition.


Register your club with

College Disc Golf

so prospective members have a place to find your club. This is useful if students on your campus already disc golf but don't know that your club exists. To register, visit College Disc Golf's website and fill out the contact form.

"One of the largest benefits as a registered club is a page on our website that lets any player interested get in touch with your club," said John Baker, director of College Disc Golf. "Interested players getting to go directly to the student leadership through each club's site, instead of searching Instagram or school directories, is powerful."

Club representatives spoke highly of their experiences with College Disc Golf, all the way from the sign-up process to competing in events.

"Registering with College Disc Golf is a little like getting your club started," said Mac Givens, president of the University of South Alabama's disc golf club. "It takes some work in the beginning, but there are avenues to help you through the process. The organization has always been very responsive to any questions we've had, and I know they are actively trying to make the process simpler. If you or your club has any interest in competing, it's very important you register with College Disc Golf. You'll be able to see all of the collegiate events taking place and have an understanding of what you need to do to prepare."

Being a part of College Disc Golf also opens the door for your club to compete in qualifying or national events.



"Registering with College Disc Golf allowed us to get our newer members PDGA numbers at a discounted price and introduced them to an awesome form of competition," said Paul Harris, one of the founders of Bowling Green State University's disc golf club. "Particularly for our women'

s team members, it allowed them to get out and meet other collegiate players in their division and make great connections across the country."

The goals of College Disc Golf are vast, but Baker recalled some inspiration from his days on campus.

"I'm a former collegiate player, and I can say some of the most rewarding moments of my college career were in disc golf," said Baker. "I got to travel with my friends, meet other schools, and play a lot of disc golf. There's so much positive potential socially and professionally from getting involved in College Disc Golf."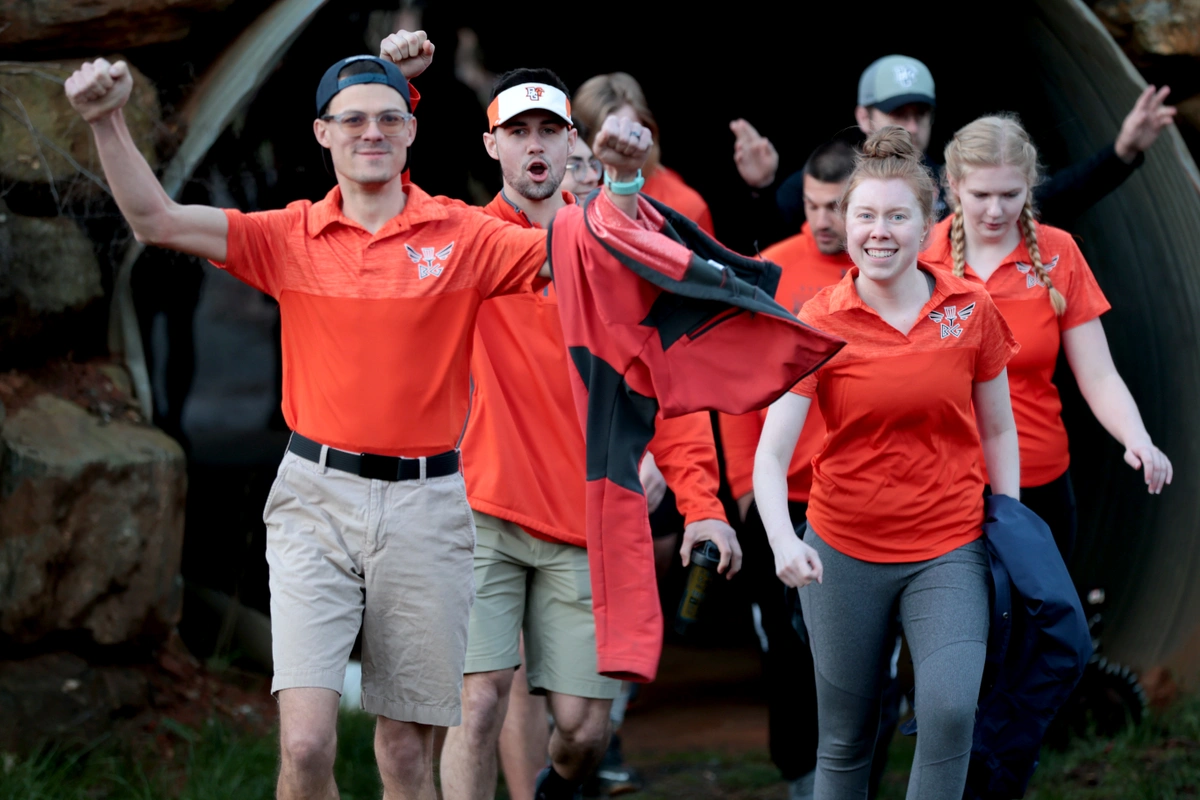 Tips for Recruiting College Disc Golf Club Members
Participate in club fairs, on-campus events, and freshman/transfer student orientations to find members.
"Our main method of gaining new members is when our campus holds events in the student union every year for clubs to meet with prospective members and spread the word about what they're up to," said Ethan Tschanz, president of the disc golf club at Kansas State University. "We participate in these events every year, and every year the number of people who say, 'I had no idea this existed' is a pleasant surprise."

Tabling in busy parts of campus can be done year-round to spread awareness about both your club and disc golf in general.

"We had a stand in the middle of our school plaza where we held some signups and had a basket and some discs so people could try playing for the first time and just get a couple putts in," said Cooper Everett, treasurer of Colorado State University's disc golf club. "We had a couple members this past year that were recruited from that. Just hearing those chains ring for the first time had them hooked."



You can also create flyers to hang in popular areas on campus. For example, the Mizzou University Disc Golf Club utilized traditional flyers and social media to advertise an upcoming clinic/interest event for the club and was able to attract new people to disc golf.

Create a strong social media presence for your club.
Social media can allow you to attract new members and interact with other college disc golf clubs. When the time comes, it can also provide a strong platform to use when negotiating with potential sponsors.



Post important dates of club activities, photos from events, and fundraising efforts. Come at it with some personality and you'll have a following in no time.

Spread awareness at disc golf courses and stores near campus.
Whether it's through friendly conversation, posters, events, or other means, creating a buzz at local courses is a great way to attract current disc golfers to your club.

"One major thing I did to recruit, especially right after our club's inception, was to go out and play every day and spread the word," said Luthman. "I'd go up to random people I didn't know and ask if they were a student and wanted to join the club. It was surprisingly effective – that's how we got our first 20 or so members."

You can also partner with local disc golf stores to recruit new club members. Titan Disc Golf, an Iowa disc golf store with multiple locations, helped publicize the University of Iowa disc golf club and supported the group through funding, disc donation, and education on how to run successful disc golf events.



Hosting practices, clinics, or events at nearby courses to raise awareness for your club is another great way to engage the local disc golf community. 
Tips for Running a College Disc Golf Club + Communication
Create a plan with your fellow members – then stick with it.
Do you want to be casual, competitive, or both? Clubs can accommodate players all across this spectrum. Asking potential club members what they are hoping for is best to determine where to spend your efforts. With enough resources, you can offer a wide variety of events ranging from beginner-friendly casual rounds to PDGA-sanctioned tournaments. Offering both a competitive roster and a casual roster can make the club more inclusive, too.

Scheduling events and putting practice in advance can help members reserve space on their calendars, and utilizing a poll to ask members about the best days and times for team gatherings is a best practice. While it's difficult to arrange participation for all members, polling can ensure you're selecting the time most likely for high attendance. Most clubs have a mixture of practice, fun events, frequent league play, and tournaments. It doesn't have to be one-size-fits-all, though. Listen to your members and let them lead the way.

"We have weekly leagues that rotate between the several courses in our area," Tschanz said. "Once competition season starts, we use special league rounds for team tryouts. UDisc helps us keep things in order when it comes to scorekeeping and also allows our newer players to see how they stack up against our best performing players."
Encourage improvement and playing with people of different skill levels.
Organized practices are a great way to improve everyone's skills and can help newer players get comfortable, specifically if there are other members there to help them learn.

"Our practices center around one specific skill – putting, fieldwork, approach work, etcetera," Luthman said. "We let more experienced players help out and lead practices. We work on different parts of the game – shaping shots, analyzing the shots we threw, and looking into the specific aspects of our form, for example. We want to push them out of their comfort zones to make them better disc golfers."

Mixing up the cards people play with, both for social and growth purposes, is another way to keep it fresh.



"My goal in the past couple of years was to get experienced players spread out with less experienced players on different cards and to shuffle cards often," said Klein. "By pairing experienced members with newer members, it's more likely for new disc golfers to feel comfortable and get advice from the more practiced members."

Communicate with members regularly through a consistent channel.
Communication is key in planning events and practices, sharing relevant information, and getting timely feedback.

A few commonly utilized options are Discord, GroupMe, or Facebook groups to distribute information to members. Additionally, these avenues let club members connect with one another.

"We have a big GroupMe for our club – there are about 90 people in it," said Carson Brock, founder of the disc golf club at the University of Georgia. "The group is extremely active. Almost every day someone posts and says they're going to play, and people come out and join them."

These groups can help keep members engaged even when off campus.



"In the Discord channel we have different chats for different things," said Jackson Palmer, president of Appalachian State University's disc golf club. "We have one for looking for people to play a round with, one for 'mail call' where they can post cool discs they get, and a bunch of other chats. We're encouraging the community to talk about disc golf even when we're not able to get together on the course. Especially over the summer, this keeps the club together so we can stay active and keep in touch."

Use UDisc for club practices and events.
UDisc Leagues let everyone play together even if you're separated on different cards.

"We just started a UDisc League for our team so we can keep track of scores when we are practicing all season long," said Harrison Adams, president of the disc golf club at Morehead State University.

Leagues on UDisc are free, both for organizers and players. They can be set up for the entire semester or school year and are best for recurring events like weekly practices or doubles. Your leagues will also be visible in the UDisc app – this is another great way to attract potential club members who are already avid disc golfers. Apply here to start a league for the coming season.

The Ohio State University disc golf club utilizes UDisc Leagues to score weekly bag tag events. With easy, long-term leaderboards, bag tags are simple to handle.

Additional metrics are tracked within the app that can help the club determine what to practice throughout the season.

"We use UDisc for our scoring for tryouts and for our practice rounds," Everett said. "We think it's a good way to figure out what we need to work on because it gives us precise statistics like C1 putting percentage and fairways hits."



You can also use the app to experiment with new formats – try doubles, teams, putting and accuracy competitions, and more.

Create a welcoming space for everyone.
As a representative of the sport, it's important that your club values the same diversity and inclusivity you can find on the course.

Gender equality and representation within your club, in particular, are key. Creating specific protected women's spaces within your organization can help to attract more women to join your club.

"For me, being from women's ultimate, creating an environment where women feel safe and invited is extremely important," said Alexis Kerman, a member of Mizzou's disc golf club.

Kerman accomplishes this through private women's practices, women's clinics, and a separate group chat for the women in addition to the co-ed groups.

It's all about building a better future for not just your club, but the sport as a whole.

"One of the best things about disc golf is we are a young sport, so we can be as inclusive as possible," said Charlie Chemers, treasurer of the disc golf club at the University of Illinois. "We can be one of the fastest growing sports if we continue to push the boundaries for inclusivity."

Offer equal opportunities for players of all years in school when possible. Provide flexible options for practices, events, and team activities. Those with work studies or other major obligations may have tighter schedules, so providing multiple options for times of day, days of the week, and lengths of events can help bring everyone together.



Catering to both casual and competitive players with diverse opportunities will keep disc golfers of all skill levels engaged.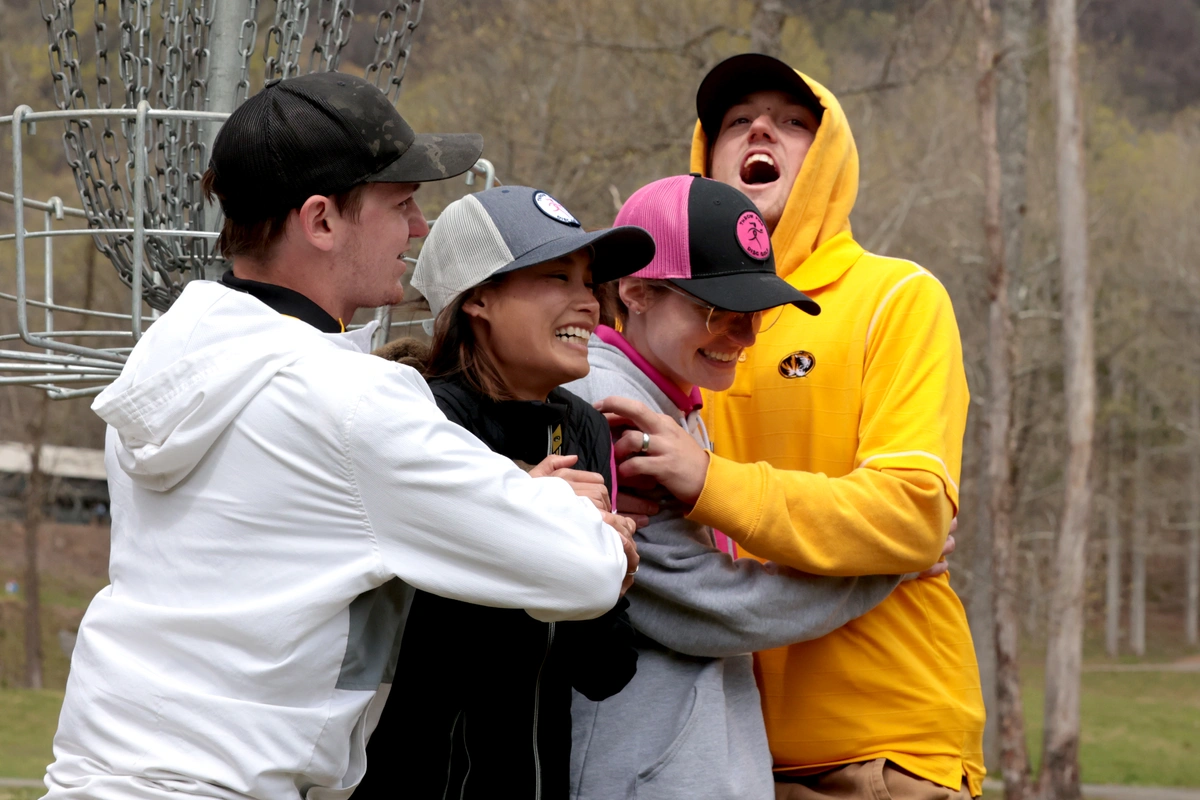 Plan for a variety of engaging social events, both disc golf related and non.
One of the biggest benefits of running a disc golf club is meeting new people who share the same interests. However, that doesn't mean every activity has to revolve completely around disc golf. 



"The social side outside of disc golf is very important for the retention of members," Klein said. "I asked myself, 'How can we keep a big group of casual players involved?' The people who are competitive and already really into disc golf are going to come no matter what. Focusing on the casual player is key. We decided to involve more activities that aren'

t entirely disc golf-focused – more social gatherings with some disc golf sprinkled in. We figured that the majority of people are just looking for a place to meet cool people, and disc golf is just a bonus."

Many clubs offer a variety of social events, such as campus outings to games, restaurants, and more. Some clubs keep disc golf the center of attention even when taking a break from the course.



"Each winter we also do a disc exchange [and a] secret Santa social outing," Chemers said. "When you know the person you're gifting a disc for, you can give something meaningful to them."

Consider offseason activities.
Disc golf is harder to play when winter arrives, especially in areas where there's snow on the ground. Time to get creative!



"When it gets really cold, we rent an indoor facility to do putting leagues on a weekly basis," said Chemers.  In addition, there are many ways to still celebrate disc golf when temperatures drop.

Consider indoor clinics with nets, hosting putting leagues at the rec center, and other sheltered events.

With a variety of formats and potential indoor locations, these activities are a place for imaginations to run wild. Plus, some putting practice in the offseason is sure to show when it's time to hit the course again.
Tips for Fundraising for a College Disc Golf Club
Brainstorm the best means for fundraising for your club.
While some clubs may find themselves included in university club budgets, others may need to raise funds to cover travel to tournaments or other club events. If you need to fundraise more, consider what approach suits your club best.

Traditional means of fundraising like bake sales, car washes, and selling merch are proven ways to earn money for all sorts of clubs.

Selling custom-stamped discs is a great way to specialize your monetization efforts. Aim for discs with your school mascot, school logo, or other local references – it's been a successful approach for many teams.

Other common disc golf-specific fundraising efforts include disc golf tournaments, doubles matches, and more. Unique layouts and formats may encourage increased local participation.

Additionally, provide and advertise a way to receive donations. Leaning on members of your local community, both disc golf and unrelated, can help support your initiatives.



Alternate support can be found by sponsorship from disc golf stores or companies, which may help alleviate some financial burdens.

Look into potential grants or sponsorships available through your university to help fund club and tournament costs.
Funding is available each year at most schools for clubs. Asking for funding is a great practice even if the answer is no.

"We receive a good amount of funding from the school club sports office, which tends to cover College Disc Golf memberships for all our players and their tournament dues for college events," said Kevin Lauer, president of Bradley University's disc golf club.

Make your case with specific facts for why your school should support disc golf, both on campus and traveling events.

"Showing your university what your goals are will move you forward where your club wants to go," said John Pierce, adviser for Appalachian State University's disc golf club. "The team qualified for off-campus educational funding because we showed the traveling opportunities were positive for the students in a variety of ways. They're positive social opportunities, chances to network with other universities personally and professionally – connecting with the disc golf community and connecting with others over a common goal. We showed our university the specific reasons and benefits for these events. It's not just, 'We want money to play disc golf.'"



Additionally, s

chools often have grants available for a variety of organizations. Check with student governments, unions, or student-led organizations for help finding university-based funding.



The Mount Vernon Nazarene University (MVNU) Disc Golf Club

qualified for a unique grant

when it presented disc golf as a possible solution for mental health issues to its university. In 2020, states received federal money as part of a pandemic relief bill, and Ohio decided part of those funds would be granted to higher education institutions to combat mental health issues related to the pandemic. MVNU received a grant and gave their Student Life Committee control of how to spend it; the disc golf club secured part of that grant to put in a disc golf course.

Look into sponsorship opportunities from disc golf companies, both local and non.
Sponsorships are a valuable way to secure funding, uniforms, and equipment.

"Prodigy sponsors our club and competitive team now – they helped us to get some of the funding," Brock said. "I made a personal connection to people at Prodigy and they agreed to a sponsorship, which gave us uniforms, bags, and some discs."

Though it may seem intimidating to reach out to larger manufacturers, many members of college disc golf teams have expressed positive experiences doing so.

"Local stores and even major disc golf brands want to help out," said Luke Shehee, current marketing chair and future president at the University of North Carolina disc golf club. "It's not as much pressure on the person reaching out as you might think. If you have a good team with planned competition schedules, a major social media presence, or a large engaged team, you have factors that make your team look desirable to most sponsors. Your presence at massive events and a big social media following is great exposure for any brand you work with."

With a little creativity, donations can likewise augment your fundraising initiatives.



"We were blessed to have a lot of help from Discmania with fundraising," Everett said. "They donated a bunch of warped discs that they had in the warehouse and we used those discs in a warped disc challenge. People paid 10 dollars per disc to reach into a bag and pull out a random disc. People came from all over the Fort Collins area to help us with that fundraiser, and we are very grateful to have such an incredible community in Northern Colorado."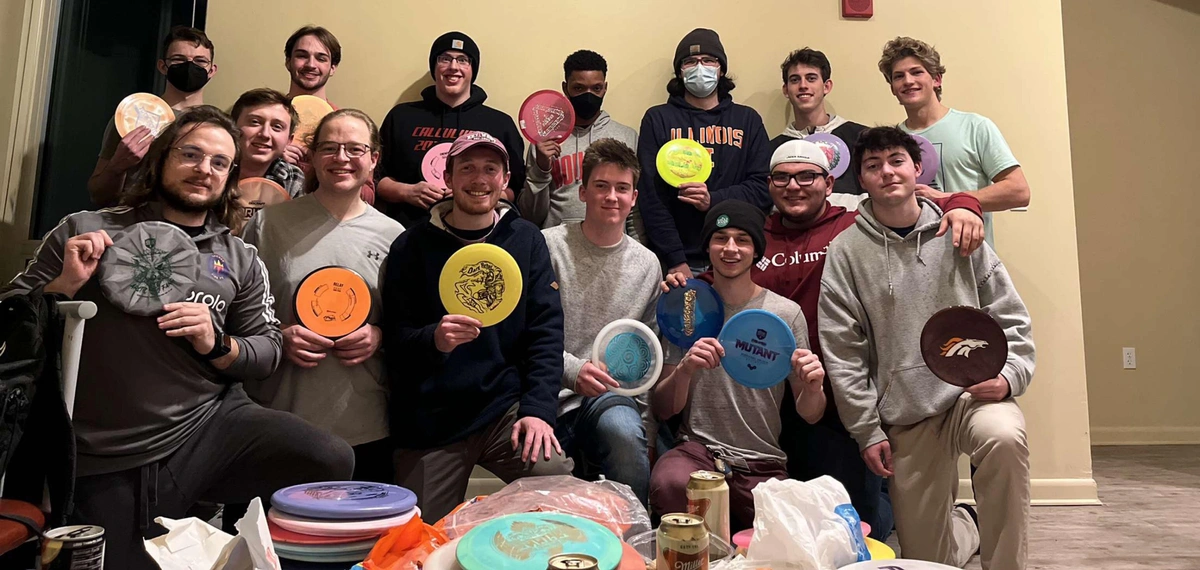 Starting a College Disc Golf Club One Step at a Time

We know this is a lot to think about. However, your first step can be small. If you're not sure where to start, any step that feels easiest, most impactful, and relevant to your school is best. Any movement in creating a club is one step in the right direction.
If you are having any issues or running into a roadblock, lean on other universities in your region. Many often have established clubs that are willing to lend a hand.
"Everyone I know wants to grow disc golf," said Zach Poncelet, founder and president of UC Santa Barbara's disc golf club. "As soon as our club was officially up, all the nearby schools reached out and were super accepting of our club and offered to help out. People are looking for more college clubs to compete against."
Social media is a great way to get connected with other disc golf clubs.
"We created an Instagram account to allow for students to find us of course, but also to connect with other college clubs," Shehee said.
Other resources, such as College Disc Golf, local communities, and the greater disc golf scene are also behind your efforts in starting a club.