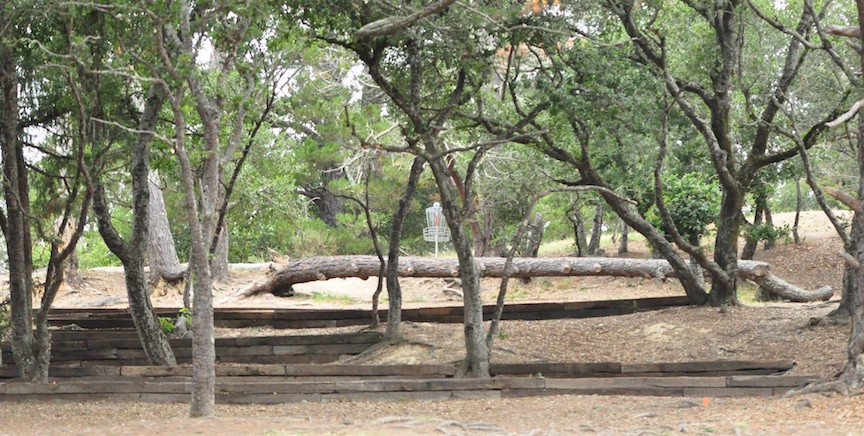 In the words of Disc Golf Hall of Famer and veteran tournament director of the Masters Cup Marty Hapner, DeLaveaga is a "sanctuary."

"When I am there, my perception is that peace and harmony do exist," Hapner said. "We call it DeLove."
DeLaveaga (more familiarly known as DeLa) is the storied course that has been at least a partial host of the Masters Cup for the last 33 years. With the 34th incarnation of that event set to begin today, we wanted to explore some of the history of the course and tournament—its "DeLegacy," to use another Hapner-ism. We found out about its inauspicious origins and analyzed how scores at DeLa during the Masters Cup have changed as the players and the discs they've played with have evolved over time.
From Dump to DeLa
The site of the DeLaveaga Disc Golf Course was once a poison oak forest used as a dumping ground. Kids would park along what became the Top of the World hole (now hole 4), and the residue of their smashed beer bottles can still be seen on hole two's fairway.


Still, Hall of Famer Tom "Trick" Schot (PDGA #3303), DeLa course designer and director of the 1984 World Disc Championships, saw potential amongst the junked cars and abandoned refrigerators.
"It was a four-wheel drive area," Schot said, referring to vehicles like trucks and jeeps, not four-wheelers. "When we first went in, there was a lot of resistance from the four-wheel drivers and the dumpers. Eventually it sold the neighbors. You know, change is hard. It's just amazing how this piece of property has gone from a negative thing to a positive thing."
The Changing Scores: 1992-Present

Many Hall of Famers and future members of that group have competed at DeLa during the long history of the Masters Cup. With PDGA results dating back to 1992 available, we wanted to see how the scores of the tournament winners in MPO and FPO divisions over the years matched up with each other. However, accomplishing this wasn't as straightforward as it may sound.

First of all, the course and competition format have changed over the many years of the Masters Cup, which means our comparison of the winning scores comes with a few important qualifications:
Even before the advent of moving day three of the tournament to nearby DeLaveaga (Ball) Golf Course in 2015, final rounds of the Masters Cup were sometimes played on all the short pins "in order to let players to get away earlier," said Hapner (this is understandable given that, as Schot reminded us, the Masters Cup was "the first tournament to go to three days other than Worlds" ). Due to this knowledge, we omitted results from every day three (and sometimes four).
Years and rounds with dramatically high or low scores were omitted. These include 1995 and 2000 for FPO and 2011 MPO day two.
The tournament has had different amounts of holes over the years.
Some things we couldn't really "fix" in this comparison, adjusting for differences in conditions and different hole lengths being chief among them.
Because of the changing number of holes and the lack of hole-by-hole data for each year, the metric we decided to look at was score relative to number of holes from each year. The score we used was the average of the day one and day two totals of the year's winner; that average was then divided by the number of holes played that year.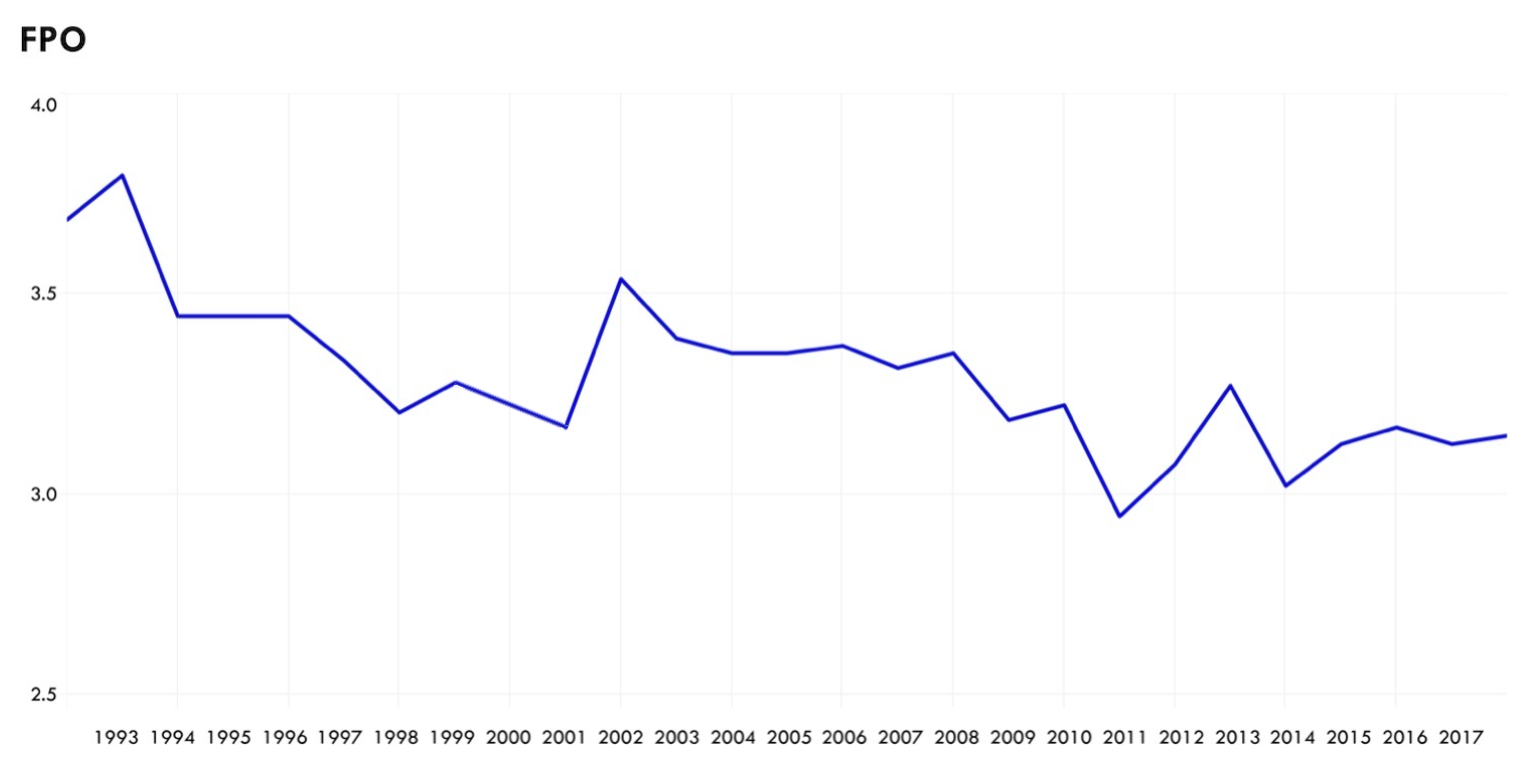 The clearest takeaway from our FPO numbers in the graphic above is the general improvement over the history of the tournament. A lot of that is likely due to professionalization, better technology, and increasing field sizes (there were only two FPO competitors in 1991; there are 28 registered this year).
Hall of Famer Anni Kremi, who won in '94, '96, '97, '98, and 02', scored her best average in '98, with a 3.2. That's a number that would have put her either in the lead or a decent way up the leaderboard in most years since.
Juliana Korver, '99, '01, '04, and '06 champion, set the FPO gold standard for days one and two in 2001 with a 3.17 average, a feat only soundly beaten twice since. Paige Pierce broke the par barrier in 2011 with a 2.9 average, and Catrina Allen got closer to 3 than Korver in 2014.

On the MPO side, Schot said that "the scores haven't really changed much," and our findings support him.

Indeed, Ricky Wysocki's 2016 average was a hair shy of Ken Climo's from 1998. But, to be fair, that 1998 performance by "The Champ" at 2.6 would still have put him in first every year except 2017, when Paul McBeth shattered course records while averaging 2.5 over the first two rounds. For that matter, Scott Stokley's (PDGA #3140) first two rounds in 1994, at 2.7, bests or ties the majority of years, including last year.
Generally, the scores have been improving for MPO, but not at the rate of FPO.
Bearings on 2019
DeLa is a course that rewards hot starts. All par 3, the only eagles are aces, and coming from behind is tough. 
You can see this especially in FPO, where since 2013 players had to be below 79 on the first two days to be in position for the win. In fact, since the first of Valarie Jenkins' back-to-back wins in 2009, only Catrina Allen in 2013 and Paige Pierce in 2015 have been able to win without having or sharing the hot round on day one.

While the consistent improvement in FPO makes it harder to predict what scores players in that division will need to be in position to win this weekend, we're pretty confident that MPO players looking for good finishes will want to be in the mid to low 60s on days one and two. Since 2013, any early score in the low 70s has meant a finish no higher than 3rd or 4th place. You can ask Nate Doss (T3rd, 2013; T4th, 2017), JohnE McCray (4th, 2014), Simon Lizotte (T4th, 2015), Gregg Barsby (3rd, 2016), and Paul McBeth (3rd, 2018).
Whatever the scores, the players who win this weekend are winning a piece of history and will certainly be feeling the DeLove as they become a part (or perhaps just a bigger part) of the DeLegacy.