Disc golf is special to many people for many reasons. For some, it's a fun hobby they enjoy with friends and family or a little bit of extra entertainment that makes outdoor exercise more appealing. For others, it's a serious competitive sport they spend hours practicing and playing each week. 
The sport fills a niche in the lives of a number of veterans and active-duty military personnel, too. Disc golf can assist in the transition from service to civilian life, ease homesickness for active duty military, and be an outlet to escape both mentally and physically. And there are other cases where disc golf has helped those in uniform lift even heavier loads.
The Impact of Disc Golf: An Army Veteran's Tale 
For Lucas Dahl, a veteran who spent 17 years in the United States Army, disc golf was life-saving. His service included multiple tours in the Middle East, and when he retired from the military, disc golf was there to support him at times of tough transition.
"While I am fortunate to have come back without any physical injuries, the hidden injuries have haunted me for years," said Dahl. "After leaving the military last year, it got worse. I was as low as I've ever been and didn't know how to move forward. Then I reconnected with my love of disc golf. It centered me. It gave me an outlet. It saved me from myself. Now, when I struggle, I always seem to find my way back to the disc golf course."
Dahl discovered that disc golf offered him both an escape and a chance to connect with others simultaneously.

"The sport itself is therapeutic," said Dahl. "It gives me space to breathe and process. What I didn't expect was that getting involved in the community gave me an even greater sense of peace."
In Dahl's home league, he felt comforted by connecting with players both wildly different from him and who shared an eerily similar story. 
"My first experience that solidified the idea that the community was special was when I went out to our local league," said Dahl. "I didn't know anyone. I just signed up. One of the guys on the card was chatting with me. He was a college kid and I'm a nearly 40-year-old vet. No matter how different we were or how different our lives looked, we could connect over the sport and talk like friends." 
At the next league event, Dahl was wearing an Army shirt and a guy came up and asked him about it. The man was a vet himself playing with his fellow veteran friend. The men invited him to join their card. 
The group shared their own challenges and stories during the round, and Dahl was buoyed by what they had to say.
"Hearing that I wasn't alone in that really helped and made me tell myself, 'This is okay and I can get through it'," said Dahl.
Thanks to the benefits he's experienced, Dahl believes greater access to disc golf could help active duty personnel, too.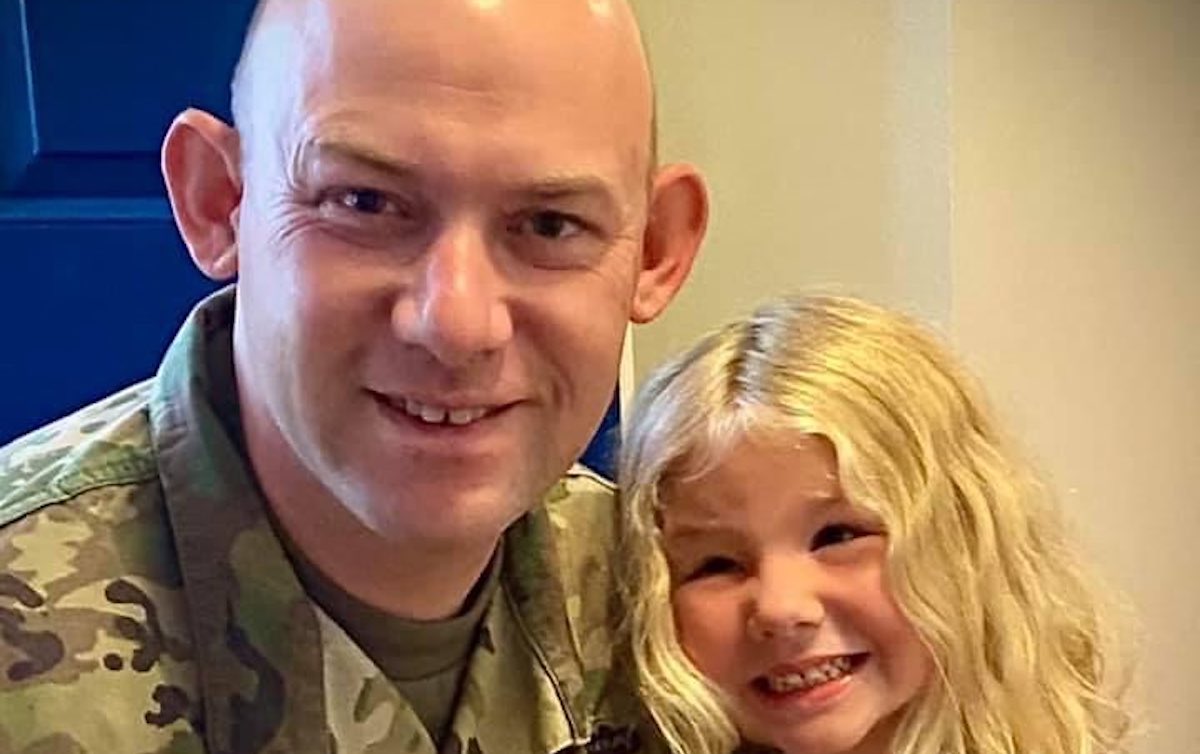 "I spent my entire career as an officer having conversations on how to keep soldiers busy and out of trouble on the weekends," said Dahl.  "For a lot of soldiers, it's work all week then drink all weekend. It's concerning that at 21 years old your entire social life is centered around alcohol and substances. Something like disc golf could make a massive difference in the lives of our enlisted personnel."
There are currently disc golf courses on some military bases and at a few Veterans Assistance centers. However, this is an area where disc golf has great growth potential. 
In addition to the enlisted soldiers, disc golf can provide support and community for military families. Children who grow up on or near military bases may not have access to as many public recreation facilities. A disc golf course can fill this void, especially if there are discs available for rent. Additionally, when a spouse or parent is deployed, having a community within a hobby one enjoys can help get a person through some of the tough times. 
Vets Disc Golf Club: An Organization Connecting Veterans Through Disc Golf
Dahl is far from the only vet who's found solace in disc golf. In fact, there's a nationwide U.S. organization called Vets Disc Golf Club that seeks to help other veterans find their way into supportive disc golf communities.
"We came together to end the 22-a-day statistic," said Jim Nicholson, National Vice President of the organization, referring to a commonly-cited statistic that 22 veterans die by suicide every day in the United States. "I've had brothers and sisters in the military that take their own lives. It's awful. It leaves an empty hole for everyone else."
Like Dahl, Nicholson felt adrift after leaving behind the natural camaraderie life in the military provided.
"No matter where I was, what branch I was in, I had a tight-knit group when I was enlisted," Nicholson recalled. "When I retired, I lost that. I felt out of sorts. A year after I retired, I visited one of my combat friends and he had three disc golf discs sitting on his front porch. He told me about what disc golf was and took me to try it."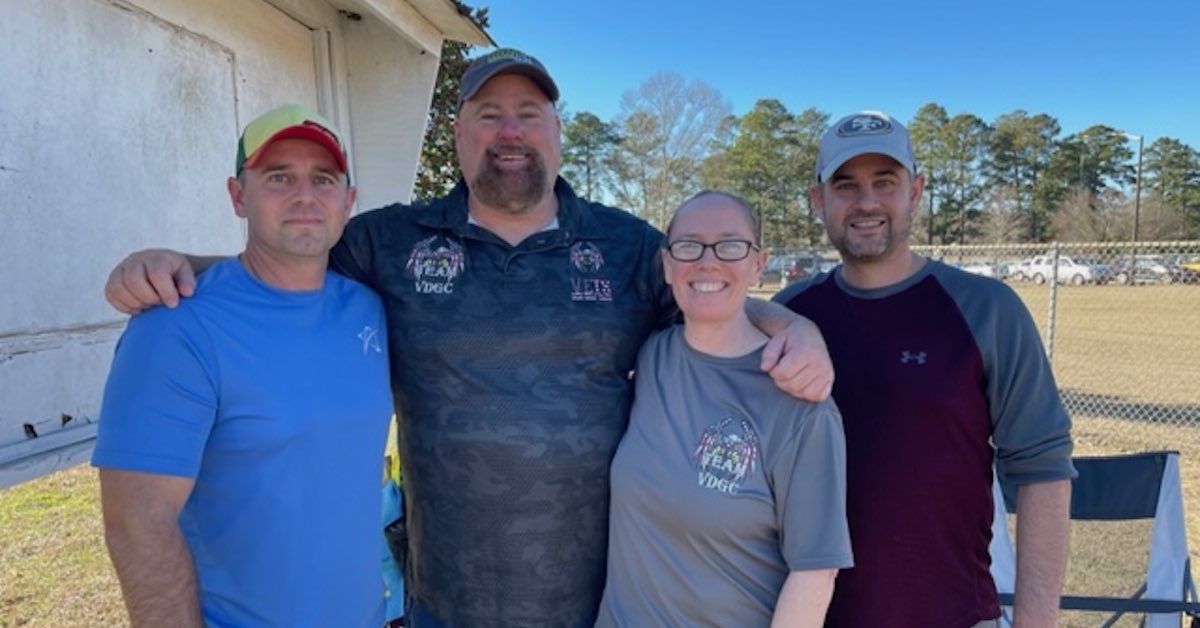 That day changed Nicholson's life in a way he couldn't have expected. When he returned home with the discs from his friend, he got involved with his local disc golf community and began to play regularly. 
"Disc golf cleared my head and I was hooked on it," Nicholson said. "If you're on a card with me and I lose, you'd think I'd won because I'm so happy just to be out there."

Nicholson got involved with Vets Disc Golf Club to give others this same experience.
"I told my friend, 'You putting a disc in my hand changed my life,'" Nicholson said. "I've seen what disc golf did for me. I just want to do that for other people."
Vets Disc Golf Club has national and local chapters. The national chapter is available for veterans only as a place where they can connect and share stories of both their time in the service and in their disc golf career. Local chapters are open for families and supporters as well as the veterans served. These chapters have regular meetups (both disc golf related and non) to create a community that veterans and their loved ones can rely on. 
As an organization, Vets Disc Golf Club has given away over 5,000 discs to military bases, veterans, and veteran families. There are currently over 70 local chapters with some as large as 300 members. 
To get involved with Vets Disc Golf Club, find a local chapter, or inquire about starting a chapter near you, reach out to Jim Nicholson at vdgcgear@gmail.com or find the national chapter page, Vets Disc Golf Club, on Facebook.