As disc golfers, we know that truly enjoying a round relies on a few key factors, like location, weather, and performance. But perhaps the most important thing of all is who you're playing with.

While a good group can lift you up and make you wish the round would never end, a bad group can tear you down and hope hole 18 is just around the corner – even if you're crushing it on one of the world's best disc golf courses under the bluest of skies. 
But if you're hoping for a card filled with good vibes, you need to know how to put them out yourself. Keep reading to find out how you can become the person that everyone wants to play a round with in a few simple steps. 
Keep Things Positive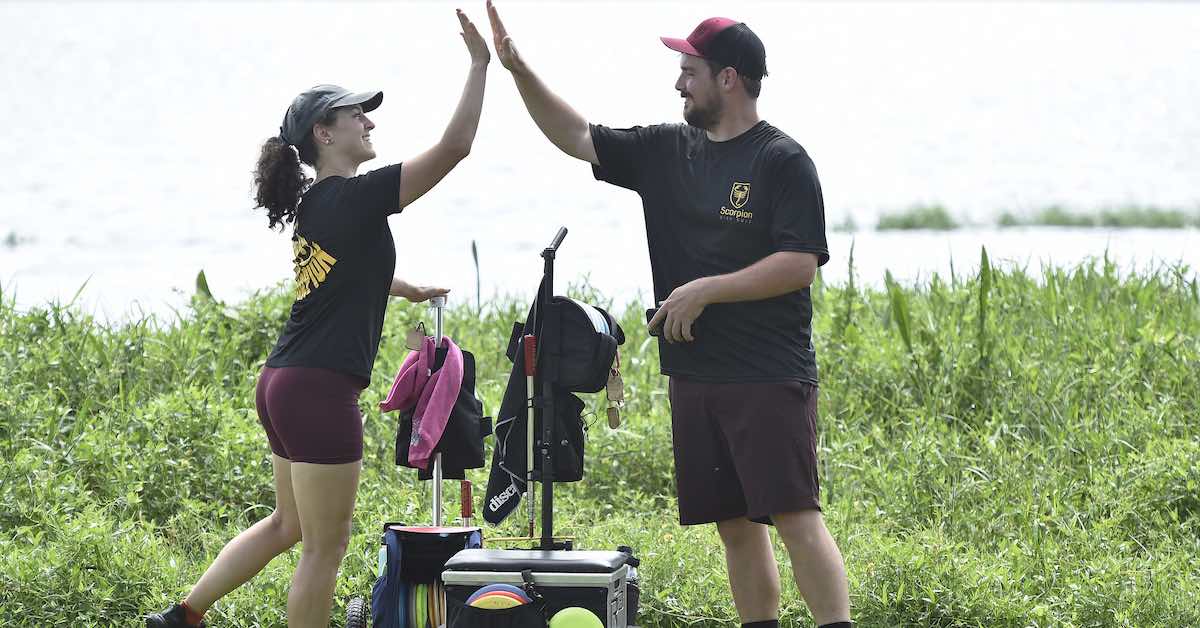 Nothing takes the fun out of disc golf like a player with a poor attitude and bad manners. What can you do to keep the mood light?
Be encouraging
Saying t

hings like "good shot" or "nice putt" really don't take a lot of effort and can go a long way. You don't have to be the person to hype everyone up, but letting someone know their efforts are paying off are a great way to encourage sportsmanship and inclusiveness.



It's important to note that some people don't enjoy encouragement during a bad round and well-wishes aren't always so well-received. Try to read a player's disposition before making a comment.
Don't give unsolicited tips
Some people absolutely love receiving advice, but other players get really peeved by unsolicited comments and criticism. Unless a player specifically asks for help, it's best to keep your analysis of someone else's form flaws to yourself during rounds. Even after rounds, you should ask if a player wants any advice before you give it out. Top pro Sarah Hokom has told us that receiving unsolicited and unwanted tips is especially a problem for women in disc golf. See what she had to say in "What It Means To #respectHERgame."
Watch the trash talk
Even if negative comments are intended to be playful, it's safer to just keep them off the course – especially in unfamiliar company. But reading a Reddit post like this one shows you that even among friends disparaging comments meant to be funny could be hurting someone more than you know.
Respect the Game (and Others' Time)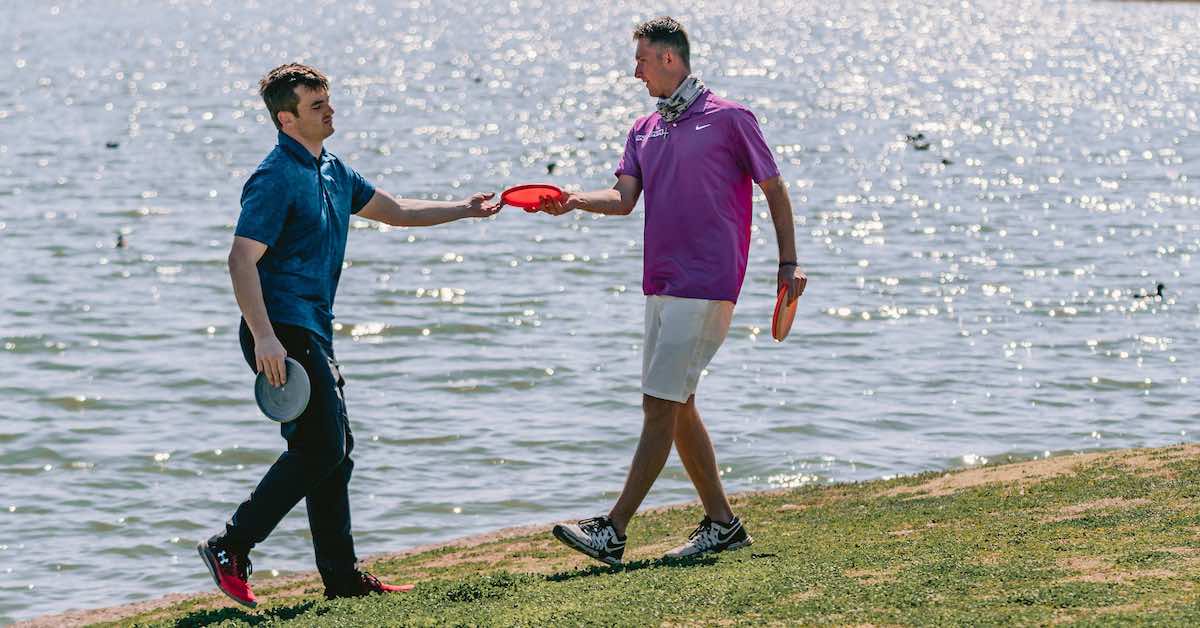 Many people only have small windows of time to squeeze a round of disc golf in, so showing that you respect the game and their time is a sure-fire tactic to help your card mates have a good time.

Here are a few ways to do just that:
Be helpful
Simple things like watching where another player's disc lands or helping search for a lost disc help keep the pace up and show you care (and also happen to be required by the sport's official rules).

Also, when the inevitable question "Who wants to keep score?" comes up, offer your services! We know of a pretty great app that can help you keep disc golf scores and stats.

You don't have to cater to your card mates, but supporting those you're playing with goes hand-in-hand with being a respectful player.
Show courtesy




Displaying proper course etiquette is a must when you want to show your card mates that you respect their game. The most basic rule is to simply be aware of what's going on around you and to end conversations or practice swinging if someone nearby is about to throw. But if no one has taught you all the ins-and-outs of course etiquette, don't worry! It's never too late to start learning and showing respect for players and your local courses. Check out our post on

disc golf etiquette

for a deeper look into this topic.

Know the rules
If you're playing in a league or tournament, knowing disc golf's rules will help you avoid a lot of potentially contentious situations. Some of the most important are how not to foot fault, how out of bounds as well as mandatories work, and how to take legal relief.

Have Fun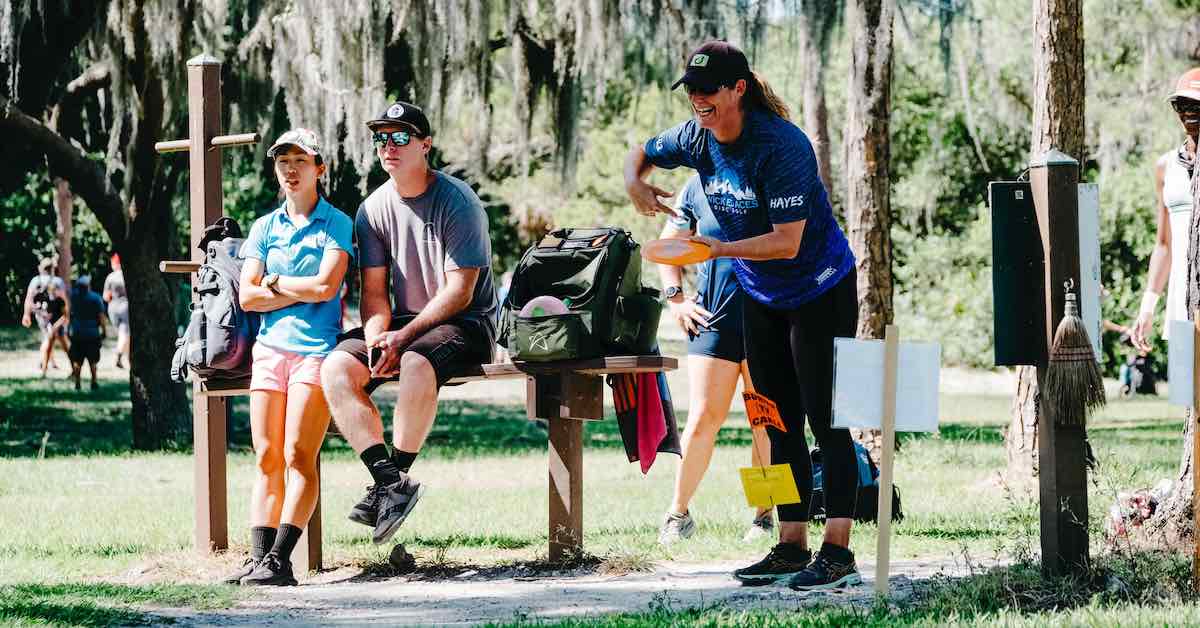 Know that while none of us are perfect card mates, we are all people who love the game of disc golf and people who make mistakes. The important thing is that we can all learn from our mistakes and come together as a community to support one another in a positive way. The best way to do that is by having fun on the course!
Learn to laugh at silly mistakes and brush things off.


Yes, we all hit that one tree on our drives, but at least we're all in it together! There's an art form to being competitive and passionate about the game without having angry outbursts at shanked putts or drives (guilty of both). Shrugging off a bad shot with a smile can show everyone that not only is it okay to have bad shots in disc golf – it's natural. 



Go easy on yourself




Everyone has bad rounds. If you're having an off day, try to not let your playing and your attitude towards your play affect the overall mood of the card. Dealing with someone constantly complaining, sighing, acting out, or who's noticeably stopped caring about the level of their play isn't fun for anyone. If you're feeling upset, try to channel the emotion into something more positive, like crushing your next drive! 



Following this advice won't just help your card's mood – it'll likely help you play better disc golf in general.
Good Luck Becoming the Best Disc Golf Card Mate You Can Be!
Turning into a great card mate doesn't happen overnight. However, if you read this article because you want to become a better card mate, you're already on the right path! Even if you utilize just some of these pointers next time you're out on the course, you'll be well on your way to being the person everyone wants on their card.