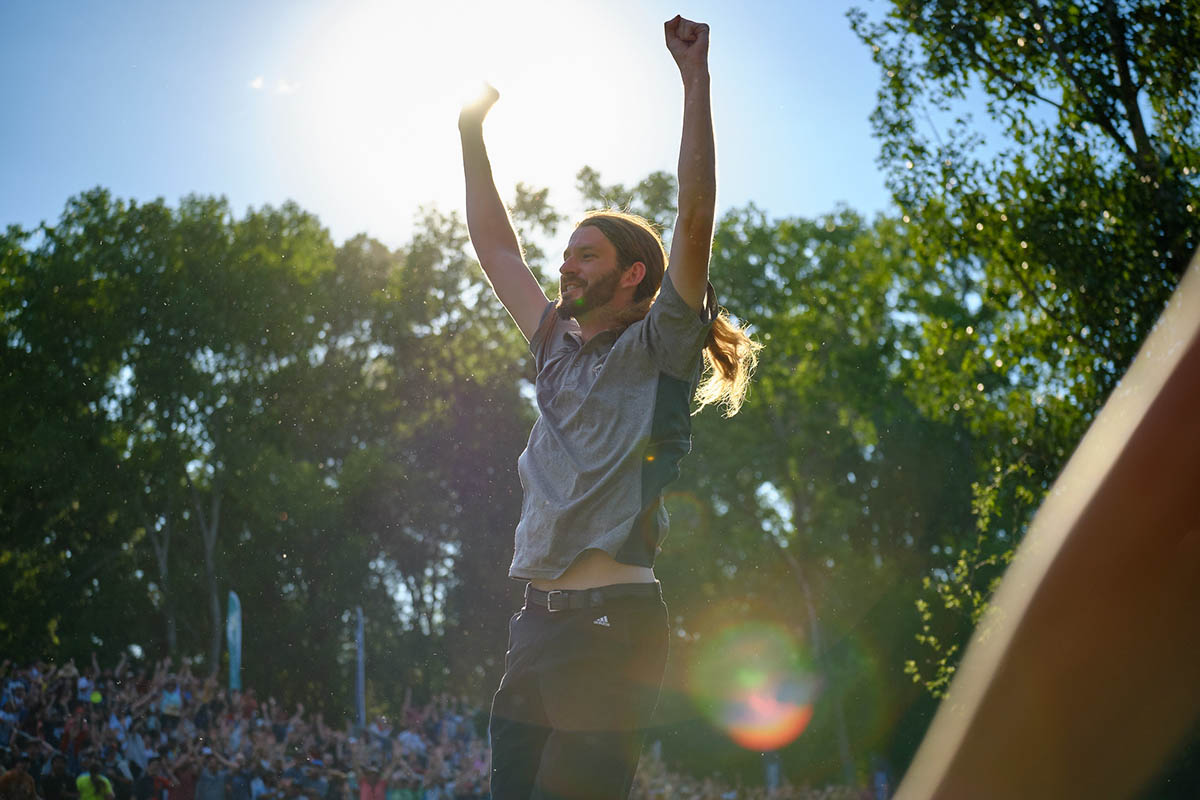 On Saturday I called home to my wife from Ogden, Utah, and struggled to put into words what I had just witnessed. One competitor, under pressure on the 18th hole of the final round of the PDGA Professional Disc Golf World Championships, needed a hero shot to stave off a five-time world champion and delivered a gorgeous, arcing turnover that stuck the landing and led to an improbable world title. I was nearly out of breath describing it, still coming off the adrenaline rush of those final moments.
That was at 2 p.m., and I was telling her about Catrina Allen's magical approach to The Fort's final green that sparked the Minnesota native's second career world championship. I distinctly remember telling her how confident I was that the Open division final would still be entertaining but likely not live up to the drama that had just unfolded.
Never have I been so happy to be wrong.
A mere five hours later, I was lucky enough to be in the media gallery 25 feet/7.5 meters behind James Conrad as he lined up the throw that made him a living legend, and I still cannot believe what I saw.
I've enjoyed my fair share of front-row seats to historic disc golf performances over the past few years, fortunate to document the sport first as a reporter for Ultiworld Disc Golf and later as the PDGA communications manager. I can still feel the chills from when Valarie Jenkins stuck the island on the Emporia Country Club's 16th to seal her fourth world title in 2016, and I may or may not have gotten a little misty seeing disc golf lifer Gregg Barsby take down a long-deserved championship in 2018. Last week was my first Pro Worlds in my new(ish) role as UDisc's marketing director and my first big event since the covid shutdown, and after spending the morning recruiting volunteer scorekeepers (unsung heroes of the tournament) I'd tag along with the lead group. My badge said "media," and I certainly did a little scrambling here and there to make sure our integration with the Disc Golf Network broadcast was running smoothly, but I'd be lying if I said I wasn't mostly just there for the good view.
After a week of long days in the grinding Utah heat, the final round was the payoff. But there was no way of foreseeing the jackpot we were all about to hit.
The tension was high throughout the day, as cottonwood pollen rained down on a cavalcade of cameras and throngs of spectators waited with bated breath for every dramatic putt and unlucky tree kick. After a gorgeous upshot on 17, I heard Conrad mutter to himself that he needed more space from the fray (and subsequently felt bad that I was close enough to hear him – I apologized later and he was a pro about it, of course). It was borderline chaotic, the exact kind of buildup that adds to the lore. After a long wait, Paul McBeth teed on 18 with a one-stroke lead, then Conrad followed. He ended up pinched behind a tree and out of position for birdie, seemingly running out of gas and locked into an admirable runner-up finish.
But this is sports, and sports rarely go as planned.
As players and media walked down the path to reach 18's fairway I heard Kevin Jones and Calvin Heimburg discussing Conrad's prospects. They debated if the hirsute Virginian had any chance at the three before settling on (and I'm paraphrasing here), "I guess he can lay up and then try to throw it in."
There's a reason these guys are pro disc golfers – they nailed the call.
Indeed, Conrad laid up his second shot, then Paul McBeth did the same, playing the percentages for a clean par that, combined with his lead entering the hole, would net him world championship number six. I was already crafting captions for congratulatory Instagram posts in my head, ready for the modern era's greatest player to make his case for GOAT status yet again.
And then Conrad did the unthinkable. He lined up the turnover with his Axiom Discs Envy and let fly as a nearly silent gallery (save a couple "Get in the hole!" guys) waited for rapture. The crowd was rewarded seconds later as that yellow and blue disc crashed into the lower right side of the chains and we all, for a moment at least, ascended to the heavens.
Leaping up and down. Screaming. Dropped jaws. All the expletives you could imagine. There's a reason Conrad's feat was quickly dubbed The Holy Shot, and it's not just because of his Christ-like visage; if you were religious and in that gallery, you might have some sins for which to atone.
It was a once-in-a-lifetime shot that generated a once-in-a-lifetime reaction, a pure explosion of joy, disbelief, celebration, and chaos. Case in point: Our own UDisc Dan turned into Michael Jordan's Jumpman logo. Heimburg's programming temporarily short-circuited. At the same time, I shared a random hug with James Proctor, a player I've spoken with plenty of times (we even share a hometown) but am certainly not on hugging terms with. 
That's just the kind of moment it was. We all shared a collective piece of history even if all we were really doing at that moment was trying to slow our heart rates. None of us could believe it, yet we all had to because the tournament wasn't finished.
McBeth completed the hole, then a brief respite to tally final round scores. Jones sat under the scorer's tent, exhausted from his own heartbreak on hole 16 and apoplectic at what had just happened. Craziest thing he'd ever seen. 
From there, we hiked up the hill to begin the playoff on 16, a 319-foot/97-meter, downhill par 3 island green that Conrad had aced three days prior. McBeth sat on a bench, closed his eyes, and took several deep breaths; in my six seasons covering professional disc golf, it's the most focused I've ever seen him. Conrad stood in the sunshine and fanned himself with his disc, mentally preparing for the second most important shot of his life.
You all know how it ends. Conrad pinned the shot, McBeth went out-of-bounds, and history was written. If anything, it felt like the culmination of destiny; McBeth was nearly flawless during the week in Utah, and particularly so in the final round, but he came up against a chain-hunting buzzsaw hellbent on capturing glory. There's a limit to how long you can hold off that kind of momentum, and McBeth, champion that he is, battled for as long as he could.
After Conrad guzzled champagne and hoisted the tournament's appropriately grandiose train bell trophy, I said a few goodbyes, declared I was retiring from professional spectating, then hopped in the car and headed to the airport, eager to get home to family and flying high on the insanity of the day. I called my buddy Mike, who had been watching from Portland and texting me as it all went down. We both nerded out about the improbability of the finish and the fact that I'd just seen history, both barely able to slow our thoughts into comprehension.
The next morning I woke up in my own bed, feeling hungover even though I hadn't had a drop to drink. It was the price to pay, the comedown from witnessing such an amazing feat, but that feeling quickly melted away. All I had to do was open up social media to relive Conrad's miraculous throw and absorb the cacophony of the crowd; it was an instant salve to my aching head.
In the days since I have watched the shot from every angle possible, rewatched it, consumed all the memes, and am still shaking my head. ESPN. Uproxx. Axios Sports. Jomboy ("open mouth festival" is perfection). Who knows where else? If the Philobatross of 2016 was the throw that broke disc golf into the mainstream consciousness, no doubt this heave from disc golf's own Amen Corner – first Cat's Corner, then Conrad's Corner (thanks, r/discgolf) – would be the one to cement it there. The stakes of the moment, the pressure, the size of the gallery, the March Madness-style flood of spectators onto the fairway – all of it further demonstrated professional disc golf's legitimacy. 
For those who have pushed the sport for decades, just waiting for the next big break, I can only imagine how rewarding this moment must feel. For those just coming aboard, let's hope this is just the beginning. Because even if we never experience something quite like the Holy Shot ever again, there's no telling where disc golf can keep going. We all just have to channel our inner James Conrad, focus, and believe.