'Release Point' writers Ian Cleghorn and Alex Williamson both contributed to this post.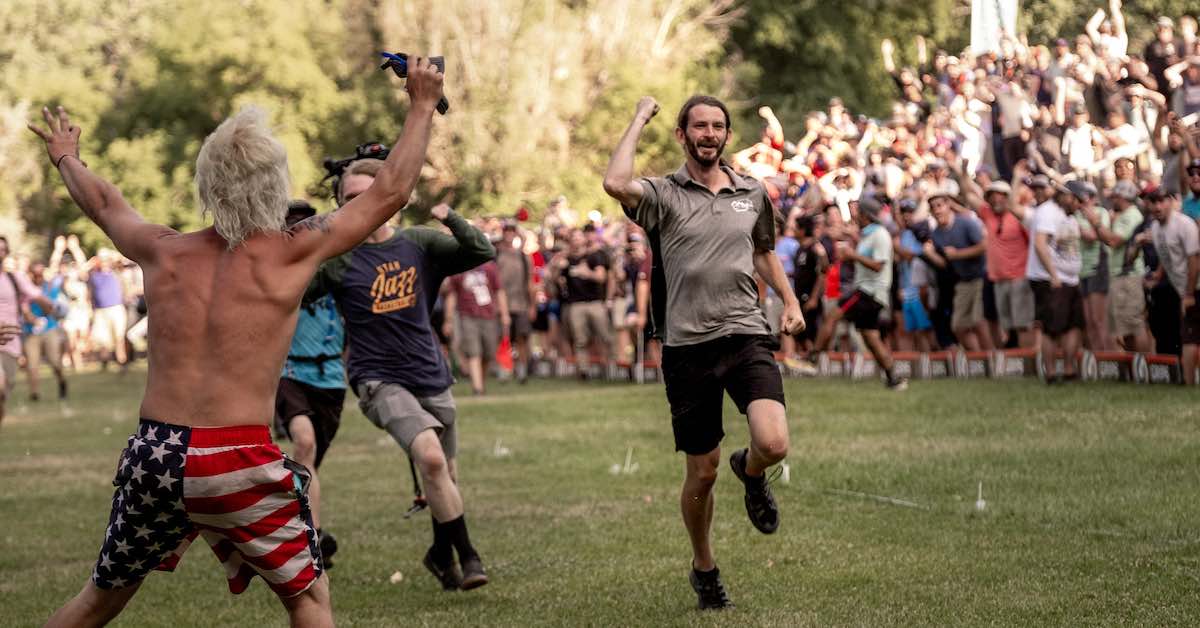 Throughout the years hundreds of incredible moments have been captured by crews filming professional disc golf. Here we've gathered 11 shots that grabbed the attention of disc golf lovers – and, occasionally, much broader audiences – and quickly became parts of the game's lore.
Keep in mind that these videos aren't ranked in any way. These are simply important shots that have become common reference points in pro disc golf.

This list is also not the end-all and be-all. If you found this article through social media, we'd love to see your suggestions there for what other shots could be included in future posts like this.
James Conrad & "The Holy Shot"

We know this could sound suspect coming from a disc golf blog, but we don't think we're exaggerating when we say this shot may be one of the most amazing accomplishments in sports that you will ever see. All shots in this list that aren't putts had pretty large elements of luck involved. There was no pressure to be pinpoint precise. For James Conrad, that wasn't the case.
On the last hole of the 2021 Pro Disc Golf World Championships at The Fort disc golf course, Conrad needed to get his disc into the basket (about two feet/61 centimeters wide) from 247 feet/75 meters – or a little more than 2.5 NBA basketball courts – away. If he didn't, hopes of his first world title were all but gone.

Here's the set-up:

Conrad was down one stroke to the five-time and reigning world champion Paul McBeth entering the last hole of the tournament. The par 4 hole was designed to create score swings, so gaining that stroke didn't seem all that unlikely at first. Both players had to deal with a water carry, guardian trees waiting to kick discs in the out-of-bounds (OB) water, a mandatory forcing players to attack the basket with a shot moving from left to right, and OB lines laid by the course designer that created very tight landing zones, especially around the basket.

Here's a look at the hole courtesy of Gatekeeper Media (this is just a hole preview, not the shot):



Despite all the possibilities for errors off the tee, McBeth made none of them. His drive did land perilously close to OB, but he stayed in-bounds in an ideal spot. Conrad, on the other hand, nailed a tree and bounced to a position that pinned him against the water, forcing him to play a lay-up shot that gave him nothing more than a chance for a miracle birdie throw-in.

Likely expecting no such miracle, McBeth opted to play safe. Rather than risk going OB on an attempt to make the green, he laid up to an area where he would have an easy upshot that would lead to a simple par putt. That left Conrad with no choice but to run the basket hard for birdie if he wanted any chance at making up a stroke on McBeth.

Back against the wall, here's what Conrad did:
Given the distance of the throw, how intentional it was, and the amount of pressure there was on Conrad to make it, we feel no reservation saying this is the best disc golf throw ever caught on film. It was made even more poignant because it forced a playoff for the world title that Conrad won, marking his first-ever world championship.

And the throw's "holy shot" nickname? It has stuck because it works on multiple levels. James Conrad's initials are "J.C." and his face is very similar to many artistic depictions of Jesus Christ. Additionally, the phrase is just one letter off from an expletive people might have shouted when they first saw the shot.
Kevin Jones Falls on His Ace
After Kevin Jones released his drive on the 500-foot/152-meter par 3 hole 16 at Maple Hill in 2020, no one was thinking disc golf history was in the making. Jones had taken a hard fall on the slippery tee pad, and all present were checking to make sure the professional athlete hadn't just suffered a major injury while playing a fun, filmed skins match.

But Jones seeming to be alright and the unexpected sound of chains below changed everyone's focus in a hurry.

You can take a look in this clip from GK Pro:


This quickly became one of the most-watched disc golf throws of all time, making news in the U.S. and abroad (including the U.K. and Malaysia). For a more in-depth breakdown on what went into filming the shot and how widely it was viewed, check out our article "The Stream Engine: Making The Most Of Kevin Jones' Ace."
The Philobatross
Before "the holy shot" and Kevin Jones' falling ace, there was the Philobatross – the first disc golf shot to truly go viral.
During the 2016 Beaver State Fling, at the Milo McIver disc golf course near Portland, Oregon, Philo Brathwaite came to the par 5 hole 6. What he was about to do on the 850-foot/259-meter hole would forever turn it into "The Philo Hole."
For his first shot, Brathwaite threw a long, straight shot with a little fade at the end. From that landing zone, Brathwaite blasted a monster S-curve with an Innova Destroyer that crashed into the basket. Needing just two shots on a par 5? That's an albatross, folks.

The video below includes a flyover of the hole and Brathwaite's first shot before the fireworks start.


Filmed incredibly well by Central Coast Disc Golf, the internet and cable channels went wild for the footage.

The shot was on ESPN, CBS Sports, and NBC, and it currently has over 1.5 million views on YouTube. The physics of the shot were even broken down on a television show called Outrageous Acts of Science on the Science Channel. If any throw could be touted as, "The First Disc Golf Shot Heard 'Round the World," this is likely it.
Catrina Allen's Worlds-Winning Upshot
The 2021 Pro Disc Golf World Championships (site of "The Holy Shot") were not just exciting in the Open division. Open Women had its own battle that went down to the wire. Like Conrad, Catrina Allen was off the leader of her division – Paige Pierce – by one stroke when she arrived at 18. Unlike Conrad, her drive off the tee left her in a position to attack the green from her second shot.
Her goal was simply to get in birdie position to put pressure on Pierce to at least par.

But, as we mentioned in our look at Conrad's shot, going for the green at The Fort on 18 was no easy task from distance. With the pressure of winning a world championship on her back, Allen had to execute a highly technical shot very precisely to make Pierce sweat.

Here's how she did:



The sweeping anhyzer just barely stayed in-bounds, but it was enough. Stunningly, due to unforced errors on Pierce's side, Allen never even had to make her birdie putt to win. It was clear Pierce would double bogey at best before Allen putted, allowing Allen to lay up and tap in a par to earn her second world title.

Though Pierce has dominated the ongoing Allen/Pierce rivalry, this shot delivered an unexpected and huge tick to Allen's side of the tally sheet and will likely be referenced for years to come when the two inevitably battle in the future.
2019 USDGC Albatross by Nikko Locastro
Nikko Locastro is a player known for highlight moments, with his flamboyant personality often matching his flamboyant outfits. In 2019, he found himself on lead card during round three of one of the most prestigious events in disc golf: the annual U.S. Disc Golf Championship held in Winthrop, South Carolina. Up until the 888-foot/271-meter par 5 hole 13, he was on a roller coaster and sitting at 3-over par for the round. 
For his first throw, Locastro hung a low, wide shot over the out-of-bounds (OB) sidewalk, but faded back in bounds quite a ways down the fairway. Here's what happened on the second shot:



Locastro's run to and from the basket after the shot are nearly as iconic as the throw itself, and even though this was recent, it's sure to be on people's minds every time top cards reach this hole from now on.

Another good piece of trivia is that one of the commentators in that video from SpinTV (the one who called the albatross a "double eagle") is living legend Ken Climo, a player known simply as "The Champ." He won 12 World Championships in the Open division and three in the Masters 40+ division. Climo's presence on commentary is rare and makes Locastro's moment even more memorable.
Paige Pierce's Last-Second Nick Hyde Memorial Win
At the 2019 Nick Hyde Memorial, Paige Pierce came into the last hole of the nine-hole final round down a stroke to Catrina Allen. An 858-foot/262-meter par 5, hole 9 hadn't been played under par by any Open Women competitor in the tournament. However, being behind gave Pierce no choice but to get aggressive.

Going big off the tee, Pierce threw a low, driving turnover shot, hitting the ideal landing zone and far outdistancing her competitors:



Allen's drive was less successful, hitting a tree to stop it short. She then opted to play for position with a mid-range. 

With Allen's position meaning she would birdie at best, it opened the door for Pierce to capitalize on her perfect first drive. She could go for an eagle and hope for either a playoff or outright win: 
Pierce sunk her putt while Allen parred, creating a two-stroke swing that was one of the most exciting Open Women finishes filmed in 2019 or, really, ever. It was a big statement in a year that saw Paige Pierce make many others, including eventually winning her fifth World Championship and making a big sponsor switch.
The Putt to Go 18-Under 
Paul McBeth, a multi-time world champion and long one of the world's best disc golfers, is no stranger to incredible rounds, but his performance during round two of the Great Lakes Open in 2018 is generally regarded as one of the greatest the sport has ever seen. After the first round, McBeth was at 11-under par tied with Dave Feldberg and Kevin Jones. Any disc golfer on the Pro Tour would be ecstatic after a round like that.

McBeth, though, clearly wasn't satisfied.
In the next round, as McBeth approached hole 18, he was 17-under par. The tension of whether he would reach the mythical "perfect round" status of 18-under was palpable. His drive left a lot on his plate: a putt of around 50 feet/15 meters.



That putt is what turned a spectacular round into a legendary one. A highlight reel of the entire round even got a feature spot on ESPN.

The full round is worth a watch and is available with commentary from McBeth himself from JomezPro.
Amazingly, McBeth went 18-under again at a different tournament a year later. But, though incredible, we did the math, and his performance at GLO was statistically way less likely.
"Simon's Corner" at the 2016 Konopiste Open
During the Disc Golf World Tour in 2016, one stop was the Franz Ferdinand disc golf course for the Konopiště Open in Czechia. With two holes to play, Simon Lizotte was in third, two strokes behind a tied Paul McBeth and KJ Nybo. Hole 17 was an uphill, 574-foot/175-meter par 4, and, as commentator Jamie Thomas said just before power-thrower Lizotte teed off, "If there's a hole made for Simon to reach it over everybody else, this is the one."
Lizotte's first throw was a gorgeous anhyzer that outdistanced every other player on the card and came to rest at the right tree line, leaving a slightly obstructed approach. But with eagle being his only chance at pushing for the win, Lizotte didn't let slight obstructions stop him from running the basket:



The clutch eagle from Lizotte put him just one stroke back of both McBeth and Nybo on hole 18. Lizotte then birdied 18 while they both parred, forcing a three-way playoff. Almost too perfect to believe, the playoff layout went from hole 1 immediately to hole 17, and Lizotte clinched the 2016 Konopiště Open title on – where else? – hole 17.

In later iterations of the Konopiště Open, the spot where Lizotte's threw his eagle in came to be known as "Simon's corner."
Paige Bjerkaas' Playoff-Winning Putt at 2019 LVC
After winning the 2018 Worlds, Paige Bjerkaas (now Shue), came into the first big event of the 2019 season, the Las Vegas Challenge, looking to continue her success. She put up strong numbers throughout the tournament, but a bogey on the final hole allowed competitor Catrina Allen to force her into a playoff for the win.
The pair returned to hole 1, a straight 393-foot/120-meter par 3 with a basket nestled among some small hills. In the previous two rounds on the course, Bjerkaas had never birdied the hole while Allen had carded a par and a bogey.

Off the tee, Bjerkaas threw a long flat drive which landed just outside circle 1 and left a long look for birdie while Allen failed to match her precision and faded out left early. Despite a somewhat treacherous green, after Allen missed her putt, Bjerkaas appeared to have nothing on her mind but ending the tournament then and there.


Though the LVC win didn't signal a repeat standout season for Bjerkaas, it was a memorable start to the season in Open Women. The putt and Bjerkaas' run following it to the basket are firmly enough embedded in pro disc golf fans' psyches that they were parodied in a recent video poking fun at the distinctive putting styles of various pros.
The Birth of "Raptor Legs"
2016 was a great year for Ricky Wysocki, in which he won his first of two consecutive World Championship titles. But one of the most memorable Wysocki moments of all time came from the final round of the 2016 Masters Cup.

After carding a birdie on hole 17, Wysocki entered the last hole – a 485-foot/148-meter par 3 – tied with Paul McBeth. Teeing off first, Wysocki's drive landed pin-high but quite a bit right. McBeth threw a similar shot that landed slightly closer than Wysocki's.
With McBeth in range for a possible birdie, Wysocki lined up a roughly 70-foot/21-meter putt knowing the tournament could be on the line with The Disc Golf Guy's camera trained firmly on him:


After Wysocki's monster make, McBeth banged his putt off the band – a dramatic way for Wysocki to earn his second National Tour win of that month. 

Also important is that the way Wysocki ran to the basket in that clip, lifting his knees up in a dinosaur fashion, became a signature move of his now called "Raptor Legs." Look for him to do it whenever he makes a long putt in big moments.
Eagle McMahon Makes an Island
One of the most (in)famous and literal island holes in disc golf is hole 16 at Emporia Country Club disc golf course in Emporia, Kansas. And at the 2018 Glass Blown Open, it provided exactly the type of dramatic moment it was designed to.

One stroke behind both Drew Gibson and Ricky Wysocki on the lead card of the final round, Eagle McMahon watched both players in front of him find the water. If he birdied, he would likely take possession of the lead at one of the biggest tournaments of the year.

In the first two rounds, McMahon had thrown forehand hyzer shots, barely being ruled out in round two. However, he decided to switch gears in that moment and, saying "Alright, here we go Simon," he opted for a towering backhand hyzer line that cardmate Simon Lizotte had just parked the hole with:



McMahon successfully landing on the island and making the subsequent putt gave him a lead he protected until the last hole, earning him a huge National Tour win (his second that year). Perhaps what made the shot seem even more important was the statement it appeared to make about McMahon as a player.

Before 2018, McMahon was seen as an extraordinarily talented youngster who had a tendency to be erratic or lose focus, especially in big moments. Him being able to execute that last-second audible on a huge stage showed a poise and determination that was largely lacking before – traits that made him a dominant force in 2018 and beyond.
What Else Should We Highlight?

With thorough coverage of multiple disc golf tournaments per year being a recent development in the sport, we know these videos tend to skew toward the contemporary. Additionally, like we said at the beginning, this list is admittedly far from comprehensive. If you think a shot you've seen on film deserves to be featured in a future post, let us know in comments on social media or send an e-mail to releasepoint@udisc.com.