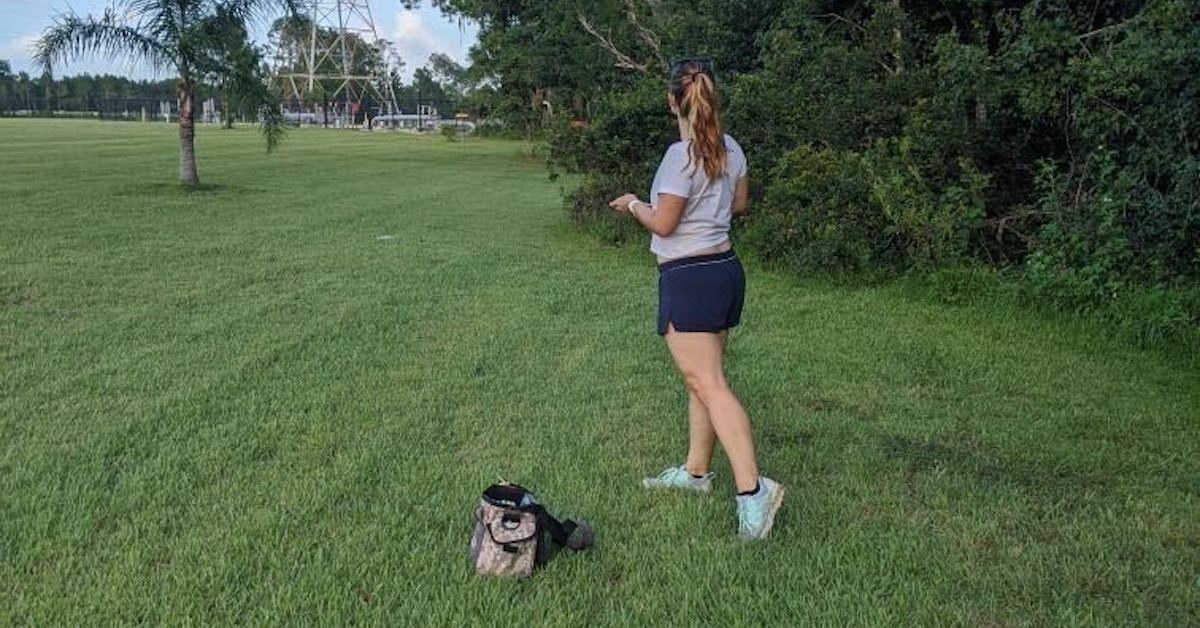 Lauren Campbell has a map of her local disc golf course pinned to her office wall.
While trying to virtually work on her doctorate in psychology more than 700 miles away from her college due to the ongoing global pandemic, Campbell often finds herself studying the course layout and admiring the check marks next to Hole 6 and 15.
A trio comprised of herself, her husband, and another friend mark off each hole they've birdied for a friendly competition.
If you'd asked Campbell at the beginning of the year if she would care about a challenge like this, she would have laughed you off. At 29, she had never thought of herself as an athlete and was never heavily invested in sports.
But after COVID-19 hit, upending what is normal, fun, and fulfilling with one fell swoop, Campbell gave disc golf a shot just to do something outdoors without a mask on. She got unexpectedly hooked and began playing with her husband three to four times a week.
"Not gonna lie—I kinda suck still," Campbell said before motioning toward the check marks on the map. "But after a few weeks I got my first birdie and then another one.
"I'm in the game now."
Popping in a Pandemic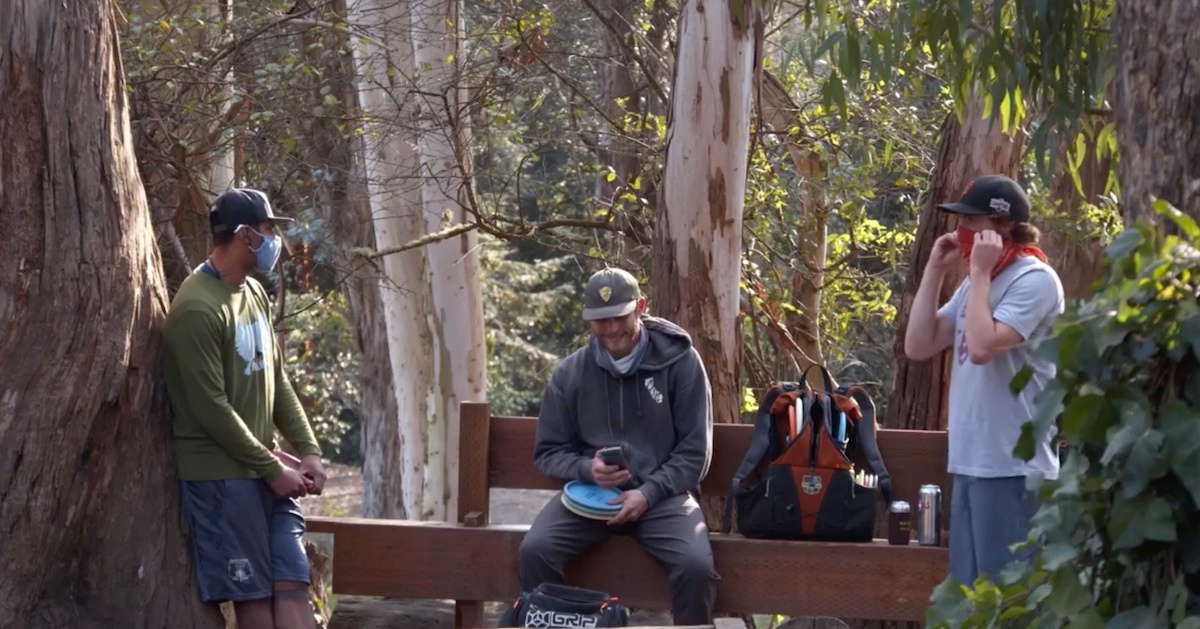 Campbell is far from alone in her new obsession. Like other forms of outdoor recreation, the pandemic has spurred a wave of new people to try disc golf. We've seen signs of this ourselves at UDisc, and disc sellers like Infinite Discs have been noticing major upticks in interest and sales.

The Professional Disc Golf Association has also seen a spike in membership numbers despite not sanctioning competitions from mid-March to mid-May of 2020.

"This year has shown that disc golf is thriving despite the pandemic," said PDGA spokesman Matthew Rothstein.

Around Dallas/Ft. Worth, Texas, one of the best metro areas for disc golf in the country, James Blanton just has to go to his local course to see the change. Blanton said it was rare on weekdays before the pandemic to see another person out playing. Now it's surprising if there aren't a dozen or so players at any given time.

"Seeing all the new faces out on the course is one of the only good things to happen during the pandemic," Blanton said. "It's cool to think of how this time period could impact the sport for years to come because of how many people have taken it up or jumped back in to playing."

As president of the Chain Bombers, one of the larger disc golf clubs in Texas, Blanton said the amount of new people trying out disc golf for the first time has been staggering, and it's not just on his local course, either. 

Blanton described how after the first few initial tournaments during March and April were canceled, events have filled up faster and with more people than ever before. Chain Bombers' Facebook page has also grown exponentially as hundreds have joined it since March.
Blanton said he's heard a few people complain about the full courses and more competitive fields, but for the most part the community has responded with open arms.
"I think we all want to be good stewards because this is a game we love," Blanton said. "This is a community that is very accepting and open and we are just excited about the growth."
Stress Relief & Rekindled Passion
One reason so many new players are turning to disc golf is that it provides a much-needed break from work and the barrage of often dismaying news regarding the state of the world. That's the case for Randi Nichols, who said the stress of the pandemic combined with the opinions of friends and strangers alike made him tune out completely. 
Never one for camping or hiking, Nichols shocked his wife Katelynn when he started playing disc golf in March right as COVID-19 was becoming a worldwide crisis.
"I have always been super outdoorsy and he never was," Katelynn Nichols said. "So when I saw he was into it, I wanted to jump in with him."
Now the duo, known as the DiscGolfCouple on Instagram, has a new following and mission as they set out to play every course in their region of Pennsylvania.
It's not uncommon for their posts to show off their inexperience as they laugh off their shanked drives and Randi's frequent trips to retrieve his disc from the creek. They've gathered more than 500 followers on Instagram in just a few short months and have found not only the stress relief they were looking for but also news friends to share it with.
"We just wanted to be ourselves and people have really responded to that," Randi Nichols said. "We will be out on the course now and we'll have people come up to us to tell us they love our posts or that they want to play with us. It's just crazy that people love how terrible we are but also see how excited we are for the sport."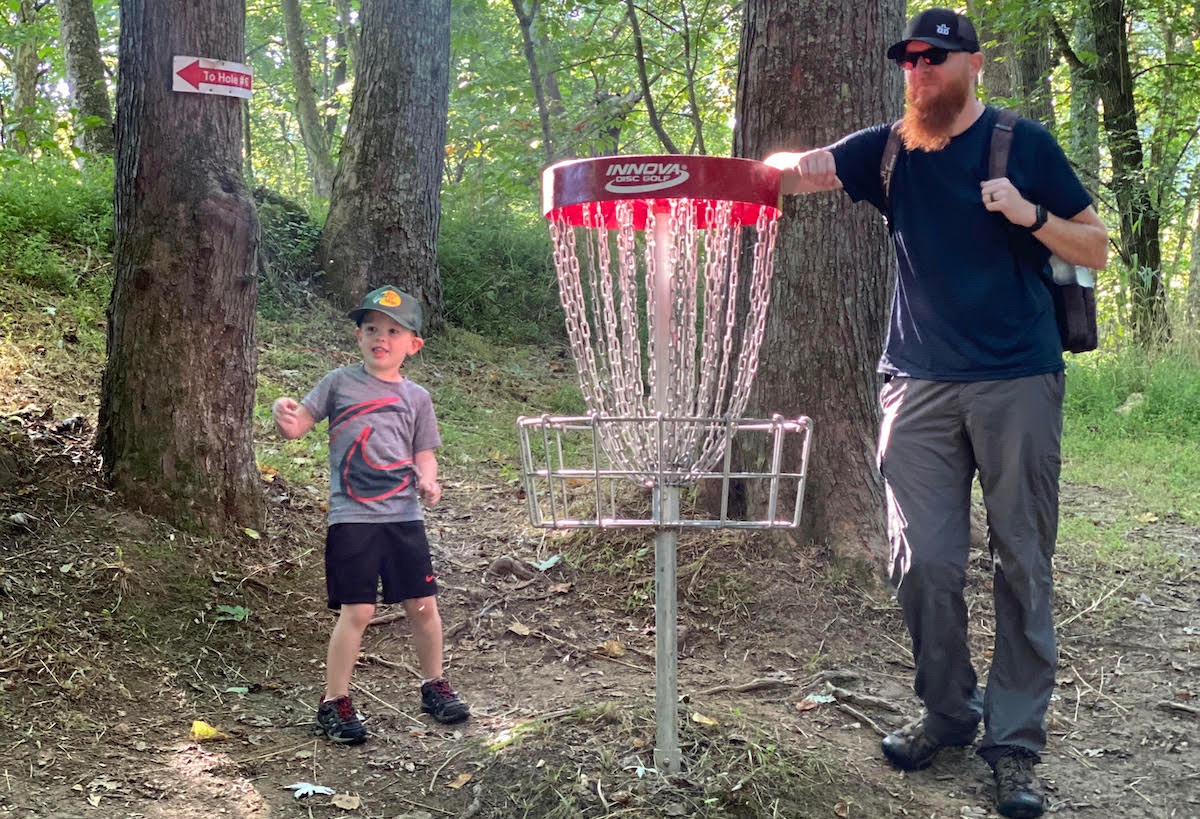 Over in southern Ohio, Daniel Owsley thought his disc days were behind him. But while stuck at home after his barbershop business closed due to the coronavirus, his four-year-old son discovered his old bag of discs.
"He saw the bright colored discs and couldn't wait to get them out and play with them," Owsley said. "It was all over from there."
Owsley, who last played regularly around 2010, found that with a little time off he had gained a new perspective when it came to hucking. No longer was he trying to throw as hard as he could, but instead he enjoyed learning how his discs flew from the myriad of YouTube videos and online tutorials that have become available in the decade since he last played.
But his favorite part about playing again has been the time spent with his son.
"It's been something my son and I have bonded over," he said. "He'll hopefully continue to want to play as he gets older."
A Little Control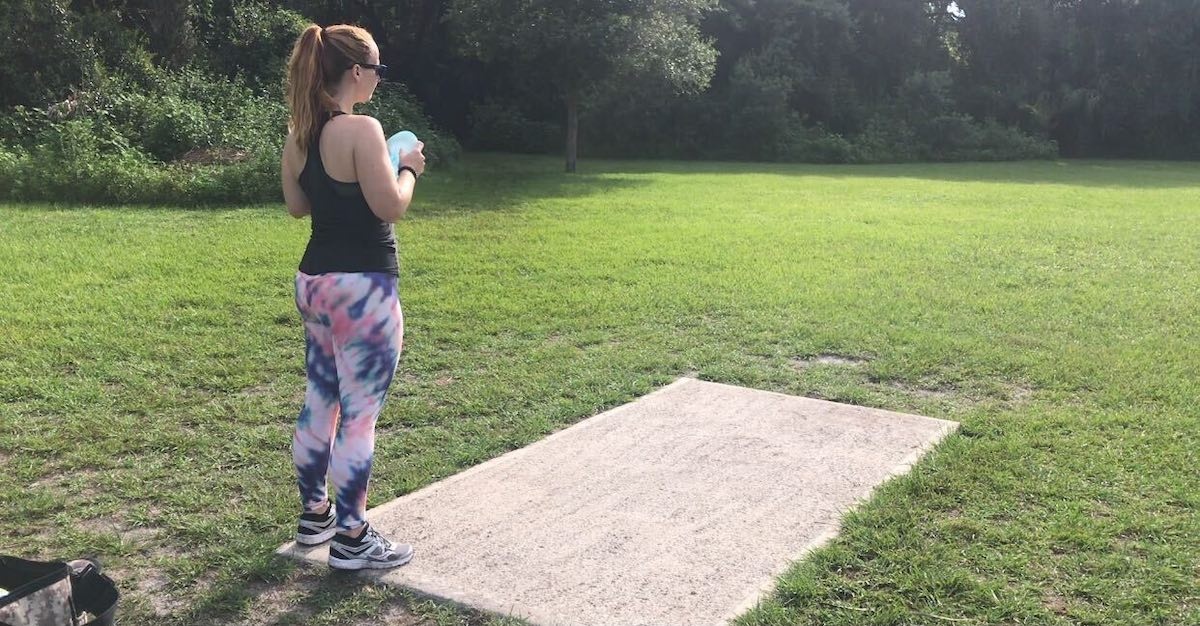 As for Lauren Campbell, whom we met at the beginning of this piece, she knows for sure that disc golf is something she will continue with. She already has her PDGA membership and plans to play in her first tournament soon.
Perhaps her favorite part of the game is how she can throw a disc, study its flight, and then work to master the movements that will make the disc fly just as she desires. In a time when so much seems out of her power, being able to take this bit of control keeps her coming back for more.
"I love the highs and lows and investment of time," she said. "When you throw it again and again and then the disc actually does what you wanted it to do...that's magic."