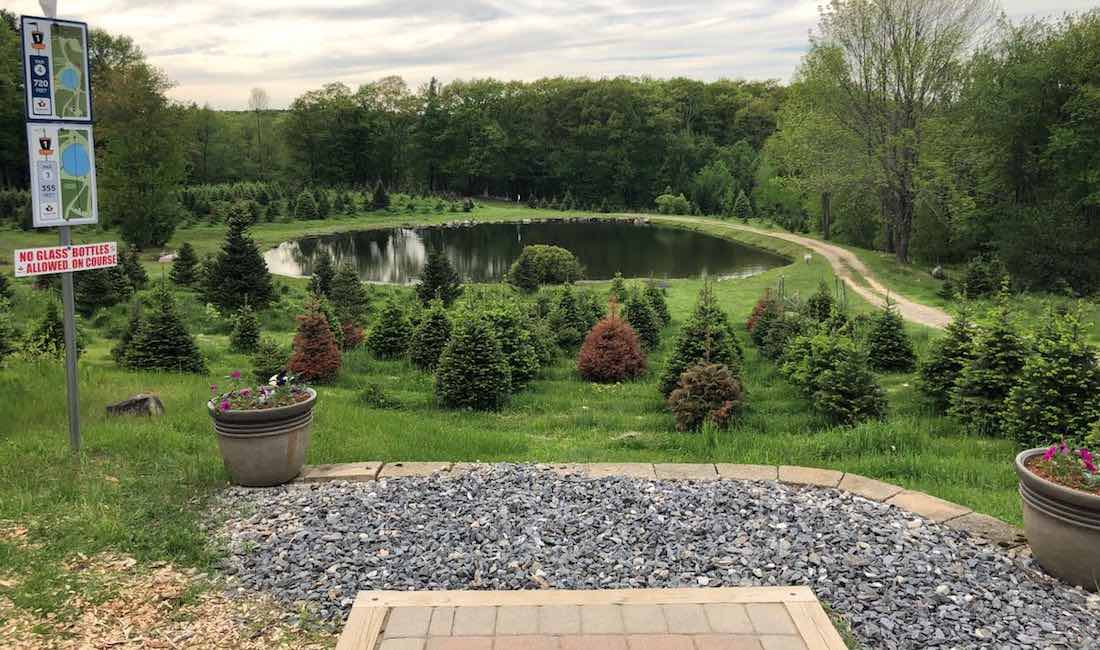 Maple Hill Disc Golf in Massachusetts ranks second among the world's top 10 disc golf courses, and it plays host annually to one of the most anticipated elite disc golf tournaments in the world. Many of the holes have water hazards, like the iconic pond on hole one, and even the most skilled disc golfers can end up in the drink at one point or another during the four-day tournament. 
Luckily for them, Mark Verrochi is there, snorkel in hand.
Nearly every year since 2007, Verrochi has traveled from his home in San Diego, California, to brave the depths during Maple Hill's big event and retrieve lost discs. The first year he simply wanted to help however he could. He ended up diving the water hazards and has embraced that role ever since.
"I try to get there at least a day early," Verrochi said. "I basically snorkel in the ponds from Wednesday to Sunday and try to put 10 to 12 hours in the water about every day."
Murky Water, Clear Results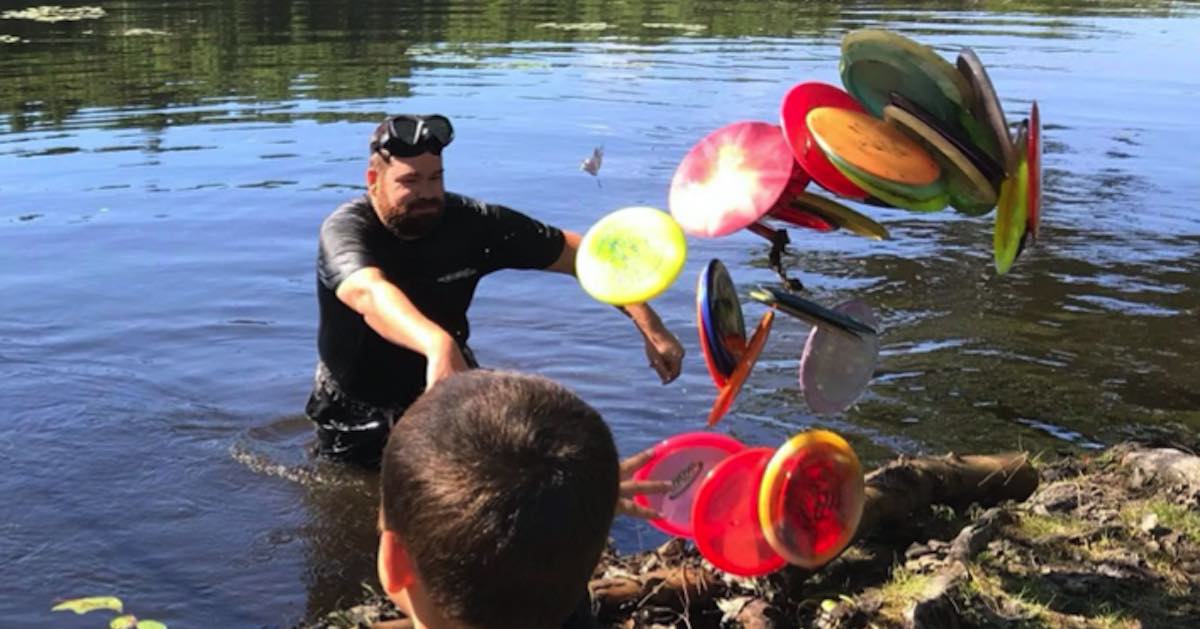 The water is murky, full of sticks and stumps, Verrochi explained, so finding discs is done by feeling around with hands and feet. The mask he wears is mainly protection from the snakes and leeches.
"Not the most ideal swimming conditions," he said wryly.
With over a decade of experience, Verrochi has disc retrieval down to a science.
"Over the years there were, on the low end, maybe 500 discs," he recalled. "On the high end, there were probably 2,000 found in four days on the water."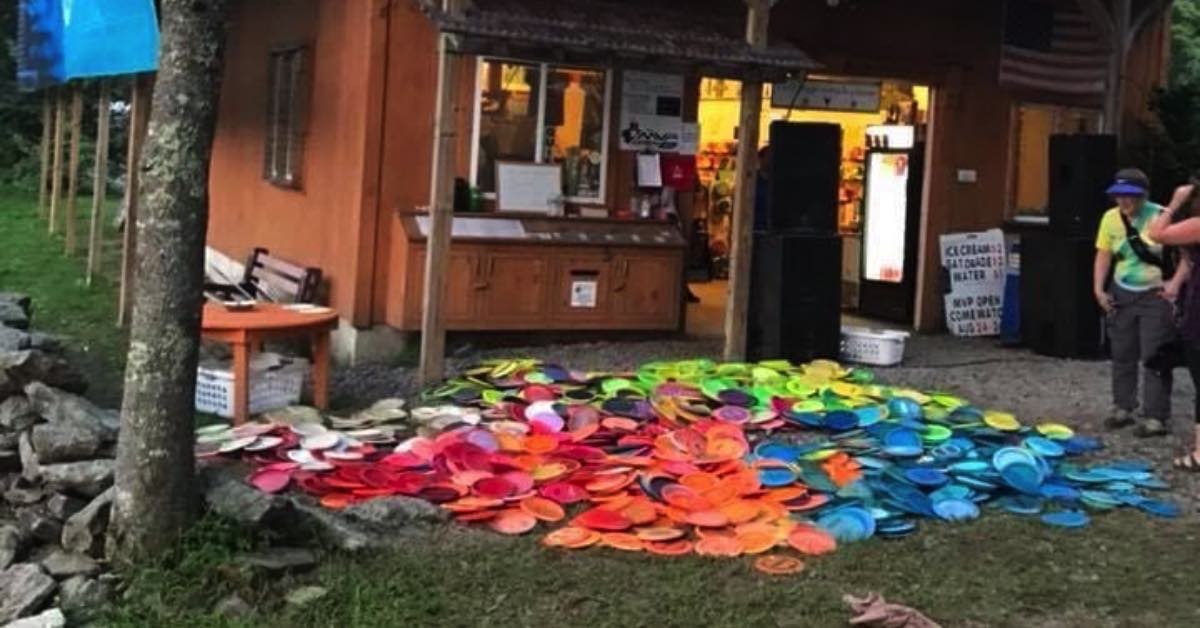 Found discs are collected by tournament staff, and any plastic not claimed by the end of the tournament is diligently catalogued and stored by Maple Hill. Every disc with a number gets a text and is shown for 90 days on their website's lost and found.
The Perks of Being a Disc Diver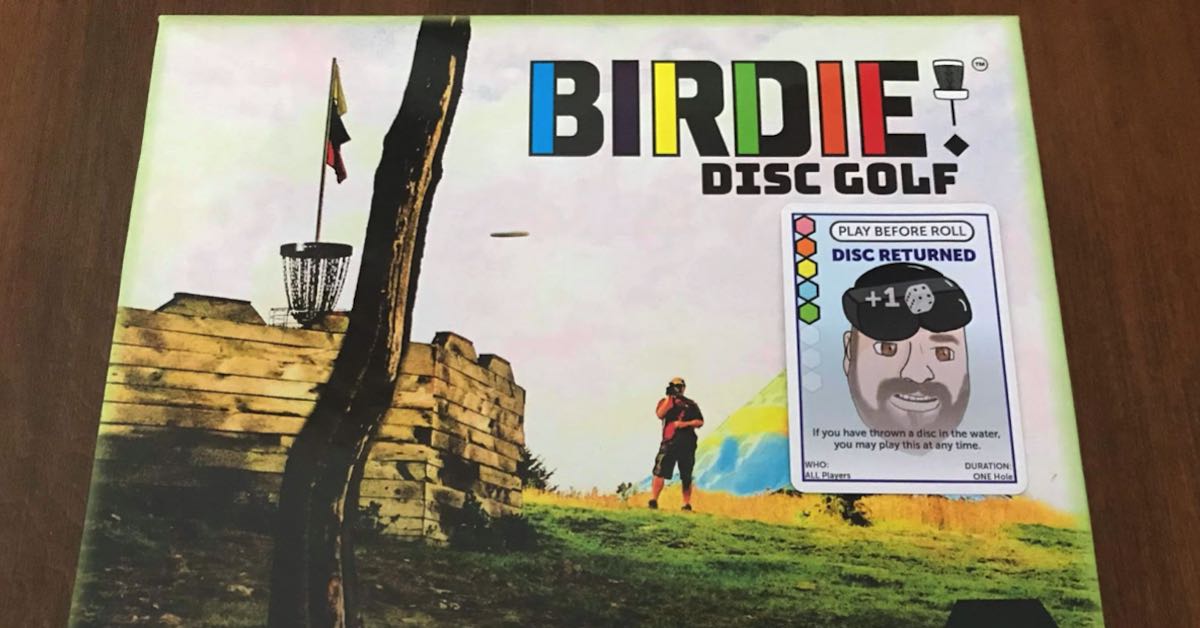 Verrochi has also played in Maple Hill's annual tournament. His best showing at the event (then known as the Vibram Open) was in 2009. He had thrown a great first round and was one stroke ahead of then-reigning champion Avery Jenkins. Round two they were on the same card.
"He beat me by like 25 strokes that round," Verrochi said, laughing. 
It was memorable even if Verrochi didn't end up making the cut for the next day.
Verrochi's contribution hasn't gone unnoticed by the tournament director. In 2013, he received the Big Dog Spirit Award, given to players who exemplify the spirit of disc golf, and in 2018 he was hired on as a staff member for the tournament.
"That was unexpected," Verrochi said. "But it helps cover the cost to get across the country, so I appreciate it."
There are other perks to becoming a mainstay at such a prestigious event. He's gotten to know a number of pros, and you can occasionally see his head pop out of the water during the video coverage – usually holes eight and fourteen.
"One year I did a putting contest, and I was in the finals against Jay Reading, which was pretty awesome," Verrochi said, referring to a disc golfer better known as "Yeti" renowned for his putting prowess. "Yeah, he killed me, but it was fun."
Verrochi also helped Steve and Todd Dodge playtest their Birdie! Disc Golf board game, which is based on the hardest layout at Maple Hill. As a thank you, the Dodges made Verrochi his own card that (what else?) returns a disc that was lost in the water.
Making a Difference on Land, Too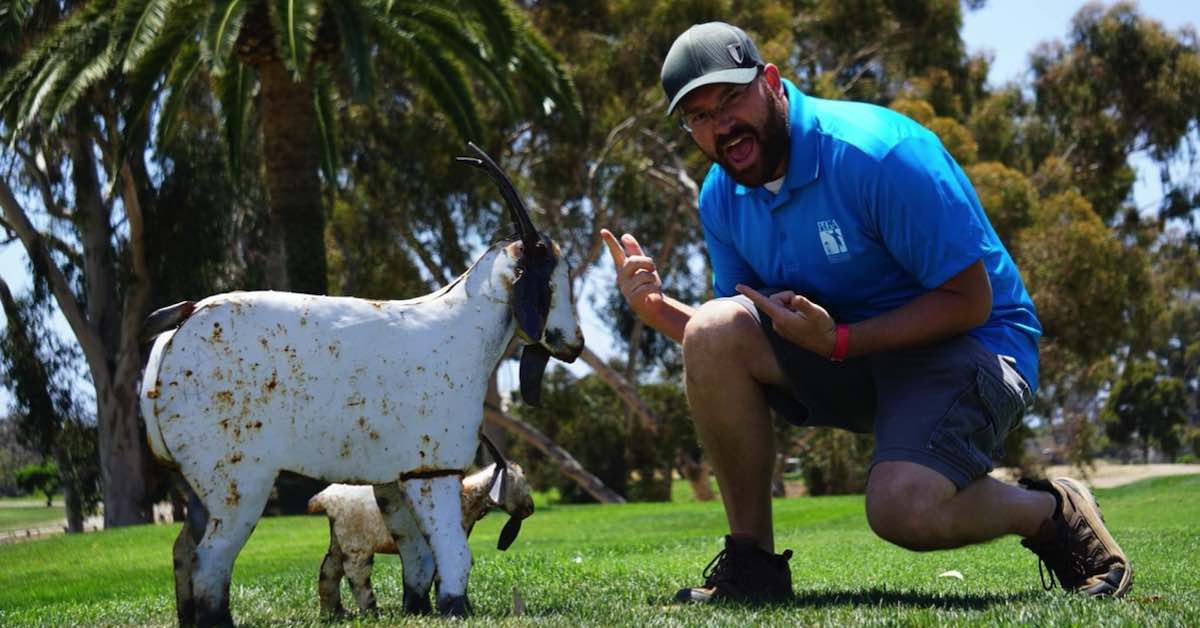 Verrochi isn't just a volunteer and player. He has been sponsored by DGA since 2008 and runs tournaments of his own: the Daniel Boe Memorial in Escondido, California, and 100 Holes in Hell in Valley Center, California. 
The former is one of the largest tournaments in the region, with more than 300 players playing over two weekends. The latter takes place at The Gates of Hell disc golf course, an 18-hole private course created by Verrochi, named for its proximity to Hellhole Canyon Preserve. 
COVID-19 travel restrictions prevented Verrochi from attending the MVP Open – the name of Maple Hill's big tournament in 2020 – this year and from running any of his own tournaments.
"It killed me to not be able to go," he said. "I watched some [MVP Open] footage online, but it was kind of depressing just sitting here thinking 'I should be in the water right now.'"
Verrochi looks forward to returning to Maple Hill next year. He is grateful for the opportunity to help the disc golf community however he can and encourages others to do what they can to grow the sport.
"Anybody, at any level of disc golf [can] give back, whether it's helping out adding scores between rounds, flagging before the tournament, or offering to run a clinic," he said. "Anything you can do to make a tournament just one notch better."