Note: Read the updated list based on 2019 numbers here.

When I first started sifting through data to find out exactly which courses were the most popular in the USA based on rounds logged in UDisc, I had a number one already in mind. With its beauty, technicality, and proximity to the densely populated San Francisco, I thought Golden Gate Park was a lock for the top spot.
But the powerful thing about data is that as much as it often reinforces what our perceptions suggest, it can sometimes teach us unexpected things.
Golden Gate Park wasn't even close to being number one in California.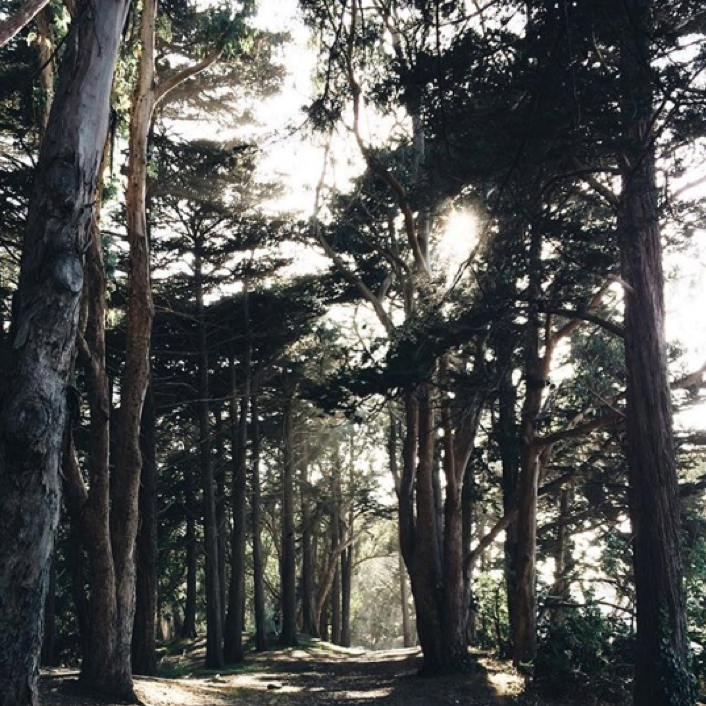 This result got me wondering exactly what factors make a course popular. Was there a magic formula that assured high traffic on a course? If there was, I was determined to find it. So I set to combing through the data to compare and contrast the most popular courses in each US state.
The Map
The map shows the locations of the most popular courses in every state. The size of the dots is based on the number of rounds logged on UDisc so far in 2018. The higher the course's average rating is, the darker its dot. For a list of course names and their exact locations, scroll down to the bottom of this post.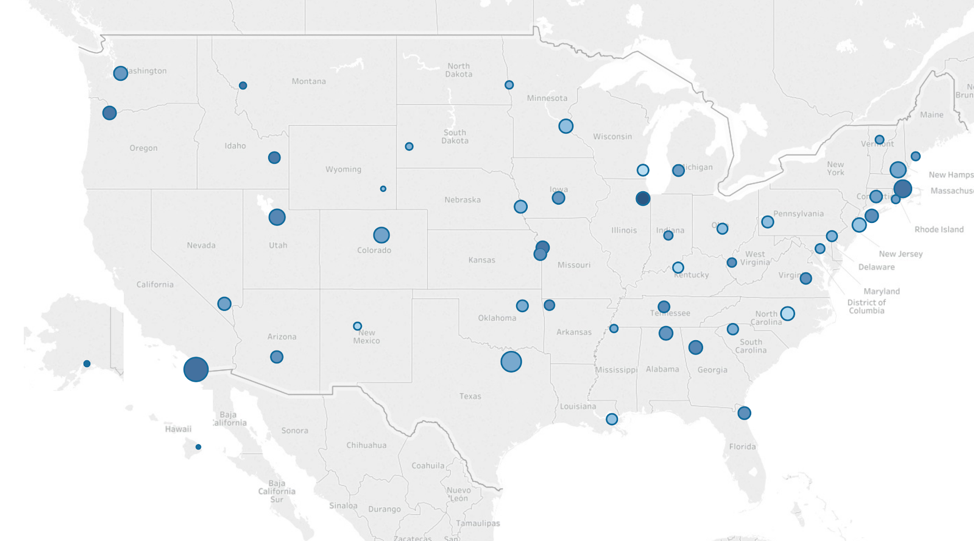 The Expected
It turns out my gut wasn't so wrong about Golden Gate Park; I just chose the wrong beautiful course next to a huge population center in California. Built all the way back in 1978, scenic, and right on the edge of Balboa Park in the middle of sunny San Diego (population one million plus), it really wasn't too surprising that Morley Field was not only number one in Cali, but the entire nation.
There were some other stats that matched expectations, too. Forty-one states don't have a single course as popular as every course in the top ten for both California and Texas, states that boast the first and second highest populations in the nation, respectively, and are also disc golf hotbeds.
One last bit of obvious: we tend to like free. Only five courses that made the list are pay-to-play or park (indicated by $ next to the course name).
The Unexpected
Some of what you see on the map might be surprising. To me, what most stood out is that it isn't the famous courses we get to see on disc golf coverage from Jomez and Central Coast that are at the top.
For example, a National Tour course like Iron Hill in Delaware only logs about half the rounds of that state's top dog, White Clay Creek State Park. The MVP Open's Maple Hill? Also about half the rounds of the state champ, Borderland State Park in Easton, Massachusetts. Idlewild, home of the Idlewild Open we saw Paul McBeth win in June? It's only Kentucky's third most popular course.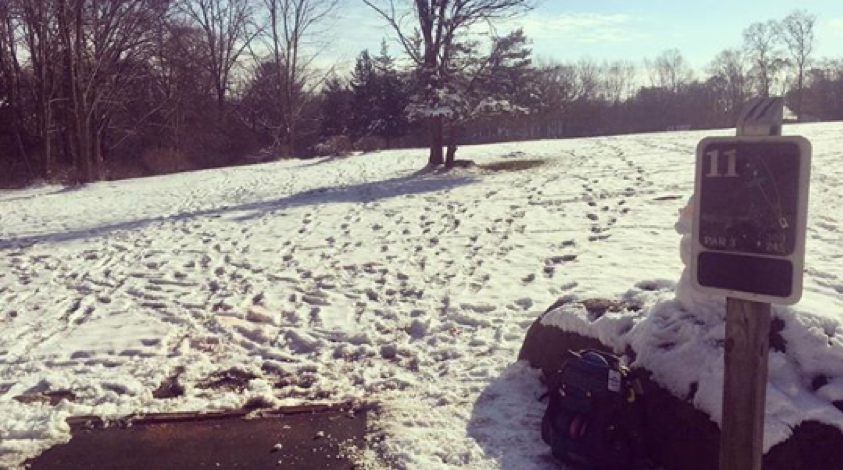 And you can add Vermont's Fox Run—where three of the five rounds of the 2018 PDGA Pro Worlds Championships' were played—to those surprises, too. While its partner course on the same property, Brewster Ridge, is within a hair of Center Chains' lead in Vermont, Fox Run only comes in sixth in the state!
Something else intriguing is that in most states the most popular courses are not the highest rated. In only a few states in the West—Idaho, Utah, Colorado, Montana and Oregon—and a scattering other places—Illinois, Alabama, Rhode Island and Virginia—is the most popular course the highest rated.
Does Population Equal Popularity?
Most of us probably golf the most near to where we live. And sometimes the top courses track with population density. Arizona's top five courses are all in the Phoenix metro area. Nevada's favorites are all near Las Vegas. In New York the most-played courses are all in or near decently sized cities.

But in other states, things are different. Take Texas, for example. Most of its top ten are in the Dallas-Fort Worth area even though the Houston area is close in terms of people, and Austin, which has four courses in the top ten, is much smaller. 

What Does It All Mean?
It turns out that the magic formula I was looking for doesn't exist. There's no absolute key to popularity. Proximity to high populations? It often matters, but it isn't a guarantee of popularity. Notoriety? Being on the Disc Golf Pro Tour or National Tour schedule had virtually no correlation with being number one in a state. High ratings? Only nine of fifty states had their highest rated course as their most popular.

Of course, if the information we're looking through is worthwhile, even if it doesn't give us the answer we're looking for, it often gives us something interesting to take away with us.

For me, that interesting thing is the idea that it could be that the average golfer (especially if we personally feel like an average golfer!) may want to play on the great courses in theory but feels more comfortable setting their sights a bit lower in practice. Something that comes to mind is one local golfer saying he wouldn't play a tough course because it was "more like a course for pros."

Are a lot of us a bit afraid we don't have enough game for the courses we see on YouTube? Or maybe we don't want to log too many triple bogeys now that we've finally got our recent UDisc round average below par? I wonder . . . and I wonder what questions and ideas occur to you, too, readers.

Here's the whole list of most popular courses in each state, from the most played to the least.
See reviews, ratings, exact locations, and photos of all the courses on the list below on the UDisc Courses website.
| | | |
| --- | --- | --- |
| State | Course Name | Location |
| California | Morley Field $ | San Diego |
| Texas | Alex Clark Memorial | McKinney |
| Massachusetts | Borderland State Park | Easton |
| Utah | Creekside Park | Salt Lake City |
| New Hampshire | The Hollows North | Manchester |
| Colorado | Johnny Roberts DGC | Arvada |
| New Jersey | Wolf Hill | Oceanport |
| Minnesota | Acorn Park | Roseville |
| Washington | Gaffney's Grove | Maple Valley |
| North Carolina | Kentwood | Raleigh |
| Georgia | Oregon Park | Marietta |
| Illinois | The Canyons @ Dellwood Park | Lockport |
| Alabama | Brahan Springs Park | Huntsville |
| Oregon | Pier Park | Portland |
| New York | Heckscher Forest Championship | East Islip |
| Missouri | Water Works Park | Kansas City |
| Nevada | Mountain Crest | Las Vegas |
| Nebraska | Seymour Smith Park | Omaha |
| Florida | Ed Austin Park [Fore Palms] | Jacksonville |
| Kansas | Heritage Park | Olathe |
| Iowa | Grandview Park | Des Moines |
| Connecticut | Page Park | Bristol |
| Arizona | Vista Del Camino Park | Scottsdale |
| Pennsylvania | Schenley Park | Pittsburgh |
| Oklahoma | McClure Park | Tulsa |
| Michigan | Johnson Park | Grand Rapids |
| Idaho | Russ Freeman | Idaho Falls |
| Wisconsin | Valley View Park | New Berlin |
| Tennessee | Seven Oaks | Nashville |
| Virginia | Bryan Park | Richmond |
| Louisiana | New City Park | New Orleans |
| South Carolina | Century Park | Greer |
| Kentucky | Iroquois Park | Louisville |
| Delaware | White Clay Creek State Park | Newark |
| Ohio | Blendon Woods DGC | Columbus |
| Arkansas | J.Beast | Springdale |
| Maryland | Kinder Farm Park $ | Millersville |
| West Virginia | Barboursville City Park | Barboursville |
| Indiana | Avon Town Hall | Avon |
| Maine | Pleasant Hill $ | Scarborough |
| Rhode Island | Willow Valley $ | Richmond |
| Vermont | Center Chains  | Waterbury Center |
| Mississippi | Central Park DGC | Southaven |
| North Dakota | Oak Grove Park | Fargo |
| New Mexico | Roosevelt Park | Albuquerque |
| Alaska | Kincaid Park | Anchorage |
| South Dakota | Jackson Park | Rapid City |
| Montana | Blue Mountain | Missoula |
| Hawaii | Naniloa Golf Course $ | Hilo |
| Wyoming | Lewis Park | Wheatland |
Edited: A previous version of this post listed Center Chains in Vermont as pay-to-play or park. It is not. Also, it discussed Center Chains as farther from Burlington, VT than Fox Run and Brewster Ridge. Though it is by distance, it is not by driving time. This information was therefore redacted. We also corrected the name of White Clay Creek State Park in DE and Vista Del Camino Park in AZ.