In case you're looking for the lede, Morley is still top in California, the U.S., and the world by number of rounds logged in UDisc. But that doesn't mean there weren't interesting changes from last year's edition of this list in other places throughout the 50 states.
Below you can see a map showing where each course is, and at the bottom of this article you can see the full list of the top course in each state.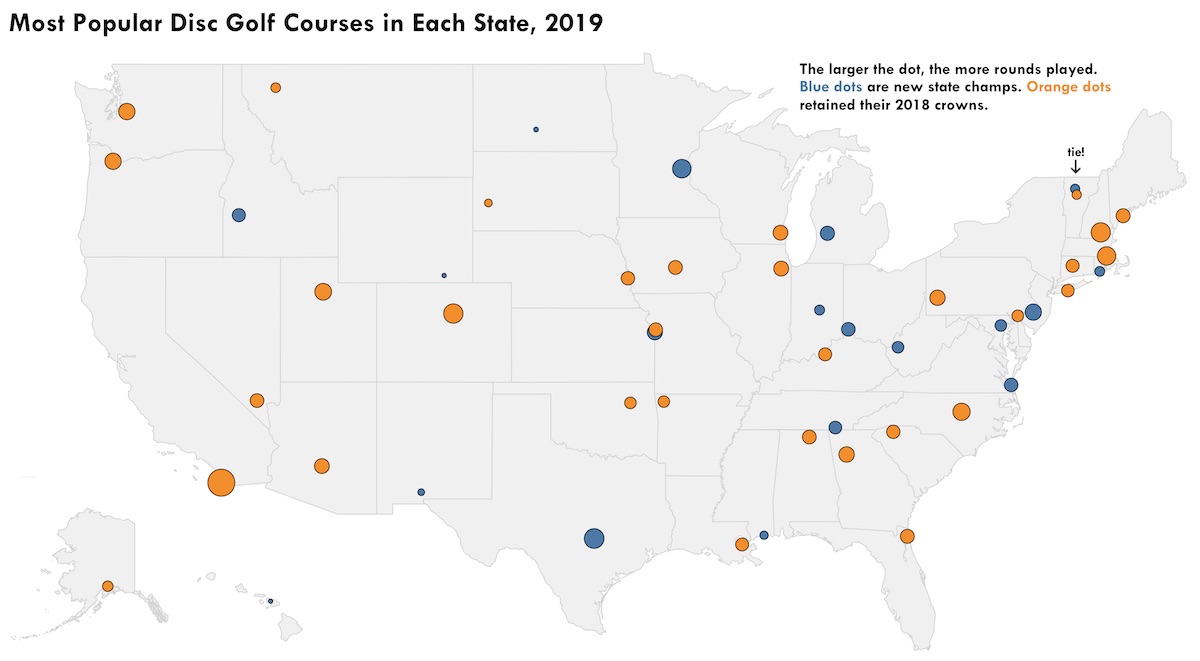 Notable Changes
The biggest change from 2018 is that Zilker Park in Austin took over the top spot in Texas from Alex Clark Memorial in McKinney, near Dallas-Fort Worth (a.k.a. the tenth best disc golf city in the U.S.). 
We asked Austinite and disc golf pro Nate Perkins if he was surprised by this.
"No that doesn't surprise me at all," Perkins said. "I'm going to play Zilker this evening. It's in a prime location in Austin. You have views of downtown from a bunch of the holes. It's just so accessible and such a fun little track for a majority of the disc golf talent. It's a really short course, but it's really well maintained. No one's losing any discs out there. Zilker is an iconic part of Austin."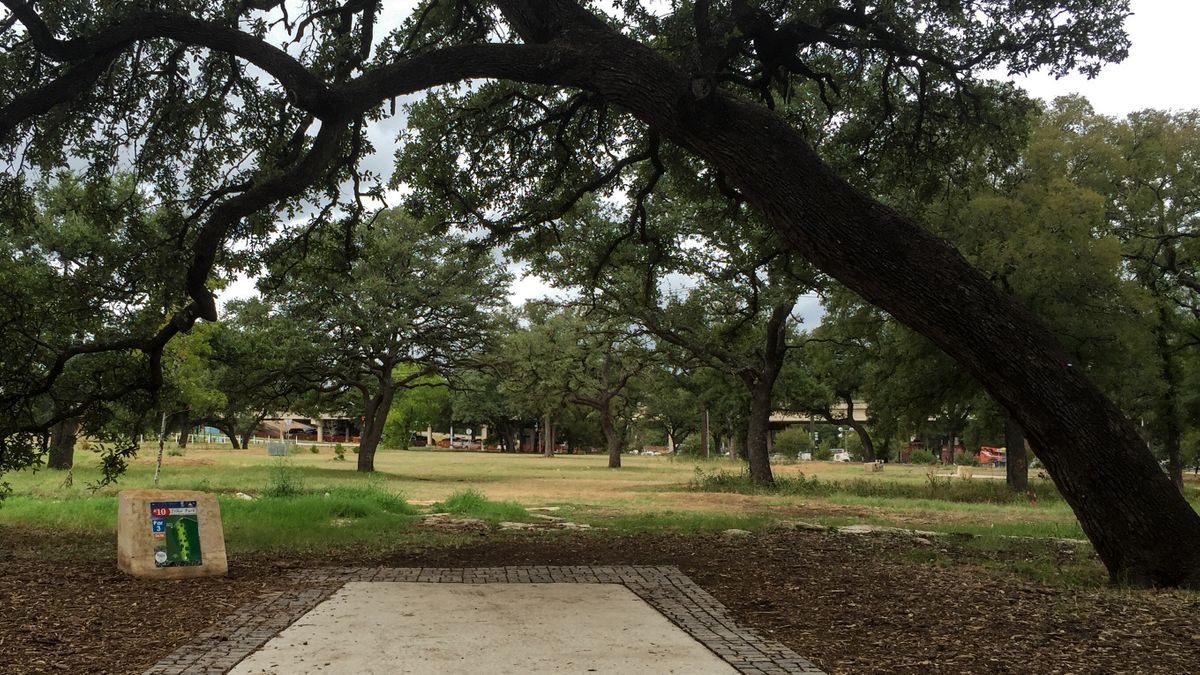 Zilker took the top spot with 50% more rounds being logged there as opposed to 2018 while Alex Clark Memorial's numbers declined by about 25%.
It's possible this is part of a larger shift in Texas disc golf. In 2018, six of the top ten courses in Texas were in the DFW area, but six were in the greater Austin area in 2019. This revelation did surprise Perkins due to the high volume of DFW players he knows. However, he also noted that Austin is growing quickly, and from what he's seen, a lot of the new population is ripe to begin or continue playing disc golf in their new home.
"Younger people are coming into town, and the growth of disc golf is coinciding with that," Perkins said. "It kind of makes sense with how many people are moving into town and the number of accessible courses that are around here."
Another new champ in the top ten is Blue Ribbon Pines in East Bethel, Minnesota, which was one of five courses in the Gopher State that overtook last year's champ, Acorn Park. Bryant Lake Park, Highland Park, Plymouth Creek Woods, and Coon Rapids saw their logged rounds increase by more than 50% while Acorn Park's stayed at similar levels from 2018-2019. Blue Ribbon Pines more than doubled its number of rounds. Its more than 150% growth rate was faster than any other state winner in the top twenty five.
"It's growing, for sure," said Minnesota pro Alex Geisinger. "It's hard to even go out and play at any course in the [Minneapolis/St. Paul] metro area on weekends. I haven't been to Blue Ribbon Pines since the Majestic but every time I go there, no matter the time, there are cars in the lot.
"Blue Ribbon Pines should be at the top for Minnesota," Geisinger continued. "Ray and the Blue Ribbon crew are constantly out there working to improve the course, and it shows."
The "Ray" Geisinger referred to is Blue Ribbon Pines' owner, Ray Jordan.
A Tie and Close Calls
Even in 2018, Vermont's Brewster Ridge was close to state champ Center Chains. But this year they were neck and neck. On the day of our final data pull, they were exactly tied, which is why there are two entries for Vermont in the table at the end of this article.
And there are a number of states where competition for the top spot is fierce, and the likelihood of a new champ taking over in 2020 is high. Second place courses within 5% of the total rounds of the leader are Lakewood King County Park in Washington, Tumble Tree in Alabama, Ann Morrison Park in Idaho, Brakewell Steel/Warwick in New York, Griffin Park in Oklahoma, Madeline Betrand County Park in Michigan, and Mayville Frisbee Golf Park in North Dakota.
And Michigan is in the unique situation of having four courses within 12% of its champ: Jaycee Park, Firefighters Park, Oshtemo Township Park, and Johnson Park.
Is that the sort of thing that will motivate some of you to get out and play a round to push your favorite spot up the chart? 
The List
Without further ado, we give you the list of 2019 champions.

Notes:
The list is in order of most to least rounds logged.
A $ indicates a pay-to-play course.
+/- is how many spots the 2019 top course in a state rose or fell in the rankings in relation to where the state's top course was on our 2018 list. For example, Colorado's top course was only #6 in total rounds in relation to other states' top courses in 2018; this year it was #3 and has a +3 in this category.
See reviews, ratings, exact locations, and photos of all the courses on the list below on the UDisc Courses website.
 
State
Course Name
Location
New Champ?
+/-
1
California
Morley Field

$

San Diego
0
2
Texas
Zilker Park
Austin
Yes
0
3
Colorado
Johnny Roberts DGC
Arvada
+3
4
New Hampshire
The Hollows North
Manchester
+1
5
Minnesota
Blue Ribbon Pines

$

East Bethel
Yes
+3
6
Massachusetts
Borderland State Park
Easton
-3
7
North Carolina
Kentwood
Raleigh
+3
8
Utah
Creekside Park
Salt Lake City
-4
9
Washington
Gaffney's Grove
Maple Valley
0
10
New Jersey
Stafford Woods
Voorhees
Yes
-3
11
Oregon
Pier Park
Portland
+3
12
Georgia
Oregon Park
Marietta
-1
13
Pennsylvania
Schenley Park
Pittsburgh
+11
14
Kansas
Rosedale Park (Up Top)
Kansas City
Yes
+6
15
Illinois
The Canyons @ Dellwood Park
Lockport
-3
16
Arizona
Vista Del Camino Park
Scottsdale
+7
17
Wisconsin
Valley View Park
New Berlin
+11
18
Michigan
Garfield Park
Grand Rapids
Yes
+8
19
Maine
Pleasant Hill

$

Scarborough
+21
20
Florida
Ed Austin Park [Fore Palms]
Jacksonville
-1
21
Iowa
Grandview Park
Des Moines
0
22
Alabama
Brahan Springs Park
Huntsville
-8
23
Ohio
Mt. Airy
Cincinnati
Yes
+12
24
Nevada
Mountain Crest
Las Vegas
-7
25
Missouri
Water Works Park
Kansas City
-9
26
Virginia
Bayville Park
Virginia Beach
Yes
+4
27
Nebraska
Seymour Smith Park
Omaha
-9
28
South Carolina
Century Park
Greer
+4
29
Idaho
Ann Morrison Park
Boise
Yes
-2
30
Connecticut
Page Park
Bristol
-8
31
Kentucky
Iroquois Park
Louisville
+2
32
Louisiana
New City Park
New Orleans
-1
33
Tennessee
The Sinks
Chattanooga
Yes
-4
34
New York
Heckscher Forest Championship
East Islip
-19
35
Maryland
Druid Hill Park
Baltimore
Yes
+2
36
West Virginia
Valley Park
Hurricane
Yes
+2
37
Delaware
White Clay Creek State Park
Newark
-3
38
Oklahoma
McClure Park
Tulsa
-13
39
Arkansas
J. Beast
Springdale
-3
40
Indiana
Hazel Landing
Indianapolis
Yes
-1
41
Rhode Island
Curtis Corner Athletic Field
South Kingstown
Yes
0
42
Alaska
Kincaid Park
Anchorage
+4
43
Montana
Lawrence Park
Kalispell
Yes
+5
44
Vermont
Center Chains 
Waterbury Center
-2
44
Vermont
Brewster Ridge

$

Jeffersonville
Yes
-2
45
Mississippi
Hiller Park
Biloxi
Yes
-2
46
South Dakota
Jackson Park
Rapid City
+1
47
New Mexico
Sunrise Terrace
Las Cruces
Yes
-2
48
Hawaii
Kahului Community Park
Kahului
Yes
+1
49
North Dakota
General Sibley Park
Bismarck
Yes
-5
50
Wyoming
Spring Creek
Laramie
Yes
0