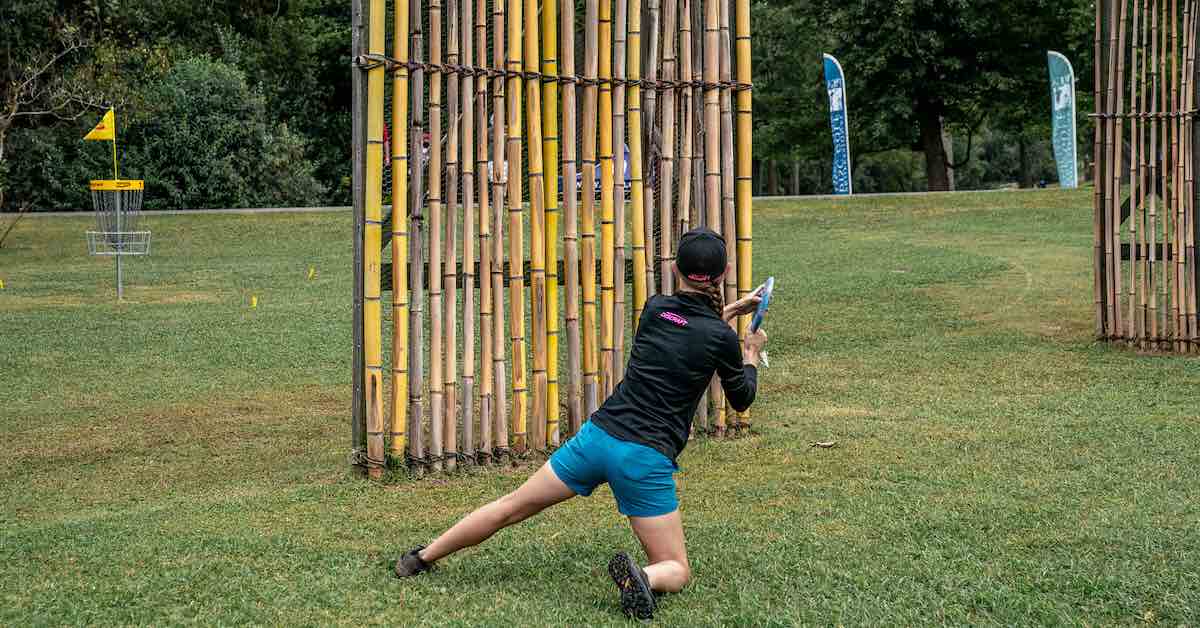 The annual October showdown at Winthrop University in Rock Hill, South Carolina – what some call the Super Bowl of disc golf – came and went. As always, it was copious out-of-bounds lines, water, and high risk shots. It was an iconic hole 17 that meant the tournament truly wasn't over until it was over.

It was the U.S. Disc Golf Championship (USDGC).

From Wednesday, October 6 to Saturday, October 9, the best disc golfers in the world vied for the coveted title of U.S. Champion. Like in 2020, the USDGC ran alongside a women's only event at Winthrop, which was dubbed the Throw Pink Women's Disc Golf Championship (TPWDGC) in 2021.
Learn more about the 2021 USDGC and the 2021 Throw Pink Women's Disc Golf Championship below, where we fill you in on the tournaments' histories (including recaps of the 2021 action), the course, past highlights, how to watch it, and more.

If you'd like to see every USDGC champ, which players have made the top 10 most often, and plenty of interesting trivia, check out our post "All USDGC Winners & Runners Up + Most Top 10s."
What Happened at the 2021 USDGC?
You can find individual scores on every hole, in-depth stats, and more at the UDisc Live results page for the 2021 USDGC.
OPEN
Who won the 2021 USDGC?
Paul McBeth
via a one-hole playoff with a score of 26-under par

Who shared the podium at the 2021 USDGC?


2nd 
Kyle Klein
via a one hole playoff with a score of 26-under par
3rd 
Ricky Wysocki
with a score of 24-under par

What happened at the 2021 USDGC?


Paul McBeth won the 2021 USDGC, his third U.S. title. Though McBeth started the day in the lead, he didn't cruise to victory. Kyle Klein caught up to McBeth from the chase card and forced him to win in a playoff.
Though it surprised few that McBeth won the USDGC, his victory came at the end of an unpredictable tournament. Many players surged to the top only to fall back after Winthrop's ample hazards and OB wreaked havoc on their scorecards.
After round one, the next day's lead card consisted of former USDGC Champion
Nate Sexton
and surprise co-leader
Terry Rothlisberger
at 10-under par along with 2018 world champ
Gregg Barsby
and
Joel Freeman
, who were just one and two strokes behind the leaders, respectively.
But round two proved difficult for most of the leaders, and only Rothlisberger remained on lead card for the second round. The 2020 USDGC Champion,
Chris Dickerson
, turned in a hot 11-under round during his second outing at Winthrop and surged to the top of the leaderboard, having three strokes over his nearest competitor. Along with Rothlisberger, Dickerson was joined on the third round lead card by
Ricky Wysocki
and, another surprise, Canadian
Martin Hendel
.
Round three was a wet one, and many players struggled to play well in the adverse conditions. McBeth, however, did not. He tied Dickerson's 11-under from the day before and jumped up from the third card to be the tournament leader by one stroke over Dickerson going into the final day. Hendel had also scored well enough to stay on lead card, but Wysocki lost his position there to
Drew Gibson
.
With all of changes at the top throughout the tournament, nothing seemed certain on the final day, and it turned out to be a roller coaster. By hole 3, it looked like McBeth might have already wrapped the tournament up. He'd increased his lead over to Dickerson to five strokes and no other competitor was closer. However, McBeth then had a string of pars from holes 4 to 8 followed by a bogey on hole 9. Though no one on his card was pressing,
Kyle Klein
, Freeman, and Wysocki on the chase card were.
McBeth found a birdie on hole 10, but Wysocki had carded an eagle when he played it. For the first time, McBeth wasn't leading the tournament after playing the same number of holes as the players in front of him. Things got even worse for McBeth when he took a penalty trying to reach the OB-surrounded green of the par 4 hole 12 and ended up carding a double bogey. At that point, both Freeman and Wysocki were ahead of McBeth and Klein was tied with him through the same number of holes played.
But McBeth wouldn't bogey again as ahead of him both Wysocki and Freeman made mistakes that took them out of the chase for the lead. Klein, however, stayed consistent and put the pressure on McBeth to stay sharp or lose.
When McBeth walked up to the treacherous island hole 17, he was one stroke behind Klein. McBeth's drive made the island but landed well into Circle 2. Not only was the putt long, but the chances that the disc could sail or roll out of bounds and end all of McBeth's hopes were very high. Still, McBeth ran the putt and electrified the gallery when his disc hit high center chains and fell in. The birdie tied him with Klein's final score.
Up ahead, Klein had had his own nerve-wracking putt. He'd landed in Circle 1 with a look at birdie on hole 18, but running the putt meant risking a miss that could send him sailing down a sheer drop behind the basket and possibly into OB water far below. Klein still ran the putt, but it hit the basket's rim. His putter stopped dead and he was able to tap in for the par, but his par meant that McBeth could just par the hole and still force a playoff – which is exactly what happened.
Since he'd had the hot round, Klein was first on the box for the playoff. He threw his drive on the short par 3 into bushes well short of the basket. McBeth came up behind him and nearly aced, but instead slid to the edge of Circle 1. After Klein missed his prayer of a bid from the bushes, McBeth lined up his putt, drained it, and then did a primal scream and double-fisted thrust, likely letting out pent-up frustration after a year when he hasn't found himself winning as many tournaments as he's become accustomed to.

Standout stat:


We typically go with a stat from one of the winners here, but we noticed something to crazy to overlook.

Drew Gibson was fourth at the 2021 USDGC despite taking 21 OB penalties. That was the most of anyone in the top 10. In fact, no one with that many OB strokes or more even broke the top 40. Gibson was just four strokes behind Klein and McBeth's final scores, but he had 12 more OB penalties than Klein and 10 more than McBeth.
What Happened at the 2021 Throw Pink Women's Disc Golf Championship?
You can find individual scores on every hole, in-depth stats, and more at the UDisc Live results page for the Throw Pink Women's Championship.

OPEN WOMEN

Who won the 2021 Throw Pink Women's Disc Golf Championship?


Who came in second and third at the 2021 Throw Pink Women's Disc Golf Championship?


What happened at the 2021 Throw Pink Women's Disc Golf Championship?


Standout stat:


Who Were the Favorites to Win the 2021 USDGC & TPWDGC?
Using the formulas and stats that power the Disc Golf World Rankings, we calculated what players' recent performances at big events suggested about their chances of beating other top players at the 2021 USDGC and TPWDGC.

Though it's not feasible for us to produce an accurate win probability looking at one player versus every other registered player, we can pit a certain number of top players against each other and see what their chances of emerging victorious within that group are. To produce the stats you'll see in this section, we pitted the top 10 players based on World Ranking in the Open and Open Women's divisions against each other to see what their chances of winning within that group were.

Notes on the Stats

All of the stats below other than "Actual Finish" were calculated before any player threw a single shot at the 2021 USDGC or TPWDGC and were not changed to reflect how winning chances altered as the tournament played out.

The probabilities were based on player performance at all recent events and didn't take into account the type of course being played and how players' specific skill sets matched it.
If you're on mobile, swipe left to see the full table.
| | | | | | | | | |
| --- | --- | --- | --- | --- | --- | --- | --- | --- |
| Player: USDGC | World Rank Before Event | Winning Probability Before Event | Actual 2021 Finish |   | Player: TPWDGC | World Rank Before Event | Winning Probability Before Event | Actual 2021 Finish |
| Ricky Wysocki | 1 | 24.8% | 3rd | | Paige Pierce | 3 | 34.5% | T10th |
| Eagle McMahon | 2 | 23.4% | T10th | | Hailey King | 4 | 25.3% | T3rd |
| Paul McBeth | 3 | 13.9% | 1st | | Catrina Allen | 6 | 17.7% | 13th |
| Calvin Heimburg | 4 | 10.9% | T45th | | Sarah Hokom | 7 | 12.7% | T3rd |
| Chris Dickerson | 5 | 8.4% | T5th | | Missy Gannon | 8 | 4.7% | 1st |
| Adam Hammes | 6 | 5.8% | T24th | | Valerie Mandujano | 10 | 1.3% | T3rd |
| Kyle Klein | 7 | 3.9% | 2nd | | Heather Young | 11 | 1.1% | 17th |
| Andrew Marwede | 8 | 3.2% | T58th | | Ohn Scoggins | 12 | 0.9% | 6th |
| Matt Orum | 9 | 3.1% | T9th | | Kona Star Panis | 13 | 0.9% | 2nd |
| Kevin Jones | 10 | 2.6% | T51st | | Alexis Mandujano | 14 | 0.8% | T14th |
Tournament Backgrounds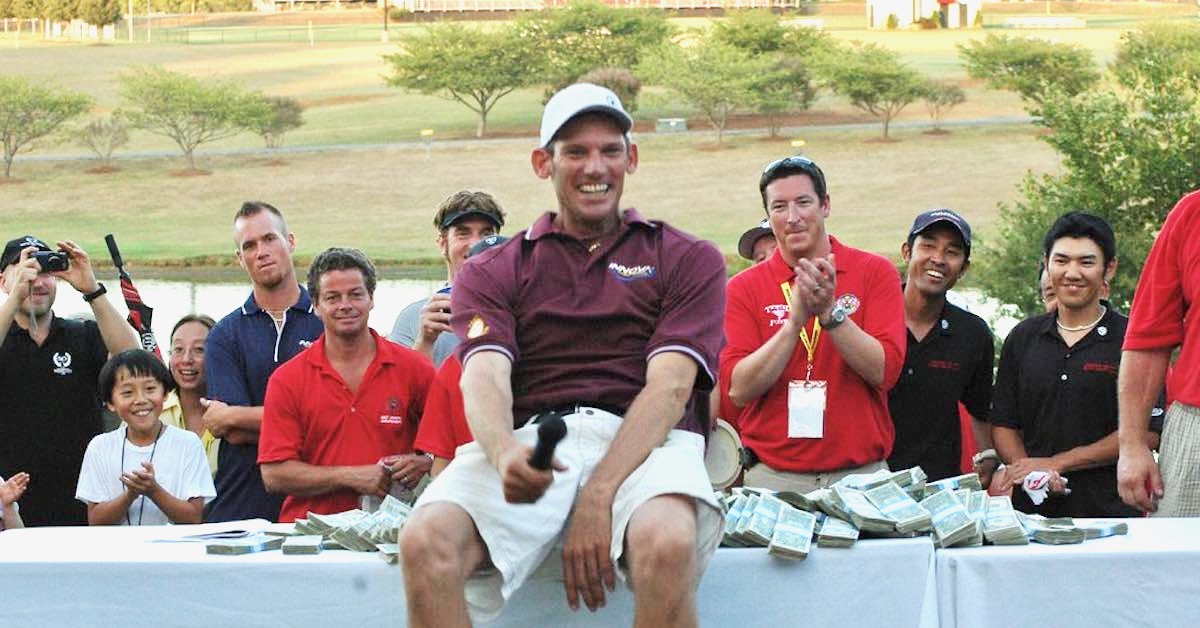 Some consider the USDGC the most prestigious disc golf event in the world, believing it surpasses even the PDGA Professional Disc Golf World Championships.
"It's the Super Bowl of disc golf," said tournament director Jonathan Poole.
1997 was first time the world got to see what Winthrop University in Rock Hill, South Carolina – the host of every USDGC – would look like when set up to challenge the world's best. That year, the Pro World Championships were in Charlotte, North Carolina. Rock Hill is only a half hour drive from Charlotte, and the Winthrop University course was chosen to host the final round of that tournament.
Poole and other legends of the game saw an opportunity to do something special in Rock Hill each year.
"The Worlds would have a great year, a good year, then a not-so-great year, and then another great year," Poole said. "We weren't seeing the consistency because it's very difficult for a club or promoter to take on an event of that size."
With Worlds moving to a new area of the country each year, expectations were always high but there was a lack of dependable quality.
"It was all a club could do to simply handle the logistics, let alone promote the tournament and handle the media and sponsorships," he said.
So, in 1998, Poole and the future USDGC staff proposed adding another PDGA Major. It would be unique in the fact that it would never move around and would be played at the same course year in and year out.
"The origins of it were to have an event that could stay in one spot," Poole said. "That way we can learn and get better at producing this event."
It officially kicked off in 1999.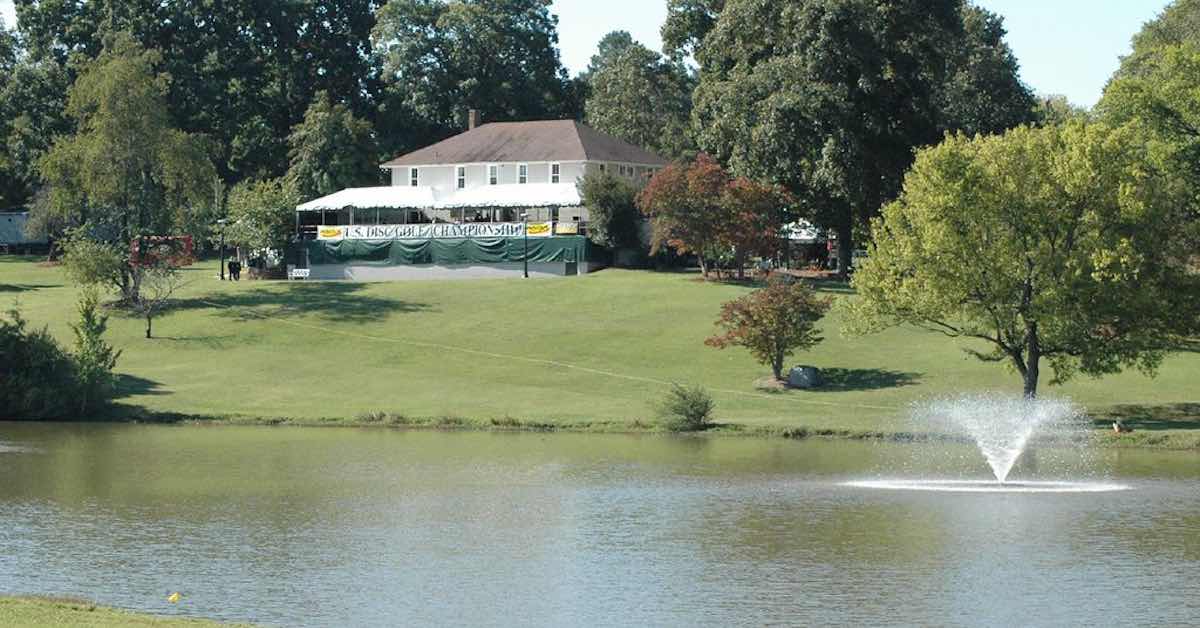 The USDGC was designed with the idea of having a one-division tournament. No men's, women's, age-protected, or amateur divisions – just one field of competitors all playing the same course to showcase the greatest disc golfers in the world.
"We wanted to create an Open," Poole said. "That way anyone who could qualify could compete together."
In 2000, the event added the Women's National Event (renamed the USWDGC in 2001) for the Open Women field but moved on from that idea after just two years.
"It was getting overshadowed," Poole said. "The USWDGC had a lot of potential, and to reach its potential it needed to move out and move around the country and grow on its own, which it eventually did."
From 2002 to 2019 the only women competing at Winthrop were those who qualified for the USDGC. But in 2020 a women's event at Winthrop re-emerged. The roving USWDGC had been cancelled due to COVID-19, so an elite women's event was organized to run alongside the USDGC – in many ways a replacement for the cancelled USWDGC. In 2020, the event was again called the Women's National Championship.

A women's event is happening in 2021, too, but this year it is called the Throw Pink Women's Disc Golf Championship. Just like those playing the USDGC, competitors had to qualify for their spots, generally by placing well at an elite tournament.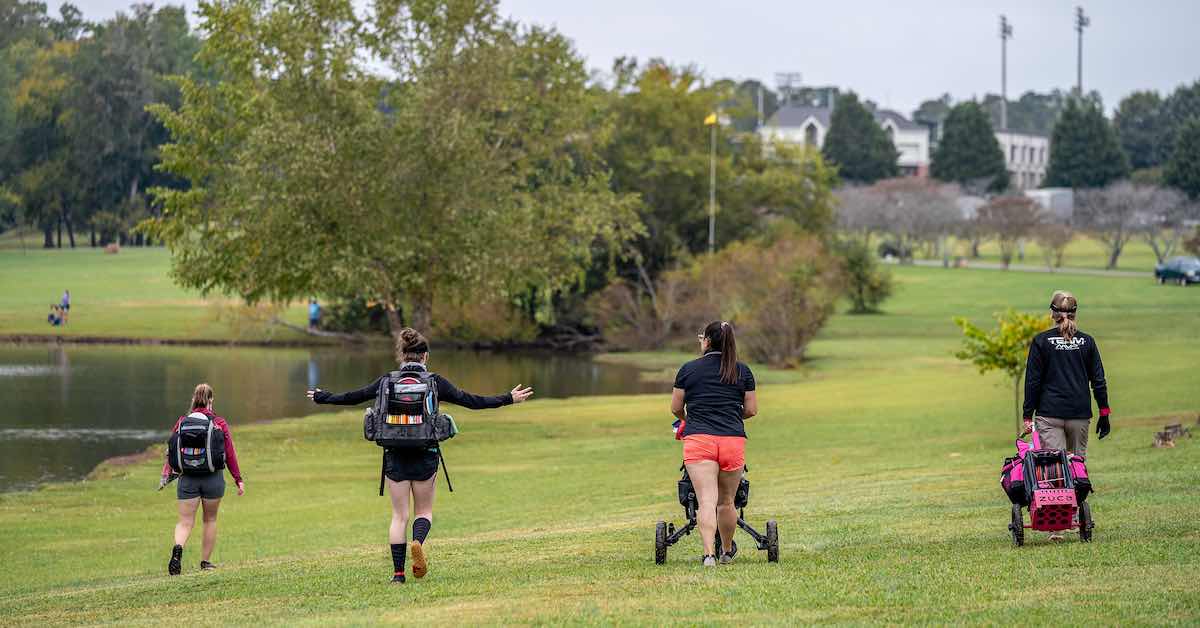 Partnering with disc golf non-profit Throw Pink, the tournament features 40 of the top women disc golfers in the world and will raise money and awareness for the fight against breast cancer during Breast Cancer Awareness Month.
"It was a homecoming," Poole said. "We thought if we were going to go through this much effort to get the course ready, along with all the media and fanfare that surrounds this, it felt like the thing to do to create a women's event of some kind."
The USDGC media coverage often trailblazes how the sport is consumed. They were the first to introduce a pay-per-view viewership model and the first to introduce live coverage. Naturally, there have been some hiccups along the way, but the event will be pushing the envelope once more in 2021 by partnering with the Disc Golf Network for exclusive video rights and live coverage.
Major portions of the money raised from the pay-per-view broadcast are donated to charity. The tournament has donated $381,285 to charity over two decades.
Additionally, money from the pay-per-view goes directly back to the players through the payouts. The total purse in the history of the USDGC is over $1.2 million.
"It's the players that are driving the show and I feel like they should have a cut of that," Poole said.
The Course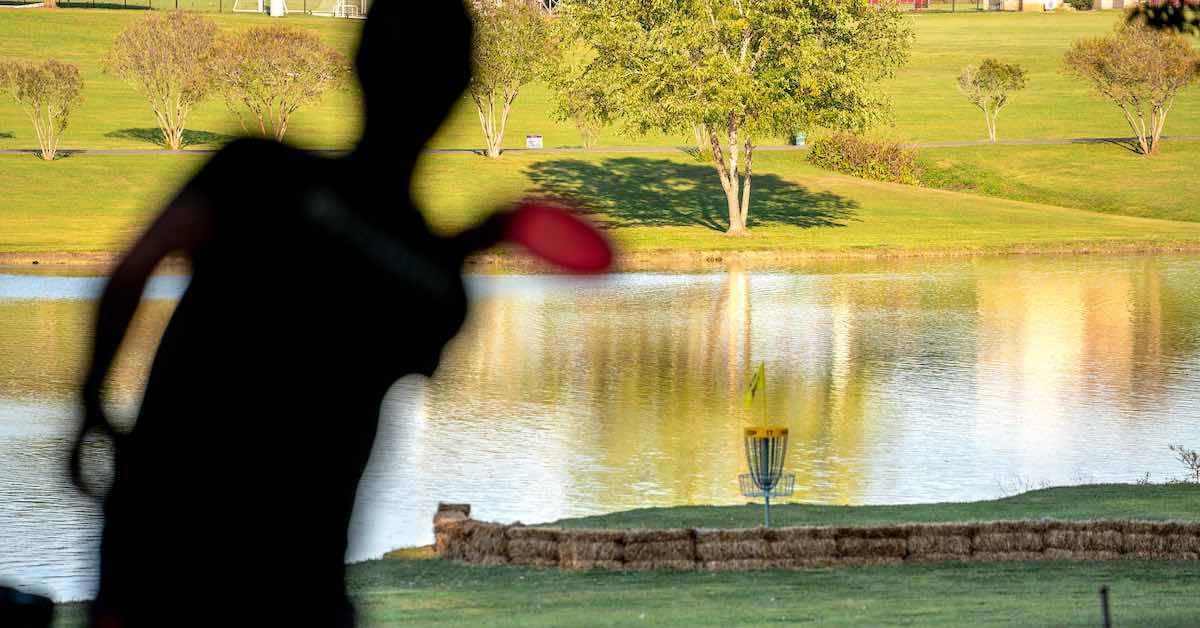 Below you'll find information about the course where the 2021 USDGC and TPWDGC was played.
Number of Holes: 18
Length:
9,906 feet/3,019 meters (USDGC), 8,696 feet/2,651 meters (TPWDGC)
Hole 13 for the USDGC has a B position that will adjust the course length by an additional 103 feet/31 meters. Hole 17 has an A and B pin placement that will increase the course length by 5 feet/1.5 meters for both tournaments.
Par:  66 (USDGC), 67 (TPWDGC)
Description:
The USDGC is played on a version of the disc golf course at Winthrop University that only exists annually for a brief period around tournament time. Most of the meticulously-laid OB lines that are so famous among pro disc golf fans aren't around at other times of the year. 
The courses for the TPWDGC and USDGC are much the same in 2021, but often TPWDGC holes will feature different tee pads that shorten the distance to the pin.
On the whole, the layout used for the USDGC has changed little since the event's inception in 1999. However, there have been adjustments and experiments over the years like not playing traditional holes one and two in favor of two brand new holes (that
weren't particularly well-received
) in 2019 and the addition of posts near certain pins that got so much attention that fast food chain
Arby's poked fun of them
on social media.
No matter what the layout is like, however, the fact that each hole is a mental war has never changed. There is no shot that allows players to relax. Stroke-and-distance penalties, hazard zones, island approaches, raised baskets, the threat of prized a disc sinking to the bottom of WInthrop Lake – this course makes demands on all facets of a player's skill set. Some holes are shorter and require low-speed precision for birdie while others test whether players can mix accuracy and power. The Winthrop Arena is littered with risk/reward scenarios all over the course that make final day comebacks and collapses commonplace.
Changes: 

-Hole 8, which plays behind the Winthrop baseball stadium, is extended to 697 feet/212 meters this year and will play as a par 4 for the USDGC and a par 5 for the TPWDGC.
-Hole 9 (the second hole near the stadium) is also adjusted and will not play as a par 4. It's now a shortened par 3 where players looking for a birdie will have to throw over OB for the majority of their drive. Additionally, more posts have appeared – right in front of hole 9's tee pad for the USDGC competitors.
Other Notables: Jonathan Poole wants the fans at home to keep a close eye on how the veteran players attack the course each round. Having experience with the precision needed to navigate the Winthrop Arena and dealing with the pressures of the tournament often makes those who have done it before that much more dangerous. One or two young stars may pop off a hot round, but stringing that together for four rounds is nearly impossible. A battle between a budding star and a veteran down the stretch almost always goes to the more experienced player.
Past Highlights

Here are some of the standout moments from past USDGCs.
2001: Juliana Korver Cashes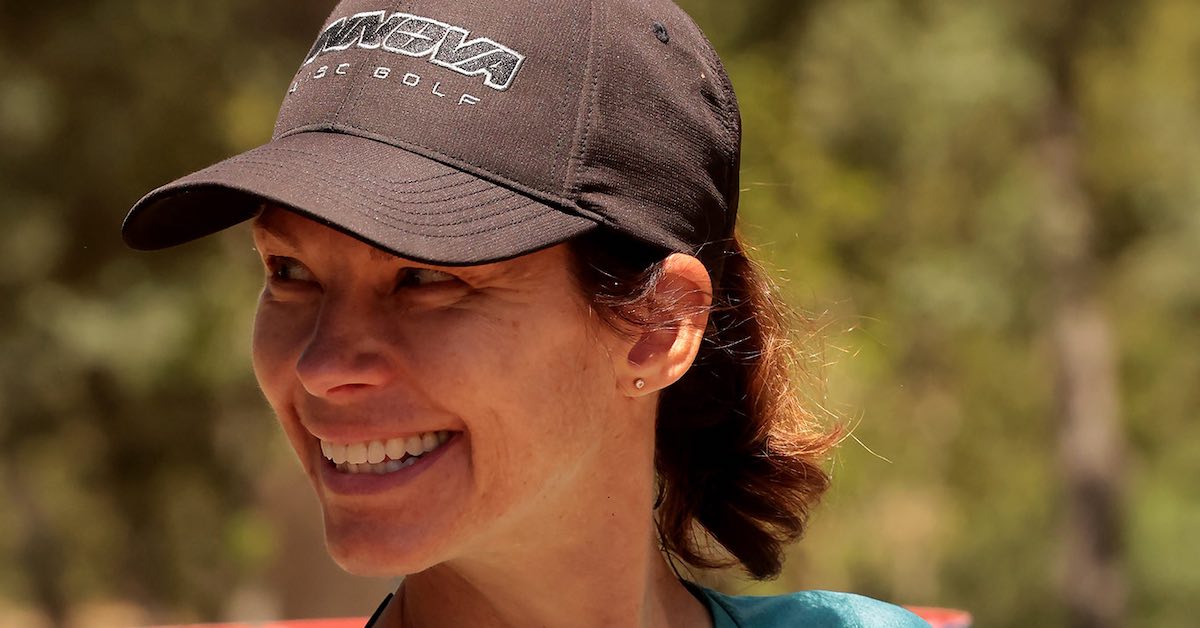 The USDGC was designed to be a single-division tournament featuring the best in the world. The best amateur, the best women, the best age-protected men, the previous deaf national champion, and anyone else who could qualify through high finishes at events throughout the year were invited.
In 2001, the best woman on the planet was Juliana Korver. She was just coming off her fourth consecutive PDGA World Championship. In fact, dating back to May of 1998, she hadn't placed outside the top two in the Open Women division. As that year's world champion, she received an invite to the 2001 USDGC.
Korver averaged 997-rated golf across her four rounds to tie for 50th place in a 123-player field, finishing with the likes of future multi-time Open World Champion and one-time USDGC champ, Nate Doss. Her 50th place finish was enough to cash, making Korver the first woman to cash at the event. Additionally, she remains the only woman to ever cash at the USDGC period.
2003: Climo and Schultz Have 10-Hole Playoff

It was 2003, the fifth anniversary for the USDGC. Ken Climo had won three of the first four iterations and was the reigning champion while Barry Schultz was the only player not named Ken Climo to have a USDGC title to his name. Climo was in the height of his greatness and Schultz was coming off his first World Championship. The two had been battling for years, and it would continue at this tournament.
Climo had control of the tournament during the final round. Despite Schultz's quick start, Climo was able to extend his lead to six strokes with just seven holes to play.
But things quickly went south for Climo.
A double bogey on hole 12 – plus a few pars and some OB on the ensuing five holes – opened the door for Schultz who was ready and waiting. The two heavyweights stepped up to the infamous hole 17 island deadlocked for first place.
They both found birdies on holes 17 and 18, with Schultz knocking down a treacherous outside-the-circle downhill putt on the final hole to force a playoff.
The USDGC playoff scenario is unique because the players play holes 18, 1 and 17 in a loop until a winner is crowned. Climo and Schultz went through the loop three times during the playoff (notably teeing from a much less-treacherous position on 17 than in recent years), birdieing every single hole and giving the crowd a spectacle of disc golf excellence that will be hard to ever match again.
Finally, on their fourth time around the loop, on the green of hole 18, Climo missed a putt and Schultz tapped in to cap off his historic 2003 season. You can watch footage of this epic playoff in a piece from Ultiworld Disc Golf.
2015: McBeth's Grand Slam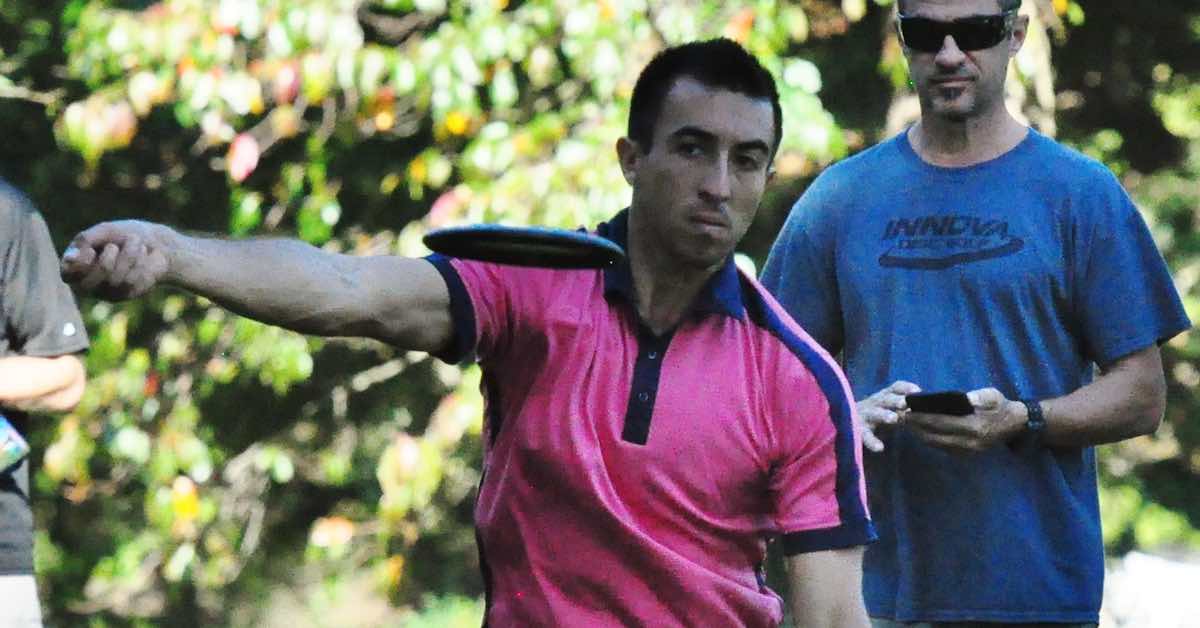 Paul McBeth won his first career USDGC in 2015, and it was a win that was historic for other reasons, too.
In 2015, the disc golf world had five majors: the Aussie Open, Scandinavian Open, European Open, World Championships, and the USDGC. If you include the team-based Presidents Cup pitting Team USA against Team Europe (a PDGA Team Major), that would be a sixth major. No player had ever won every major.
McBeth won them all, even the Presidents Cup as part of Team USA, earning him disc golf's first-ever Grand Slam.
How to Watch the 2021 USDGC and TPWDGC
When were the 2021 USDGC and TPWDGC?


Wednesday, October 6 to Saturday, October 9

Live Scoring


The scores and results of the 2021 USDGC and TPWDGC are on
UDisc Live
. See shot-by-shot scores and a smorgasbord of stats.

Watch


Coverage (live and post-produced) for the 2021 USDGC and TPWDGC was broadcast exclusively on the Disc Golf Network. There was
no free next-day, condensed coverage of the USDGC
.
A
basic pass
cost $25. Those who already subscribed to DGN got a 20% discount (the price dropped to $20). With this, viewers got...
-Live coverage of all rounds of the USDGC and TPWDGC
-The exclusive ability to watch that footage for 30 days following the event (after 30 days, all DGN subscribers can see it)
-Next-day condensed coverage of each round
-Bonus content