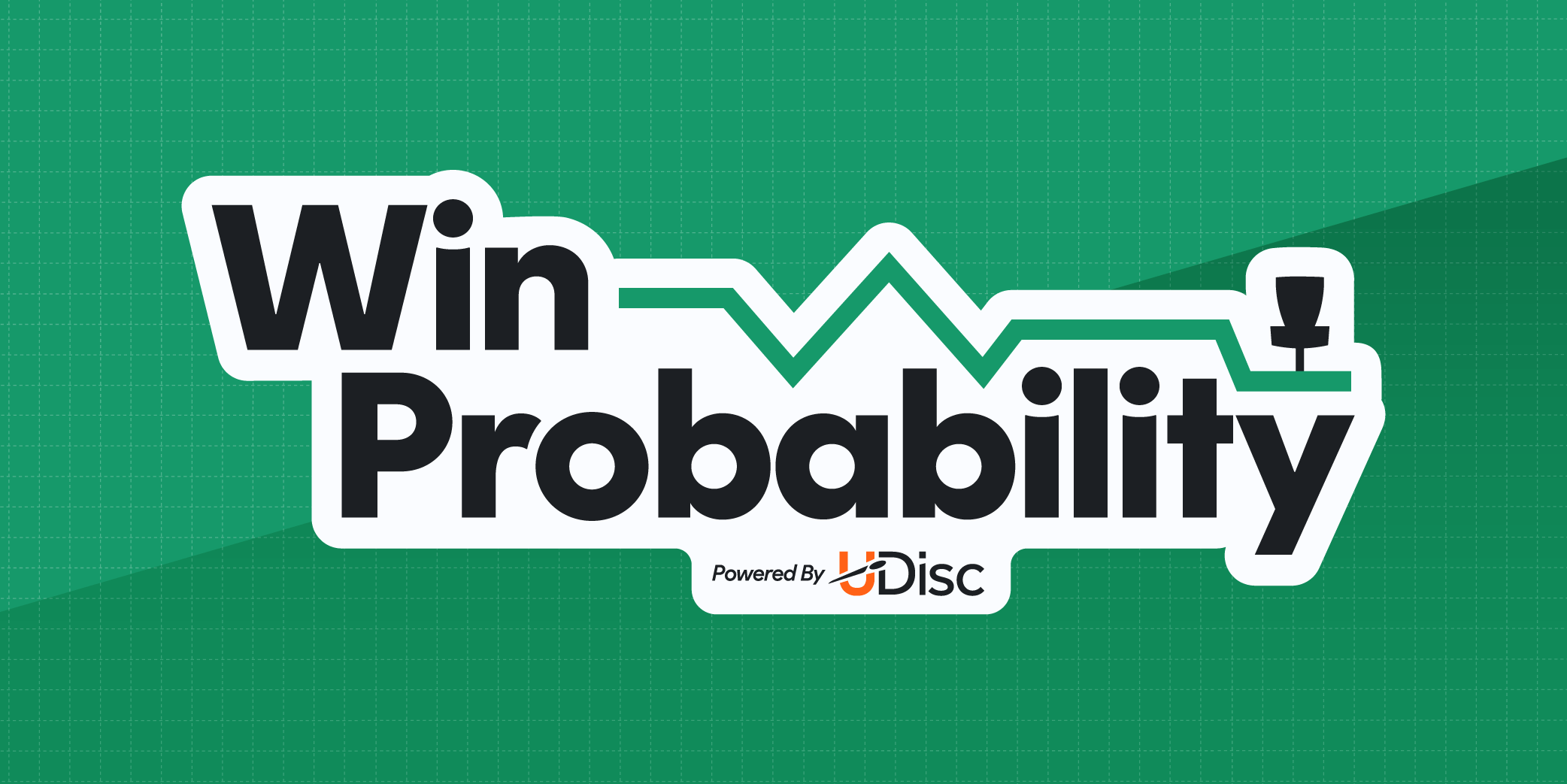 UDisc Live has always been about putting the fan experience front and center.
From bringing Circle 2 to life at the instant scoring platform's inception to recent additions like Strokes Gained and Disc Golf World Rankings, UDisc Live has aimed to be a one-stop shop for professional disc golf scoring and statistics. As the sport has gotten bigger, so has the drive to provide more for viewers. So, with the biggest tournament of the season on the horizon, it's time for a new addition to the experience that matches the moment.
Starting with the 2022 PDGA Professional Disc Golf World Championships, fans worldwide can follow and interact with a new tab on UDisc Live: Win Probability.
Whether it's before the tournament, during the middle of a round, or after champions have been crowned, UDisc Live's real-time Win Probability model will help tell the story of an event in a way traditional stats can't. All you have to do is open the UDisc app or navigate to UDiscLive.com and enjoy the show.
What Can I Do With UDisc Live's Win Probability Model?
During an event, Win Probability is all about trying to project how the tournament will shake out. Were you on the edge of your seat during the 2020 U.S. Disc Golf Championship wondering if Calvin Heimburg would chase down Chris Dickerson? How much confidence did you have that Valerie Mandujano would hold on for her first big win in Waco? Just like watching how much a field goal or fumble tips the scales during your favorite NFL games, the experience is better when it's coupled with winning projections, and now you can check in at any time during a tournament to see a live look at what UDisc's predictive model thinks is going to happen. 
This is useful for more than just tracking how likely competitors on the lead or chase card are to win, too. It will come in especially handy when a player on, say, the fifth card storms out to a lead during the final round. If they're on hole 13 but at the top of the leaderboard, that's not really painting the right picture, and as a fan you know they probably won't pull off the upset. With Win Probability you'll be able to check your priors and see if the miracle comeback is really coming to fruition.
Select up to six players to compare, and their real-time win probabilities will display in a color-coded line chart at the top of the page. You can hover with your mouse or tap on a point in time to see a pop-up that includes each player's likelihood of pulling off the W.
Additionally, those same players will populate a table below the chart that includes not just their chances at the win, but also the probability they will finish on the podium, in the top 5, or in the top 10.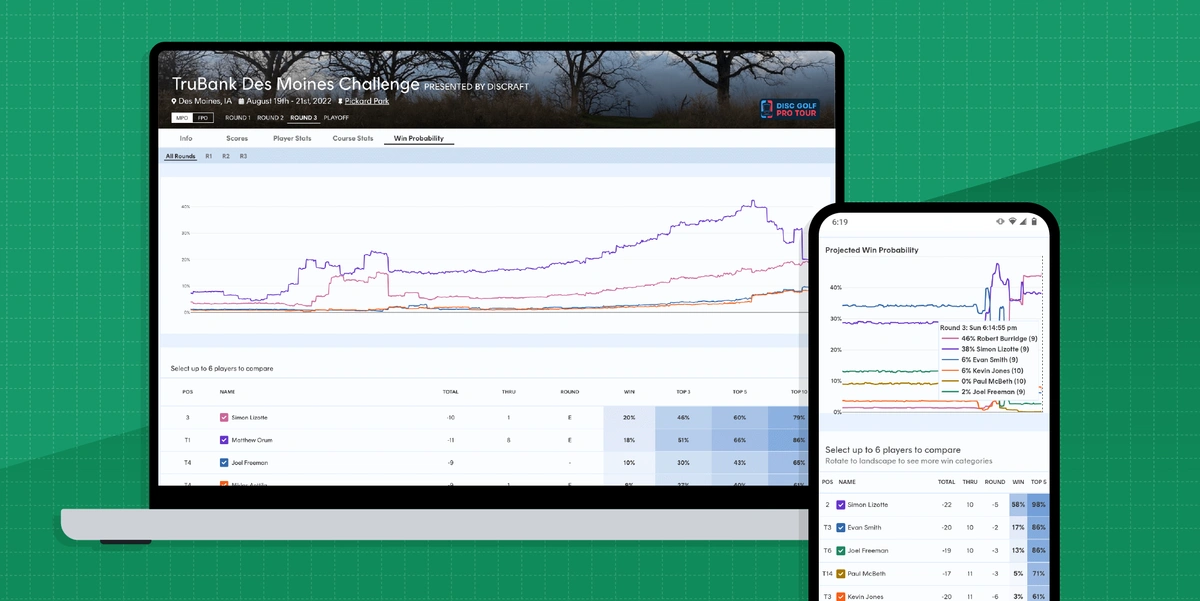 There are plenty of other ways to think about Win Probability both during and after a tournament, including:
Curious how likely it is that your favorite player will win the World Championship? You can find out with Win Probability. Just check it out before an event then keep track as they play throughout the week. With every hole scored, UDisc's model will update their prospects.
Is the underdog outperforming their ranking with a memorable weekend? You'll see it on the charts and tables that are updated almost instantly throughout a tournament – and you'll probably become a fan of the upstart pro in the process (aka The Burridge Effect). 
Want to know how much that crucial birdie helped a competitor close out a signature victory? Come back to the tab and relive the tournament again. Just look for how those significant stroke swings make spikes on the chart!
How Does Win Probability On UDisc Live Work?
UDisc Live scores the world's biggest and best tournaments, and those scores provide the backbone for Win Probability. Here are the nuts and bolts of how the predictive model works:
Using historical hole-by-hole scoring data from UDisc Live tournaments, the model quantifies each player's abilities and the difficulty of each hole.
Those abilities and difficulties are then combined with hole distances to output a probability distribution on each of the possible scores for every player on the hole. For example, on the opening 291-foot/87-meter island hole at Jones Supreme, the model yields the following distribution for Ricky Wysocki:
Ace: 0.02%
2: 34.4%
3: 36.3%
4: 25.1%
5: 3.7%
6: 0.4%
7+: 0.08%
Next, the model aggregates current scores with the probability distributions on the remaining holes to obtain a distribution of each of the possible total scores.
Once we have distributions on each of the possible total scores for every player, the model simulates the remainder of the tournament 20,000 times — a process called a Monte Carlo simulation — and counts how many times each player wins (or places on the podium, in the top 5, or in the top 10). The ratio of win counts to the total number of simulations is their winning probability.
Every 30 seconds the model runs another set of 20,000 simulations to obtain projections on how it thinks the tournament will end. And voilà: The projections are updated!
The model is trained on history, and while it is relatively robust, there are some elements it does not account for (yet):
Weather (We're looking at you, Idlewild.)
Course conditions 
Momentum/streakiness (We're looking at you, Ricky.)
Proximity of an event to each player's hometown
Whether or not each player is fighting an injury
Who plays well with who on their card (We're not looking at anybody.)
Who has the best caddie
What each player had for breakfast
With how much gusto a distant butterfly flapped its wings
2022 PDGA Pro Worlds Win Probability
Win Probability will show up on UDisc Live before a tournament, which means we can look ahead to Pro Worlds this week. Here's what the model projects for the MPO and FPO divisions heading into this five-round major in Emporia, Kansas: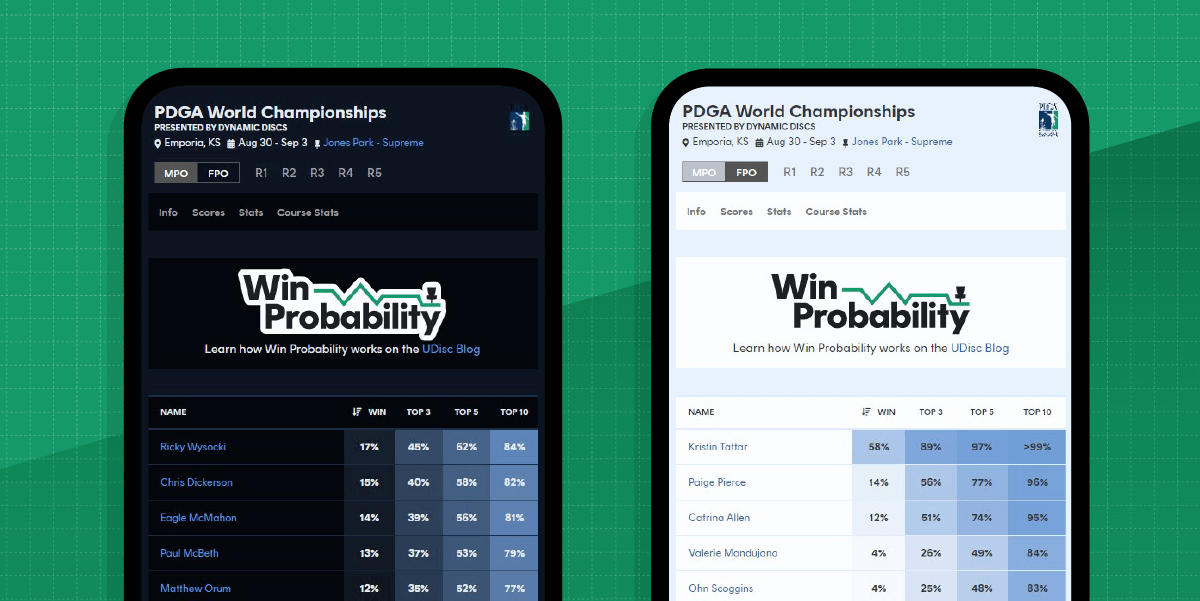 A couple of key takeaways:
Parity in the MPO field is the name of the game as no player even gets to a 20% chance of taking home the title.
Our staff was just as surprised as you were that the model projected a 58/14 split between Kristin Tattar and Paige Pierce, but recent results back it up. Consider:
• Tattar beat Pierce by 13 strokes at the TruBank Des Moines Challenge.
• When Tattar won the Dynamic Discs Open on these same courses in April, she was nine strokes clear of Pierce, who finished in fifth place.
• Pierce has far more variance in her placements this season, finishing anywhere from first to 21st. Tattar, conversely, has not finished off the podium.
• Worlds is a five-round event, and with a longer competition comes more separation. For a three or four-round tournament, the gap would be smaller.
Remember, the model updates every 30 seconds, so if a player begins to outperform these pre-event projections, it'll be reflected in short order. That's the beauty of Win Probability: It's an ever-evolving picture of how a tournament will play out. 
If you're reading this after the tournament has started, be sure to head to UDisc Live's Win Probability tab for updates!
What's Next On UDisc Live?
This isn't the last addition to the UDisc Live platform this season: Keep an eye out for a new statistic that will be unveiled in the next couple of weeks.