What You Need to Know
UDisc is now available on Garmin devices
Among the many requests for new functionalities on UDisc, there has been a steady drumbeat over the last couple of years for a specific integration, especially after the release of the app on several wearable devices:
"When can I use UDisc on my Garmin watch?"
We're happy to provide an answer: now.
UDisc is officially available in the Garmin Connect IQ™ Store, meaning you can keep score and know your distance to the basket with your Garmin watch.
It's a natural collaboration that merges UDisc's leading disc golf technology with Garmin's GPS-enabled devices that are engineered specifically for the outdoors. And it's been driven by a group of passionate developers who have helped disc golf take off at Garmin headquarters.
"We could not be more excited to partner with Garmin," UDisc Co-Founders Matt Krueger and Josh Lichti said. "Their hardware is second to none, as is their team, and they have long been a company we've hoped to work with. Not only is this a win for players who use UDisc, but it's one for the sport as a whole – it's a tremendous opportunity to prove that disc golf is a market that matters and can make a difference for forward-thinking companies."
As of this announcement, UDisc in Garmin Connect IQ is available for 40 devices, including wearables in the popular epix™, fenix®, Forerunner®, Instinct®, Venu® and vívoactive® lines.
Have one of those watches and want to get started scoring? Download UDisc from the Connect IQ Store.
What Makes UDisc on Garmin Stand Out?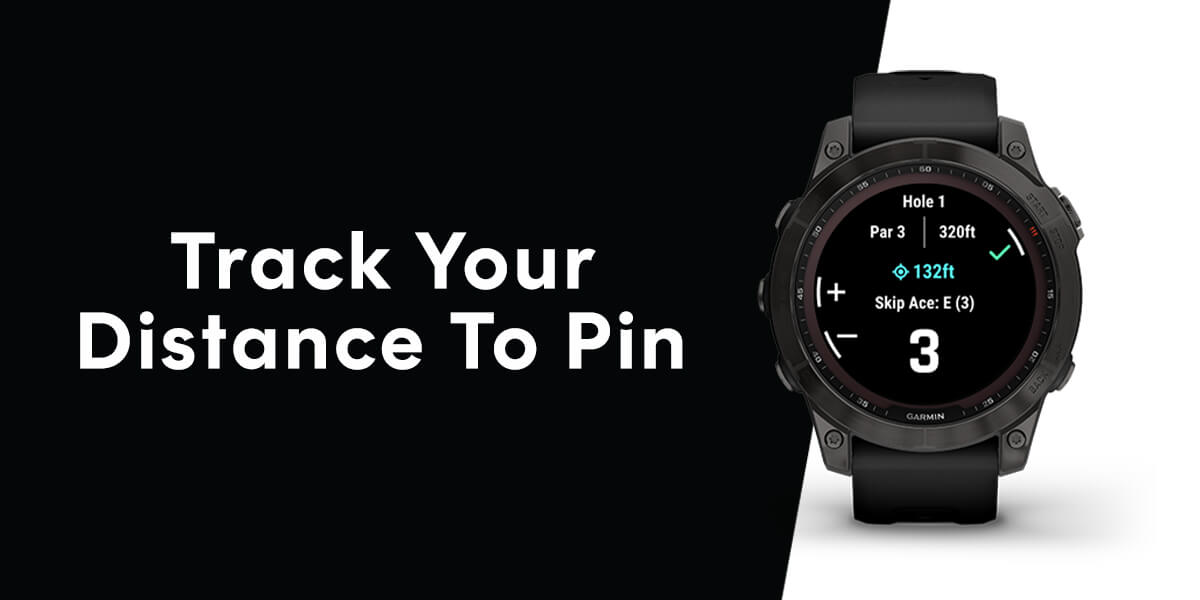 Yes, UDisc is available for other watches. But Garmin's outdoor and sports-focused wearables bring several added benefits to the table – one of which is not yet offered for UDisc on competing devices.
While scoring a round on UDisc with your Garmin watch, you'll be able to see your distance to the pin on your wrist. This is normally on your scorecard in the app, but teaming up with Garmin means using their devices' onboard GPS systems, which are more accurate than those on a smartphone. Those extra 15-20 feet of precision can make a difference to your game.
"Distance-to-pin adds an extra level of awareness," said Garmin software engineer Brett, a disc golfer who has brought more than a decade of experience on the course to the project. "Obviously when you play a lot you can gauge things with your eyes, but it provides more confidence that the distance is accurate."
Additionally, many Garmin devices sport multiple weeks of battery life even with active usage. There are also watches that are solar-powered, meaning you can charge your device while you charge down the fairway to tap in that parked shot.
A 'Passion Project' for Garmin Developers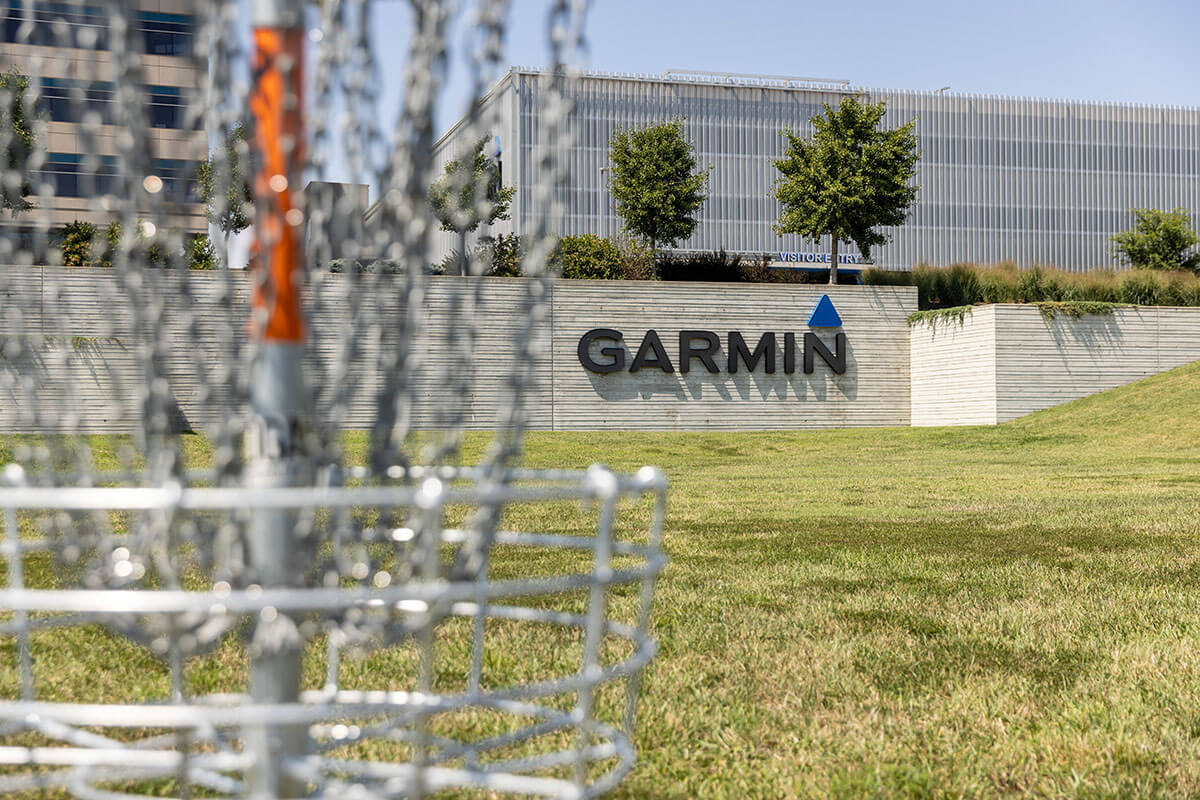 Garmin's headquarters are located in Olathe, Kansas, a top 50 destination for disc golf in the United States and third overall in the Sunflower State. The town has five 18-hole courses, including the well-regarded Heritage Park, and it's roughly half an hour from Kansas City mainstays like WaterWorks Park DGC and Rosedale Park.
Naturally, then, you'd expect there to be a couple of disc golfers who work at Garmin, especially considering the company's focus on outdoor recreation. 
But would you expect there to be hundreds? 
The energy inside the building for disc golf was crucial in bringing this partnership to life, Brett said. UDisc and Garmin had communicated in years past about working together, but the timing wasn't quite right for either side. Now that disc golf has grown not just worldwide, but also inside the company's own walls – there's an active Microsoft Teams group where employees chat about the pro side of the sport and plan out their weekend rounds, and the company recently installed a four-hole course on campus for players who want to get a quick lunchtime practice session in – it only made sense to move the collaboration forward. 
"We work on cool stuff already, but this is more of a passion project," Brett said. "It's something we're all very excited about, and especially because of the interest within Garmin we really wanted to make this happen."
Brett was an early disc golf advocate at Garmin, and he's been joined by several more recent converts to the sport.
Another Garmin software engineer, Cole, is a self-described pandemic disc golfer, and his story echoes that of so many other enthusiasts: He started out casually when a friend took him to play in early 2020, and now he's an avid consumer of all things disc golf. He's part of Garmin's disc golf club, competes in local tournaments, and made the trek to play in the Ledgestone Open earlier this month. He said there's even a segment of disc golfers at the company that is starting to teach fellow employees how to play.
"It has been a growing group of all kinds of players," Cole said. "We have guys who have played for 20 years really casually, then we have at least one MPO-level player who works here. He comes out to our casual rounds on occasion, but most importantly he played disc golf for us in Kansas City's Corporate Challenge. It's cool to have a wide range."
But it hasn't been all play: Garmin's development team worked closely with UDisc to accelerate a timed launch to coincide with the 2022 PDGA Professional Disc Golf World Championships. That meant an aggressive development schedule that included late nights checking in code and fine-tuning the UX experience outside of normal business hours.
Not that it really felt like work.
"It's very easy to work on things you enjoy," Cole said. "So this last month has been an absolute dream, for sure."
Members of the Garmin team will join UDisc's staff as spectators at Pro Worlds this week, a welcome reward after the extra effort.
Keeping It In Kansas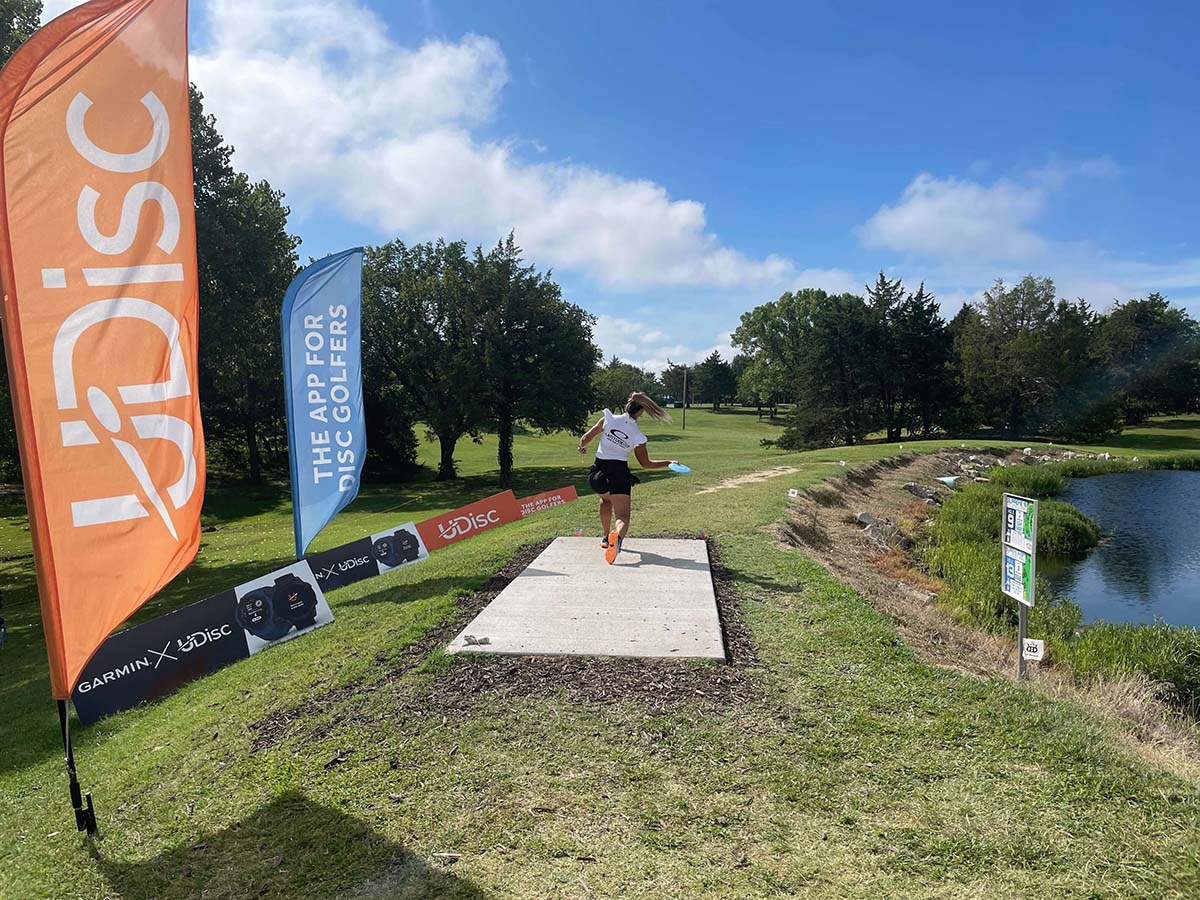 Garmin's roots in Kansas also provided an extra push to get this project to the finish. Olathe is an hour and 20 minutes from Emporia, home of Dynamic Discs and site of 2022 Pro Worlds. That proximity allowed for a collaborative activation at the tournament: UDisc and Garmin are sharing a hole sponsorship at the Jones Park Supreme and Emporia Country Club courses, and Garmin is providing watches for the champions in each division. 
This isn't the only time you will see Garmin in the best small town for disc golf in the United States. The company also supports another annual event in Emporia, the Garmin Unbound Gravel bike race.
"Even though Garmin is a global company with associates in 34 countries, we maintain firm roots in our home state of Kansas. That's why we are proud to support UDisc at the 2022 PDGA Pro World Championships in addition to our title sponsorship of a premier gravel bike race in Emporia," said Susan Lyman, Garmin Vice President of Global Marketing. "Both are great examples of how Garmin invests in the passions of our global community on a local scale. This is the perfect time and place to launch this exciting integration that will benefit both Garmin and UDisc customers around the world."
If you happen to be coming to Pro Worlds this week, swing by the UDisc tent at either course for a peek at how UDisc works with Garmin.
How To Get UDisc For Garmin Connect IQ
™

and Score a Round
Make sure you have version 15.1 for UDisc. 
Download UDisc on the Connect IQ Store.
Open the UDisc app on your phone.
Tap the More tab.
Scroll down to Settings/Support, then tap Settings.
Tap Garmin.
Follow the steps to connect your device.
Keep score on your Garmin watch!