See all top disc golf small towns – USA.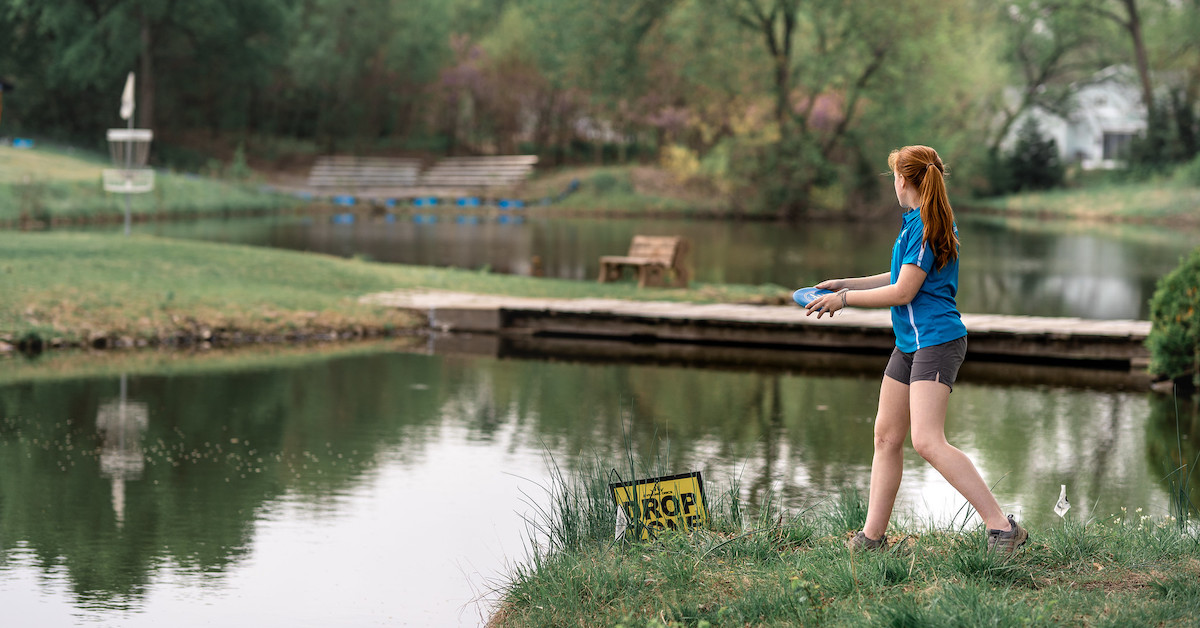 The United States' Best Small Town for Disc Golf
Emporia, Kansas, is an example of how a town finding a niche and fully committing to it can produce amazing results. It's home to disc golf equipment retailer Dynamic Discs' headquarters, and the town and Dynamic have developed a supportive relationship that has turned Emporia into the host of the world's largest disc golf tournament and now the official top disc golf small town in the United States.

Read on to learn more about how Emporia became the disc golf paradise it is today and also to get a more specific overview of what it and the surrounding area offer in terms of disc golf, food and drink, and off-the-course recreation.
The Stats
Here's how Emporia's disc golf offerings fared in our analysis of over 6,000 small towns in the United States:
Quantity Rank: 1

Quality Rank: 1

Overall Disc Golf Grade: 98/100
To qualify for this list, towns had to have populations under 50,000. Emporia's population is around 25,000.


The scores used to establish both quality and quantity ranks derive from information from the UDisc app, which, thanks to disc golfers from around the world, has the most complete disc golf course directory available with well-established courses typically having an abundance of ratings. 


The quantity rank is based on how many courses and unique permanent holes a town offers. Each town received a quantity score, and its rank reflects where that score fell in relation to the other towns we analyzed. Unlike our Top 10 Disc Golf Cities – USA rankings that considered courses within a radius of each metropolitan area, only courses in town borders counted for this list.


The quality rank was derived from the ratings of a town's top four courses in the UDisc app. Each town received a quality score, and its rank reflects where that score fell in relation to the other towns we analyzed


The overall grade comes from a composite of the scores used to generate quantity and quality rank. This grade was what determined a town's position in our Top Disc Golf Small Towns – USA list.


The Top Disc Golf Small Towns made their way onto this list based on data and not the opinions of this article's author or any other members of UDisc's staff. We were as surprised and interested as anyone to find out what the numbers would tell us.
The Flyover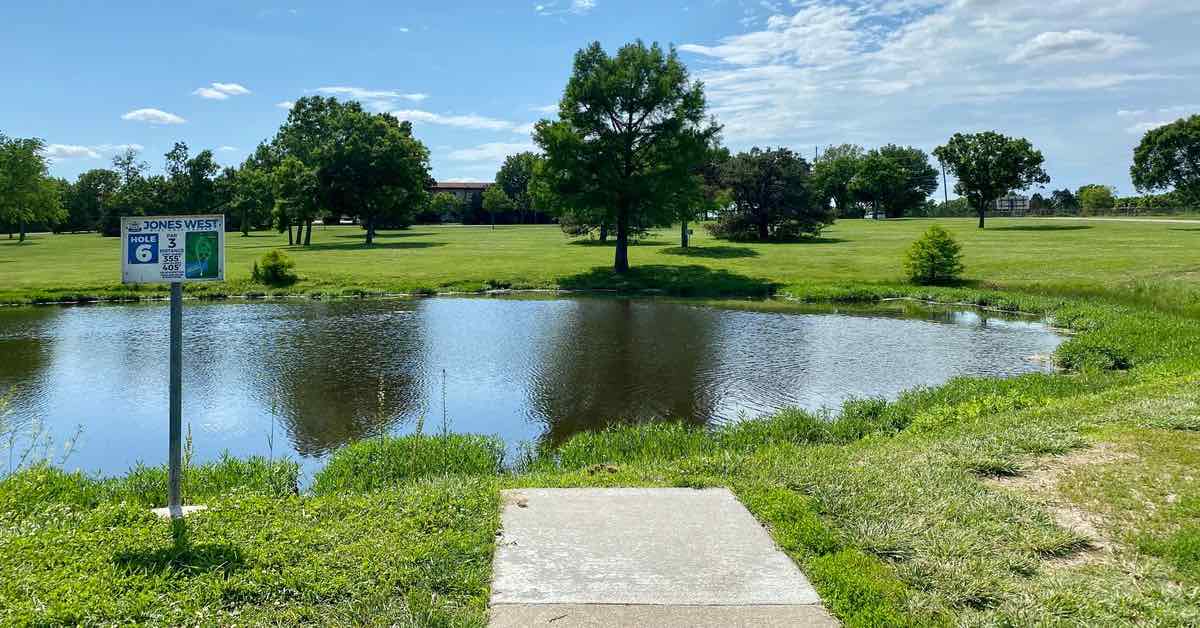 Just over two decades ago, Emporia's disc golfers had to be scrappy to add any sort of variety to their rounds. This is according to Eric McCabe, a team manager and course designer for Emporia's Dynamic Discs and also the 2010 Professional Disc Golf Association World Champion. 

"I have been involved with the disc golf scene in Emporia since 1994," McCabe said. "I was in high school when I found the sport, and back then we only had one course in town: Jones West....I remember our club was low on funds but wanted to get the second course installed at Jones Park and our city had the ability to manufacture ground sleeves, so we installed them on what would become Jones East. We would move baskets from course to course about once a month until we were able to purchase a second set of baskets."

Though McCabe knew there was potential for a number of great courses in Emporia, the support and funding for them simply wasn't there in those early years.

Two big factors would change that: the rise of Dynamic Discs and the Glass Blown Open tournament.

Today, Dynamic is a big name in the disc golf equipment sector, but it started out in a college dorm room at Emporia State University. Owner and founder Jeremy Rusco began using eBay to sell discs he'd dyed in order to fund his budding interest in disc golf. That business grew and grew, leading to the eventual establishment of a brick-and-mortar storefront in Emporia, and, later on, a stand-alone distribution warehouse that sends discs to stores and consumers all over.

Dynamic's expansion has meant that it's become an increasingly important part of Emporia's economy. The company was even featured in a recent Wall Street Journal article that examined how Emporia was defying economic norms during the pandemic. Of course, Dynamic fully supports the growth of disc golf in Emporia and surrounding areas, and it has been a driver for the installation and improvement of many of the area's courses.

As for the Glass Blown Open (GBO), it's a tournament founded by McCabe and fellow area disc golfer Gabe Werly. As Dynamic became increasingly popular, McCabe – who was sponsored by Dynamic at the time – allowed them to take over the tournament. From there, the tournament grew into the world's largest. For the 2019 GBO, 1,522 disc golfers descended on Emporia to compete. Video coverage of the Open and Open Women's divisions of the GBO have also helped disc golf fans across the world become interested in playing Emporia's courses.

With Dynamic growing exponentially and the GBO (which will be renamed the Dynamic Discs Open in 2021) bringing ever more people to town to give the local economy a significant cash injection, support for disc golf among local businesspeople and government is now the norm. 

"Disc golf is a huge revenue generator for Emporia!" Rusco told us. "Disc golf and gravel bike racing have been identified by the Convention and Visitors Bureau as the two main attractions that bring people to Emporia, so the city gets behind us in a big way. In return, disc golfers that come to Emporia are encouraged to patronize our local businesses, and some of those have become tourist attractions as well. It's a win-win!"

Needless to say, these developments mean that the Emporia of today is much different from the one where McCabe first started playing. Emporians and visitors can now enjoy seven courses within town limits rated 4.1 out of 5 or higher with no basket-carrying required.

Both McCabe and Rusco filled us in on what it's like to play those courses, which ones are their favorites, and places where hungry and thirsty disc golfers should be sure to stop when they're in town.
What Disc Golf Can I Expect?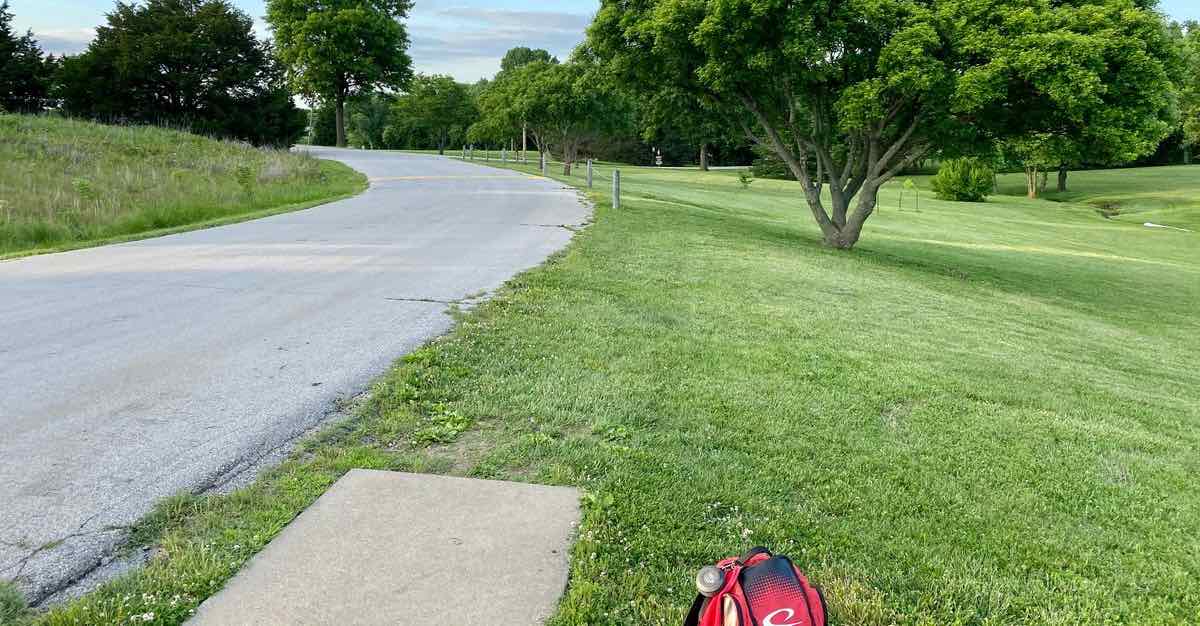 Unlike every other town in our top five, woods are not a big factor in Emporia.

"It's no secret that Emporia doesn't have much in the way of wooded courses, but the common themes in our courses are that they're well-maintained park-style courses with rolling elevation," Rusco said.

But just because the courses don't play through the woods doesn't mean the holes aren't diverse and challenging. McCabe, who has had a hand in designing all of Emporia's courses other than Jones West, said he's incorporated "mature trees and water hazards on almost every course" to create variety. Additionally, no matter how good you are, there's a course in Emporia you'll enjoy playing.

"One thing I can say is we have courses for all skill levels in Emporia, from beginner-friendly all the way to true championship level," McCabe said.

And despite the stereotype of Kansas being extremely flat, Rusco said people shouldn't underestimate the elevation on Emporia's courses.

"I think the subtle elevation on our courses doesn't show up well on camera, and it's more challenging to navigate in person," Rusco said. "For instance, hole 6 at Emporia Country Club measures around 350 feet [107 meters] but it plays closer to 390-400 feet [119-122 meters] because of the uphill slope."

Overall, unless you're a person for whom woods disc golf is the only disc golf, you're likely to find multiple courses to enjoy and feel challenged by in Emporia.
Course Highlights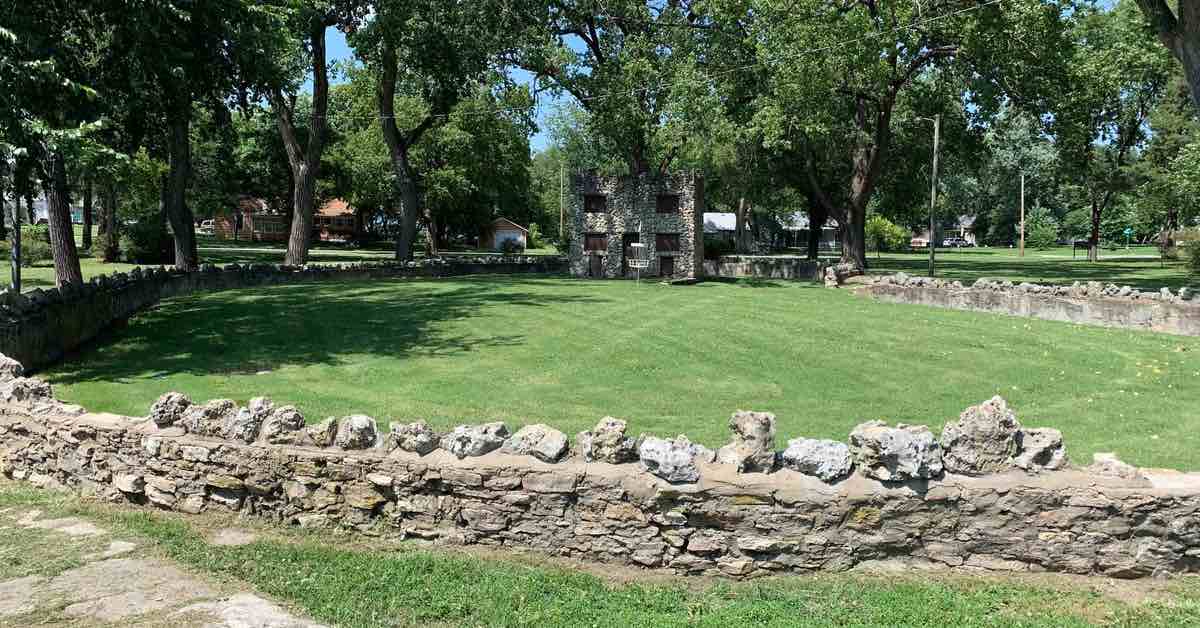 Emporia Country Club: Over the last few years, Emporia Country Club (ECC) – a disc golf course built on a ball golf course – has become the most famous course in Emporia because of its role as the sole host for Open and Open Women during the Glass Blown Open. That's meant it's been featured on many tournament coverage videos of one the most popular disc golf tournaments on the planet.

A major reason ECC has hosted the GBO's top divisions is that it's the course in Emporia most well-suited to presenting a challenge to the world's best disc golfers. Despite being mostly open, ECC has ample OB, a design that takes full advantage of the land's few mature trees and gentle hills, and plain and simple length that make it a beast of a track. And if the Kansas wind is up, it gets even harder.

But if you want to play a spectacularly maintained course where you can see how your skills stack up against a course that can cause the world's elite disc golfers headaches, ECC is a must-play. Just be prepared for the likelihood that your average score on UDisc will go up a tick.

Peter Pan: Now for something more accessible.

When we asked both Rusco and McCabe what their favorite course in Emporia was, they both independently said Peter Pan. For Rusco, it's the course's variety that sticks out.

"I've always loved playing at Peter Pan because it has a little bit of everything – tunnel shots, big hyzers, short birdie opportunities, and the famous peninsula green on hole 12," Rusco said. "You can score at Peter Pan, but if you're loose with your tee shots, don't be surprised if your score shoots up in a hurry!"
McCabe loves the course for the history connected to the property on which it's built.

"My favorite course in the area is hands down Peter Pan," McCabe said. "Beautiful park with mature trees and a lot of history. There are several historic limestone structures throughout the park, including one that was known as 'Monkey Island.' Many decades ago, the Monkey Island structure was surrounded by a moat and housed several Rhesus Monkeys. Today, there is a basket on the historic Monkey Island. 
"The original land for this historic park was donated in 1927, by author and famous Emporian, William Allen White," McCabe continued. "His daughter, Mary, had been tragically killed in a horseback riding accident at age 16. White donated the land as a tribute to Mary, writing that 'she was a Peter Pan who refused to grow up.' There is a memorial bust of William Allen White along with plaques telling Mary's story on the southeast side of the lake. Peter Pan Park DGC isn't a difficult course, but it's one you'll remember."
If you want to take a look at Peter Pan, you can see the Open Women play it in video coverage of the 2018 Glass Blown Open.

More Options: There are many more great courses in Emporia and nearby. You can explore all disc golf courses near Emporia, Kansas, yourself on UDisc Courses.

The Local Routes
Gear: Of course the spot for disc golf discs in Emporia is Dynamic's flagship store. Pre-pandemic, people could also book tours of Dynamic's warehouse and will be able to again once things return to normal. By the spring of 2021, Dynamic will have a new, 80,000 square foot/7,432 square meter warehouse to (hopefully) show people around.
Talk to the Locals: If you're looking for some more local advice or someone to meet up with, try joining the Emporia Disc Golf Facebook group. You can also look for disc golf tournaments and leagues in the area by tapping the Events tab in the UDisc app.
Eat, Drink, See, Do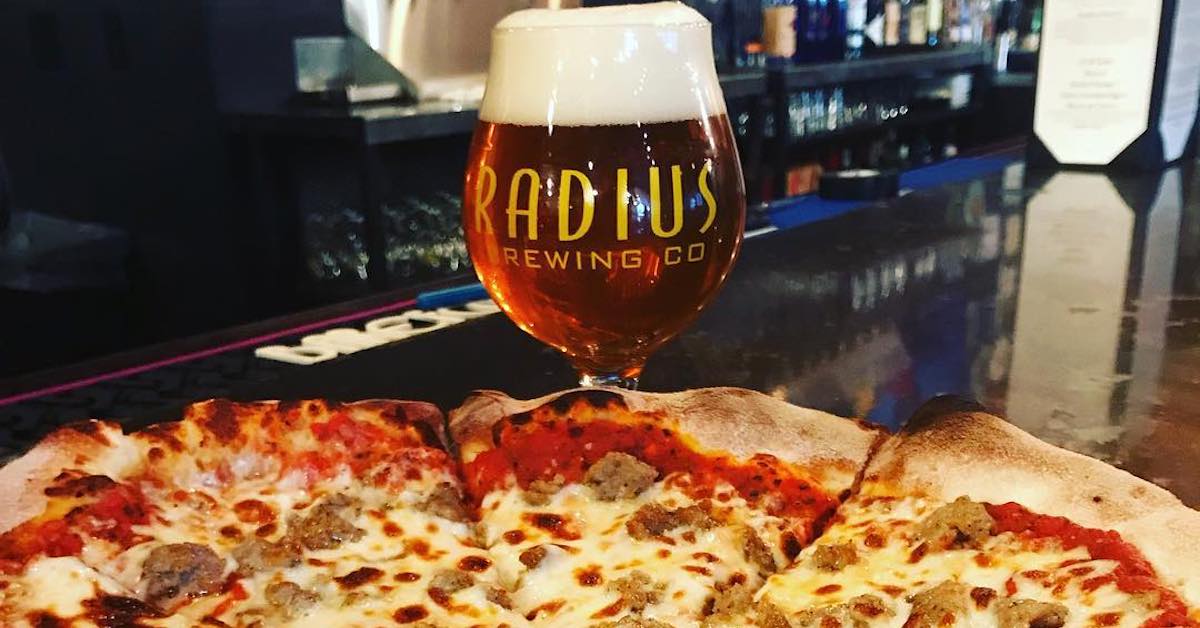 Eat & Drink: Both McCabe and Rusco said Radius Brewing was one of their favorite spots, with Rusco saying "their food is the best in town." Top-notch sandwiches and brick oven pizzas paired with Radius' own beer make for an excellent end to a long day of disc golf.

If you're in the mood for Mexican, there's Casa Ramos. It's one of Rusco's favorite spots, and along with the tasty food, he recommends the Jenny margarita for those so inclined. Additionally, McCabe said he really enjoys the authentic Mexican cooking at El Marmol. El Marmol is very near Peter Pan and could be the perfect spot to stop for lunch before or after a round.

One other option McCabe favors is Do-B's, a restaurant focusing on burgers, cheesesteaks, and po' boys.
 
See & Do: You can have many great experiences in and around Emporia, but here are three standouts:
Discover the Prairie: We often think of the word "prairie" in connection with states like Kansas, but true prairie ecosystems have greatly disappeared since Europeans began settling in them. The Flint Hills near Emporia are a place where one still exists, and visitors can see and learn about that sea of waving grasses at the Tallgrass Prairie National Reserve. 


The Rare Kansas Distillery: Microdistilleries aren't very common in Kansas (the Visit Emporia website says there are just six), but you can find one in Emporia: Trolley House Distillery.


Walk with the Animals: Emporia is home to a relatively small but also entirely free zoo: the David Traylor Zoo of Emporia. Go for a stroll while getting to see animals both native and exotic.