This was one of the world's top 10 disc golf courses in 2020.

We are currently releasing the top 10 of the World's Best Disc Golf Courses 2021 one course at a time every weekday from January 25-February 5, 2021. Return to the Release Point blog each weekday over that period to find out if this course made the cut for 2021.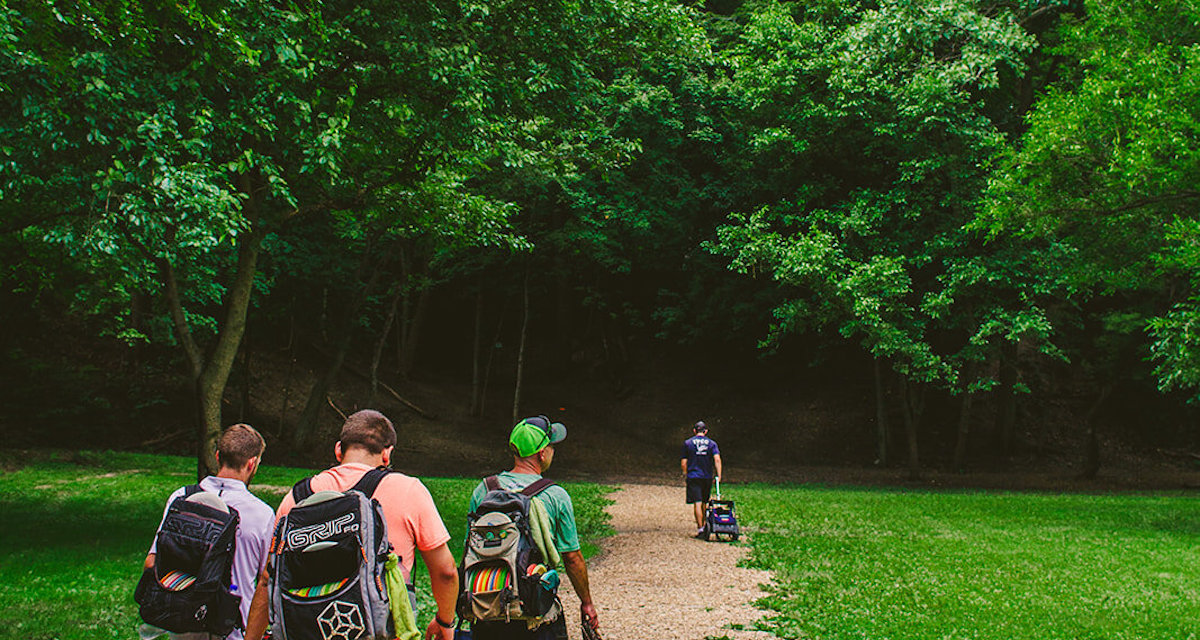 THE BASICS
The rankings for World's Best Disc Golf Courses are based on the over 1 million ratings of courses all over the planet by disc golfers using UDisc. However, we have done work to account for how regions and cultures tend to rate courses differently, helping to assure the courses that made and missed this list did not do so as a result of regional hype or hypercriticism. That said, the courses on this list earned their spots purely from their stats and not due to the opinions of UDisc's staff. Honestly, we were just as surprised and interested in the results as our readers.

The course grades are relative to how close each course was to a perfect five-star rating. No course on the list achieved a 100.
COURSE HISTORY
By the spring of 2013, Lockport, Illinois resident Sean Callahan had been obsessed with disc golf for four years.

"In those first years, I wanted to find as many disc golf courses as possible," Callahan said. "I was going up to Wisconsin, over to Indiana—anywhere that had disc golf baskets, me and my buddies were gonna go. Every disc golfer knows the feeling; we were just absolutely obsessed."

Something else any obsessed disc golfer will know about is the automatic compulsion to assess any outdoor area's potential for becoming a good course. And when Callahan looked at the elevation changes (unusual for Illinois), stream, fields, and woods of Lockport's own Dellwood Park, he thought the potential was off the charts. So he sent an e-mail to the district overseeing the park letting them know about the raw disc golf gem under their noses and his idea to cut and polish it to perfection.

"I immediately got an e-mail back from the parks director asking to meet the next morning," Callahan recalled. "I was like, 'Whoa! Okay.' I thought I would need to send 10 e-mails before I got listened to."

When they met the next day, Callahan found out the quick response was largely due to how the city's officials had already been made aware of disc golf at trade fairs and had previously considered installing a course. However, they hadn't known where to begin with design and construction, so the idea had never been followed through on. It turned out Callahan's offer to design a course and lead the installation was the only push needed to get the ball rolling on a disc golf course project in Lockport.

From there, it was a matter of creating a design that the city liked, having the city formally approve funds for the course, and putting in the work to build tees, install baskets, and do the trimming and clearing needed to create clean fairways and greens. After all that, the Canyons at Dellwood Park's original 18 holes premiered in September 2014, about one and a half years after Callahan's e-mailed proposal. The city had paid the costs of physical materials while Callahan and a small group of disc golfers had put in the labor for free.

But Callahan wasn't done with the Canyons yet. He almost immediately began looking for other ways to improve and diversify the course. And the work he was doing paid off with the course becoming, in Callahan's words, "crazy popular" in just its first year of existence.
Then, as if things weren't going well enough, the disc golfers made a chance discovery that forested areas near the park were, unbeknownst to park officials, actually park property. A little lobbying secured funds to expand the course into this area, and a whole new dimension was added to the Canyons with nine secluded holes away from the park's usual hustle and bustle.

Of course, all this time for course work wasn't just magically appearing in Callahan's schedule. He was making plenty of sacrifices to assure the success of the course. However, he had an idea that might change that.

"I got to a point where I was balancing my personal life and professional life, and then after both of those putting in all this time into disc golf," Callahan recalled. "I thought about how great it could be to put 100% of my professional time into disc golf. And I went to the park district and asked about opening up a pro shop. The were like, 'Ha ha, you're crazy.' But I told them I was serious."

Callahan's vision was a symbiotic relationship between the pro shop and course. Running the shop would allow him to be there throughout the day to help introduce the park's many visitors to disc golf and the course while also being a resource to immediately equip people eager to play their first rounds. As the number of players in the area grew, so would the shop's business. Additionally, he would always be on the course to take care of maintenance issues or plan course improvement efforts.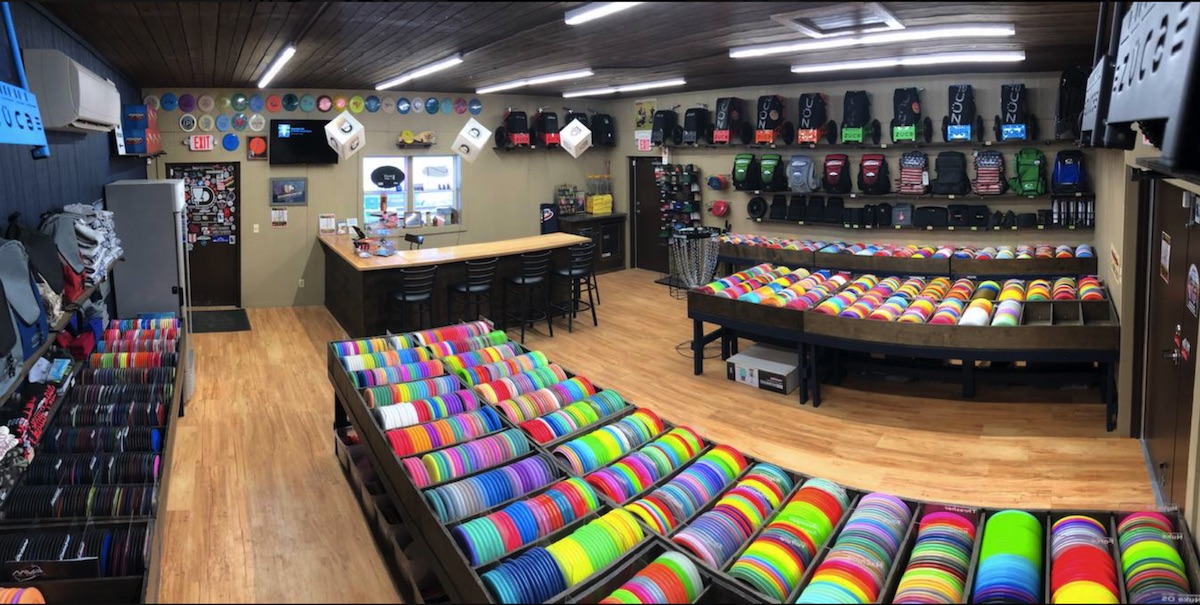 In the end, Callahan was given the go-ahead to start the shop, and it has definitely paid dividends. Incredibly, Callahan says that since 2017 he has raised $10,000-$15,000 per year from the sale of used discs at the pro shop which he has always put back into course enhancement projects.
And though those are the major events in the Canyons' history so far, they're undoubtedly not the last. Callahan continues to work tirelessly to make sure the course is in the best condition possible and continually being improved. We'll just have to wait and see what the next big disc golf news is out of Lockport, Illinois.
WHAT GOLF CAN I EXPECT?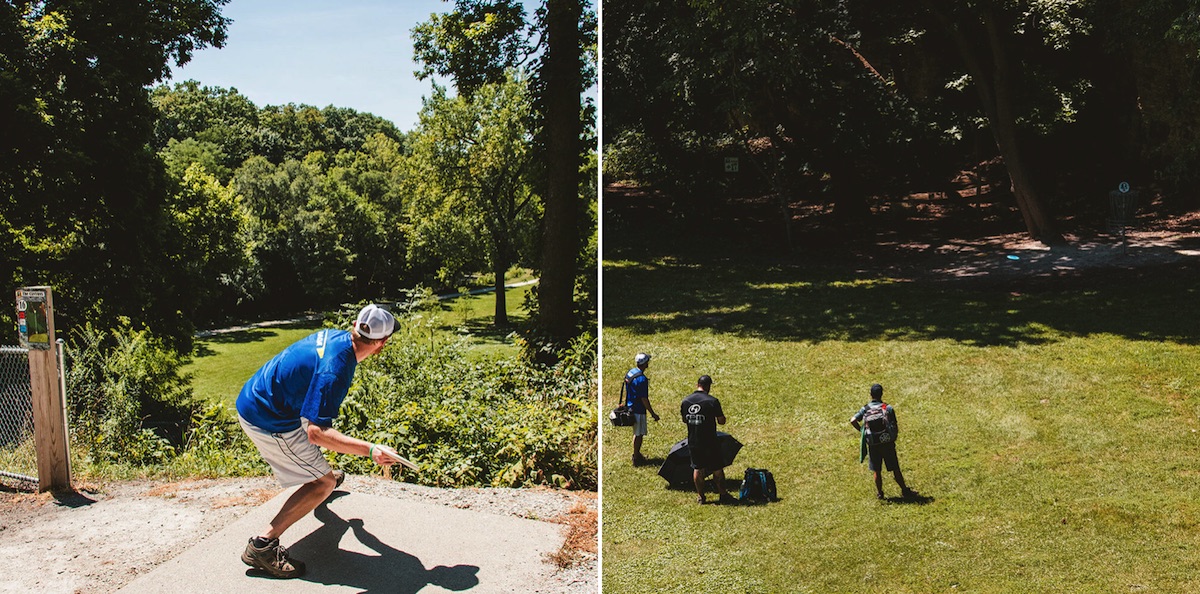 The biggest thing to know about what to expect when playing The Canyons at Dellwood Park is pretty obvious from the name.
"Most people that aren't from Illinois think that it's just super flat and corn fields, but in Dellwood Park, there's a ton of elevation from waterways that used to be in the park," said Callahan. "I think that's what people like about it the most."

And of course, the elevation aspect is part of what attracted Callahan to the property to begin with. However, when he created the design for the course, his guiding principal was far from "make as many fun downhill shots as possible."

"My aim is not to make the course fun; it's to make it good," Callahan said. "I tried to work with the idea I would make a pro player feel challenged and an amateur player want to get better."

Meeting that goal usually means requiring players to be good at a diversity of shots, so it's not surprising that variety defines the Canyons nearly as much as elevation does.
The course has longer and shorter holes, often with pins placed near hazards like drop-offs or water that are prepared to make players pay for errant drives or upshots. There is also a stream flowing through the property that adds both plenty of scenic moments and numerous chances to go of out-of-bounds. For huge arms, there are places to really air shots out and get eagle looks on relatively short par 4s. For those whose talent is finesse, there are plenty of tightly wooded holes to test their skills.

Essentially, the course is a hybrid of many types of disc golf: flatter park-style holes, secluded woods holes, and holes demanding control of very up- and downhill shots. This is likely a reason the course is so highly regarded by those who play it. No matter what type of disc golf you like best, there's a good chance you'll find it at the Canyons. Throw into that Callahan and the park staff's constant maintenance, and you've got a world-class disc golf experience.
SIGNATURE HOLE
Callahan said there isn't so much a signature hole as a signature feeling to the Canyons. One hole he pointed to as having that feeling is hole 4, which you can take a look at in a video from NycProductions covering the 2018 Clash at the the Canyons tournament:


Again, elevation is the key factor here. The downhill nature of holes like hole 4 are really unusual for the region and therefore create something special for most visitors from the surrounding area. It's that "something special" rather than a single hole that Callahan believes most players walk away remembering.
AMENITIES
Some extras at the Canyons you won't find at every public park course:
Callahan said he assures that the parks department diligently mows and empties trash cans throughout the year
A pro shop with a wide variety of new and used discs, bags, carts, and other gear
Trash cans at each tee
Picnic tables
A lot of signage meant to clearly show fairways, basket locations, and next holes
EVENTS & LEAGUES
Events: To see events coming up at the Canyons, check out the Events page of Dellwood Disc Golf's website.

Leagues: There's a bag tag league on Saturday mornings, and though visitors wouldn't have much to compete for, they could take part to have a round with locals if desired. There's also a local doubles league that sometimes plays at Canyons. You can find their Facebook site here.
BEST TIMES TO PLAY
Monday-Thursday are your best chances to find Canyons with relatively light traffic according to UDisc data, but it's generally a busy course. Try starting your round at 8am on those four days if you really want a chance at a quiet round. On Friday, that same 8am time is a good time to start to avoid crowds, but 3pm or later could also mean reduced traffic. The course is slammed for most of Saturday and Sunday, with traffic not lightening up until 5pm on both days.

A typical round at the Canyons lasts just under three hours.
THREE REAL FIVE STAR REVIEWS
Three real, unedited reviews from UDisc users. To see Canyons' latest reviews, visit its page on the UDisc Courses website.
Most beautiful course I have played in Illinois. What makes it even better is Sean (hope I spelled his name right) in the Pro Shop. He designed this amazing course, and is a genuinely nice dude. He was more than willing to help explain things to someone brand new to the sport and help them pick out discs. Couldn't recommend The Canyons enough
horvenglorven
Beautiful, well-protected baskets with great signage and wood chip fairways and greens. Bug spray strongly recommended, but this picturesque course is worth a few bites!
lukegorz
Dellwood is an amazing place. Very few courses in the world are given as much care as ol delly. Multiple pads and baskets make the combinations endless. Any event held here is set to a high level of standards.
slawdawg

Want to find out what course is #4? Click here.