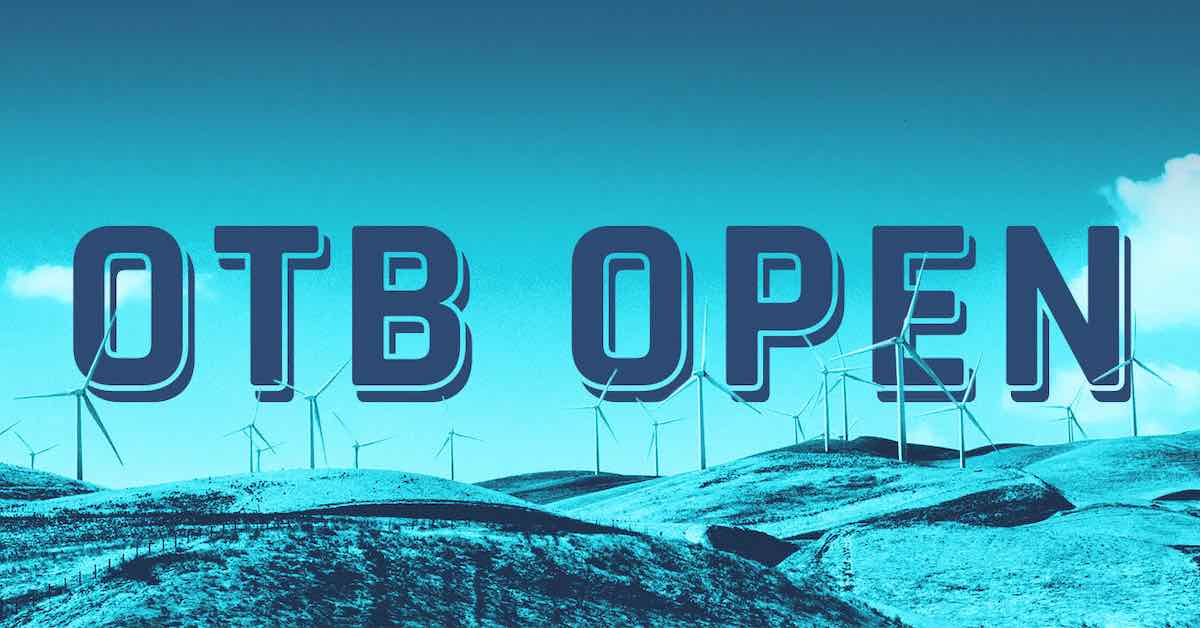 If any of the pros left their hearts in San Francisco in 2019, they couldn't retrieve them in 2021. Due to COVID restrictions in the Golden Gate City, what was previously called the San Francisco Open (SFO) moved 80 miles/129 kilometers inland to Stockton, California, and got a new title sponsor.

The OTB Open presented by Innova, as the SFO heir was called in 2021, took place from Friday, May 14 to Sunday, May 16.

Players faced a course never before used for an Elite Series event that had been recently designed specifically for the OTB Open by course design guru Leonard Muise, the same person behind Gleneagles of SFO fame.
Learn more about the OTB Open below, where we fill you in on tournament history, past highlights, the course, how to watch it, and more.
What Happened at the 2021 OTB Open?

You can find individual scores on every hole, in-depth stats, and more at the UDisc Live results page for the 2021 OTB Open presented by Innova.
OPEN
Who won the 2021 OTB Open?

Who shared the podium at the 2021 OTB Open?



What happened at the 2021 OTB Open?


Eagle McMahon won the 2021 OTB Open, leading the tournament wire-to-wire and never seeming vulnerable.
McMahon dominated the competition from the beginning. He had a relatively early tee time on the first day and walked off the course with a bogey-free 13-under par, setting a bar no one else could leap over. McMahon's initial round still stands as the course record at
Swenson Park Disc Golf Course
, which was created specifically for the 2021 OTB Open.
Despite a poor putting performance in the second round that put him in the negative for
strokes gained
from C1X putting (-0.44), McMahon was so clean from tee and fairway that he was still able to turn in a 10-under par performance. That was just one stroke off the hot score of the second round and the best of anyone with him on the lead card. Going into the final day, McMahon had a four-stroke cushion over
Ricky Wysocki
and
Aaron Gossage
, who were tied in second place.
The final round was more of the same. McMahon never seemed out of control, throwing powerful drives and upshots with precision and never letting anyone threaten his position atop the leaderboard.
The race for the other spots on the podium was more dramatic. James Conrad turned in an 11-under par from the chase card to reach 28-under. That put Conrad in tied second with Wysocki and one in front of Anthony Barela as those two members of the final day lead card approached hole 18. Wysocki bogeyed the hole while Barela birdied it, tying Barela and Conrad for second place and leaving Wysocki off the podium entirely.

Standout stats:


McMahon led the field in both C1 and C2 in Regulation (63% and 80%, respectively). That means he had more chances for birdie within C1 or C2 than any other Open competitor. This allowed him to be 38th in C1X putting percentage and still easily best the field.
OPEN WOMEN

Who won the 2021 OTB Open in Open Women?



Who came in second and third at the 2021 OTB Open in Open Women?



What happened at the 2021 OTB Open in Open Women?


Paige Pierce emerged victorious after yet another clash with her perennial rival Catrina Allen.

The host of longer holes at the 2021 OTB Open provided the perfect stage for Pierce and Allen to shine given that they are some of the best distance players in the Open Women field. However, neither was at the top of the lead card after round one. That honor went to Jessica Weese, who had a 5-under par performance to Pierce's 4-under and Allen's 3-under.

But after round two, Pierce had the lead thanks to a division-leading 6-under par round. Again, Allen was on her tail with a 5-under. This left Pierce with a two-stroke lead over Weese and Allen, who were tied in second.

In the final round, both Pierce and Allen were shooting hot and left the other competitors far behind. The only time Allen seemed in real contention for the lead, however, was near the very end.

After birdieing holes 15 and 16 to Pierce's pars, Allen was two strokes back of Pierce with two holes to play. On the par 4 hole 17, both competitors had landed in Circle 2 with their second shots, but Allen was just a little farther out than Pierce. The basket was in a position very close to OB water, making running putts dangerous. However, Allen was in a position where going for it was the only option.

Allen's putt was dead center but high. It bounced off the band, landing next to the basket for a tap-in par. This allowed Pierce to lay up and still take a two-stroke lead into the final hole.

Though the 800-foot/244-meter par 5 was a possible eagle chance for Allen, her roller unfortunately found a small utility box in the fairway and stopped well short of the great position it was likely heading to. That unlucky break gave Pierce the chance to calmly play for par and take the victory though Allen finished with a birdie and a course record 10-under par round.

Standout stat:


Despite her win, Pierce finished in the negative for strokes gained from C1X putting, earning -0.72 in that stat line. This marks the first time in 2021 that any winner in the Open Women division at an event scored with UDisc Live has won with overall negative C1X strokes gained. It probably helped that she was stellar from C2, coming in second in strokes gained from that range with 3.23.
Tournament History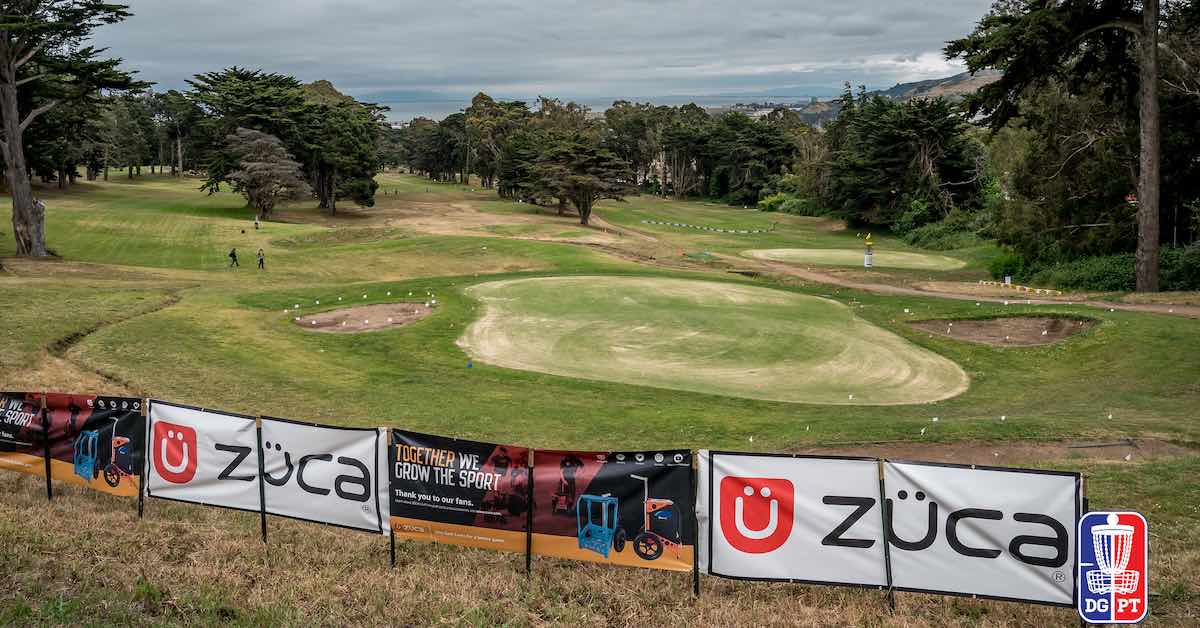 The San Francisco Open (SFO) splashed onto the disc golf scene in 2018. A brand new event on a brand new course that was part of the relatively new Disc Golf Pro Tour.
The disc golf course built on the Gleneagles golf course that hosted the SFO instantly became a tour hit following the inaugural event and even has two holes featured on the DGPT's Dream 18 Course.
In 2019, the event returned to Gleneagles with a few minor kinks worked out and again pleased pros and fans alike.
"We learned a ton in 2018, both what worked well and what didn't work well," co-tournament director Shawn Mercy said. "That rolled over pretty well into 2019. We did try to do some additional things, but 2019 was pretty much a rinse and repeat though we did have the foundation of 2018 to go off of."
The SFO crew was even more at ease and ambitious as they prepared to put on the third iteration of their event, but then COVID hit.
"We felt really good going into 2020," Mercy said. "We had two years of experience at that venue working with that course and running an event of this scale. We had pretty big plans to increase the scope of the event and felt more comfortable with the overall project. But that was cancelled."
Although the 2021 edition went off great, the pandemic forced some changes.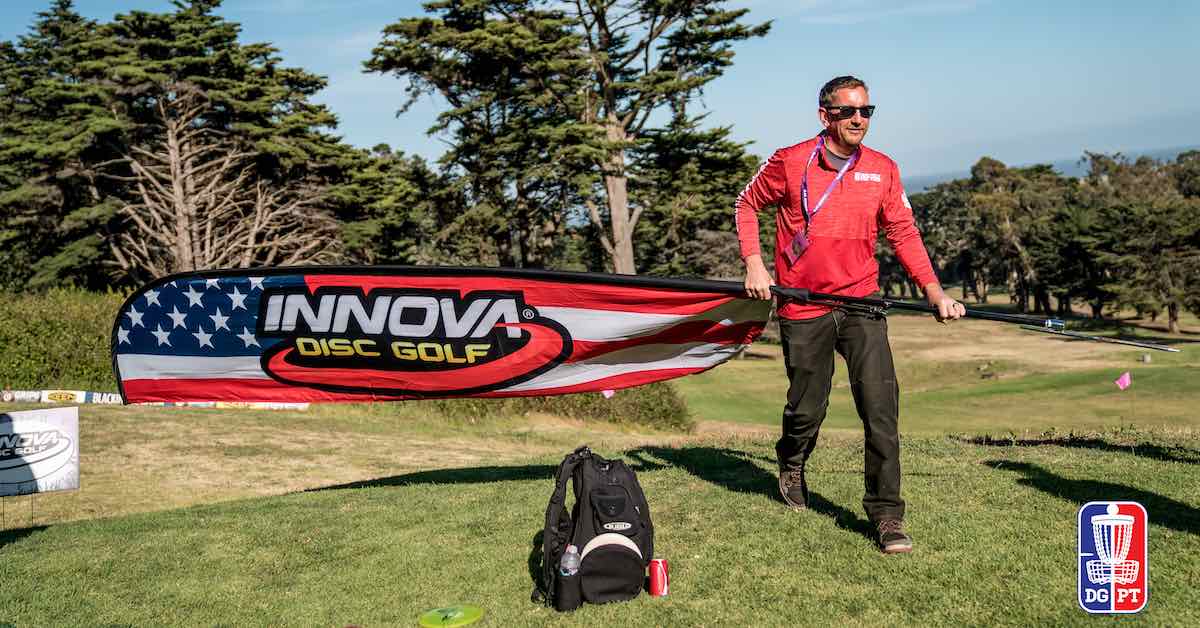 The most notable shake-up was the course. Though only two big events have been played there, Gleneagles has already become a favorite stop for many pros. But due to the COVID climate in the Bay Area, the event moved an hour and a half inland.
When it was discovered that Gleneagles was no longer a viable option for the event, Mercy and co-TD Sean Jack began looking at alternatives. Visit Stockton, which describes itself as an organization "charged with the promotion and marketing of the city of Stockton as a meetings, events, and travel destination," was part of the pitch to bring the tournament to Stockton.
"They've long been supporters of disc golf," Mercy said. "They basically came in and said, 'We'll help you out. What is it going to take to get you guys to come here for this event?' They were pretty aggressive in helping us with certain pain points, namely the cost of running it on a golf course."
With the support of the local community, Mercy and Jack settled on Swenson Golf Course because it had a strong cell signal for the DGPT live stream combined with access to 60 acres north of the course if needed for additional space. They enlisted the design help of Leonard Muise, owner and founder of Whirlwind Disc Golf and someone who knows a thing or two (or six, really) about installing disc golf courses on ball golf courses, to make it all possible. Muise also designed the disc golf course at Gleneagles.
"We're good friends and have a good working relationship with Leonard Muise," Mercy said. "In my opinion, there is nobody better at course design for a specific purpose and given specific constraints. Once I found out we had about an extra 60 acres, there was no doubt in my mind Leonard was going to be able to find a championship-level course out there."
In a perfect coincidence, Stockton is home to Only The Best Discs (OTB Discs), a disc golf retailer whose popularity has boomed in the past year due in part to investing heavily in advertisements on disc golf media and sponsoring a popular Skins Match series that's filmed and released by GK Pro.
As a local presence, OTB was already in talks with Mercy and Jack to sponsor the 2021 tournament and beyond, but the decision became even easier with the shop right up the road from the 2021 tournament site. OTB, as you might guess, has the naming rights to the OTB Open though Innova is also a title sponsor.
The Course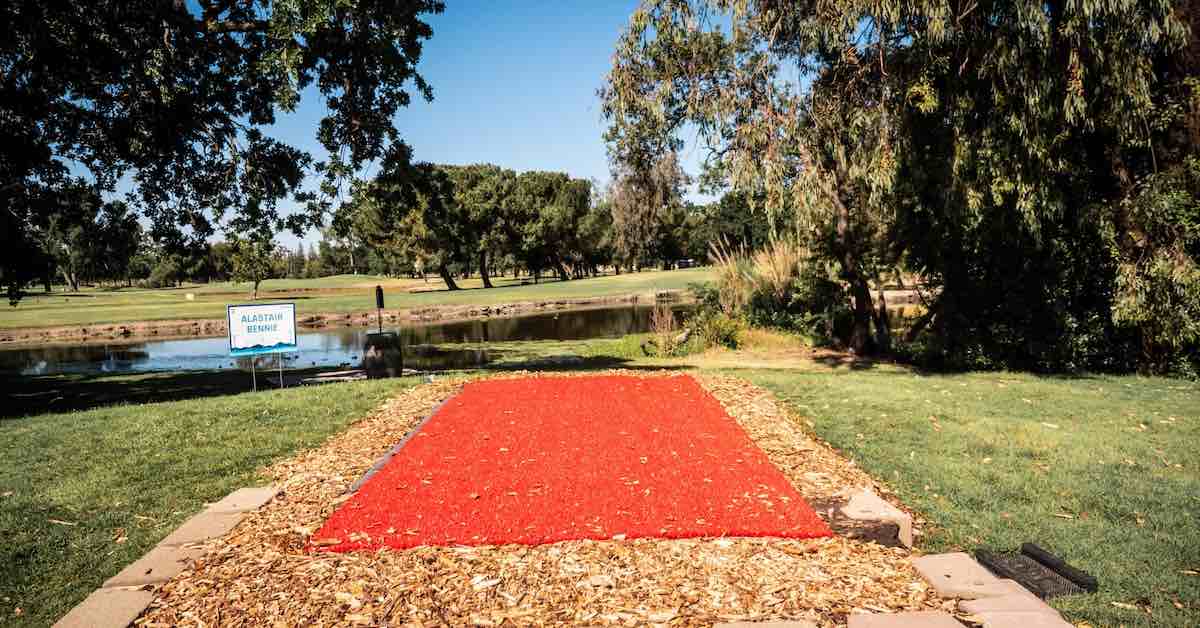 The 2021 event featured the Swenson Park Gold and Blue layouts. Both were designed in 2021 by Leonard Muise and his company Whirlwind Disc Golf specifically for the 2021 OTB Open.
Muise, a renowned course designer, was given free rein to turn the Swenson course into a championship track for the touring pros.
The Open Women will be taking on the longest course of their tour season: a par 70, 10,022-foot/3,055-meter layout. The Open field will be faced with holes totaling 11,514 feet/3,509 meters and a par 66.
Big arms have an advantage on the course, but the course also put a premium on accuracy. There are a multitude of par 4s and par 5s that require players to lay up short of the rough or a hazard to set up their second shot. Any deviance from an accurate tee shot will greatly endanger the likelihood of a birdie.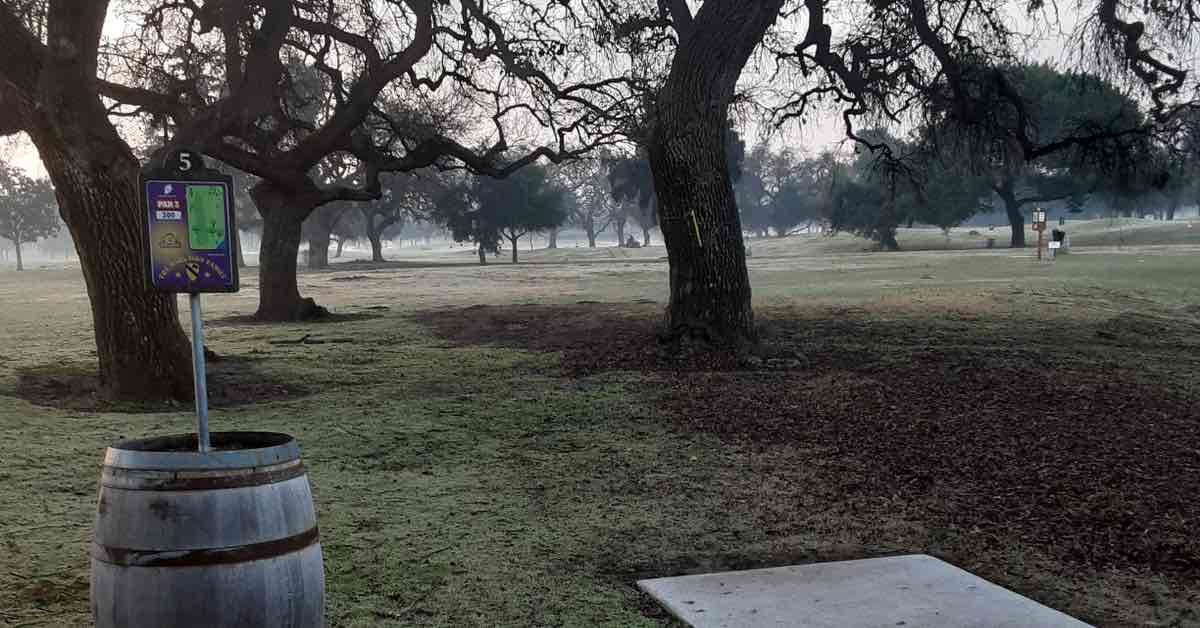 The idea of a placement shot on longer holes could also tempt power throwers into "going for it" and being extremely aggressive in an effort to pick up bonus strokes, something that may end up costing them strokes in the end.
Though it didn't in 2021, wind could play a major factor at Swenson. There's limited tree protection in most areas, and the course is laid out in a way that makes it unlikely that players will have the same wind direction on any two consecutive holes. This means players first on the box will always be the wind dummies for the rest of the card.

Oh, and don't forget that the two-meter rule will be in effect.
Past Highlights
Hokom Makes SportsCenter
Sarah Hokom entered the second round of the 2018 SFO holding a narrow one stroke lead over Valarie Jenkins. She still clung to that lead as she stepped up to the 347-foot/106-meter hole 3. Five seconds later that lead had tripled as Hokom smashed an ace with a skipping, righthand forehand shot.
Watch her elation in this clip from The Disc Golf Guy:
Hokom would go on to win the tournament by an impressive eight strokes, all jumpstarted by that ace which ended up making #8 on ESPN's SportsCenter Top 10 the following day.
2019 Winners Dominate the Field
In both the Open and Open Women fields in 2019, the scores were tight on the top of the leaderboard after 18 holes. However, in round two Ricky Wysocki and Catrina Allen found another gear that no one was able to touch.
It's not often that both divisions at high-tier events are dominated so thoroughly. Allen and Wysocki won by nine strokes and six strokes, respectively, which were large enough margins to allow them to coast down the stretch. But both players were in such great form that birdieing was the same as coasting to a finish. Allen notched a birdie on five of the last nine holes and Wysocki went 7-under par on the same stretch to close the tournament.
Major Scoring Improvements in Year Two
The 2019 event featured the same course layout at Gleneagles that the players had been introduced to one year earlier during the inaugural event.
Paul McBeth won the 2018 event in the Open division shooting 19-under par, edging out Eagle McMahon by two strokes. If McBeth had shot that same score in 2019, he would have finished tied for 11th place and would have lost to Ricky Wysocki by 14 strokes.
The difference for the Open Women field wasn't as drastic, but a similar trend was seen at the top. Allen's 18-under par in 2019 was five strokes clear of Hokom's mark in 2018 while Paige Pierce (who finished second in both 2018 and 2019) beat her score by four strokes the second time around.
How to Watch the 2021 OTB Open

When is the 2021 OTB Open?


Friday, May 14 through Sunday, May 16

Live Scoring


The scores and results of the 2021 OTB Open are on
UDisc Live
. See shot-by-shot scores and a smorgasbord of stats.

How to Watch the 2021 OTB Open: Open


Live
You can watch archived live coverage of the 2021 OTB Open on the
Disc Golf Network
. Paid subscription necessary. The final round is free on the
Disc Golf Pro Tour's YouTube channel
.
Post
You can watch the 2021 OTB Open for free through next-day coverage on
JomezPro's YouTube channel
. They have condensed, shot-by-shot coverage of all lead cards and an opening round feature card.
You can also watch the 2021 OTB Open for free through next-day coverage on
Gatekeeper Media's YouTube channel
. They have condensed, shot-by-shot coverage of all chase cards plus a feature card on day one.

How to Watch the 2021 OTB Open: Open Women


Live
You can watch archived live coverage of the Open Women at the 2021 OTB Open on the
Disc Golf Network
. Paid subscription necessary. The final round is free on the
Disc Golf Pro Tour's YouTube channel
.
Post
You can watch the Open Women at the 2021 OTB Open for free through next-day coverage on
GK Pro's YouTube channel
. They have condensed, shot-by-shot coverage of all lead cards and a round one feature card.