When you're in Greenland to build a disc golf course and realize you don't have the right bolts, get ready to extend your stay...by a lot.

"The bolts...they were not big enough for the basket installment, and the ship won't be here for 12 days – so they won't get any screws or anything before that," said Martin Spliid, co-founder of the Danish company FrisbeeSport. "It's just the conditions up here. You cannot just go to another city and buy anything in the store. You have to wait for the ship...and hopefully they can bring them."
We caught up with Spliid on the phone during the final stages of years-long efforts to build Greenland's first disc golf courses. Luckily, he had plenty of time to chat.

"We have been stuck in a very small city in southern Greenland where we designed a course," Spliid explained near the beginning of our call. "We've been stuck here for three extra days because the weather has been so bad that the helicopters couldn't fly us away."

Why the need for helicopters? Greenland has few roads and a total of zero highways serving its population of around 56,000. The main way to get from town to town is air or sea travel, and when conditions are too bad for one, they're often too bad for the other.
In a place that's the world's least densely populated land mass with permanent residents, the complications and delays Spliid experienced aren't unusual even in the spring and summer. But they do show exactly why disc golf could be so warmly received in chilly Greenland. It's a place where it's easy to get lulled into idleness while you wait for that key thing to be delivered or the fog over the ice-filled sea to clear up. Disc golf offers a new way to fill those hours with accessible, healthy, and free entertainment.
The Greenland Sports Confederation (Grønlands Idrætsforbund or GIF) also believes getting disc golf courses in the rocky ground of various communities will help it reach a lofty goal: Making Greenland the world's most physically active country by 2030.
How Disc Golf Came to Greenland
The recently-appointed chairperson of GIF, Bolethe Stenskov, said she'd heard about disc golf as much as three years ago. But it wasn't something she thought was a serious option for Greenland (or, really, a sport people take seriously generally) until very recently.
"I heard about disc golf in 2020," said Stenskov, who recently gave a speech at the opening ceremony of Greenland's first disc golf course. "Some of the children in Qassiarsuk wanted to have disc golf. I thought it would be very good to do in their spare time, but I didn't think it was a sport. I first found out it was a sport this May when Martin [Spliid] came to Narsaq."
Though most Greenlanders have only very recently learned about the sport, Spliid has been interested in introducing disc golf to their country for over a decade. He first got the idea on a vacation to the nation 15 years ago. After FrisbeeSport hired a Greenland native as a graphic designer not long ago, Spliid turned his interest into action.
"When we got this graphic designer on our team from Greenland, I talked to him about the possibility of getting disc golf to Greenland because we thought it would be a perfect sport for them," Spliid said.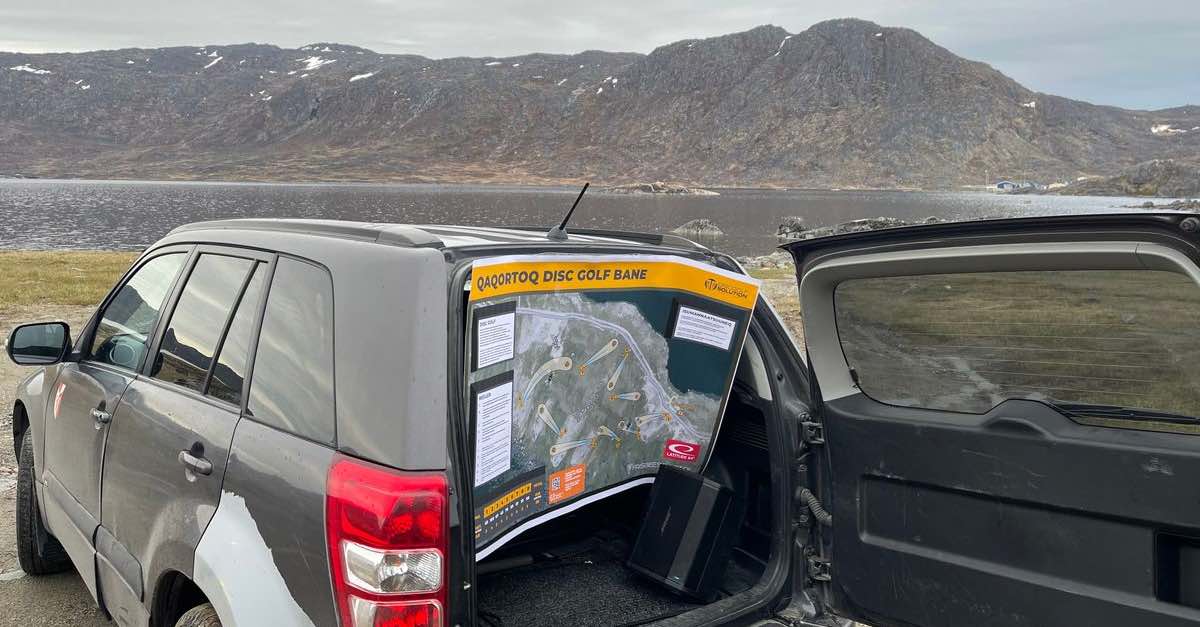 Along with having someone from Greenland on their team, FrisbeeSport had another edge. Greenland is autonomous and the Inuit language Greenlandic is its official tongue, but the country is still a part of the Kingdom of Denmark and many community leaders speak Danish. This made outreach and negotiations easier for the Danish company than they would have been for most others.
It was also simply an auspicious time for the pitch. In 2020, GIF had published its bold vision and strategy for the nation, and municipalities are taking the 2030 deadline seriously. Freddy Christensen, manager of the Culture and Leisure Department for the Kujalleq municipality on the southern tip of Greenland, cited GIF's goal as one reason he supported course building efforts.

"I thought it was a great idea to bring disc golf to Greenland as it is closely aligned with our love of spending time outdoors and the the Greenland Sports Confederation's 'Vision 2030' of becoming the world's most physically active country," Christensen said.
The mixture of easy communication and perfect timing made some Greenlandic municipalities very receptive to FrisbeeSport's offer. They reached deals to build three courses in the southern Kujalleq municipality and one other on the more northerly island of Aasiaat on the west coast.
Why Are Disc Golf and Greenland Such a Good Match?
Disc golf has an unusual combination of traits: It offers all the fun and motivation of a game, can be played in its traditional form whether you're alone or in a group, and isn't particularly physically demanding or risky.

Other popular outdoor pursuits in Greenland like boating, fishing, berry picking, extreme sports, and (when the season is right) soccer don't tick all those boxes at once. With outdoor life a traditional part of Greenlandic culture and studies showing outdoor activity helps the nation's kids be happier and healthier, disc golf's unique mixture of appeals was a big selling point for the municipalities that bought disc golf courses.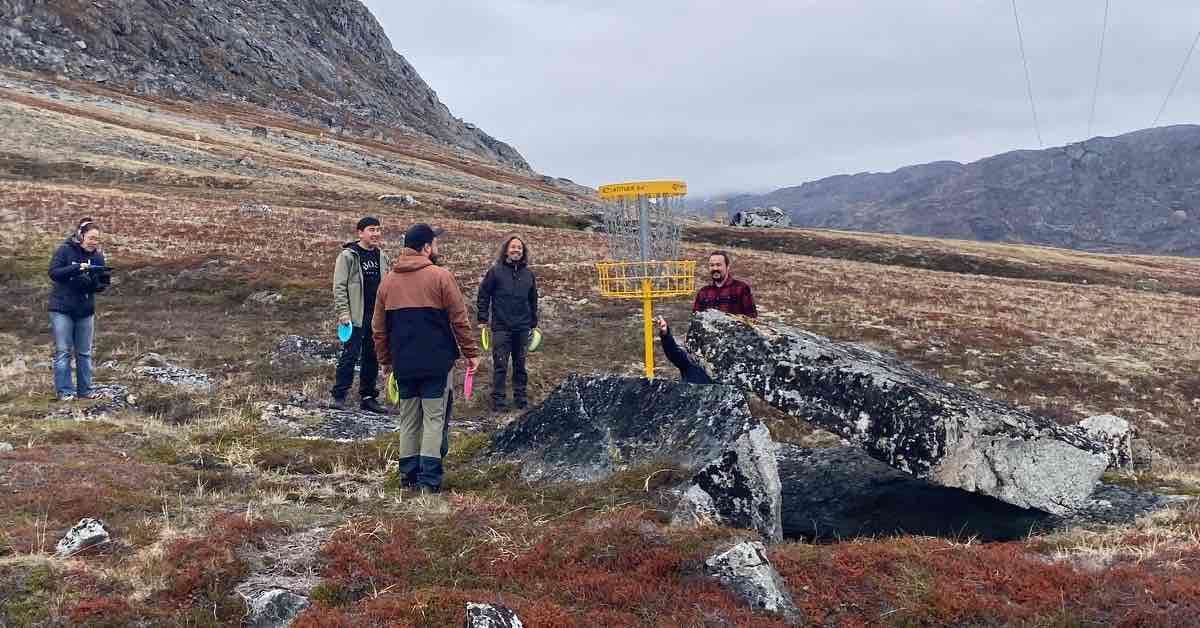 Additionally, compared to building indoor arenas or outdoor fields in remote and rugged Greenland, the cost and effort involved in installing a disc golf course is negligible.
"It doesn't cost that much to build because you don't have to make everything flat," Spliid said. "For example, when you build a football [i.e., soccer] field here in Greenland, you have to move I don't know how many tons of rocks and stones – it's so expensive."
GIF Chair Stenskov corroborated these opinions, telling us that she thinks "it is very easy to build a disc golf course." 
Because disc golf doesn't rely on ground play like traditional golf, all it takes to make a playable course in Greenland are disc golf baskets, tee signs, and a drill powerful enough to make holes in rock for the bolts that secure baskets and signs. Spliid explained that things like wind, elevation, bodies of water, rock formations, and even transmission towers (the structures that hold up power lines) helped him design interesting, varied courses that will challenge players despite Greenland's open landscape.
Though they'll typically experience only short periods of comfortable weather each year, Greenlanders who take to the sport will likely get in rounds in all but the harshest conditions.

"I think it will depend on how much snow we get in winter," Christensen said. "Situated in the southern part of Greenland, we don't get as much snow as other areas, so I hope that we will be able to use the courses most times of the year."
Locals will also have access to discs thanks to the involvement of disc golf brand Latitude 64° – whose equipment FrisbeeSport uses in all of its course construction – in this project. The company has started partnerships with local stores in all cities with a course so that they can keep discs in stock. Most generously, they provided hundreds of discs to the municipalities who bought courses so schools, other groups, and interested residents could try the sport at no cost.
Growing Excitement
Spliid said that when he started on his journey installing disc golf courses in Greenland, no one had a clue what he and his team were doing. However, in a country with a population as small as Greenland's, news about something new and interesting didn't take long to get around.
"In the beginning, no one knew about it, but when we came to this third city, people had already heard," Spliid said. "So the word is spreading pretty fast – even if you have to fly between cities."
Greenland's first disc golf course, Qaqortoq Disc Golf Course in Kujalleq municipality, recently had an official opening ceremony that "people of all ages attended" according to Christensen. Stenskov said her speech at the event described her happiness and pride seeing the country's first disc golf course open for public play, and she expressed her belief that disc golf has a bright future in her homeland.
"I will support disc golf, and I think it will be very good to have in Greenland," she told us. "I hope there will be many of them [disc golf courses] in Greenland and maybe someday we can have a championship here."

Disc golf has also been getting attention from the country's national public broadcaster, KNR, which has done stories on TV, in print, and on the radio about the new courses.
Though not all the courses are yet available for play, keep an eye out for them (and what are sure to be some incredible photos) on Greenland's UDisc Places page.