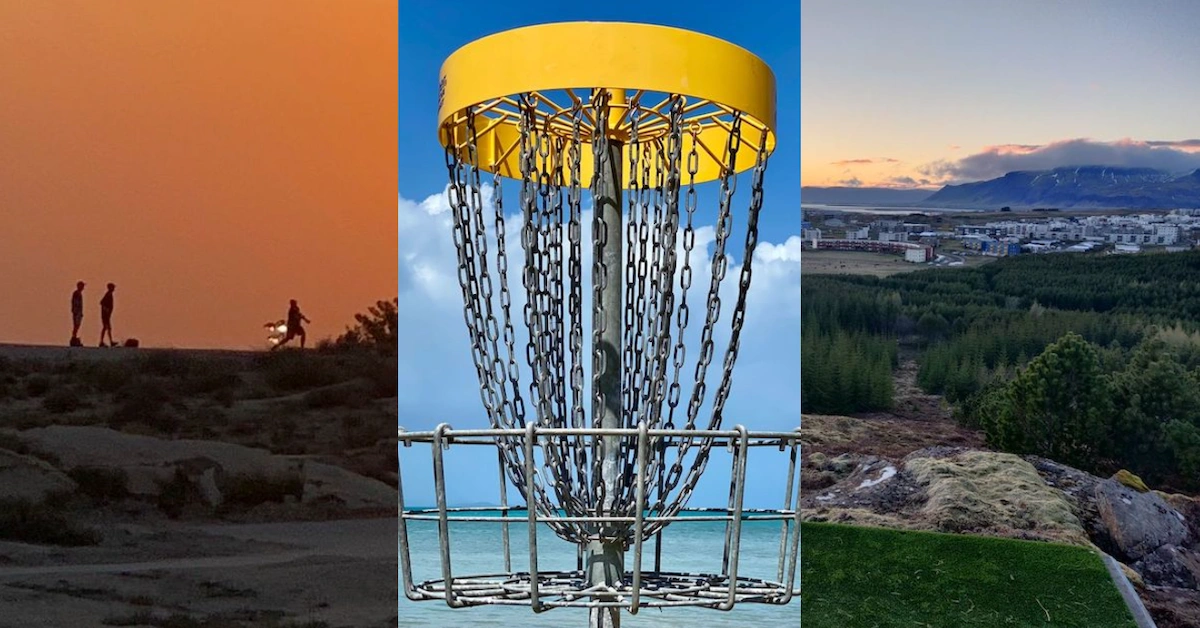 2022 just came to an end, and it's time for our annual look at the year's most popular (i.e., most played) disc golf courses based on rounds recorded with UDisc, disc golf's #1 app. Here you can find out which course was the most popular in over 80 countries.
To jump to what you're most interested in, click or tap a section title below:
What Does "Most Popular" Mean?
Disc golf courses that are a country or other large area's "most popular" tend to walk an interesting line. Though they're occasionally also what people consider an area's "best" course, it's fairly rare. But popular courses do tend to be very good courses.

Just to be clear before we keep going, "most popular" in this post means simply "most played."

In countries with multiple disc golf options, the most popular courses are often those near large population centers, easily accessible by car or public transport, and appealing to the majority of disc golfers. Since most disc golfers play recreationally, the courses with top play counts usually have layouts that are enjoyable and not demoralizing for less-skilled players.

Essentially, expect popular courses to have fun designs that will challenge the everyday disc golfer and be great for a family day out or someone's first round ever. The courses that manage to balance showing those demographics a top-notch time while also wowing experienced, competition-focused players are rare gems. They often make it possible through use of multiple tee positions, though, so make sure to check UDisc Courses for multiple layouts if a course catches your eye.

For those who want to know what the best disc golf courses in their country are, give "The 5 Best Disc Golf Courses In Every Country: 2022" a read.
Danish Disc Golf Course Gets #1, But Does It Want It?
Valbyparken in Copenhagen, Denmark, was the world's most popular disc golf course in 2022. For the last two years, Norway's Ekeberg course in Oslo has worn the crown, but it trailed behind a few courses in play counts last year.
While falling from the #1 spot in this category might feel like a loss to Oslo, we'd argue that having the world's most popular course in your town isn't something you want forever. What it typically means is that your area has a lot of enthusiasm for disc golf but not enough courses for players to comfortably spread out.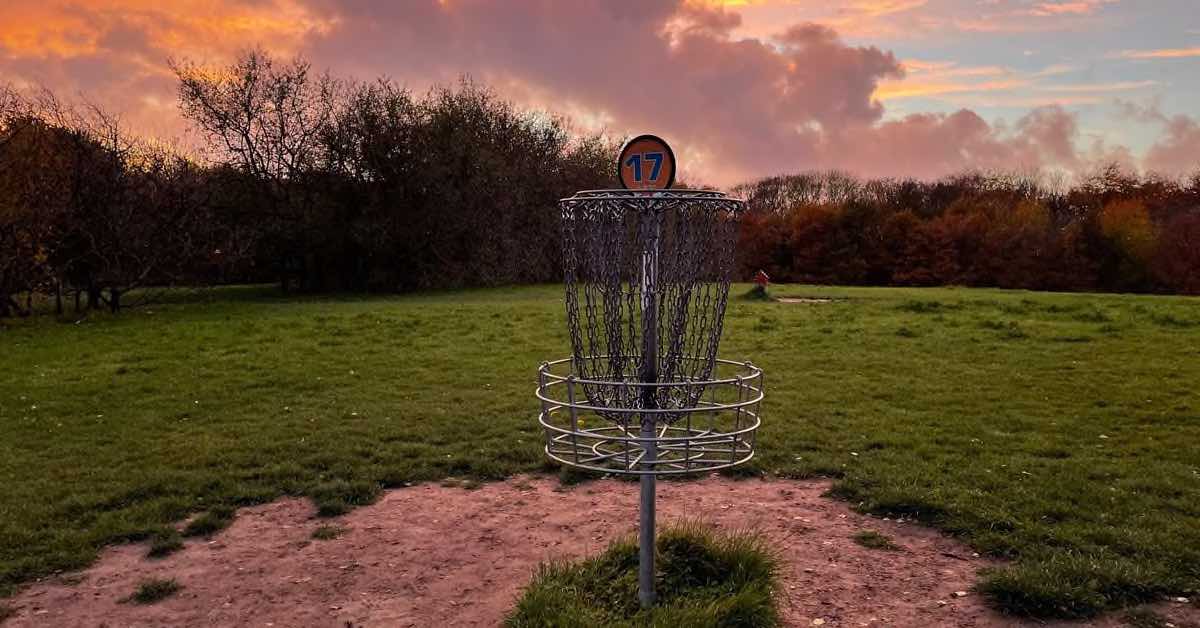 If you just take a look at the density of courses around Copenhagen and Oslo, you'll see a stark difference. The course count around Norway's capital is much higher than around Denmark's. And though Oslo has plenty of well-established courses, it also has quite a few that were built within the last two years that are offering some relief to the crowded fairways of Ekeberg. Around Copenhagen there's a distinct lack of courses considering the high interest in disc golf Valbyparken's play counts show.
The fact that San Diego's Morley Field also jumped ahead of Ekeberg this year is another bit of evidence for how high-interest, low-choice leads to huge round totals. Land in California is notoriously pricy and hard to come by, and in a city of over 1 million like San Diego (Copenhagen and Oslo are around 600,000), that's even more true.

Ultimately, we love seeing that a ton of people are playing disc golf anywhere, but we also hope disc golfers near these high-volume courses can use these numbers to convince local decision makers that there's plenty of demand for new places to play.
Åland's Numbers Continue to Impress
Åland is a collection of islands between Sweden and Finland and is actually not a country but instead a largely autonomous, Swedish-speaking part of Finland. We've followed the progress of its 16-course bid for disc golf tourism very closely.

Whether its mostly from tourists or the local population, the number of rounds played in Åland in 2022 is certainly impressive for a place with under 30,000 residents. Its top-played course managed to get more rounds than the top courses in countries like Germany and Australia. In fact, Germany's top course is in a city with a population that's more than double that of all Åland.

One of our writers got a chance to make an extended visit to Åland last summer, and we're excited to say we'll be releasing a disc golf travel guide to this charming destination in a few months.
What to Know Before Reading the Stats
Here are important things to know before you dive into the table.
On Where the Stats Came From and Their Meanings
$: This symbol next to a course's name means the course requires a fee of some type.
Plays: The number of rounds recorded in 2022 on a course with the UDisc app. Not every round of disc golf is recorded in UDisc, but research conducted in 2020 suggested that roughly one out of every five rounds is. A course needed a minimum of two plays to be included.
New #1?: A "Yes" in this column means a country had a different most popular course in 2021. A "New" in this column means a country didn't appear in last year's round-up of most popular courses in every country.
+/-: How many spots a country's 2022 top course rose or fell in relation to where the country's top course was on the 2021 list. For example, Germany's top course was #11 in total plays in relation to other countries' top courses in 2021; this year it was #12 and has a

▼1

in this category.
World Pop. Grade: The "Pop." stands for "popularity." This is a quick and interesting way to compare every course's play total with 2022's most popular disc golf course in the world. If you've ever had a test graded on a curve, it's pretty much the same thing. The course with the most plays in the world set the bar and got a 100. The other courses' "grades" are based on what percentage their play counts are of the highest plays total. For example, if a course has a World Pop. Grade of 20, it means it had 20% of the plays that the world's most popular course did in 2022.
Use This List for Travel With Caution

Our rundowns of best disc golf courses are intended for travel purposes whereas we intend lists of most popular courses to show both where a high volume of disc golf is being played and simply where people have played disc golf at all. Do thorough research before planning travel based on courses in the table below as many of the courses are object courses, don't exist unless locals bring baskets to a park, require military IDs to enter, or are unavailable/unenticing to the general public for other reasons.
On Organization and Tips for Correct Interpretation
The table is organized from the most played to the least played course, but...
... don't forget that the stats include only the top course from each country. Because many countries have multiple courses with more plays than the top course in other countries, no course's position in the table – other than #1 – is guaranteed to reflect its overall popularity as compared to all courses in the world.
The Most Popular Disc Golf Course in Every Country: 2022
 
Country
Disc Golf Course
City
Disc Golf Rounds Recorded

New #1?

+/-
World
Pop.
Grade
1
Denmark
Valbyparken Disc Golf
Copenhagen
40,639
▲1
100
2
United States of America
Morley Field $
San Diego
39,965
▲1
98
3
Norway
Ekeberg Frisbeegolfbane
Oslo
34,599

▼2

85
4
Canada
Baker Park
Calgary
27,663
68
5
Sweden
Rydskogen Disc Golf Course
Linköping
21,848
Yes
54
6
Finland
Mukkula DiscGolfPark
Lahti
19,150
Yes
47
7
New Zealand
Jellie Park
Christchurch
14,994
37
8
Austria
Wiener Prater Disc Golf Parcours
Vienna
8,437
21
9
Netherlands
Disc Golf Course Stadsbos013
Tilburg
8,222
Yes
▲7
20
10
United Kingdom
Longford Park Disc Golf Course
Manchester
7,926

▼1

20
11
Åland Islands*
LC Mariehamn DiscGolfPark
Mariehamn
6,312

▼2

16
12
Germany
Norderstedt
Norderstedt
6,128
Yes

▼1

15
13
Iceland
Grafarholt
Reykjavík
5,608
Yes

▼3

14
14
Australia
Chichester DiscGolfPark
Woodvale
5,602
14
15
Estonia
Kurna Mõisapark
Kurna
4,709
Yes

▼3

12
16
Czechia
DG Park Stromovka
České Budějovice
4,456

▼2

11
17
Spain
DiscGolfPark Mijas $
Mijas
3,578
▲12
9
18
Mexico
Rufino Tamayo
San Pedro Garza García
3,340
▲4
8
19
Japan
Showa Kinen Park $
Akishima
3,280

▼2

8
20
Latvia
DiscGolfPark Mezaparks $
Riga
2,725

▼2

7
21
Belgium
Parc Du Bourdon
Braine-l'Alleud
2,426

▼2

6
22
Switzerland
Milandia $
Greifensee
1,727
Yes
▲3
4
23
Slovenia
Disc golf igrišče Stožice
Ljubljana
1,589
▲4
4
24
Singapore
Kallang Riverside Park
Singapore
1,527
4
25
South Africa
Inanda Disc Golf Course $
Midrand
1,506
▲3
4
26
Saudi Arabia
Dhahran Sand & Oil Disc Golf Course
Dharan
1,482

▼5

4
27
Hungary
Sportliget
Budapest
1,389
▲9
3
28
Italy
Milano Lambro
Milan
1,370

▼8

3
29
France
Forty Pignes $
Mimizan
1,264
Yes

▼6

3
30
Poland
Jaśkowa Disc Golf
Gdańsk
1,058
Yes
3
31
Portugal
DiscGolfPark do Parque das Artes e Desporto
Amadora
923
▲3
2
32
Colombia
JP2 - 20 Cestas
Medellín
873
▲1
2
33
Slovakia
Rajecké Teplice Discgolf Course
Rajecké Teplice
758
Yes

▼2

2
34
Lithuania
Pučkoriai
Vilnius
745
▲3
2
35
Thailand
Lanna Rocks Disc Golf
Tambon Ban Pong
728
Yes
▲3
2
36
Myanmar
Shwe Sar Yan $
Ohn Chaw
721
▲6
2
37
South Korea
Beacon Hill Camp Humphreys
Pyeongtaek
623

▼11

2
38
Belize
Countryside Park Disc Golf $
Spanish Lookout
540
Yes
▲3
1
39
China
Pudong Red Kiln (Shanghai)
Shanghai
524

▼3

1
40
Guatemala
Monte María Disc Golf Course $
Santa Maria de Jesús
479
Yes
▲13
1
41
Luxembourg
Parc um Belval
Sanem
473
▲3
1
42
Indonesia
Hillcrest School
Hinekombe
383
▲12
1
43
Malaysia
Lakes of Pelangi Indah
Ulu Tiram
350
Yes

▼11

1
44
Qatar
Al Udeid Air Base
Abū Nakẖlah
313
▲5
1
45
Honduras
Roatan Disc Golf $

Keifitos Plantation

297
▲23
1
46
U.S. Virgin Islands*
Neptune's Lookout Disc Golf Course
Cruz Bay
286
Yes
1
47
Taiwan
Xinhai Bridge Riverside Park
New Taipei
266
Same course, new name
1
48
Bulgaria
Otmanli 1.0
Atiya
261
▲45
1
49
Guam*
Andersen AFB Latte Stone
Yigo
242

▼4

1
50
Russia
Palace Of Pioneers
Moscow
205
Yes

▼10

1
51
Greece
Disc Golf Greece
Ilion
174
▲16
<1
52
Phillipines
Road to Demascus
Amadeo
161
Yes
▲35
<1
53
Turkey
The Titan
Adana
151

▼14

<1
54
Montenegro
Trebjesa DiscGolfPark
Niksic
139
New
<1
55
Puerto Rico
Almendros Disc Golf Course
Vieques
137
▲11
<1
56
Croatia
Varaždin Vodovodna
Varaždin
136

▼6

<1
57
Nicaragua
Gran Pacifica $
Gran Pacifica Resort
107
Yes
▲2
<1
58
Togo
HBB Disc Golf Course

Danyi N'Digbé

99
Yes
▲4
<1
59
United Arab Emirates
Cam's Beach

Ras Al-Khaimah

95
New
<1
60
Svalbard and Jan Mayen*
Longyearbyen Disc Golf Course
Longyearbyen
93
New
<1
61
Kosovo
Bondsteel Woods

Tërstenik

92
New
<1
62
Democratic Republic of the Congo
DRC MV Disc Golf Club

Kolwezi

83
▲29
<1
63
Morocco
Tagharamt Ouarzazate

Tarmigt

79
New
<1
64
Papua New Guinea
Lapilo
Goroka
75
Yes

▼1

<1
65
Republic of the Congo
Kobwaka Disc Golf Course
Impfondo
69

▼4

<1
66
Cambodia
Siem Reap Disc Golf Course $
Krong Siem Reap, Cambodia
52
▲25
<1
67
Costa Rica
Parque La Libertad
Patarrá
40
Yes

▼16

<1
68
Isle of Man
Jurby Pop Up Course
Jurby
35

▼13

<1
69
Ireland
Wildlands $
Ballyquirke
34
<1
70
Argentina
La Mulita $
Tandil
32
Yes
▲5
<1
71
Uganda
Paul McBeth Foundation - Katosi Course
Katosi
30
New
<1
72
Israel
Park Eshkol
Urim
25

▼24

<1
72
Mauritius
Bagatelle Golf Park
Moka
25
▲11
<1
74
Panama
Guayacän
Panama City

24
Yes

▼17

<1
75
Brazil
Colinas Do Piracicaba Disc Golf
Piracicaba
21

▼10

<1
76
Zambia
Eagles Wings - Macha
Macha
16

▼17

<1
77
Ukraine
VDNH Park
Kyiv
15
Yes

▼25

<1
77
Ethiopia
ICS Addis
Addis Ababa
15
Yes
<1
79
Antarctica*
Ross Island
McMurdo Station
13

▼9

<1
79
Niger
Lizard Larry's Disc Golf Course @ AB 201
Niger Air Base
13

▼7

<1
81
Uruguay
Parque Andalucía
Montevideo
9
Yes
▲2
<1
82
Faroe Islands*
Disc Golf Vágur
Vágur
8
New
<1
83
Cayman Islands
Fairbanks Field
George Town
7
<1
84
Ecuador
Black Sheep Inn
Chucchilán
6

▼4

<1
85
Uzbekistan
TIS Disc Golf Course
Тошкент
5

▼2

<1
85
India
Bombay Presidency Golf Club (BPGC)
Mumbai
5
Yes

▼6

<1
87
The Bahamas
GI 5
Matthew Town
3
Yes

▼4

<1
87
Kenya
Rimpa Estates Wildlife Conservancy
Kiserian
3
New
<1
*Places with this symbol are special cases that may not technically be countries.