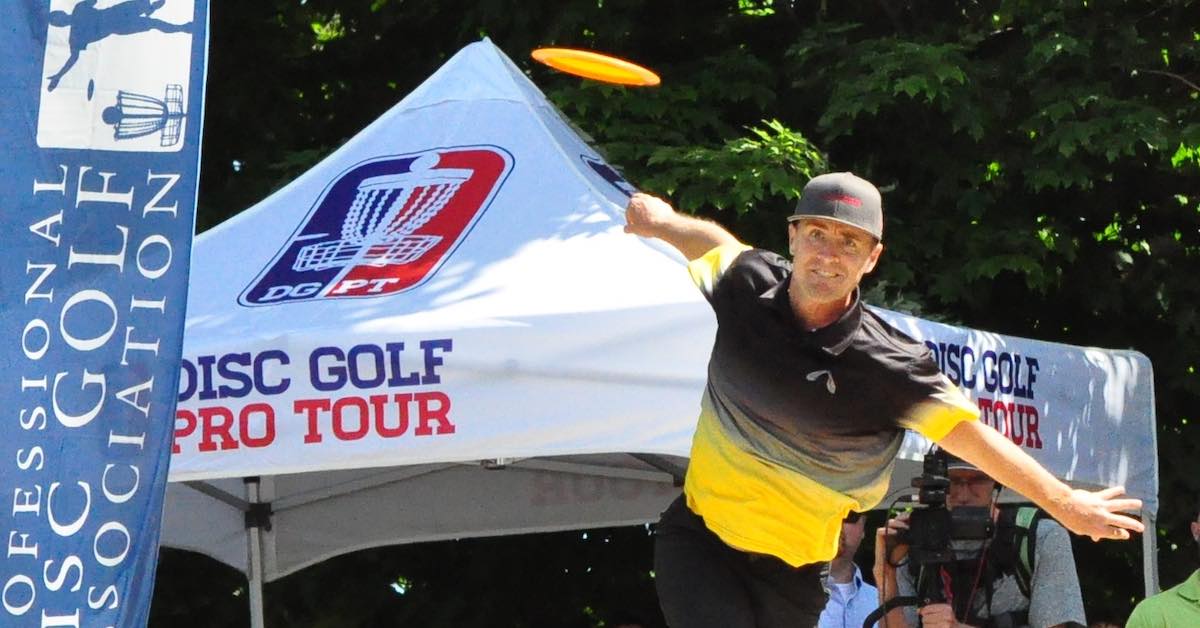 Though pro disc golfers certainly love coming out on top, for all but a very few, winning isn't the only thing that defines whether they have a good tournament or not.
Especially early on in a pro's touring days, "Will I get paid?" – not "Will I win?" – is the all-important question. The money they earn at tournaments puts fuel in their car, food in their belly, and pays for the entry fee to the next weekend's competition. Not cashing puts them one step closer to their tour coming to an abrupt and unwanted end. Consistently cashing makes their dream of having a pro disc golf career seem ever more realistic.

All of this explains why there's a certain mystique to being above the cash line. So, for many players, the feeling of accomplishment that comes with finishing in the money – and the respect they have for others who do – doesn't go away even after tournament winnings go from vital to supplemental income.

Cale Leiviska is one of those well-established pros who still takes pride in cashing whenever he plays, and one day he noticed something interesting.

"I'm a stats freak, and a few years ago I realized that [fellow pro] Nate Sexton and I had cashed for 10 straight years," Leiviska said.

That prompted Leiviska to go to the Professional Disc Golf Association's website and find out who had the longest active cashing streaks in the game. After some hours of research and calculations, he came up with a top 10. He released that first list in 2017 via his company Airborn Disc Golf and has done so at the end of every season since.

This year, we couldn't have been happier when Leiviska reached out to us and asked if we'd be interested in debuting the 2020 list on Release Point. Read on to find out who's in the top 10 and learn what making this list means to some of the players on it.
What Makes & Breaks a Cashing Streak?

Before we get to the top 10, we'll go over what exactly counts as a streak and what can cause a player to break it.

The streaks mentioned here are for PDGA-sanctioned singles events in which a player competed in a pro division (age protected or not) for which a cash prize was offered. Sanctioned leagues (designated L by the PDGA) did not count for or against streaks.

If a player began a tournament but didn't finish it (DNFed), that broke their streak. Importantly, if a woman competed in Open at a tournament and didn't cash, that broke their streak.

Keep in mind that these are active streaks, not the longest of all time.

With all that settled, on with the show!
The Top 10 Active Pro Disc Golf Cashing Streaks
As of the end of the 2020 pro disc golf season, these are the top 10 longest active cashing streaks and the dates they began:
| | | | |
| --- | --- | --- | --- |
| Rank | Name | Streak | Since |
| 1 | Cale Leiviska | 281 | Nov. 16, 2008 |
| 2 | Nate Sexton | 247 | Mar. 16, 2008 |
| 3 | Chris Dickerson | 184 | Apr. 10, 2016 |
| 4 | Calvin Heimburg | 162 | Nov. 17, 2013 |
| 5 | Kevin McCoy | 142 | Nov. 23, 2013 |
| 6 | Craig Cutler | 116 | Nov. 8, 2009 |
| 7 | KJ Nybo | 115 | May 6, 2007 |
| 8 | Andrew Presnell | 110 | Oct. 22, 2017 |
| 9 | Garrett Gurthie | 91 | Dec. 18, 2016 |
| 10 | Andrew Fish | 85 | Oct. 11, 2015 |
Something immediately noticeable here is that there are no women on the list. However, it's very possible that could change next year depending on how one player competes in 2021. No, it's not Paige Pierce. She actually missed out on cash this year at WACO, making her active streak just 11 events.

Instead, the longest active streak of any woman belongs to Catrina Allen at 83. Her streak goes back to October 15, 2017. That's when she took cash for the first time after competing and missing cash in the Open division at the 2017 USDGC (the only division offered at that tournament). Impressively, if you look at Allen's streak of cashing strictly at events with an Open Women division, it's at 235.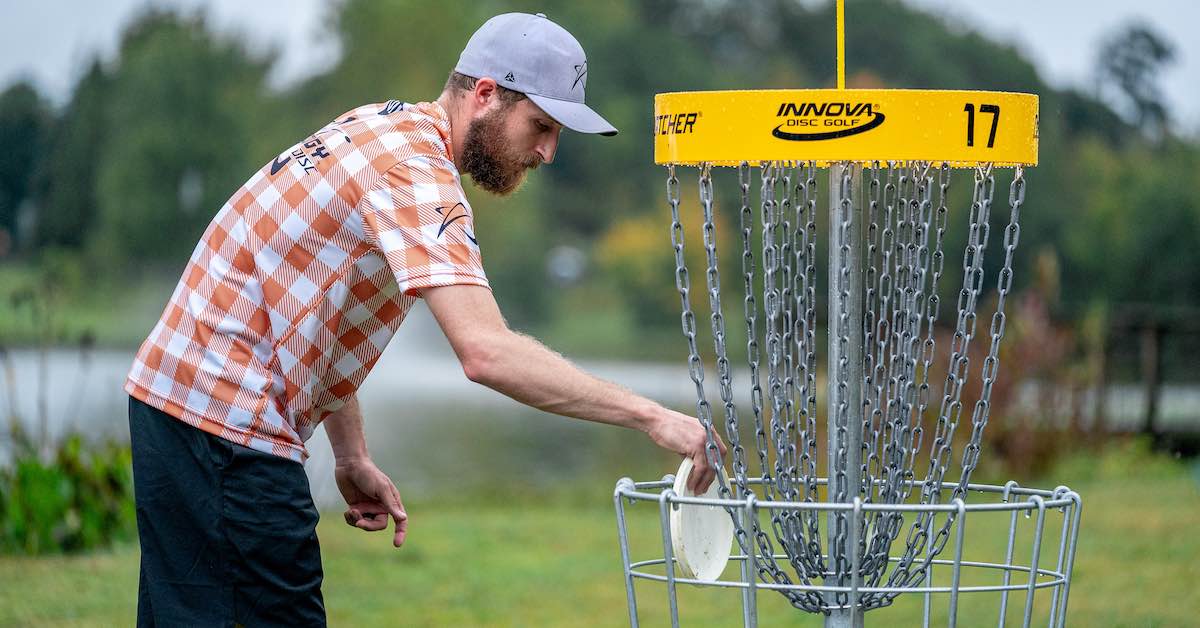 Here are some other things worth mentioning that you can't see in the chart:
In 2019 (the last truly full season) the average number of cashes among players featured in this list was 23.
Dickerson has made up a lot of ground very quickly. From 2017-2019, Dickerson averaged 43 cashes per season compared to Leiviska's 25 and Sexton's 16. In a world where we have full seasons and they all keep streaking at similar paces, Dickerson would overtake Sexton in a little over two years and Leiviska in about five and a half.
Of this group, Presnell had the most cashes in 2020. Despite the pandemic, he racked up 30 cashes. He averaged 35 cashes per season from 2018-2020 (Dickerson's average over that time period was still higher at 39).
McCoy was the only player who cashed more in 2020 than in 2019, going from nine cashes to 20.
Heimburg could have two more events to his streak, but he didn't accept cash in two events previous to his streak's beginning despite earning it, presumably to protect his amateur status. This means Heimburg has never missed cashing since the first time he accepted money for playing a pro event.
What It Means to Consistently Cash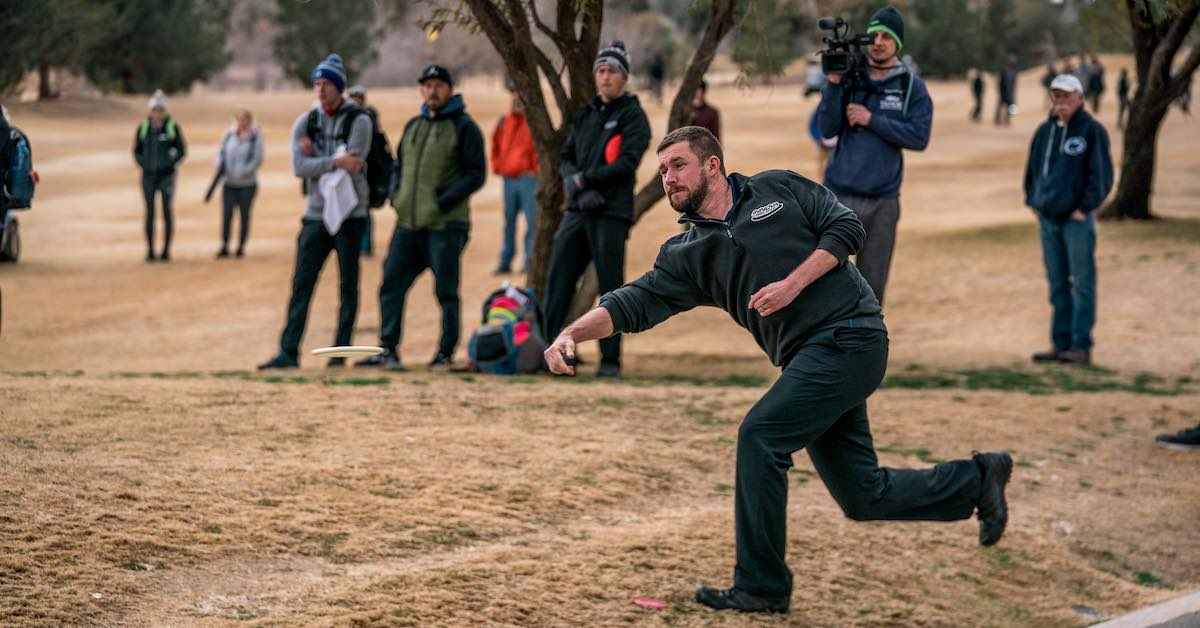 We asked Leiviska what he thought it said about a player to be at the top of this list.

"It's a measure of consistency, I think," Leiviska said. "I don't think anyone in the world would consider Nate or me to be the two best players in the world, but over time you can say we're the most consistent. It says that our preparation is good. We go into events ready, make sure we have everything we need to succeed. If you look at the top of that list...it's all consistent, prepared players."

As for his place at the top of the list? Leiviska said it's "kind of unbelievable."

"It's almost unfathomable that I've played over 280 tournaments," Leiviska said. "That's over 280 times I've set an alarm, woken up, gotten to the course prepared, and if anything had gone wrong at any of those events, it would've been over just like that. To me it's just the awe of it."
Number two on the list, Nate Sexton, also shared his thoughts on what it takes for a player to never miss out on the money. He believes it shows a lot about a player's skills and fortitude.

"In my opinion it says two things," Sexton said of making this list. "You have to be very mentally tough because you are going to have off weekends over the course of a career and some players tend to give up once frustration sets in. To keep a streak like that alive you always have to keep fighting. Also, you need to be versatile with your skills in order to succeed in all weather conditions and on all types of courses."

Both Leiviska and Sexton admitted that they are very aware of their streaks when they compete in tournaments. Leiviska said he's played some smaller, two-round tournaments where he didn't do well in the first round and keeping the streak going created "added pressure" to pick up his game.

Sexton obviously feels a similar weight and even pointed to a specific course where he's frequently found himself hard-pressed to make the cut.

"Anytime I play W.R. Jackson it feels like it comes down to the last few holes for me to keep the streak alive!" Sexton said.
Chasing the Longest Streak Ever
Though Leiviska knows it will take keeping his game at an elite level well into his forties, something he dreams of is reaching the bar set by the player often called just "The Champ" – Ken Climo.

Climo didn't miss cashing at an event for over two decades: 1989-2013. His total? By our count, 426 events. That streak stands as the longest in history. To reach it, Leiviska would need to keep up a similar cashing pace to his 2017-2019 seasons for about six years, given, of course, that he never finishes out of the money.

Note: There is no simple way to check for cashing streaks, and though we researched rigorously, we admit there could have been some oversights. If you believe there is a player who deserves to be on this list who is not or a streak total is incorrect, please contact our editor, Alex, at alex@udisc.com with the player's name and a link to their PDGA profile.