Valerie Mandujano is currently one of disc golf's brightest young talents. At age 23, she's a three-time Professional Disc Golf Association (PDGA) Junior World Champion who got her first Disc Golf Pro Tour Elite Series win early in the 2022 season, and she doesn't seem likely to move out of the top 10 of the world's best women disc golfers any time soon.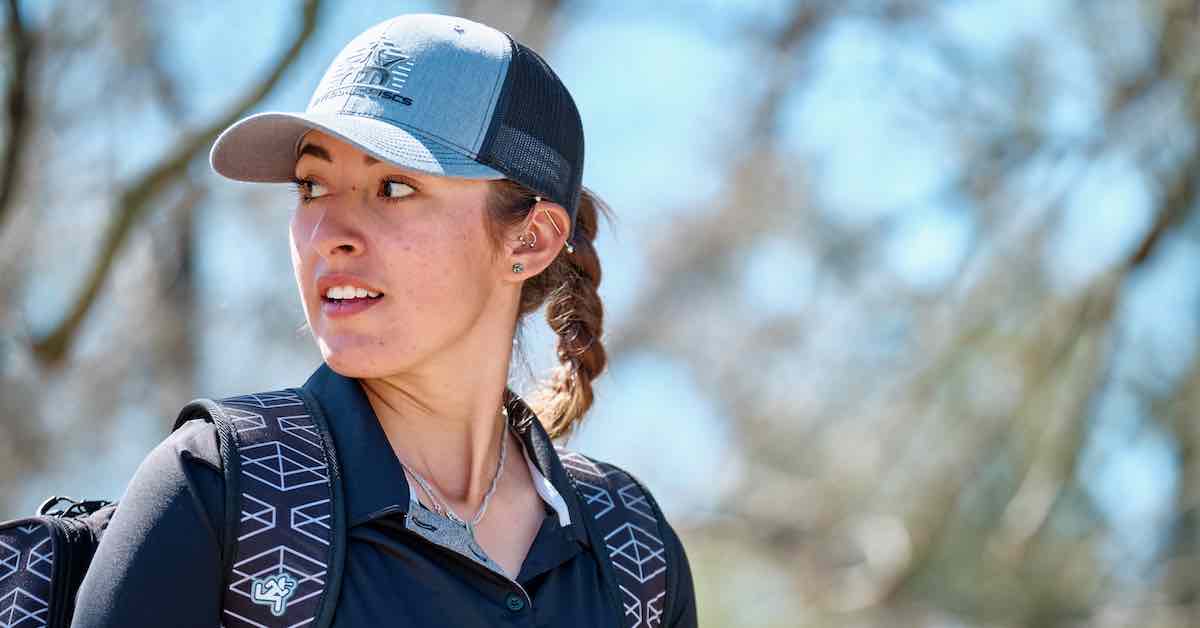 But her love affair with disc golf didn't start with instant fireworks. It took years for the rising star to like the sport at all and even longer to consider it a career option.
Valerie took time out of her busy tour life to talk with us about her earliest disc golf experiences, what helped her eventually fall for the game, and the rock-solid family that has driven her to the upper echelons of the FPO field.
Valerie Mandujano's Disc Golf Background
The first day Valerie picked up a disc, she played three holes and promptly left the course.
"My sisters and I were just complaining the whole time," she said.
Her parents loved the sport, so instead of getting rid of those discs, they boxed them up and stowed them away.
Years passed, and the Mandujano family moved to San Antonio, Texas. There eventually came a day when someone opened the box containing those nearly forgotten discs, and Valerie joined her family out at Live Oak (which became her home course). She shattered her previous three-hole record and played 36.
But even after hanging around for two full rounds, she still didn't love the sport, and she had no problem leaving disc golf out of her life.
"I remember it being super hot and brutal," she said. "I remember thinking I'd rather not do this again."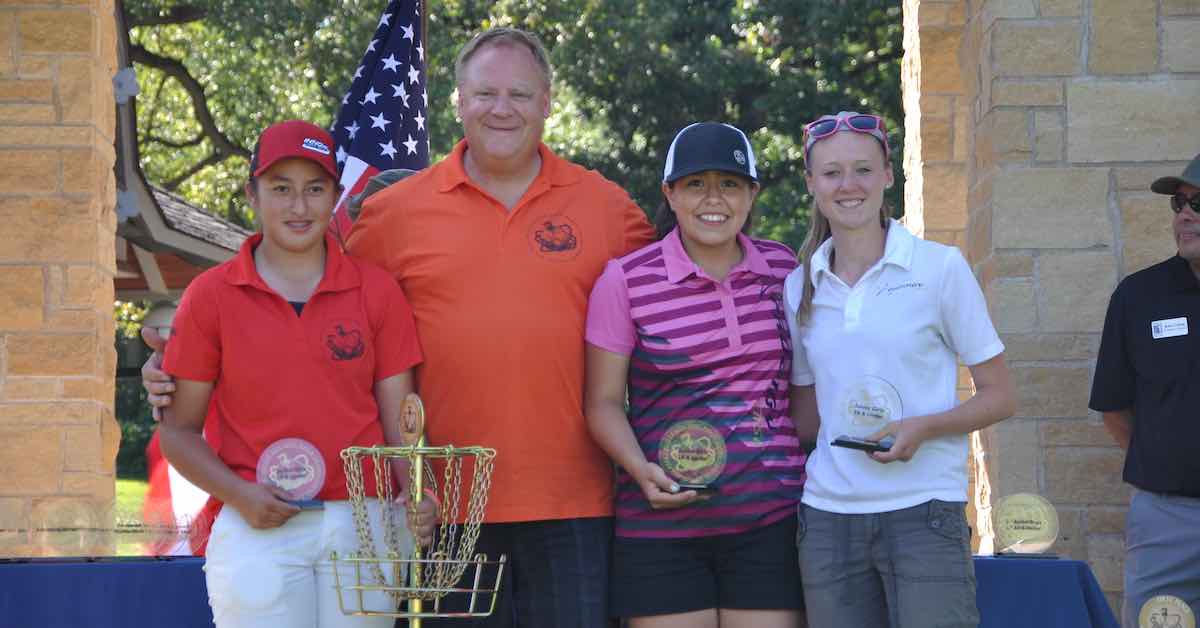 Her parents and older brother, Juan, would take a day trip to Austin every week and invite Valerie and her younger sister by two years, Alexis (who today is also a professional disc golfer), along to play or just hang out. But the girls would always choose to stay home. Eventually life on the couch became a bit uninteresting.
"We just weren't really into disc golf," Valerie said. "But after a while of being at home we decided sitting was too boring for us."
So one month after that sweaty experience at Live Oak, Valerie and Alexis decided to try disc golf once more. And one month after that, they were back again.
Slowly the game began to grow on them.
"My family was just really into it," she said. "For me it was the competitive side."
She credits Juan for being the one to truly bring her into the sport. He was the one who handed her an Innova Champion Leopard to replace her D-line Discraft Avenger that was beaten in so badly it probably wouldn't have flown properly even if she had known how to throw it, she said.
"He coached me a little bit on some steps from what he had learned," Valerie said. "I got the Leopard to go a little farther than normal and that's what really intrigued me. If I could put a little more effort into the game, I could get some real results out of it. That's really what pulled me in."
In 2014, after playing more often for about a year as well as participating in formal competitions, her parents presented Valerie and Alexis with the opportunity to take a vacation up to St. Paul, Minnesota, and compete at the PDGA Amateur and Junior World Championships. The girls accepted and Valerie's career was truly born.
Junior World Championships
Valerie had notched three career wins before her first trip north for Junior Worlds, so she already had a taste of success even in the lower amateur ranks.
But the Junior Worlds experience was a completely different test.
"At the time it was like seven rounds in five days or something crazy like that," she said. "It was really cool to see a lot of the girls there that had played their whole lives. They were all sponsored at the time and I wasn't. It was a whole new world that I had walked into. They were like miniature pro athletes."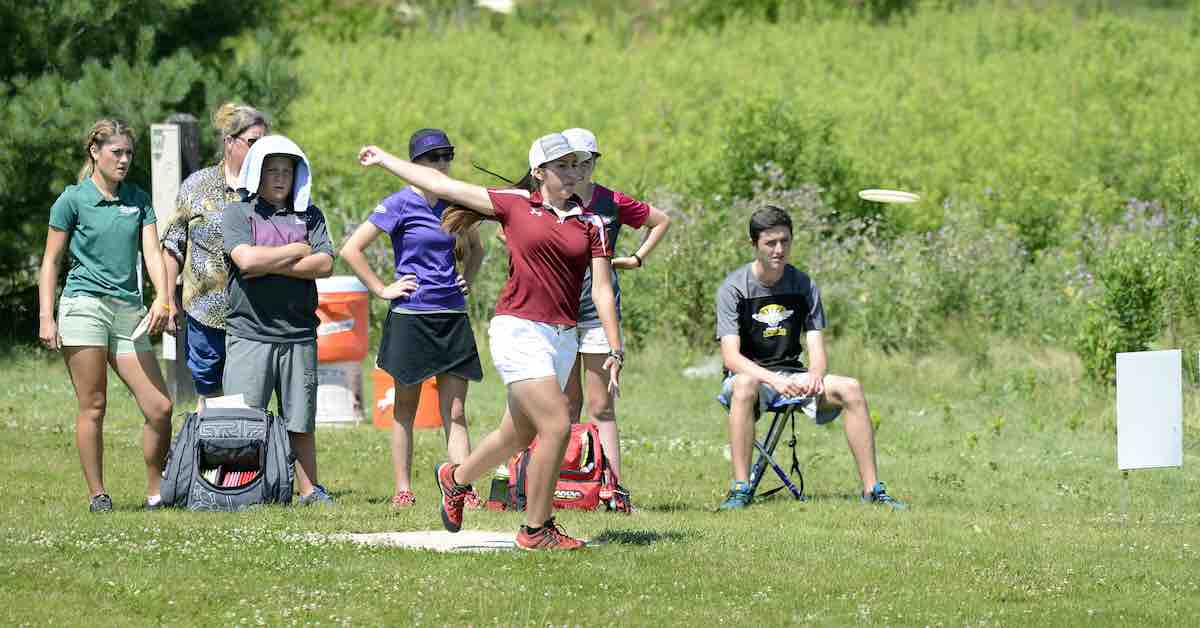 Valerie cruised to a 12-stroke Junior II title in 2014, returned for an 11-stroke Junior II win in 2015, and then capped her run off with a dominant 35-stroke Junior I victory in 2016 – beating out the likes of fellow future star Kona Panis.
"Being able to compete with them made me realize I could actually do this to go pro," Valerie said. "This wasn't just some hobby every-other-week now. If I stuck with it, I knew I could become one of the best one day."
Any World Championship, even at the Junior level, was always going to garner the attention of disc golf manufacturers looking to recruit the next up-and-coming star onto their team. Valerie signed her first deal in 2015 and joined the ranks of those sponsored competitors she had looked up at with awe only one year earlier.
Valerie Mandujano's Disc Golf Sponsorships
Valerie's first contract came from Latitude 64.
"It showed me that I had leveled up a little in the disc golf world," she said.
From there she moved on to join Team Innova, culminating with her promotion to the Star Team – the manufacturer's highest level of sponsorship – in 2021. She earned her keep with seven top 10 finishes on the DGPT and National Tour, battling for as high as a fourth place spot at the Ledgestone Insurance Open.
Following her upward trend of performances, she made the move to join Dynamic Discs in 2022.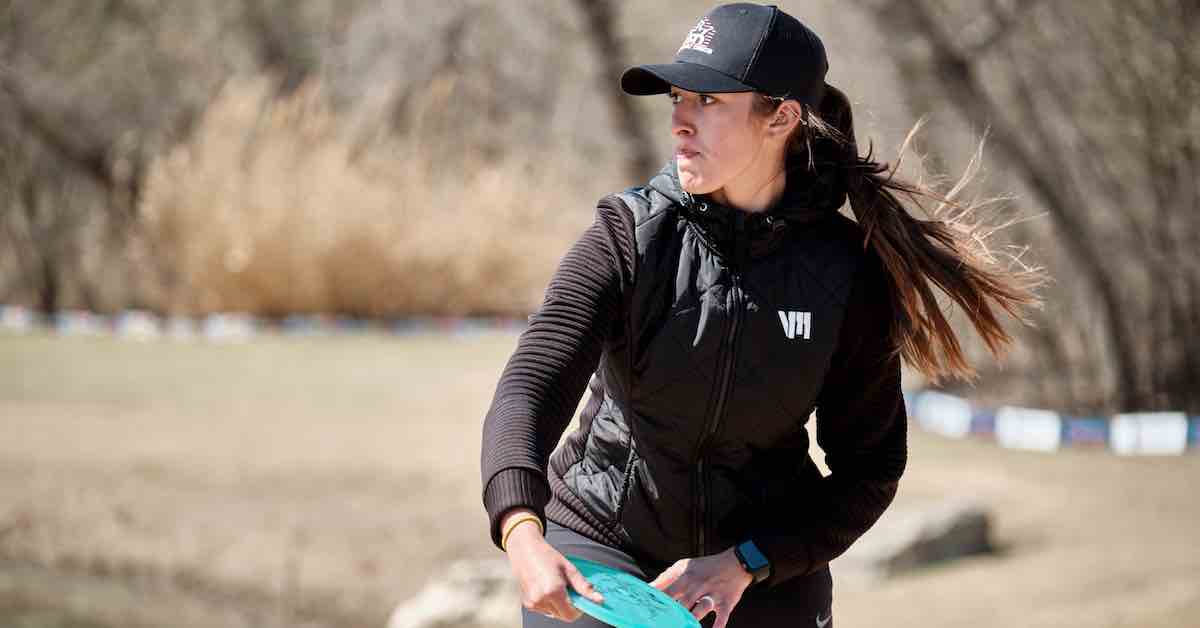 "[Dynamic's Team Manager] Eric McCabe and his team made it really easy to adjust to them," Valerie said. "They were very welcoming. It didn't take very long to get comfortable with them. The business side was pretty easy on Dynamic's side and then the transition of plastic was just down to hard work."
After signing with Dynamic Discs, she immediately began the arduous process of sorting through and choosing molds from the company and its partner brands' vast selection. As part of the Trilogy family with Dynamic Discs, Valerie has the opportunity to include Latitude 64 and Westside Discs in her bag, as well.
She dedicated all of her time at the beginning of 2022 to learning new molds and new plastics. She credits this process and forced attention to detail for her early success in 2022 and her major breakthrough as an Elite Series event winner on the DGPT.
"In my mind, it was always that I could do it if it's something that needs to get done," she said. "It was great motivation. It was no longer about throwing in a field for 20 minutes because I know all my discs and what they're going to do. It was about how fast I can learn these new discs."
Seeing several of her peers emerge from the 2021-22 offseason with groundbreaking sponsorship deals was extra motivation. She believed her talents to be equal to the best but also knew the difference between herself and her peers was a tour win.
"Everyone that got a big contract has won," she said. "I haven't technically proven myself on tour. That's a lot of what Alexis and I have talked about. We needed to get a big win on tour to open the doors to a contract." 
A Family Affair
Passion is what defines Valerie as a player, and that passion derives directly from her strong family roots.
"It absolutely has to do with my family," she said. "We're all passionate in how we love each other and how we do things. We always say that we do things as a family, whether that be disc golf or anything in life."
Her family was what presented disc golf to her in the first place and ultimately continued to play without her until she was motivated enough to join in.
"It's amazing to see how supportive they are," she said. "Whether it's helping me get an RV or taking me to events when I couldn't drive or taking me to Junior Worlds when I didn't even know I wanted to play. They've always seen the bigger picture for me and have always pushed me to the road that was better for me even if I didn't see it at the time."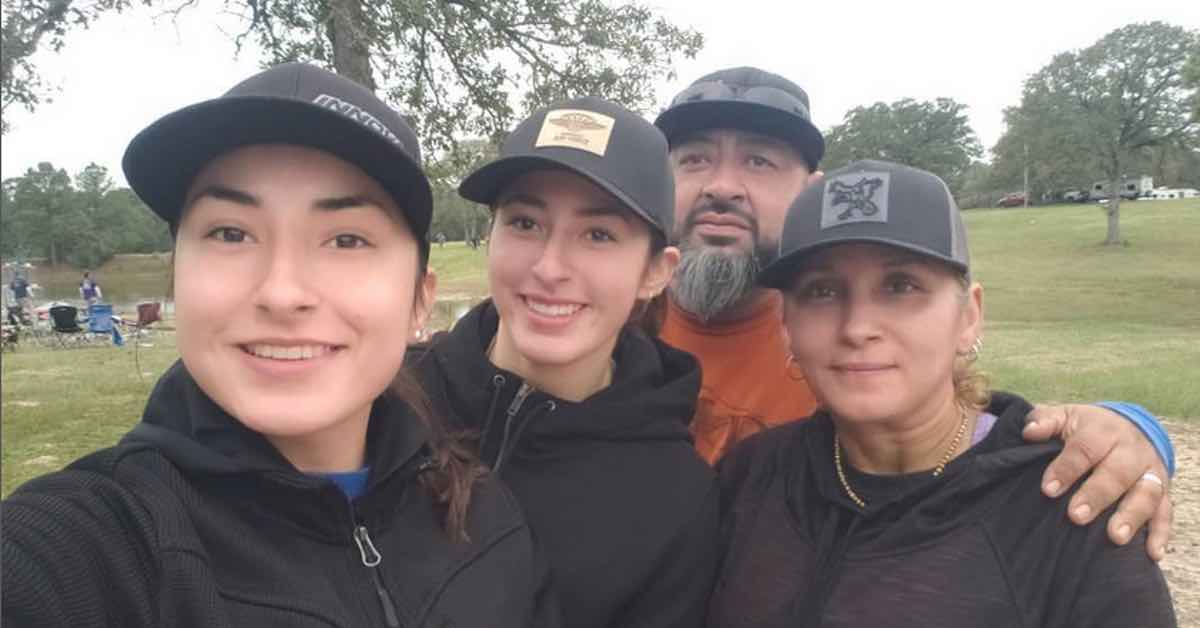 Walking hand in hand with Valerie through her journey and within her family has been Alexis. The two tight-knit sisters have matured in all aspects of life together – including as professional disc golfers.
"It's very special," Valerie said. "We've been close for as long as I can remember, and to share a dream and a job together where we're able to work and live with each other is so amazing."
Though disc golf is an individual sport, that doesn't stop the Mandujano duo from finding happiness each other's success.
"Honestly, I root for her for everything, even if that's her beating me," Valerie said. "That's very important for our relationship, not only as competitors but as sisters. It shows us that we're still there for each other and we're our biggest support, no matter if a win's on the line. A win is nothing to us at the end of the day if we don't have each other."
A Growing Force on Tour
In 2020, Valerie dabbled with the Pro Tour for the first time and notched some solid showings: eighth place at the Waco Annual Charity Open, sixth place at the Idlewild Open, and fifth place at the Ledgestone Insurance Open. 
"It was a glimpse of what a tour could be," she said. "I didn't really make an effort for the full tour because COVID hit. We didn't know how we'd be touring or any of the limits or restrictions at events. Myself, Alexis, and [fiancé and fellow pro disc golfer] Mason [Ford] sat down and decided we were going to wait until 2021."
So in 2021, Valerie hopped on the road for a full tour and her stock continued to rise.
The budding star from Texas cashed in 19 out of 20 events that year and earned a spot in the top 10 in an Elite Series event seven times. She ended the season with three top-five showings in a row at the Ledgestone Insurance Open, the Music City Open, and the Throw Pink Women's Disc Golf Championship.
Just like 2020 was a new step forward in a limited tour, 2021 was an even bigger step in learning what a full tour entailed.
"It was super nerve-wracking and I was out of my element," Valerie said. "I didn't know anybody on my cards like I did in Texas. Even staying in hotels for longer periods of time than I was used to was odd."
But by the end of the 2021 season, she had a much greater understanding of what it takes to execute on the course while moving around the country every week.
Then, on New Year's Day 2022, the Mandujanos' grandfather passed away. That ultimately sparked Valerie's drive to win at her first DGPT stop of the year in Waco, as you can hear in the post-round interview in footage from the Disc Golf Network:



Mandujano also told us how her grandfather's passing added a sense of urgency to her game.
"I vowed to myself that I needed to win an event because he never got to see me win," she said. "I can't just go on tour for nothing just to finish in the top 10. I don't want to waste time. I just needed to find something to drive me to win. Once that happened it kind of hit a switch." 
What's Next?
In 2022 Valerie hasn't missed the top five, with her crowning moment so far coming at the Waco Annual Charity Open as she beat a stacked field to claim her first Elite Series win.
"Around hole 9 was where I started to catch Kristin [Tattar]," Valerie said. "Once I caught her, all I was thinking was about going shot for shot. I couldn't think about the next holes because if I hit a tree on this hole and take a nine, the next holes are erased."
Using her victory in Waco as a springboard, Valerie has her sights set on more trophies in 2022.
"I want to shoot more rounds over my rating and add a couple more wins," she said. "At every tournament I go to, I want to see how well I can do. This year will be a good challenge for me because I'm not focused on a particular event that suits my game the best. I just want to win or have an opportunity to win."