The Masters Cup has run in Santa Cruz, California, for over three decades, and the historic DeLaveaga Disc Golf Course has always been at least a partial host of the event. All three rounds of the 2021 Santa Cruz Masters Cup were played on that revered track where steep slopes, heartbreaking roll-aways, and tightly wooded par 3s reign.

The PDGA National Tour event went from Friday, May 28 to Sunday, May 30th, 2021.
Learn more about the 2021 Masters Cup below, where we fill you in on tournament history (including what happened in 2021), the course, past highlights, how to watch it, and more.
What Happened at the 2021 Masters Cup?
You can find individual scores on every hole, in-depth stats, and more at the UDisc Live results page for the 2021 Santa Cruz Masters Cup.
OPEN
Who won the 2021 Masters Cup?

Who came in second and third at the 2021 Masters Cup?



What happened at the 2021 Masters Cup?


Adam Hammes won the 2021 Masters Cup in Santa Cruz, with hot Circle 2 putting helping him take down an Elite Series event for the first time in his career.

Hammes' win was wire-to-wire. His first round was a blistering, bogey-free 14-under par, which gave him a two stroke advantage over Kevin Jones at 12-under and three strokes on three other competitors tied at 11-under.

In the second round, Hammes didn't seem to be cooling down at all to start. By hole 12 of the 24-hole course, he was 8-under on the round and had boosted his lead from two to six strokes over Jones. He was staying in fairways, avoiding disastrous roll-aways, and hitting literally everything inside of Circle 1 (he was 100% from that range), which he'd found from the tee on eight of the 12 holes he'd played.

But a runaway win wasn't in the cards for Hammes. As his precision off the tee cooled down, Kevin Jones started heating up. Jones' run began after hitting a birdie putt through a tight gap from over 50 feet/15 meters. Jones hit two more Circle 2 birdie putts on his way to a 9-under on the back 12, which tied him with Hammes in first place by the end of the round. The pair was six strokes clear of second place.

This set up the final round to be a tense duel, with seemingly little chance that anyone else would enter the fight. Hammes made a statement early by hitting back-to-back birdie putts from C2 on holes 2 and 3, both of which Jones parred. But Jones stayed on Hammes' heels throughout most of the round. However, any time Hammes caught a bad break or had an errant shot, Jones was never able to manifest the big score swing he needed to take control of the event. Jones never took back more than one stroke from Hammes on any hole in the final round.

Perhaps the most impressive moment of the tournament from a psychological perspective came in the final round on the short, downhill hole known by the nickname "Gravity" (it played as hole 20 in 2021). Hammes was three strokes over Jones and had an errant tee shot that landed far below the basket on the edge of C1. Jones parked his tee shot for a sure birdie. When Hammes putted, he hit the cage and rolled back down to a lie farther from the pin than his original putt. With icy poise, Hammes put his comeback putt in the basket to save par and cough up only one stroke to Jones.

Importantly, while Hammes and Jones battled on the lead card, James Proctor was putting together a scorching round on the chase card. He walked off the course at 32-under par, the same score Hammes had walking up to hole 22 (three holes left to play). Hammes managed to get the birdie on hole 22 while Jones parred. This meant Hammes had the stroke he needed on Proctor and three on Jones with just two holes left. Hammes did the smart thing and played for par on the final two holes, and, doing just that, he took down the Masters Cup.

Standout stats:


Adam Hammes turned in two perfect C1 putting performances in the first two rounds and a 46% C2 showing on 13 total C2 putts (six made putts) in the final round to lead the Open division in
strokes gained
from putting at 9.69 for the tournament. This was the only strokes gained category where he was number one other than strokes gained total.
OPEN WOMEN

Who won the 2021 Masters Cup in Open Women?



Who shared the podium at the 2021 Masters Cup in Open Women?



What happened at the 2021 Masters Cup in Open Women?


Paige Pierce was the top woman at the 2021 Masters Cup, winning the event for the fifth time in her career.
Pierce's 3-under par performance during the event's first round was not only the best round that day in Open Women but the division's best all weekend. However, it didn't give her a comfortable lead. Catrina Allen and
Hailey King
were, respectively, just one and two strokes off Pierce's pace while Juliana Korver and Kona Panis were only three back.
More space for Pierce emerged during round two. Of those near the lead, the only one who managed to keep the ship on course was Panis, who, like Pierce, played par on the day. Korver and Allen both ended 7-over and King 8-over.
On the final day, the closest player to Pierce was Panis at three strokes back and everyone else was eight or more away. Though Pierce's round was marred greatly by a 36% C1X putting percentage, neither Panis or anyone else managed to challenge her. Pierce was able to cruise to victory despite playing 4-over par in the final. Allen's 1-over performance did help her leap frog the struggling Panis, who fell back into a three-way tie for third courtesy of a 7-over par final round.

Standout stat:


Pierce's putting from C1X in the third round took an almost unbelievable drop. After putting over 80% from that distance in the first two rounds, she dropped to under 40%. Luckily for her, her accuracy from the tee remained strong. She led the field averaging 7.36 strokes gained tee-to-green over the event's three rounds.
Tournament Background

First held in 1985, the Masters Cup in Santa Cruz is full of historical significance. It's played on a course, DeLaveaga, that's been a staple on disc golfers' bucket lists for almost four decades. It has been won by the biggest of names, including Ken Climo, Juliana Korver, and Paul McBeth. It's also been around the longest of all the National Tour tournaments and was a PDGA SuperTour event before the creation of the National Tour.
"We have a longstanding tradition of being branded with either elite level or National Tour level honors from the PDGA," tournament director Matt Beatty said. "It's something we hold in very high esteem. We always try to raise the bar and elevate every single year so we can give everyone the best possible experience."

It's also worth a mention that the Masters Cup was the first disc golf tournament (other than the PDGA World Championships) to run for more than two days.
All 36 iterations of the event have featured the DeLaveaga Disc Golf Course, a track that is considered by many to be one of the world's best disc golf courses. DeLa, as the course is typically called, is a former poison-oak ridden junk heap turned world class disc golf course, and it has made the Masters Cup into an event pros and fans look forward to each year.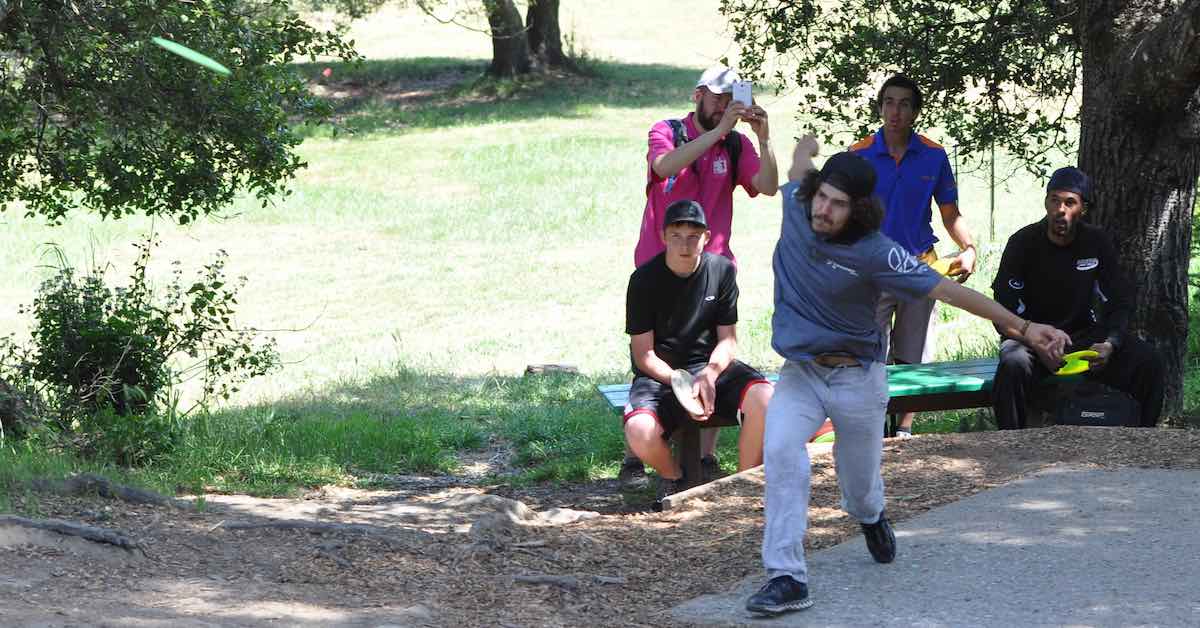 With such a long history, the event has undergone its fair share of changes and tweaks, many of them having to do with the course. DeLa can be set up with a maximum of 29 baskets and most holes have variable pin positions. Competitors have faced many combinations of total holes and placements over the years.
More recently, tournament organizers introduced another 18-hole setup on the neighboring DeLaveaga Golf Course (a traditional golf course) for the final round. It added a different element, a break from the treacherous greens of DeLaveaga and more space for spectators. However, that course was not be used in 2021.

But it's far more than the courses that bring players back year after year, according to Beatty, who has been involved with the tournament for nearly a decade.

"It's that mid-tour vacation, so-to-speak," Beatty said. "The tournament itself has all of the great aspects of being a well-run tournament, but there are all of the other things that come with coming to Santa Cruz. The beach and the redwoods and the mountains and all the cool things your can do around Santa Cruz within a 10 to 20-minute drive in any direction."
The carefree nature of the seaside town also adds to that mid-tour vacation feel.
"We're from Santa Cruz, so we're a little bit more laid back," Beatty said. "Our sense of urgency is not always the highest priority, though when it comes to the tournament we really buckle down. I think we've been one of the tournament crews that really adapt well to change."
The Course

Below you'll find information about where the 2021 Masters Cup was played.
Where was the 2021 Masters Cup played? DeLaveaga Disc Golf Course in Santa Cruz, California
Number of holes: 24
Par: 75 (Open and Open Women)
Length: 8,499 feet/2,590 meters (Open and Open Women)
Description: In a change from recent years where the final round was played on the nearby traditional golf course, DeLa hosted every round of the Masters Cup in 2021.

Though there are a few open shots, players mostly contend with wooded fairways that are well-trodden California hardpan. Elevation change is also a constant, and many holes call for throws that need to climb or drop steeply. The combination of dramatic slopes and fast ground play can lead to long roll-aways that leave players and fans alike cringing. It's such a common occurrence at the course that it's become known as "getting DeLa'd."

"I've watched tournament coverage online where a commentator will say a player just got DeLa'd when they're not even playing at DeLa," Beatty said. "The term has become ubiquitous with getting screwed over by a roll-away."

This means DeLa is a place where errant drives and upshots can turn into disasters and even a great drive may not always result in an easy putt. Additionally, a missed putt may ultimately cost more than just a stroke since a roll-away can turn a miss from C1 into a 75-foot/23-meter comeback.

There are also quite a few baskets that can't be seen from the tee, meaning competitors who know the course well have an edge.

Though having big forehand and backhand distance is an advantage on some holes, DeLa is best known for testing competitors' touch and finesse.
Other Notables:


-Hole 25 on the typical DeLa layout served as tournament hole 1 for the Masters Cup to allow players to start their round with the highest elevation changes on the course when their energy levels are at their highest.
-The two-meter rule was in effect on all holes at the Masters Cup. This is an optional rule tournament directors can enact that makes it so that if a player's shot lands more than two meters off the ground in an unplayable position (typically in a tree or shrub), that player takes a one-stroke penalty. For more information about this rule (which is commonly used in California), its history, and how play continues after a two-meter penalty, check out our article "
Disc Golf Rules Explained: The Two-Meter Rule
."
-Those interested in an analysis of how scores have changed at DeLa over the years should give our post "
DeLegacy: History & Changing Scores Of The Masters Cup
" a read.
-For those familiar with the typical DeLa layout used for the Masters Cup, these changes occurred in 2021:
1. Top of the World was hole 4
2. Hole 9 was the same 315-foot/96-meter distance but played to a new green on the right.
3. Hole 11 was a new, shorter par 4 location with a steep uphill green.
4. Hole 13 was a long par 4 measuring 65 feet/20 meters farther than in recent years.
5. Hole 14 featured a new green that is slightly left of the previous location.
Past Highlights
Here are some of the standout moments of past Masters Cups.

2009 Barsby-Doss Battle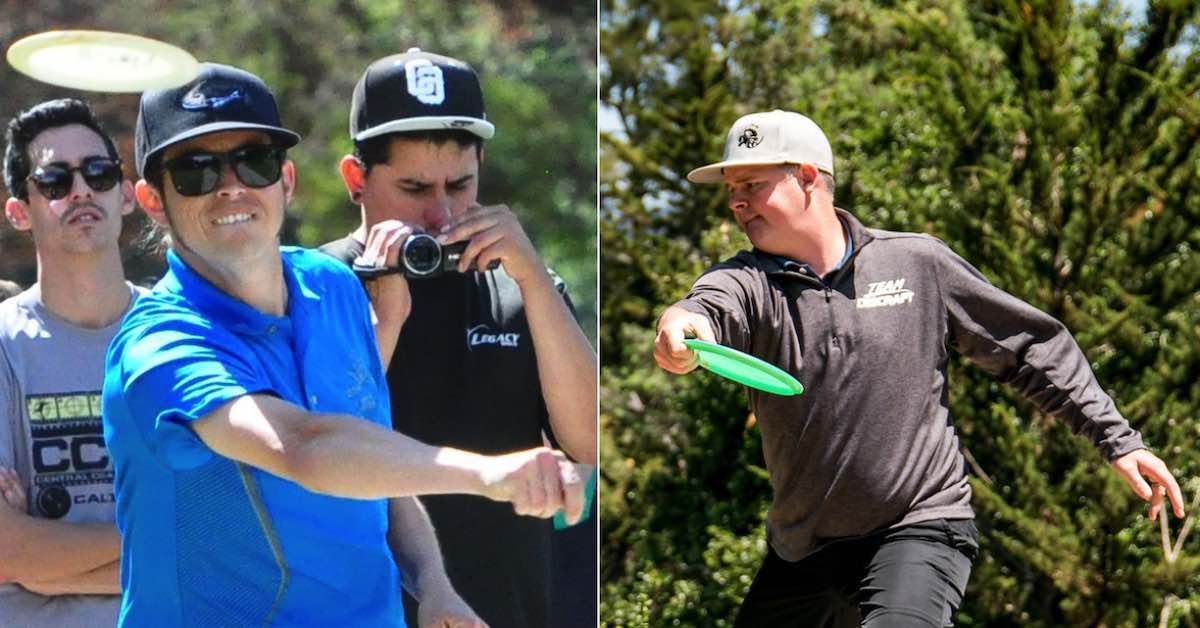 The 24th rendition of the Masters Cup was dubbed the Steady Ed Memorial Masters Cup in honor of "Steady" Ed Headrick, known as the "Father of Disc Golf," and it was also an instant classic. Gregg Barsby and Nate Doss traded hot rounds in rounds one and two before Barbsy eventually emerged victorious.
This battle was especially epic because Barsby managed to ace multiple times during the event, with the absolute highlight being his roller ace on hole 4 during the final round to vault him into first place. The 390-foot/119-meter, par 3 (hole 8 on the 2021 layout) had never been aced before and Barsby's feat is brought up virtually every time the hole is seen by commentators.
But the drama wasn't over.
Trailing going into hole 21 (a hole no longer included in the tournament layout), Doss found chains from the tee as well, ringing up an ace to tie Barsby at the top of the leaderboard. Barsby would weather the storm down the stretch to pull away and win by six strokes.
Korver Becomes First Woman to Shoot Under Par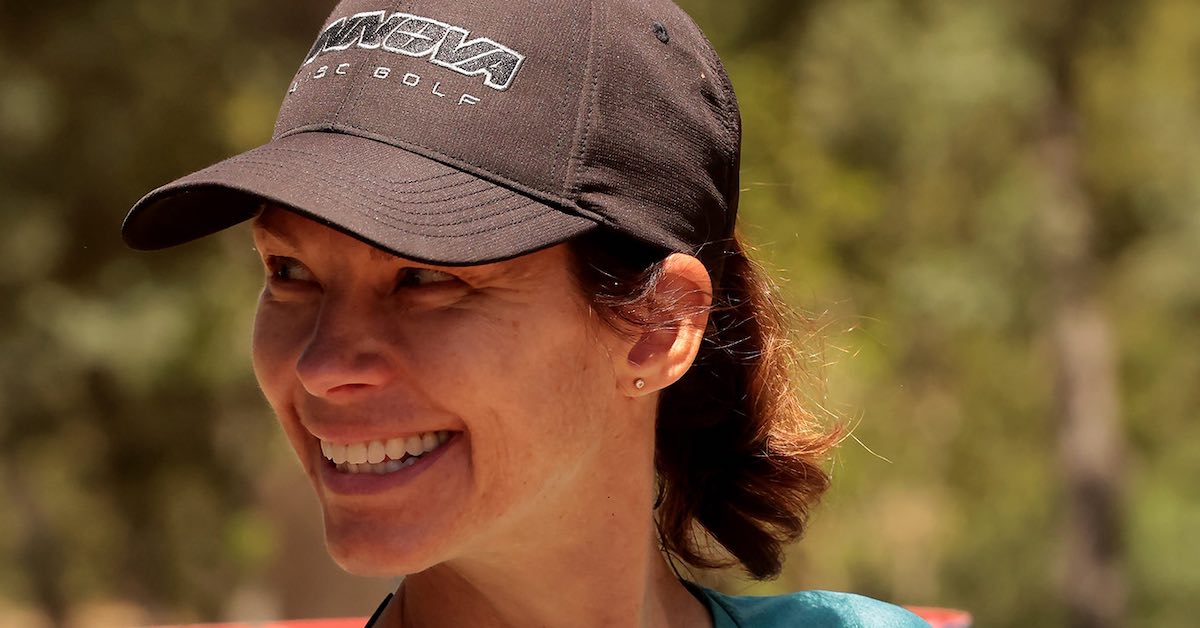 Juliana Korver's Hall-of-Fame legacy can't be understated. She attended the Masters Cup in 2001 with three World Championship titles under her belt and was playing some of the best disc golf of her esteemed career.
She would average 975-rated golf on her way to a 20-stroke blowout win that marked the first time in Masters Cup history that a woman shot under par.
Due to park traffic and limited space, the DeLaveaga disc golf course only has room for one tee pad per hole to make the most use out of the land as possible. This means the Open and Open Women play the exact same course, making Korver's 2001 performance all the more impressive. Not to mention the rough was thicker and the fairways tighter than they are on the modern layout.
"Raptor Legs" Seals the 2016 Title
Ricky Wysocki had just carded a birdie to tie Paul McBeth for first heading into the last hole of the 2016 Masters Cup. Wysocki stepped up to the 485-foot/148-meter final hole and delivered the correct distance on his drive but found himself about 70 feet/21 meters right of the pin. McBeth's tee shot also missed to the right but finished closer to the target than Wysocki's.
Watch this clip from The Disc Golf Guy showing Wysocki stepping up to his 70-foot/21-meter putt to try and shift the pressure to McBeth:
Take special notice of Wysocki's celebratory sprint to retrieve his disc from the basket. This was the origin of the now famous high-kneed, bent-over jaunt from Wysocki known as "raptor legs."
This particular putt is so iconic that it made our post "10 Important Disc Golf Shots You Need To See."
Allen & Pierce Dominance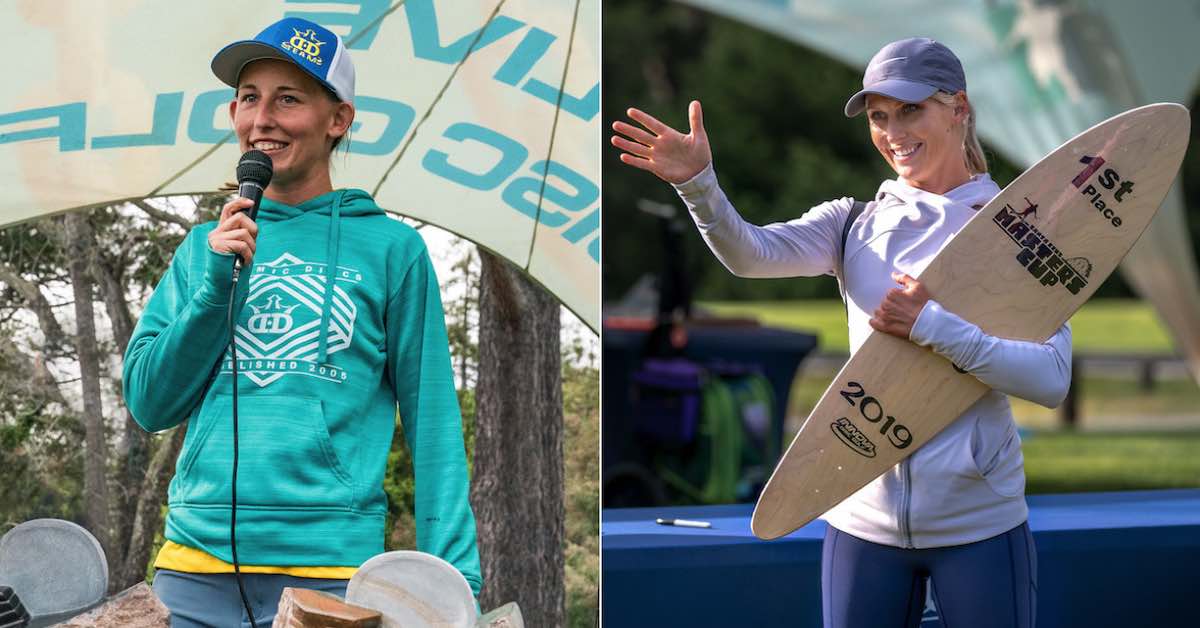 In the last eight iterations of the Masters Cup, it has been either Catrina Allen or Paige Pierce hoisting the Open Women's trophy. In fact, the only other name on the list of champions in the last decade is Sarah Hokom, who won in 2012.
These two stars haven't just barely squeaked out victories, either. Except for Allen's one-stroke win in 2013, any time she or Pierce has won has been by five strokes or more, with the largest margin of victory being 12 strokes (Allen in 2016 and Pierce in 2018).
When attending the event, neither Pierce nor Allen has ever finished outside the top four. With her 2021 win, Pierce joined Anni Kremel, Ken Climo, and Paul McBeth as the winningest players in Masters Cup history with five titles.
How to Watch the 2021 Masters Cup
Here's how to see what happened at the 2021 Masters Cup disc golf tournament.
Live Scoring


The scores and results of the 2021 Masters Cup are on
UDisc Live
. See shot-by-shot scores and a smorgasbord of stats.

How to Watch the 2021 Masters Cup: Open


Live
There was no live coverage of the Masters Cup due to lack of reliable signal at the course. You can read more about this in a
statement from the Disc Golf Pro Tour
, which owns the Disc Golf Network where the event was slated to run.
Post-Production
You can watch the 2021 Masters Cup for free on
JomezPro's YouTube channel
. They have condensed, shot-by-shot coverage of all lead cards and an opening round feature card.
You can also watch the 2021 Masters Cup chase cards for free on
Gatekeeper Media's YouTube channel
. They also filmed a feature card on day one.
Finally, you can watch the 2021 Masters Cup third cards for free on
GK Pro's YouTube channel
. They also filmed a feature card on day one.

How to Watch the 2021 Masters Cup: Open Women


Live
There was be no live coverage of the Masters Cup due to lack of reliable signal at the course. You can read more about this in a
statement from the Disc Golf Pro Tour
, which owns the Disc Golf Network where the event was slated to run.
Post
You can watch the Open Women at the 2021 Masters Cup for free on
Central Coast Disc Golf's channel
. They will have condensed, shot-by-shot coverage of all lead cards and a round one feature card.