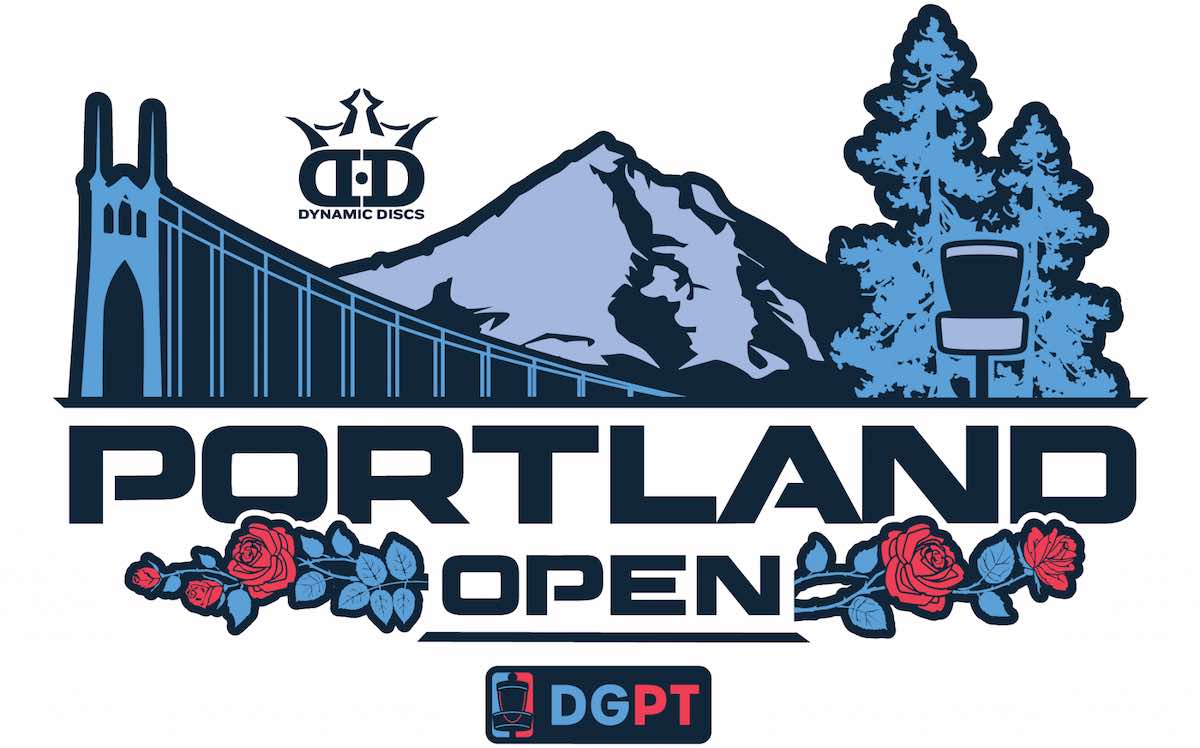 Portland, Oregon, is one of the best disc golf cities in the United States, and it has long been the host of the beloved Beaver State Fling. But with the BSF out of rotation in 2021, it was up to the Portland Open alone to uphold the City of Roses' reputation for competitive disc golf excellence in 2021.

The Portland Open was a Disc Golf Pro Tour event and went from Friday, June 4 to Sunday, June 6.

The tournament was fresh in a couple of ways. First off, It was just the second time the Portland Open had taken place. Second, uncertainty of course availability due to COVID forced a change in venue. Instead of the tournament-tested and beautiful Blue Lake, the event took place on a never-before-seen course at Glendoveer Golf & Tennis.
Learn more about the 2021 Portland Open below, where we give you recaps of the 2021 action, tournament history, a course overview, past highlights, and more.
What Happened at the 2021 Portland Open Disc Golf Tournament?

You can find individual scores on every hole, in-depth stats, and more at the UDisc Live results page for the 2021 Portland Open.
OPEN
Who won the 2021 Portland Open?

Who shared the podium at the 2021 Portland Open?



What happened at the 2021 Portland Open?


Eagle McMahon won the 2021 Portland Open, a nail-biter of a tournament that had a number of twists and turns near its conclusion.
The never-before-seen disc golf course built at Glendoveer Golf & Tennis was one of the longest courses ever featured at a top tier disc golf event. In addition, baskets were often placed in locations that brought
out-of-bounds (OB)
into play on errant upshots and putts. The combination made for a course where birdies were exceedingly precious and big score changes were often just a skip or a roll away.
When the final round began, the player who'd best dealt with the challenges of Glendoveer was McMahon. He was 15-under par, two strokes ahead of three players tied in second place at 13-under par: Ricky Wysocki,
Simon Lizotte
, and
Kevin Jones
.
But halfway through the round, McMahon wasn't in the driver's seat anymore. Jones had taken the wheel thanks to birdieing seven of the first nine holes (plus one bogey) to go 6-under to McMahon's 3-under. This gave Jones a one-stroke lead with nine holes to play.
Though McMahon tied things up on the tenth, Jones got two on him in two subsequent holes thanks to precise drives and McMahon finding a bunker hazard near the basket on hole 11. Nothing changed about that lead until hole 15.
There Jones attempted to play conservatively and just for par on a hole where OB was an imminent danger for those seeking birdies. A slightly off upshot from a lay-up drive led to a difficult par putt. That putt jumped off the rim of the basket and went OB after a very unfortunate roll, and Jones then needed two more putts to finish the hole with a quadruple bogey.
After Jones' catastrophe, McMahon's par on the hole had him tied in the lead with Wysocki, who'd gotten a birdie. Jones was two strokes back of the pair. That dynamic was the same on the final hole as all three players parred 16 and 17.
But McMahon and Wysocki had more to worry about than each other as they teed off on 18. From the chase card, Paul McBeth had shot a course record 9-under par, making him 20-under par total. McMahon and Wysocki were both 20-under entering the hole. The pressure was on to birdie the nearly 1200-foot/366-foot par 5 finisher
Though Wysocki had two excellent tee shots, he put his upshot outside of Circle 1 and didn't convert. After a less-than-ideal drive, McMahon still managed to be well within C1 for a birdie look. He sank the putt to claim a one-stroke win and his third DGPT victory of the season.

Standout stats:


Jones tied with two other players for the fewest OB penalties taken during the tournament at just two. Given how few OBs penalties he took, it's stunning how much one of them impacted the course of the tournament when his putt slowly rolled OB on hole 15.
OPEN WOMEN

Who won the 2021 Portland Open in Open Women?



Who shared the podium at the 2021 Portland Open in Open Women?



What happened at the 2021 Portland Open in Open Women?


Paige Pierce defended her Portland Open title in 2021. There have been just two iterations of the event, and she's won both.
Pierce and Catrina Allen put daylight between themselves and other competitors early, both shooting 9-under par opening rounds to be four strokes clear of Hailey King.
In the second round, Pierce's putting helped her outpace Allen. Though the two did similarly well from the tee in comparison to most of the field according to
strokes gained
stats, Pierce capitalized on her distance and accuracy by hitting 89% of her C1X putts. In contrast, Allen made just 50%. Despite shooting four strokes off her pace from day one with a 5-under par, Pierce's score was still four strokes better than Allen and tied with Ella Hansen for the field's hot round of the second day.
Pierce carried a four-stroke lead into the final round and never let Allen narrow it to less than two strokes. Though Pierce started out looking vulnerable when she bogeyed the first hole and Allen parred it, she made up those strokes immediately by getting birdies to Allen's pars on the next two holes.
Pierce couldn't coast to the victory, however. Allen played a bogey-free 8-under par final round, forcing Pierce to play strong to earn the win. After hole one, Pierce was also bogey-free the rest of the round and had a 7-under par performance.
Hansen's tie with King in third is also notable. Hansen is a professional ultimate player who recently started competing in pro disc golf events. The finish marked her first podium showing at a DGPT event, and it came on the heels of a third place showing at the PDGA Major
USWDGC
.

Standout stat:


Pierce and Allen are often remarkably similar in their efficiency at reaching greens. It was no different in Portland in 2021. Allen's tee-to-green strokes gained total for the event was 23.99 while Pierce's was 23.08. The consistent difference between the two athletes is execution in C1X. Allen actually outdid Pierce from C2 by quite a bit during this tournament, but she averaged just 1 stroke gained from C1X per round to Pierce's 2.6.
Tournament Background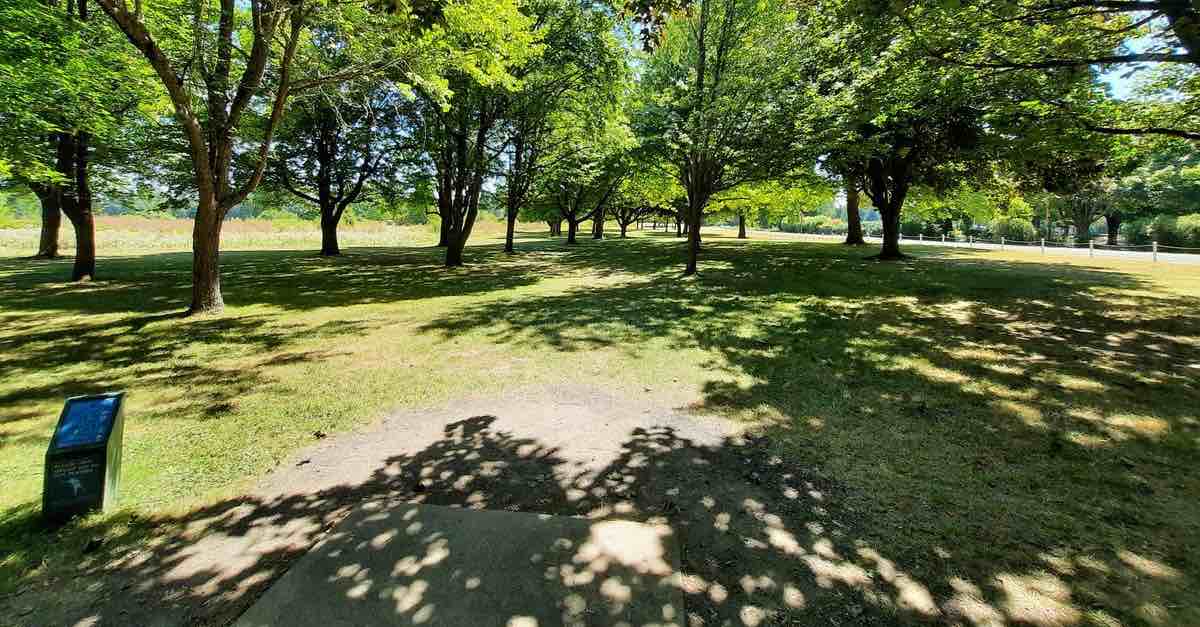 The addition of the Portland Open to the Disc Golf Pro Tour (DGPT) was a welcome sight for the Pacific Northwest and the western swing of the tour.
The greater Portland area, and Oregon in general, has a large disc golf community that has helped make Portland one of the country's best disc golf cities. But prior to 2019, Oregon hosted only one A-tier event annually: The Beaver State Fling. That event is held at enhanced versions of the revered courses at Milo McIver State Park and has been around since 2002. It is also often closely connected with Portland in players' and fans' minds, but it's actually a 40-minute drive from the city.

Oregon residents and professional disc golfers Dustin Keegan and Zoe AnDyke wanted an event that would showcase something even closer to Portland.

"Portland is a really amazing and awesome disc golf city," Keegan said. "We dreamt big about what we could do in the city limits and how we could make it an attraction for the city."

Then they ended up sharing those dreams with someone ready to help make them happen.

"We were at Jeff Spring's house in Vermont, just dreaming big about making Portland more well-known," said Keegan, who would go on to become an assistant tournament director alongside AnDyke in 2019. "Jeff just applied and got it approved."

Jeff Spring is the current CEO and Tour Director of the DGPT. Notably, the events mentioned above happened before the DGPT was sold in late 2019 and Spring took on those roles.
The city of Portland had a lot going for it prior to the creation of the Portland Open that made adding the event a no-brainer for the DGPT.
First and foremost, the greater Portland area had previously hosted the PDGA Disc Golf World Championships in 2014. The course used in the sixth round, the semifinal round, and the Final 9 was Blue Lake Park. It became the site of Paul McBeth's third-consecutive world title as he took down Ricky Wysocki in an epic five-hole playoff. By 2019, Blue Lake was already a well-known, championship-level course, and Keegan and AnDyke planned to host their event there.
"It hosted Worlds and it hosted several Stumptown Disc Golf Club C-tiers and B-tiers, so it wasn't like it was a course that nobody knew," Keegan said. "Obviously it's a proven world-class track."
Secondly, a perfect storm of sponsor support poured in. The disc golf power couple of four-time World Champion Valarie Jenkins and three-time World Champion Nate Doss were just launching Bevel Craft Brewing in Bend, Oregon, and were eager to lend their support. Meanwhile, AnDyke and Keegan's non-profit UPlay connected with the Rose Festival in Portland and brought them on as a co-sponsor.
"We linked up with the Rose Festival and they supported and advertised that there was a big disc golf event going on to their reach which is all non-disc golfers," Keegan said. "Out of just a dream, the sponsors helped turn it into one of the biggest and best tour events and Blue Lake is the perfect place to host a giant tournament."
The pair hoped to build on the first event's success in 2020 but had to cancel it due to the pandemic.

In 2021, with fears of the pandemic still lingering, news came that Blue Lake Park was no longer an option. Keegan, AnDyke, and Spring had to either find an acceptable new venue or cancel the event once again. With the assistance of the Stumptown Disc Golf Club and former Masters Cup TD, TJ Goodwin, they discovered Glendoveer Golf & Tennis.
"Jeff wasn't quite sold on it, so he wanted Zoe and I to go and take a look at it," Keegan said. "I spent two hours driving around the property with Zoe and TJ just seeing if it was even a possible place for a pro tour elite series. When we got there, it was like, 'Oh man. We can build something amazing here.'"
After Keegan designed the course and Spring – the 2021 tournament director – had made some final tweaks, they'd created a monster that featured three par 5s over 1,190 feet/363 meters and plenty of other holes requiring massive power. The course let top distance players shine and left little sanctuary for players who base their games more finesse than power.

The Course
What course hosted the 2021 Portland Open? The Disc Golf Course at Glendoveer Golf & Tennis in Portland, Oregon
Number of holes: 18
Par: 66 (Open), 69 (Open Women)
Length: 12,696 feet/3,870 meters (Open), 10,522 feet/3,207 meters (Open Women)
Description:
In a COVID-forced change from the inaugural event in 2019, the Portland Open moved from Blue Lake Park to a newly designed track at Glendoveer Golf & Tennis for all three rounds in 2021.
The primary challenge was distance. Both the Open and Open Women layouts measured farther than the
OTB Open
, making them the longest tracks the players faced in 2021. But Keegan designed a course to test more skills than just raw power.
"I tried to design a course that's going to challenge the players in every possible way," he said. "There will be low ceilings, no ceilings, a few midrange holes and some tricky gaps. There's precarious out-of-bounds near some baskets, but there's not OB inside the green every hole to make the course hard. It allows you to play golf, have fun, and showcase what pros can do."
Keegan said there are intentional tight gaps off the tee on several par 4s to force players to throw a great first shot in order to put themselves in position to attack for birdie.
Some of Keegan's original intentions for the course were altered at the 2021 event. The tee pads featured very thick turf and impeded players' run-ups enough that the DGPT widened teeing areas to include natural grass. This opened up gaps that made huge anhyzer and roller plays possible when they wouldn't have been otherwise. Additionally, some pin placements were changed by tournament director Jeff Spring.
Past Highlights
Here are some of the standout moments from the 2021 and 2019 Portland Opens.
The Heartbreak of Kevin Jones

Yes, Eagle McMahon won a dramatic 2021 Portland Open, and, yes, Paul McBeth nearly came back from the chase card to force a playoff. But if you've watched the final round of the 2021 Portland Open, what truly lingers is the devastating sequence of events that Kevin Jones endured on hole 15.

The hole was a 412-foot/126-meter par 3 that featured an OB carry nearly its entire length for anyone seeking a birdie. It was the hardest hole on the course in round three. With a two-stroke lead and just a few holes left to play, Jones decided he wanted to be safe and took birdie out of play by laying up from the tee. His subsequent upshot went long down a hill behind the basket, leaving him a tricky putt to save par.

And the result of Jones running that tricky putt is gut-wrenching to watch. You can see it in the clip below from the DGPT's live coverage of the tournament:



The putt bounced off the front rim, caught edge, and rolled OB, leaving Jones with another edge-of-circle uphill putt for double bogey. Jones missed that, too. He nailed the comeback putt, but that was for a quadruple bogey. That took him from a two-stroke lead over the field to two back of the leaders with just three holes to play.

Jones couldn't pull off the miracle and come back, and it's arguable that hole 15 was the truly decisive hole of the 2021 Portland Open.

Gibson Gets First DGPT Win
Gibson had been climbing the ranks for a few years, becoming more and more of a well-known name in disc golf. But up until the 2019 Portland Open, he was still searching for that marquee win that would truly announce his arrival as one of the world's best players.
His moment would come in dramatic fashion.
Consistent play throughout the tournament, culminating with a monster 12-under par final round, kept him in the hunt the entire time. But without a heartbreaking moment on what was oh-so-close to being Eagle McMahon's championship putt on the last hole of the tournament, Gibson would've had to wait even longer for his big win.

The shocker was caught on camera by Central Coast Disc Golf:
The two headed to a sudden death playoff beginning on hole 1 to decide the winner. Thanks to his 13-under par final round being one stroke better than Gibson's, McMahon had the honors and stepped up to the tee first:
Knowing he just needed to stay in bounds and nail his approach, Gibson calmly let fly and put himself in position with a 20-foot/7-meter putt to win:
The win was the first DGPT victory of Gibson's career.
Paige Pierce Parks One From Downtown
Paige Pierce is known for her outstanding distance. During the final round of the 2019 Portland Open, she made good on her reputation. On a 440-foot/134-meter hole that was a par 4 for the Open Women, Pierce unleashed a drive into C1:



Pierce banged the putt to make good on her eagle chance.

A funny note here is that Pierce never birdied the hole during the event. The prior two days she'd taken pars.
How to Watch the 2021 Portland Open

Here's how to watch the 2021 Portland Open disc golf tournament.
When was the 2021 Portland Open?


Friday, June 4 through Sunday, June 6

Live Scoring


The scores and results of the 2021 Portland Open are on
UDisc Live
. See shot-by-shot scores and a smorgasbord of stats.

How to Watch the 2021 Portland Open: Open


Live
You can watch archived live coverage of the 2021 Portland Open on the
Disc Golf Network
. Paid subscription necessary. The final round is free on the
Disc Golf Pro Tour's YouTube channel
.
Post
You can watch the 2021 Portland Open for free through coverage on
JomezPro's YouTube channel
. They have condensed, shot-by-shot coverage of all lead cards and an opening round feature card.
You can also watch the 2021 Portland Open for free through coverage on
Gatekeeper Media's YouTube channel
. They have condensed, shot-by-shot coverage of all chase cards plus a feature card on day one.

How to Watch the 2021 Portland Open: Open Women


Live
You can watch archived live coverage of the Open Women at the 2021 Portland Open on the
Disc Golf Network
. Paid subscription necessary. The final round is free on the
Disc Golf Pro Tour's YouTube channel
.
Post
You can watch the Open Women at the 2021 Portland Open for free through coverage on
GK Pro's YouTube channel
. They have condensed, shot-by-shot coverage of all lead cards and a round one feature card.