Footwear is probably not the first thing most players think about when picking up disc golf. Immediate attention always goes to discs, bags, or even practice baskets. But a shoe is the sole point connecting a player to the ground, providing leverage and the basis for a good shot.  
Along with constant torque and friction on the tee pad, disc golfers' shoes have to stand up to abuse in mud, snow, rain, and sometimes treacherous terrains. When you first start out, it can be difficult to identify what qualities to look for in the ideal disc golf shoe. This post should help you do that and become familiar with brands and models popular among disc golfers.

Below you'll find the following:
1) Advice on footwear we've gathered from interviews with both professional and experienced amateur players

2) Tables of popular shoes for disc golf – men's and women's – organized by price (prices for non-waterproof and waterproof versions are listed separately)
Three Pros Who Love the Three Stripes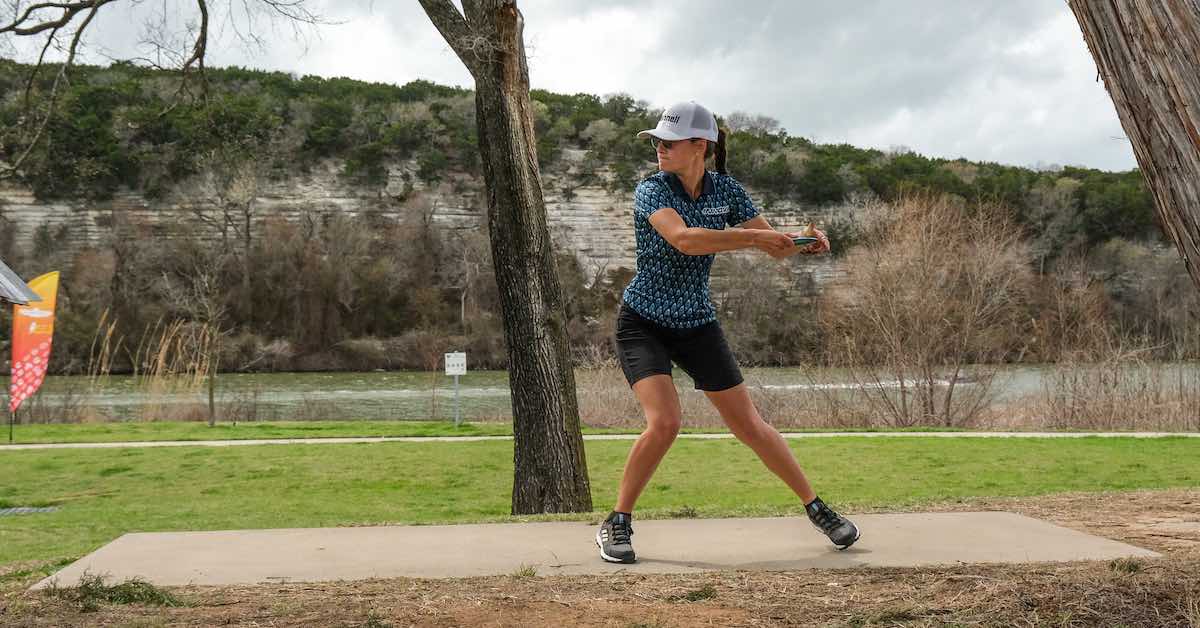 There's no disc golfer who needs to trust their footwear more than a pro, whose performance on the course determines their livelihood. So we contacted several touring players to get the scoop on the most important qualities they look for in a disc golf shoe. 
Chris Clemons, a Dynamic Discs-sponsored pro out of Missouri, had strong opinions on the subject.
"I think footwear is a huge part of the game," Clemons said. "I extremely dislike bad footing and traction while playing. Shoes with bad traction lead me to throwing with less power and more upper body."
Of course, no player wants to sacrifice form due to poor footing, and Clemons felt that stability is the most crucial part of picking out the right shoe.
"I search for shoes with good sturdy bottoms and sides," said Clemons. "At one point Dynamic Discs and Latitude made their own shoes, and I wore the Latitude ones. I have tried many different shoes over my time playing disc golf and have found Adidas Terrex to be the best for me."
Adidas Terrex was a brand repeated by many professionals we spoke with. Adidas notably sponsored five-time World Champion Paul McBeth for several years, along with other pros, and became an extremely popular shoe for disc golfers worldwide.
We spoke with pro Kona Panis, who had also been sponsored by Adidas Terrex.
"I was wearing Adidas Terrex before I was sponsored by them for two years," Panis said. "They sadly changed management so they aren't sponsoring any athletes anymore, but I'll still wear their shoe just because I know it's good quality. They are waterproof and have both trail running and hiking shoes, so different options for different people." 
Experiencing shin splints in high school, Panis knew it was vital to find the proper footwear for disc golf. 
"It felt so amazing to have shoes that were not only comfortable, but had traction for playing disc golf," Panis said. "Knowing that the shoes have traction no matter what surface has been awesome. [I] don't have to think about it; I can just think about playing."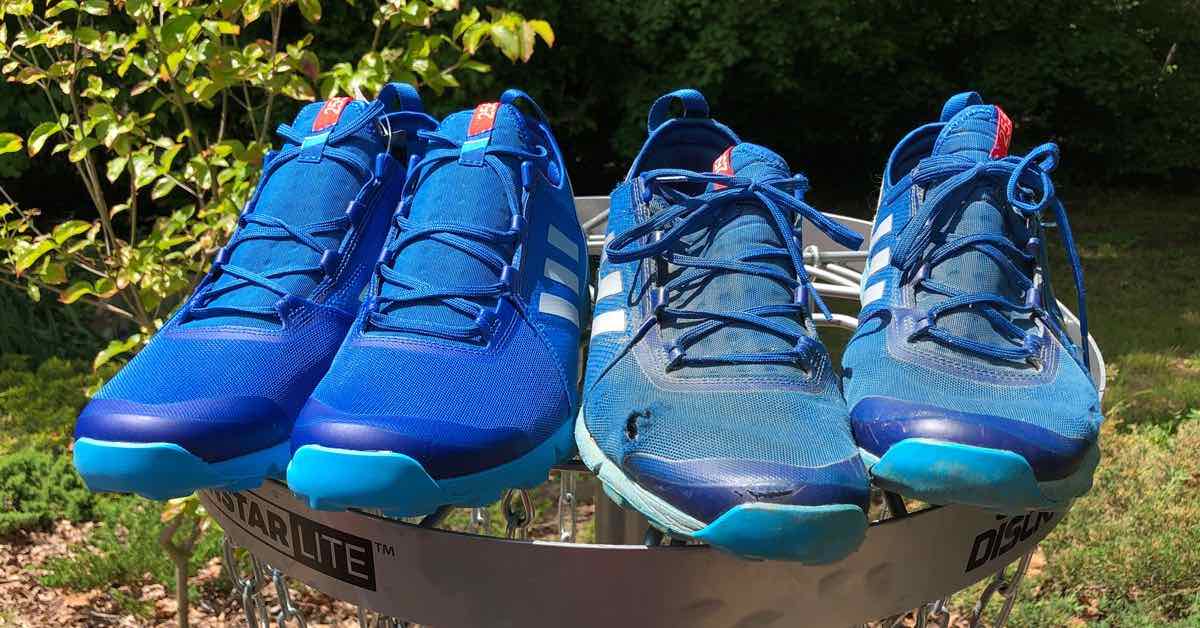 Vanessa Van Dyken, a touring professional with Discraft, also wears Terrex – the TraceRocker model. She put her stamp of approval on Adidas Kanadia, too.   
"I've tried Asics, Brooks, Nike – I can't remember how many," said Van Dyken. "But out of all the shoes I've tried, I have to say Adidas has the best quality." 
Van Dyken emphasized that the GORE-TEX lining of the TraceRockers is what makes them such useful shoes on the disc golf course.  
"Being in the FPO [Female Professional Open], we always tee off super early," Van Dyken said. "You have to deal with wet grass or dew in the morning, so GORE-TEX is the only way I go. I feel like the durability, the price, and the comfortability of the Adidas GORE-TEX shoes are way better than all the other ones."

You can find more specific Adidas models (and their prices) in the tables of shoes near the end of this post.
Other Popular Shoes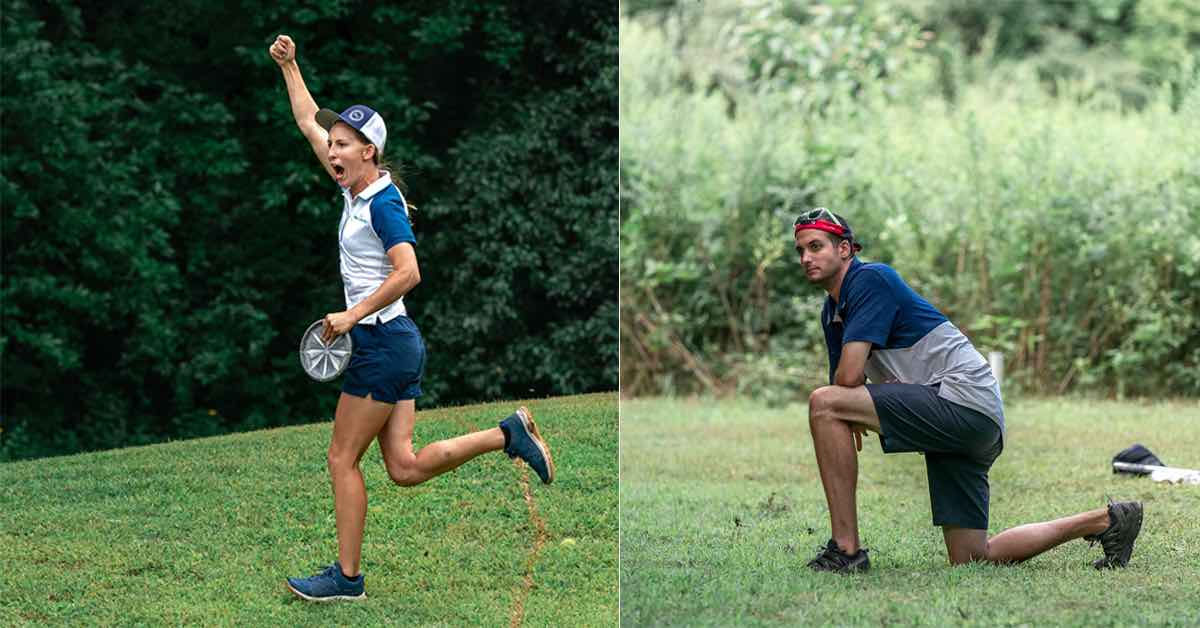 UDisc co-founder Matt Krueger has disc golfed for many years and knows the importance of a good shoe.

"Good footwear gives you confidence in wet conditions or when you have a questionable lie to throw from," said Krueger. "Bad footwear can hurt your mental game in more ways than one."

Still, no matter the quality of a product, Krueger says you have to purchase any disc golf shoes knowing their best days will be limited. And he should know because he's tried a wide variety.
"Shoes weren't lasting very long for me when I was playing a lot," said Krueger. "I've mostly used KEEN, Merrell, Salomon, and Adidas waterproof trail hiking shoes for disc golf. In my experience, no shoes will last more than a year if you're playing regularly."

While by now you won't be surprised that Krueger mentioned Adidas, the other brands he pointed out have also become go-tos for many disc golfers. 

KEEN is well-known for their high-quality trail hiking shoes which combine durability and traction, a perfect mix for disc golf. Leading Open Women player Paige Pierce wore KEEN Explore shoes during her impressive 2019 PDGA World Championship victory – the fifth World Champ title of her career.
Merrell is another brand of outdoor shoe that has become very popular in the disc golf world. One of their most successful shoes is the Moab 2 Ventilator, which prioritizes breathability – a huge benefit in warm climates where feet may sweat or slip within the shoe. They also offer a variety of GORE-TEX shoes for waterproofing and mid-tops for greater ankle support.
A third brand that has a big following in disc golf is Salomon. Their most well-known model in the disc golf community is the Speedcross, a shoe that accentuates stability and cushioning for those courses with rough terrain that can be hazardous to the feet. Japan's highest-rated player, Manabu Kajiyama, wore Salomon shoes during 2019 Worlds.
The Kickstarter Disc Golf Shoe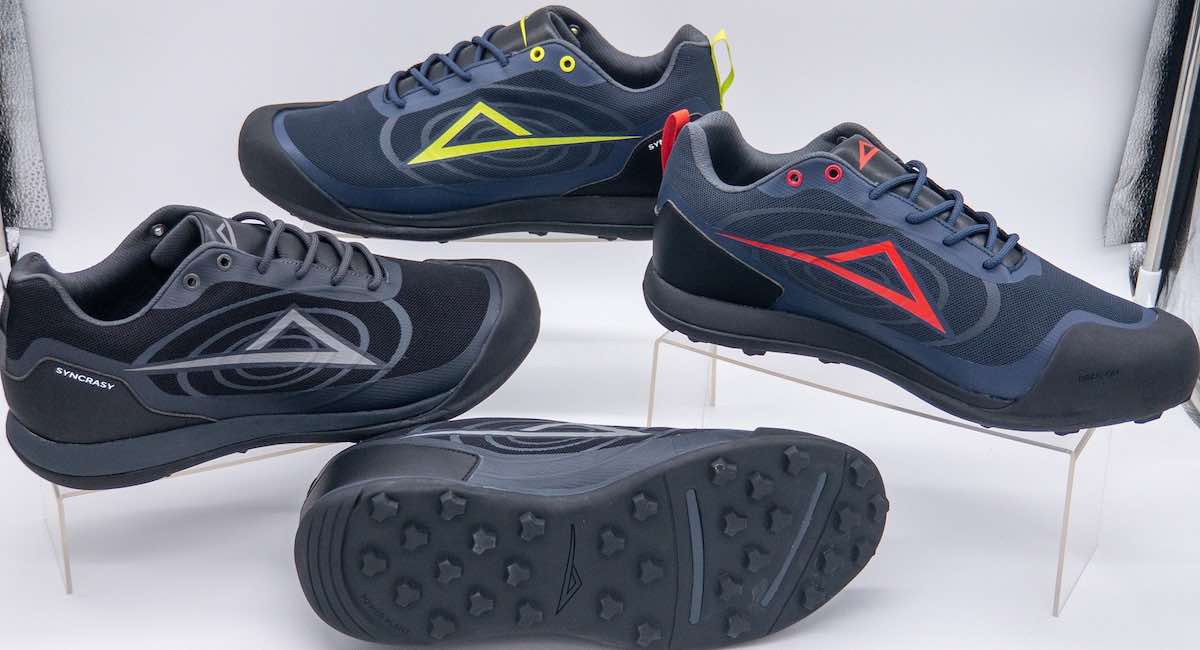 In the latter half of 2021, startup company Idio Sports ran a successful Kickstarter to fund the production of its first shoe, the Syncrasy. Unlike any other shoe mentioned in this post, this one was designed specifically for disc golf and has gained the support of top pros Nate Sexton and Adam Hammes.

You can learn more about the inventor of the Idio Syncrasy and what makes the shoe unique in our post "Shoe Of Our Own: Behind Idio's Syncrasy Disc Golf Shoe."
Advice From the Man of 1,500 Courses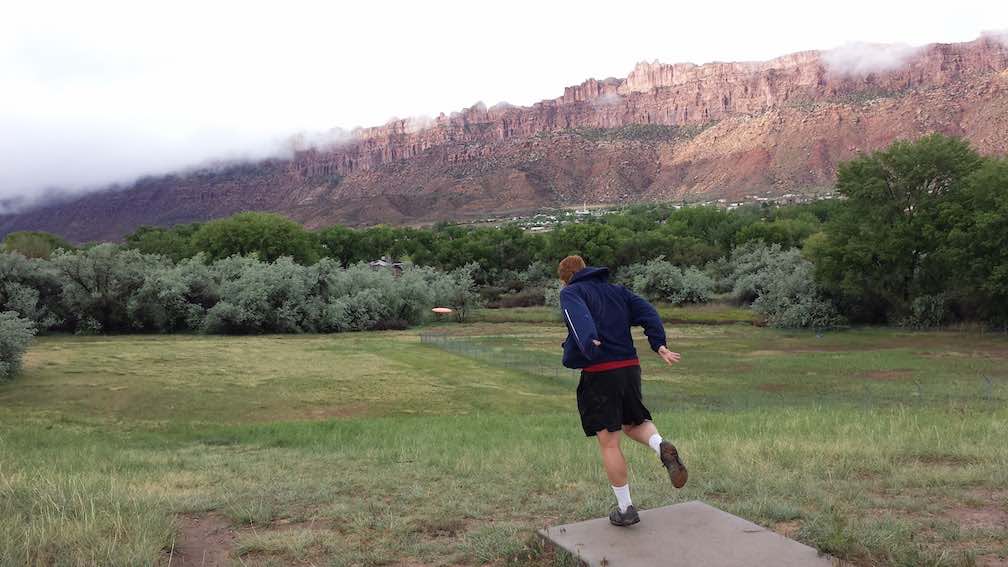 Derek Tonn is a disc golf course collector and has played more courses in UDisc's directory than anyone else. With that number of unique courses played at least once, his feet have likely walked on disc golf courses more than almost anyone. We asked him about his search for the perfect disc golf shoe.
"I am unfortunately still on the hunt for the best shoes for disc golf," Tonn said. "I have spoken with a few different shoe manufacturers about finding the 'right' shoe for disc golf that can hold up to everything from playing in dry, above 100°F/37°C heat in the desert, to the rain in the Pacific Northwest, to summer humidity in the Southeastern US, to -20°F/-29°C cold in the northern Minnesota winter. But no luck as of yet."
His criteria were similar to those of professionals, but he gave an even more specific checklist of areas that wear out the quickest: where the toes meet the foot, the sole of the heel, and beneath the ball of the foot. Though durability can be a problem after hundreds of rounds, what he most prized in a shoe was being lightweight and able to keep his feet dry.
"Dry, comfortable feet with good traction in the fairway, but not too much traction on the tee pad – allowing players to twist their plant foot as they are releasing their disc – is the literal foundation from which good shots are made," Tonn said.
Popular Disc Golf Shoes (Men's & Women's) with Prices

To further help you in your decision-making, we've created an overview of shoe brands and models that have been used by elite disc golfers and/or are popular among amateurs. You'll find four tables below of disc golf shoes: under $100, from $100 -$124, from $125-$149, and $150 and up.

Keep in mind that we put shoes in categories based on their non-waterproof cost, but waterproof versions of shoes, when available, tend to cost $20-$40 more. We list the costs of both models when they exist and also provide links to the manufacturer's website so you can see the differences for yourself. We also list the current cost of the shoe directly from the manufacturer. You may be able to find sale prices from retailers that are lower than what's listed below.

All tables are alphabetical by brand and within brands are organized by cost from highest to lowest.

Disc Golf Shoes Under $100

If you're on mobile, swipe left/right on the table above to see all columns.
Disc Golf Shoes From $100-$124

If you're on mobile, swipe left/right on the table above to see all columns.
Disc Golf Shoes From $125-$149

Note that the Vivobarefoot Esc Tempest shoes are not waterproof because they are designed for those who mix trail running and wild swimming in the same exercise routine (meaning you swim while you wear them). Rather than being waterproof, they're designed to dry extremely quickly.
Disc Golf Shoes $150 and Above

If you're on mobile, swipe left/right on the table above to see all columns.

If you have an interest in supporting environmentally sustainable products, Vivobarefoot could be worth a closer look despite the high price tag.
Final Notes
There are a lot of options above, but it could be that none of them are quite what you're hoping for. If you find yourself still searching, keep this checklist of things to look for in a good disc golf shoe in mind:
Waterproof: Whether it's dew during early-morning rounds, rain, snow, or puddles, protecting your feet from moisture is a huge step toward a comfortable day at the course.
Good traction: Make sure to try out a shoe on multiple surfaces before buying so that you know you can trust its grip both on the tee and off of it.
Lightweight: Long days of disc golf mean lots of walking, so save your legs a little effort. Lighter shoes can also help your footwork by keeping you a little more agile.
Durability: Though no disc golf shoe will last forever, make sure to look for a brand and model with a reputation for holding up well to the demands of outdoor sports. Shoes not made for outdoor use don't last long and can fail at important moments.
Finally, don't forget that you need to be comfortable in whatever shoe you buy. Just because a pro or experienced player says one brand is their favorite doesn't mean it's the type that will fit your body. If this is your first time looking for a shoe specifically for disc golf or outdoor sports generally, we highly recommend going to a physical store to get a true feel for how different models fit. 

Best of luck finding your dream disc golf shoe!


Note: This post was originally published in April 2020 but updated in August 2021.